In this post let me review the best condenser mics for budget heads say under $50.
Our Best Pick
Logitech for Creators BlueSnowball iCE USB Microphone for PC, Mac, Gaming, Recording, Streaming, Podcasting, with Cardioid Condenser Mic Capsule, Adjustable Desktop Stand&USB cable, Plug&Play – Black
Best Value for Money
Samson SAGOMIC Go Mic Portable USB Condenser Microphone,White
Best Studio Condenser Microphone
Behringer C-1 Medium-diaphragm Condenser Microphone
Our Best Pick
Logitech for Creators BlueSnowball iCE USB Microphone for PC, Mac, Gaming, Recording, Streaming, Podcasting, with Cardioid Condenser Mic Capsule, Adjustable Desktop Stand&USB cable, Plug&Play – Black
Last update on 2023-09-21 / Affiliate links / Images from Amazon Product Advertising API
Are you new to streaming, podcasting, and YouTubing?
Then your audio quality is very important in determining how well your content will be accepted.
Let's review under 50 condenser mics and we will help you in making a better buying decision.
One issue that many content creators face is that the inbuilt mics in the computers record low-quality audio while other options may be on the high side.
Here's why we have selected these condenser mics, all priced below $50 for your use.
Some of these mics can be plugged directly into your computer while others need an intermediary of sorts.
| | | | | | |
| --- | --- | --- | --- | --- | --- |
| # | Products | Polar pattern | Frequency response | Maximum SPL | Amazon product page |
| 1 | | Cardioid | 40Hz to 18kHz | NA | |
| 2 | | Omnidirectional, Cardioid | 20Hz to 18kHz | 121 dB | |
| 3 | | Cardioid | 40Hz to 20kHz | 136db | |
| 4 | | Cardioid | 20Hz to 20kHz | 136db | |
| 5 | | Cardioid | 20Hz to 20kHz | NA | |
Here are our 5 best condenser mics under $50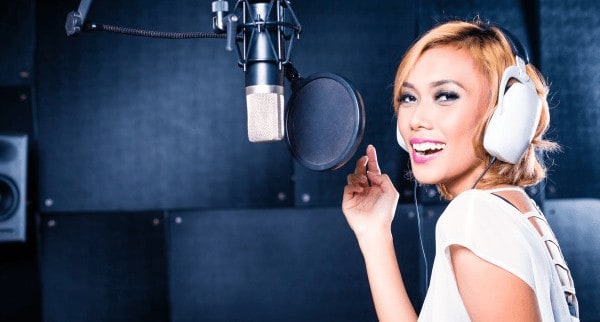 Build and design
The Snowball iCE is a plug-and-play USB microphone with a cardioid polar pattern. It's available in back and white. The stand out feature of this mic is perhaps the shape; it's spherical, which gives it some aesthetic appeal.
Blue seemed to take the term "plug and play" quite literally as the iCE does not have any switches or knobs. All you need to do is connect it directly to the computer and you're good to go.
The body is made of strong plastic, but you're not advised to throw it against the wall or anything.
Anytime you connect the mic, the LED comes on right at the front part of the mic. You can mount the mic by using the desk tripod that comes in the box or using your selected mic stand.
However, if you're using the desk tripod, you should be aware that while in a sitting position, you may find it difficult to angle the mic such that it faces your mouth directly.
Sound quality
To get the best sound that the iCE has to offer, you need to be less than a foot from the mic. Either that or you should have a well-treated room.
The iCE has a frequency response of 40Hz to 18kHz, which is pretty good for a mic of this price.
Although the response range is expansive, the mic sounds like it has less emphasis on bass and a little lift in presence and clarity. This is what we would expect from a mic that is optimized for speech.
Pros
Unique, catchy design
Plug and play requires no audio expertise
Cons
Low maximum SPL
No switches, filters or headphone jack.
Bottomline
If you're looking for entry-level recording equipment to use on the go, the Snowball iCE is a good bet.
#2. Samson Go –
Best Value for Money
Build and design
The Samson Go Mic is a tiny mic. It's actually one of the smallest you would find on the market. It also has an omnidirectional pattern that enables the mic to capture sound from all angles at equal volumes.
On the wide of the mic, you will find a mini USB port that you use to power the mic and a 3.5mm headphone jack port. If you want to use microphones for PCs and laptops that need 3.5 mm jack then look at my 3.5 mm microphone reviews.
On the other side, there's the three-way switch that enables you to choose between the cardioid and omnidirectional pattern.
The third option on the switch allows you to apply a 10db pad to your recording. The headphone jack provides guaranteed low latency monitoring; that's pretty good for a mic this small.
That being said, you would be better off just using earbuds to monitor the sound, because using a pair of headphones would mean more weight at the jack port. This weight can tip the mic over.
If you want to improve your singing, it is the best Smule mic to use with the Smule singing app.
Sound quality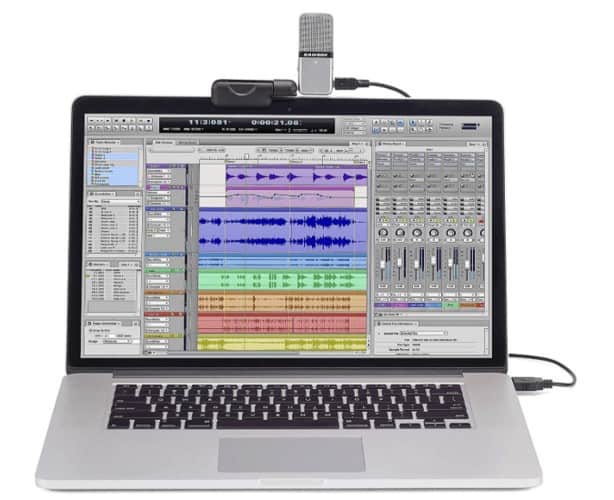 Samson Go sound production is much closer to a flat response than I expected. Its frequency response is stated as 20Hz to 18kHz, but it only does that low in the cardioid mode. In the omnidirectional mode, the lower frequency only goes as low as about 40Hz.

The expected presence bump is present, but it's ever so slight, giving the mic's sound a feel of transparency or flatness, especially at lower levels.
Pros
Very compact design
Two polar pattern options
Cons
Needs a pop filter for optimum performance
Bottomline
If you're a traveling streamer, then Samson Go will be a good bet for you; it's only as large as some key holders.
Build and design

The Behringer C-1 is a large-diaphragm condenser mic. You will definitely need third party equipment to connect it to your computer because it can only be connected via the XLR port, not USB.
Also, it requires 36 to 52 volts of phantom power to work. If your mixer or interface does not supply enough power, you may find that it does not work. If it does, the volume will be so low that you would have to turn your recording levels up to the way up.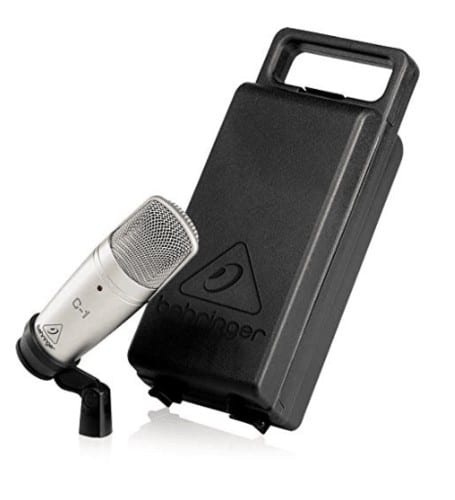 The C-1 has a metal body with a metal grille. This build makes the mic look quite strong and durable. However, the story changes when we get to the XLR port. It's made of plastic, and it feels a little flimsy; you might want to be careful with that.
Sound quality
The C-1 has a frequency response of 40Hz to 20kHz, and a maximum SPL of 136db. This means that you can capture loud sources without worrying about distortion or clipping.
You should also note that there's no pad switch, so you should be careful with the very high volume sounds.
The presence boost from 10kHz upwards is really transparent, and it makes vocals really stand out in the mix.
If your voice is naturally bright and sharp, you should be careful while using the c-1 because it tends to emphasize such vocal traits more.
Pros
High maximum SPL
Rugged build
Bottomline
The Behringer C-1is a budget mic that you can use for musical vocal recording and expect good results. You can use this mic for capturing female vocals.
Build and design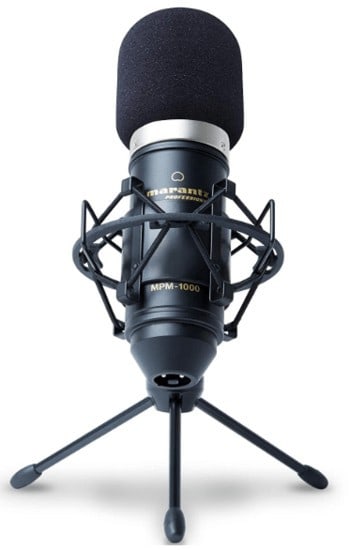 The MPM 1000 is 17cm long and has a diameter of 4.5cm. It weighs 300 grams, which means most stands will carry this mic without any problems. One special feature of this mic is that it has a wide range of applicable phantom power.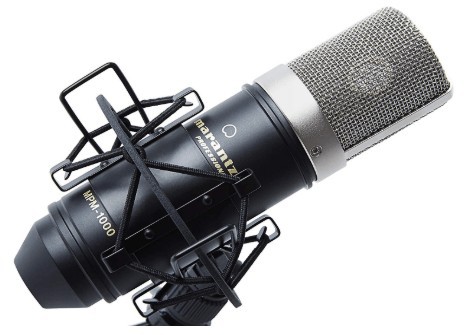 It can work well provided the phantom power is between 9V and 48V. This means that mixers that provide low phantom power can be used with the MPM 1000 without having any issues.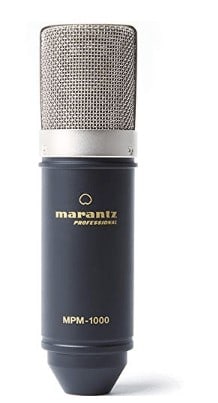 The mic feels quite solid, with its all-metal body, plus the text on the mic is written in gold color, which makes for a sleek outlook.
There are no switches, knobs or filters on the mic. Also, keep in mind that this is an XLR connected mic. This means that you would need an additional gear to hook this up to your computer.
Sound quality
Like most standard condenser mics, the MPM-1000 has a frequency response of 20Hz to 20kHz. The overall response emphasizes vocal warmth to some extent.
You would enjoy this especially when you're recording vocals. The best part is that the vocal warmth emphasis does not diminish the clarity and presence boost.

Also, the maximum SPL of 136db ensures that you have freedom of recording some loud sound sources. This compensates in part for the lack of a pad switch.
Pros
Warm vocals
Flexible phantom power options
Cons
Needs an audio interface to work with your computer.
It can't be set up by a total novice; you need some audio recording knowledge.
Bottomline
This Marantz Professional MPM-1000 is one mic that will give you something very close to pro-level recording at a reduced price.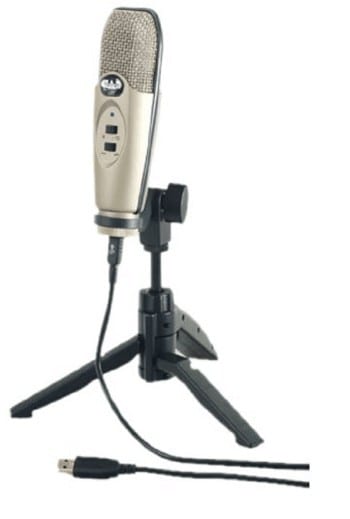 The CAD Audio U37 is a USB condenser microphone. You don't need an interface between this mic and your computer; it's essentially a plug-and-play device.
Most of the mic's body is made of plastic. It can last long though, just make sure you're not being unnecessarily careless with it. The grille that protects the capsule is made of metal, as expected.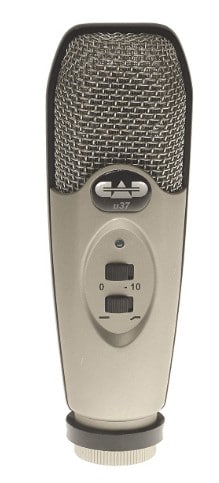 There are two switches on the U37.
One allows you to apply a 10db pad to your recording. This is essential if you 're recording from a loud source, or you suspect that there may be sudden loud noises while you're recording.
The manufacturers call the other switch a bass reduction switch. It's essentially a high pass filter that cuts out some of the lower frequencies.
This is important when you have some low-frequency background noise or when you want to prevent bass buildup due to proximity effect.
Sound quality
To get the best sound from this mic, I advise that you always have the 10dbd pad on. The mic seems to have two different sound characters depending on where the pad switch is.
That being said, with the 10db pad on, the CAD U37 has quite a warm sound, which comes as a bit of a surprise for a mic of this caliber.

However, this comes at a cost of muffled high frequencies. The story is quite different when you switch off the 10db pad. The sound becomes a little harsh and the mic starts to pick up some sibilance and plosives.
Both Blue Snowball and CAD U37 are USB mics suitable for a wide range of applications like podcasting, Voiceovers, and gaming.
Pros
Lightweight; quite portable
No preamp or mixer required
Cons
No headphone jack for monitoring
Bottomline
The CAD Audio U37 holds it owns pretty well. You will find it useful if you can do without real-time monitoring.
Conclusion
Now, you have cheaper condenser mics under $50 options that you can explore for your audio needs. As expected, because of the price, all of these mics have one shortcoming or the other.
That's why we have given a wide range of choices so that you can easily pick the one that works for you.
I'm pretty sure you already find one that ticks your boxes.
Of course, you're expected to upgrade as you gain more followers and experience, but these 5 mics would serve you well till then.