If you love singing with iPhone or Android then you would have certainly come across the Smule app.
To make your singing sound superior today we are reviewing the 5 best mics to use with the Smule app.
Our Best Pick
Shure MV5 Digital Condenser Microphone (Black) + USB & Lightning Cable
Best Value for Money
Samson Go Mic Portable USB Condenser Microphone
Best Condenser Mic for Smartphones
IK Multimedia iRig Mic Handheld Condenser mic for Smartphones and Tablets
Last update on 2020-04-09 / Affiliate links / Updated prices and images from Amazon Product Advertising API
Hooking a mic up to your phone for recording was only stuff of dreams years ago. Today, not only can you connect a mic to your smartphone, you can record guitars, and even have a song made with just your iPhone or Android.

If you are a great fan of iPhone videography too, I recommend you to use external mics to get an extremely good sound.
The Smule app has made millions of people all over the world record their songs, share their song ideas and even collaborate, all with their smartphones. Apart from singing over smartphones, if you love voice overs you can check our post to get the best voice over mics.
If you're one of those people, you've probably noticed that the in-built mic in your phone cannot produce satisfying results when you're recording; and don't even think about using the ones on your earphones, those are only good for phone calls.
So, whether you're simply having fun with the Smule singing app, or you're actually trying to get your talent noticed, you should consider using an external mic for recording yourself.
Here are our 5 best Mics for Smule singing app
Build and design
Specifications
Frequency response – 20 Hz to 20KHz
Polar pattern – Unidirectional (Cardioid)
Maximum SPL – 130 dB
Cartridge Type
Electret Condenser (16 mm)
Sampling rate – 44.1/48 kHz
Adjustable gain range – 0 to 36 dB
The Shure MV5 is a unidirectional cardioid pattern mic. Its design is what I'll call non-conventional. It has a spherical shape and it's made of plastic. If you're using this mic, you must be careful not to drop it.
More so if you have kids around, they may mistake it for a ball.
Well, can you blame them?
On the bottom of the mic, there's a ¼" screw hole for attachment to a mic stand, camera or tripod. On the back, you'll find a ⅛" headphone port for monitoring the sound being recorded. The mini USB port is right beside the headphone port.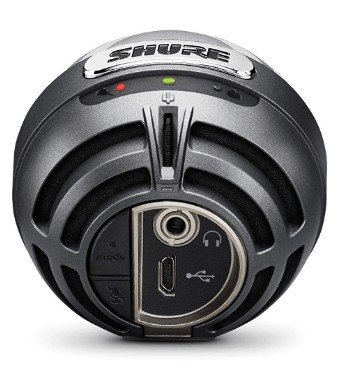 Additionally, you can switch between flat, speech and instrument modes, with indicator lights that show which mode you're currently in. When the mic is muted, you'll have all lights blinking. The headphone volume control lies on top of the mic.
Sound quality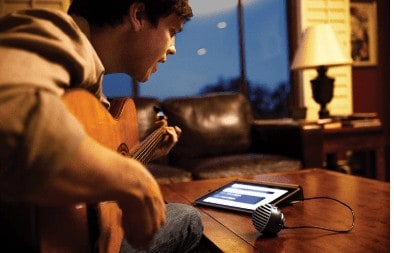 Of the three modes, the flat one seems to suit Smule recording better; it has more presence and clarity than others. The speech mode seems to add more body to the vocal and the instrument mode sounded a little like it had a very little distortion added.
Also, the MV5 handles plosives and sibilance quite well without needing any pop filters. Another good thing about this mic is its latency-free monitoring since it goes directly from the mic to your earphones.
Ambient noise handling is something that this mic is not very good at, so you should make sure that your environment is relatively quiet before you start recording into Smule. You don't want to add any effects on background noise; it won't turn out well.
The Shure MV5 is also good at dealing with proximity effect; you get a very little bass build up when you are quite close to the mic. Self-noise is also quite low, so you can rest assured that the mic is not adding noise to compromise your vocals.
Pros:
Small, portable mic; easy to carry around
Latency-free monitoring
Strong mic stand.
#2. Samson Go Mic –
Budget-friendly pick
Build and design
Specifications
Element Type: 2 x Electret condenser
Polar Patterns: Cardioid and Omnidirectional
Frequency Response: Cardioid 80Hz – 18kHZ / Omnidirectional 20Hz – 20kHZ
Bit Depth: 16-bit
Sampling Rate: 44.1kHz / 48kHz
Maximum SPL: 121 dB
Sensitivity: -47 +/- 2 dB/Pa
The Samson Go Mic is a very compact, sleek 70.5 x 43.5 x 23mm USB microphone. The recording head of the mic is about half of the whole body, as shown by the space taken by the metal grille.
The switch on the side allows you to select among the cardioid polar pattern, omnidirectional polar pattern and the cardioid pattern with a 10db pad.
If you're recording into Smule by yourself, then you should select the cardioid pattern, or you can add the 10db pad if you notice you're a bit loud and close to the mic.

On the other hand, if you wish to record with a couple of friends or even a group in a room, you can switch to the omnidirectional option. This allows the mic to pick up sound from all angles.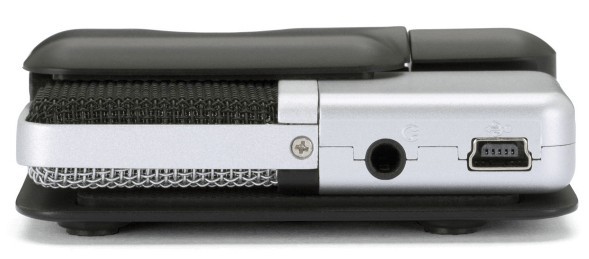 Like a good USB compliant microphone, it needs no third party equipment or driver. Once you hook it up, you're ready to go.It also has a ⅛" headphone jack on the side; no monitor gain control though.
Sound quality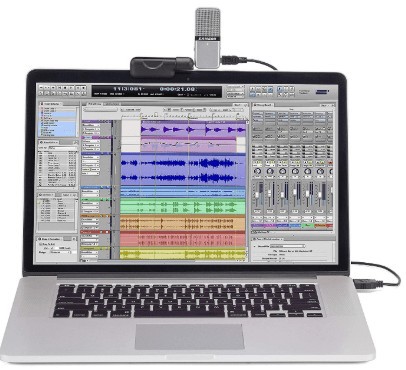 When the Samson Go Mic is in cardioid polar pattern, its frequency range is 80Hz to 18000Hz; but when it's in omnidirectional, the frequency response widens to 20Hz to 20000Hz. Now, this makes a lot of sense.
Here's how:
When the mic is in cardioid mode, it's because you're probably the only one recording at the moment.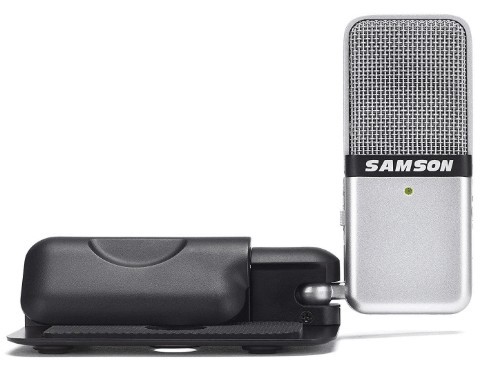 The mic records only what's in front of it, but at the same time, it can be prone to bass buildup due to proximity effect.
However, in this case, this bass build up will not occur because the lowest frequency possible has been raised to 80Hz. For Smule recording, I think that's good enough.
Also, one of the good things about omnidirectional mics is that they're almost immune to proximity effect, so when it's in Omni mode, even though the frequency range extends to 20Hz, the bass buildup is not an issue.
Pros:
Compact and portable design
Immune to proximity effect
Cons:
No gain control for headphone monitoring
Build and design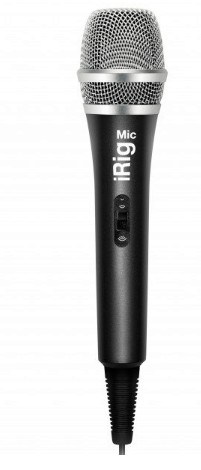 Specifications
Frequency Response: 100 Hz – 15 kHz
Mic type – Condenser
Application – Vocal & field recording
Recording quality – 16-bit, 48 kHz max
Connection – 1/8″ TRRS
Maximum SPL – 133 dB
The iRig Mic is a handheld dynamic microphone, which connects to your phone via the ⅛" jack output.
It's built like a regular handheld stage mic, so you can easily hold it and feel like a popstar while recording on Smule (and hopefully sound like one too).
The mic has a gain boost/reduction switch on it. There are no numbers on to indicate exactly how much gain you're adding or removing, there is just a symbol to indicate which side goes higher and which one goes lower.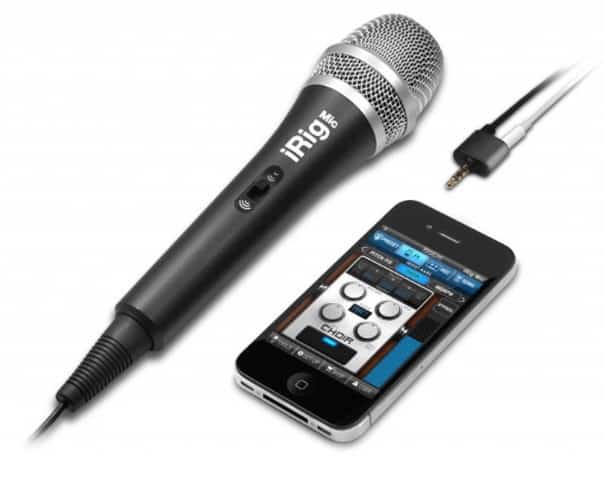 Moving further down the mic's body, you'll notice that the cable is not detachable, and it ends in a ⅛" jack that you'll connect into your phone. The good thing about this kind of connection is the opportunity to power your phone while recording at the same time.
Sound quality
On the connecting jack, there is an additional port for monitoring the sound being recorded. This one gets a little tricky because the monitoring is dependent on the app and your phone's performance.
This means that you may experience some latency in monitoring, depending on how well these two factors work together. Also, the gain switch on the microphone is primarily for the input into your phone, not for monitoring.
The frequency response is relatively quite flat, which is unexpected for a plug and play mic.
Don't get me wrong;
It's good to have a flat response if you're doing a professional recording. But for Smule recording, you want your vocal presence to be a bit emphasized.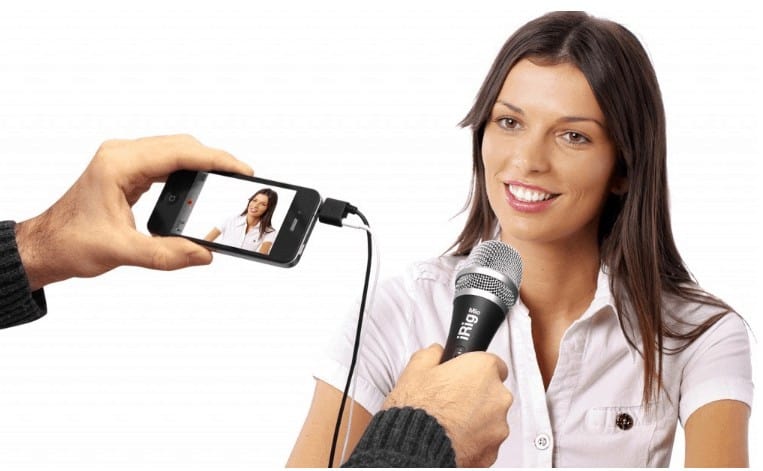 Another issue I had with the iRig Mic is the plosives and sibilance. Without a pop filter, you get recording littered with pops and hisses here and there.
If you don't have a pop filter you can get around this by placing the mic a bit to the side of your lips while recording, so that the air doesn't go indirectly.
Pros:
Allows charging of phone while recording.
Deals with off-axis noise quite well
Cons:
Poor handling of plosives
Undetachable cord may be an issue of damage.
Build and design: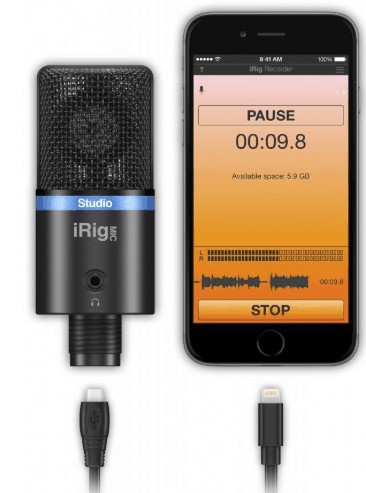 Specifications
Type: Large diaphragm, back electret 1" condenser capsule
Polar pattern: Cardioid
Diaphragm: 3μm Nickel sputtered
Resolution & Sample Rate: 24 bit, 44.1kHz / 48kHz
Freq. response: 20Hz – 20kHz ±3dB
Max SPL: 133dB SPL for THD=0.5%
Sensitivity: -42±3dB (@1 kHz,0dB=1V/Pa)
Gain range: 40dB
The iRig Mic Studio has a solid build, with a grille and the rest of its body made of metal. It is quite light, which makes it a good choice if you wish to move around with your mic. There are two knobs on the iRig Mic Studio.
The first is a gain knob that controls the input signal that enters your phone, while the other is the headphone monitoring level control knob.
Between these two knobs, you'll find an LED bulb that indicates when you have signals and when there's clipping. On the back of the microphone, there's a 3.5mm headphone port for monitoring your recording.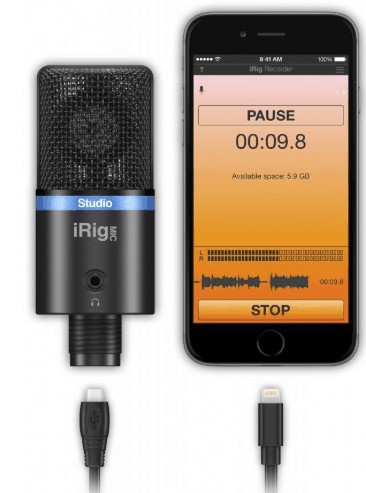 Additionally, Mic Studio is a cardioid condenser microphone, connected and powered via a standard micro USB port. It's also a plug and play device, which means that the Smule app is enough to get it working smoothly with your iPhone or Android.
Sound quality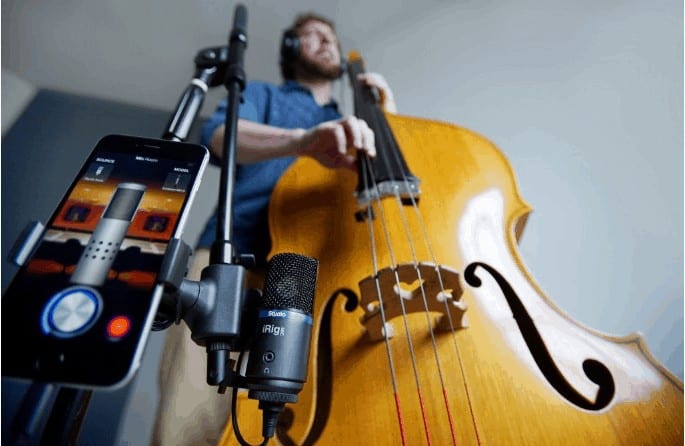 What we first notice with the iRig Mic Studio is the latency present when monitoring via headphones. I didn't really expect this to happen since the headphone monitor was routed straight from the mic and not through the phone.
However, the mic does pretty well with off-axis rejection, which can be very useful if you're recording in a not-so-quiet area.
You don't really need to see the frequency curve of this mic before you know it's a u-shaped curve. The dip in the mid frequencies and the increase in the lower and higher frequencies are quite audible.
At times, your vocals may sound slightly harsh, especially if you already have a high-pitched voice.
This may work well for people whose voices naturally have a lot of warmth and body. If you have such a voice, just make sure you are not too close to the mic while recording, or the low-frequency boom will overshadow your singing.
Pros:
Solid build
Hands-on gain control
Portable size and weight
Cons:
Latency present in the monitoring
High pitched vocals may sound harsh.
Build and design
Specifications
Mic type – Condenser
Polar Pattern: Cardioid
Frequency Response: 30 – 15,000 Hz
Power Requirements: USB Power (5V DC)
Bit Depth: 16 bit
Sample Rate: 44.1 kHz/48 kHz
Weight: 366 g (12.9 oz)
The Audio Technica ATR2500 is a USB mic that connects straight to your iPhone or Android. All you need is the right connecting cord. You don't need any audio interface to hook it up.
All you need is an adaptor that can convert the regular USB plug to iPhone and android compatible ones.
Once you have it hooked up, all you need is an app that would recognize the mic. In this case, it's the Smule singing app. Once the mic is connected it shows a blue LED light.
The ATR2500 has a ⅛" headphone jack output on it for monitoring sounds, two switches to increase and decrease the monitoring gain. Note that the controls do not affect the recorded material, just the one you're monitoring with headphones.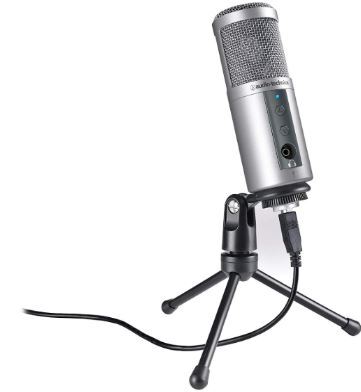 If you're using this mic with Smule, you may not have to worry about a pop filter, because the ATR2500 has an inbuilt windscreen that prevents plosives and sibilance from getting into your recording. Its body is all metal; looks pretty solid and durable.
Sound quality
Vocals recorded with the ATR has somebody to it, due to a slight lift around 4kHz to 8kHz. The response only goes down from there.
With the frequency range at 30Hz to 15000Hz, you can see why it doesn't sound so bright.
It's a cardioid condenser, so it records mostly just what's in front of it. There's a slight bump in the lower end of the frequency range, around 30-50Hz. While this may help singers with light voices.
It may also add to the proximity effect you will experience, especially if your voice is quite deep. A way to deal with this is to move away from the mic a bit, so you don't get your recording all muddy.
Sometimes you want to sing into the Smule app with your guitar. If you're using this mic, you must be careful with the placement, your guitar may sound a little muddy, with too much bass.
Pros:
Good for singers with thin voices
Has an in-built pop filter
Cons:
Lacks enough brightness
Prone to proximity effect
FAQs on Smule microphones
How to connect a mic for Smule?
If you're using an iPhone, you can either use a 3.5mm mic or lightning mic. For Android, its 3.5mm, micro USB or USB-C microphone. Just connect it to the appropriate port on your phone.
What to do when my microphone not working on Smule?
Check if you're using a correct adapter to make the mic compatible with your phone. Even though an adapter connects the mic to your phone, it may not transfer the audio.
How to use a condenser mic for Smule?
Just make sure you get the address end of the mic right. Also, mount the mic such that it's not shaking when you're recording. The handling noise may mess things up.
Do you need headphones for Smule?
It's better to record with headphones, especially when you're doing multitrack recording or using an instrumental. It's really the only practical way.
Which mics are best for Smule – condenser or dynamic mics?
One group is not essentially better than the other, but you will find more budget condenser mics that will sound great. On the other hand, a lot of cheap dynamic mics are not really that good.
Also read:
1. 7 Best Astatic Mics: Do These Noise Canceling Mics Sound Superior?
2. 7 Best Lavalier Microphones for DSLR Cameras (Crisp Clear!)
Conclusion
Having a decent recording has never been easier. The Smule app adds a juicy extra; getting your voice heard by people all over the world. With platforms like this, you never know how far your voice will eventually reach.
Once you've decided to get your voice heard, I think you also deserve to have an accurate representation of the voice; rather than a distorted version or shadow of your real voice.
You simply cannot achieve a correct representation of your voice on Smule with your phone's inbuilt mic. This is why an external mic is important. I hope you are now able to make an informed choice.
Hi, I'm Jennifer I'm a passionate singer and an audiophile from Detroit, MI. 
I'm on a mission to help music creators to create fine music that help them position uniquely in the saturated music space.
Follow my blog for regular content :-)