Do your built-in computer speakers suck? Then you must look at buying the best USB powered speakers.
Table could not be displayed.
But you're not alone. Most laptops are equipped with speakers that have low-quality sound. You can't really blame the manufacturers for this though; it's part of what keeps them affordable.
Desktops could even be worse because some of them do not even have built-in speakers to start with. In both cases, what you need is a good USB powered speaker. Just hook it up to your computer and you're good to go.
This article brings you the best USB powered speakers on the market: good sound at an affordable price.
Here are our 5 best USB powered speakers
Specifications:
Speaker System – 2.0
Satellite Speaker Dimension 4.5 x 4.8 x 4.5 inches
Cable length – Right to Left Speaker: 47.2 inches molded cable / Line In 47.2 inches cable terminated with 3.5 mm stereo jack / DC Power: 47.2 inches cable terminated with USB Type-A
High Gain Switch – N/A
Driver – 2″ full range speakers driver
Power Output – Total System Power: Up to 4.4W RMS / Peak Power: N/A
Build and design
These speakers' design is the first thing you will love at first sight. They are spherical in shape and beautiful to look at.
The design is such that when you place the speakers on the table, the face is tilted upwards so that the sound coming from them faces your ears directly. This helps the sound quality a great deal, especially high frequencies.

The right speaker holds the on/off switch which also doubles as the volume control.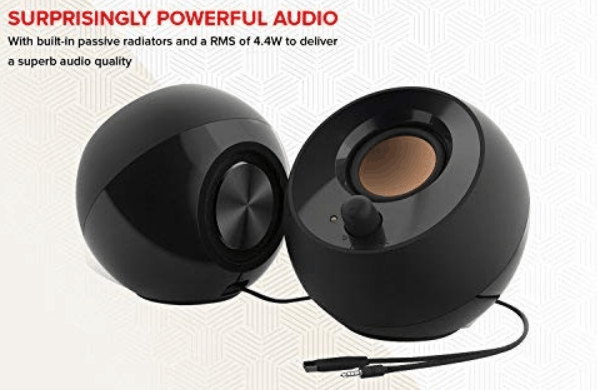 The speakers have both a USB cord outlet and a 3.5mm outlet. The USB cord is for power only while the 3.5mm is for audio. This means that you need both to be plugged in for the speakers to work.
The USB cable does carry an audio signal. Creative pebble 2.0 is also equipped with passive radiators at the rear to add extra bass, with 2-inch drivers doing the rest of the job in front.
Sound quality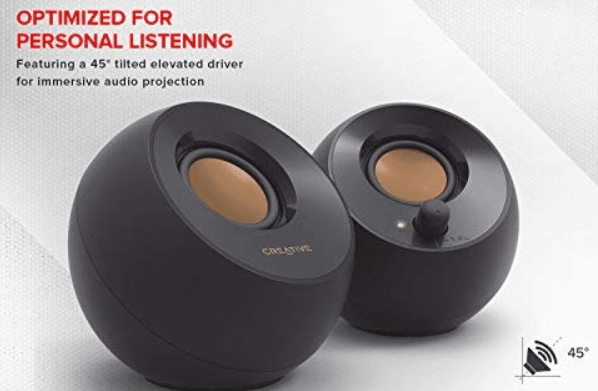 The speakers do pretty well with bass unless you're playing at high volumes, then you may have some distortion. For songs with a lot of sub-bass, you may reach distortion levels faster than a regular, bass guitar and kick drum kind of bass.
All in all music with moderate bass play out quite nicely, and the high frequencies are crisp; vocals, guitars and other instruments in this range really come out well.
Pros
Beautiful design
Vocals and guitars come out crisp and clear.
Shaped to face the ears in an optimal listening position.
Cons:
It doesn't handle sub-bass too well.
Bottomline
If your music doesn't have lots of sub-bass, you're good to go with Creative Pebble 2.0
Specifications:
Dimension: 16 x 2.5 x 2.8 in
Boxes come with 1 x TaoTronics Soundbar (Model: TT-SK018)
1 x User Guide, 1 x Power Cord
Color: Silver
Compatible with: Works with any standard 3.5mm headphone jack, such as PC s/ laptops / smartphones / tablets / projectors
Build and design
This is one computer speaker that does not come in twos; it's just the one unit that produces stereo sound. This TaoTronics speaker has a rectangular shape and is quite long.
On one end of the speaker is the volume knob. The speaker has three cables coming out of it. One is the USB cable which powers it, and the other two are 3.5mm jacks for the audio. The pink 3.5mm plug is for the mic while the blue one is for the speaker.
Because this Taotronics speaker has a mic, you can use it for online gaming that requires two-way interactions.
This speaker has no built-in microphone, you need to connect your own mic via the port provided on the speaker.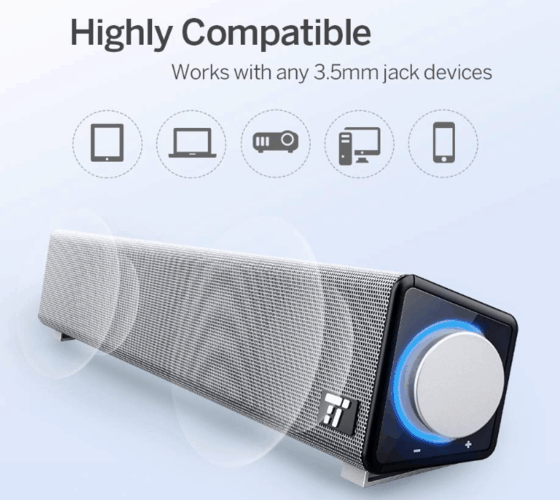 You can also use this speaker with your TV, DVD and even phone. If your device does not have a USB port to power the speaker, no worries.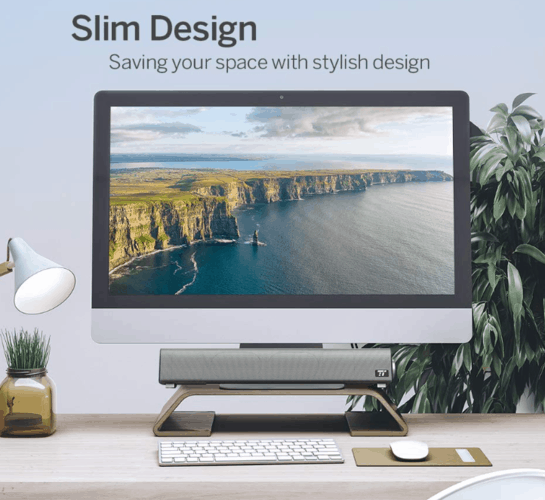 You can use a DC adaptor for it. Simply connect it to a power source and you're good to go. However, if you're using it with the USB, make sure you keep the one that comes with it because it may be hard to replace. It's a USB to a regular DC cable.
Sound quality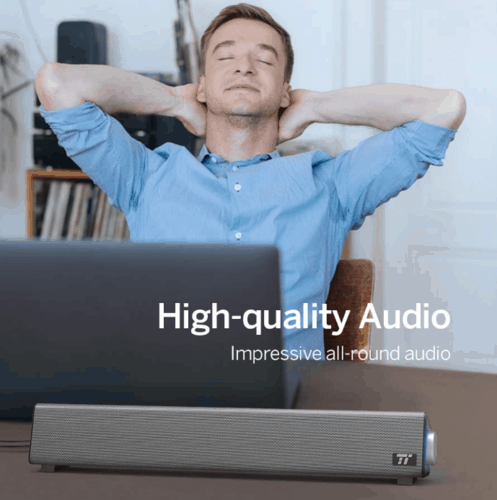 The frequency response of this speaker is quoted as 50Hz to 20kHz. It does well in producing this range.
The bass is quite good and it even does pretty well with sub-bass; pretty well for its price. The mid and high also do their bit with clarity. I wouldn't call the sound bright, but it's quite clear.
Pros:
Ergonomic design; takes up less space
It can use different power sources.
Cons:
Mic and speaker can't be plugged together on most modern laptops since they have just one audio port.
Left and right can't be separated to give wider stereo feel.
Bottomline
TaoTronics looks and sounds good, and you can hook it up to different devices; you'll get the same good sound.
Build and design
Specifications:
Output Power: (2.4w x 2) 4.8w RMS : 9.6w Peak
Impedance: 4 Ohms
Frequency Response: 150 Hz – 20 KHz
Input Power: Standard USB DC 5V
Dimensions: 3.9" x 4.0" x 2.8" Inches (Each Speaker)
Weight: 1.3 Pounds
Audio Cable Length: 5 feet
Input Audio: 3.5mm audio plug / Speaker Separation up to 2.5 feet
The 2MX speakers have a small build, with a polished black finish – similar to what you have on pianos. If the speakers are on, what you'll probably first notice are the LED lights that glow at the bottom.
It gives the speakers a sleek look, and if you're the type that likes your room lights off, these LEDs will make your room look really cool.
If you don't like it, you can simply turn it off; it's one of the things you can control on the speakers. The other is the volume knob.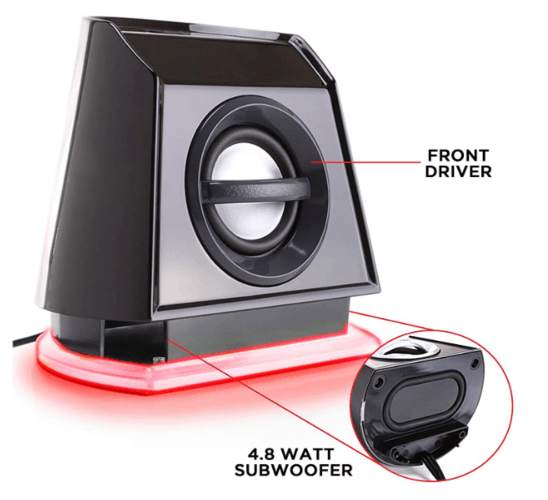 There are two cords coming out of the speakers; the USB cord which powers the speakers from your laptop or other USB enabled device, and the 3.5mm output jack that you connect to the device you're playing the audio from.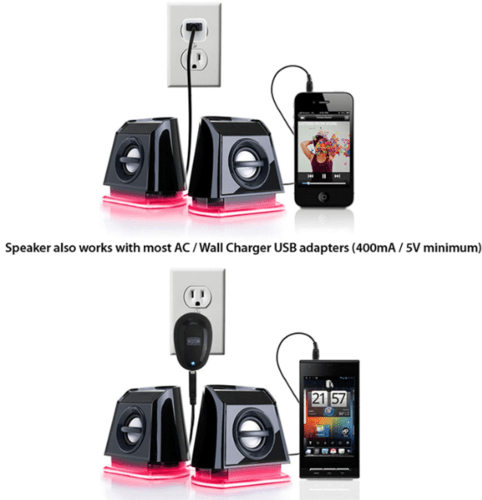 These GOgroove speakers are super easy to set up, all you really need is a USB power source. The rest is plug and play. You can easily play music for your smartphone and any other device.
Sound quality
Looking at the stated specifications, it may look like there's not much to the sound, but unlike some other speakers in this class, 2MX sounds better than the figures suggest.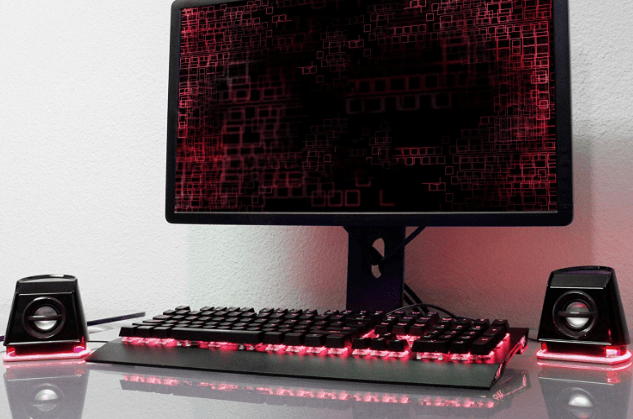 It is quoted to have a frequency response of 150Hz to 20000Hz, but the bass is well rounded and has enough energy, rather than giving a thinned out sound as I half expected.
This is mostly due to the fact that the speakers have dual drivers, so the bass alone has a dedicated driver and subwoofer that makes it pop.
Pros:
Good bass response
LED lights add cool aesthetics.
Cons:
It can't work when you don't have a USB source.
Bottomline
For bassheads, while this may bit be the best you'll get, 2MX offers some good bass for its price range.
Build and design
Specifications:
Power Input: USB 2.0
Audio Input: 3.5mm AUX
Unibody Stereo Speaker Keeps Desk Tidy
Built-in Easy Access Headphone & Mic Ports
Dual Drivers for 12W Peak Full-Range Audio
Angle Directs Sound Upward & Closer to Ears
Raised Speaker: 1/4" tall clearance below the speaker
This soundbar has a sleek design, regardless of which colors you get. It's available in white, black and blue.
It features a volume knob with blue LED lights that look really pleasing especially in the dark. The on/off switch is also right beside the volume knob.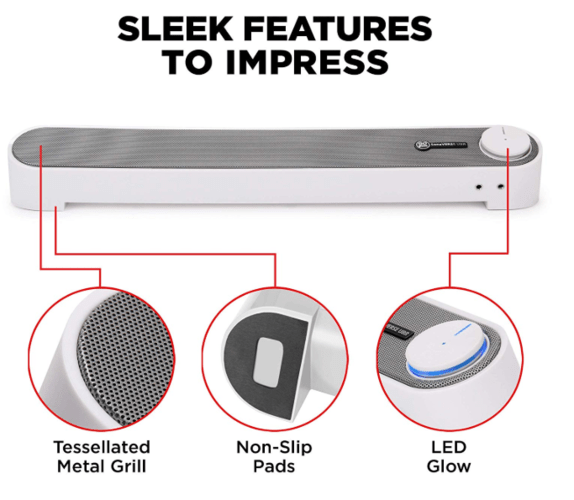 This USB computer soundbar has a microphone port. You can use this to connect an external mic to your computer. This can be useful for gamers who need speech communication.
This soundbar does not play audio through the USB cable. It uses the 3.5mm input cable attached to it.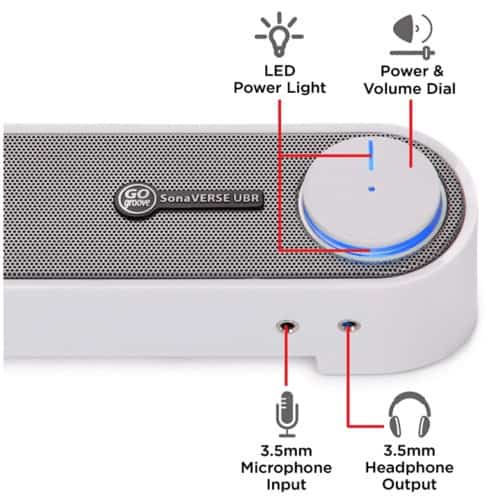 The USB is used strictly to provide the power needed to keep the speaker on. So, if your computer is not at arm's length and you need to play music with your phone, almost any USB source can provide enough power.
You can also use your phone to power the speaker via an OTG cable. If you do this, you must be ready to recharge your battery pretty soon though.
Sound quality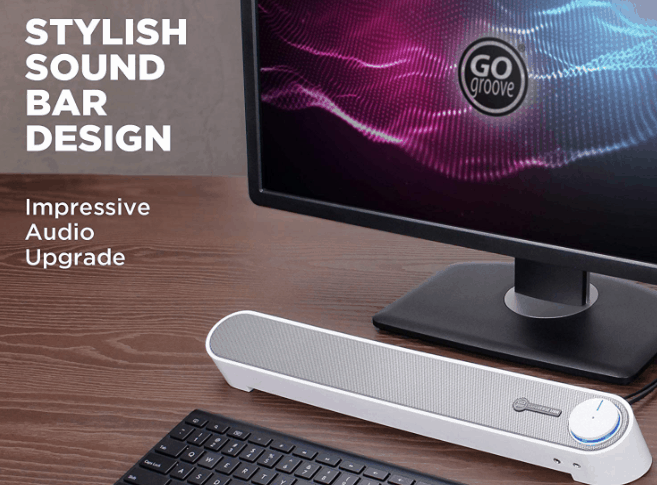 This soundbar has a frequency range of 90Hz to 20000Hz. It does a pretty decent job with the bass, and it can even reach some louder volumes without distorting.
However, the sweet spot of this speaker in the mid to high frequencies. It brings some brightness and clarity to your listening experience, and it doesn't ruin it by getting harsh.
You can't have a wide stereo feel though, as the left and right sides are inseparable.
Pros:
Saves desk space
Can be used as mic passthrough
Cons:
Can't provide good stereo experience because you can't separate left and right.
Bottomline
This speaker both looks and sounds good. Just place it right in front of your monitor and you're good to go.
Build and design
Specifications:
Total watts (Peak): 2.0W
Total watts (RMS): 1.2W
Satellite speakers dimensions: 6.22 in (158 mm)H x 2.68 in (68 mm)W x 2.52 in (64 mm)D
Weight: 1.41 oz (0.4 kg)
USB Power Cable Length: 3.93 ft (120 cm)
Cable Length of Connecting Speakers: 2.62 ft (80 cm)
These speakers are 16cm tall and they connect to your laptop or desktop via the USB2.0 cable that comes with them.
They're available only in black.
Logitech S150 speakers have a sleek design, though they don't turn heads with their aesthetic.
At the front panel of the right speaker, you have three buttons that control the volume. The one in the middle mutes the speaker while the other two reduce and increase it. There's no power button or switch.
Another interesting fact about this speaker is that it only connects to your device via the USB2.0 port. There's no 3.5mm output or any other one.

This can be a benefit because it means that you have fewer wires to worry about (just the one). On the other hand, it might be an issue if you intend to use it with your phone..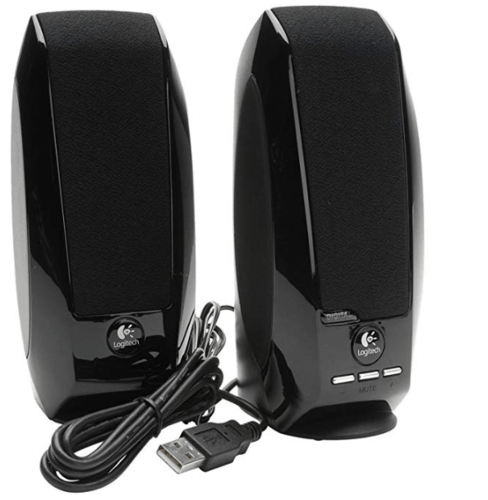 The USB connects to your computer to play both audio and power the speakers. It appears on your computer as a USB audio device. Also, there's no wire connecting the two speakers to each other.
Sound quality
Logitech S150 has a decent sound production for its class. The frequency range is stated as 90Hz to 20kHz, but the bass does not sound like it reaches that low.
This means that music rich in bass may seem a little thin when you're hearing it through these speakers.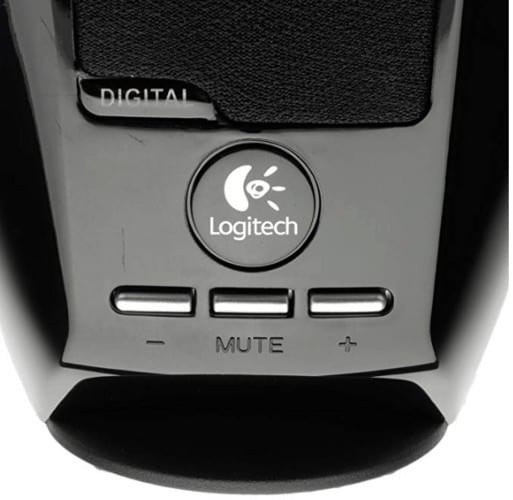 The mid to highs are much better, producing a pretty good sound. All in all, it beats what most laptops built-in speakers have hands down.
Pros:
Fewer wires to deal with
Plug and play with any computer
Cons:
I can't work with most phones.
Bottomline
S150 will serve you well with your computer if you're not a basshead.
Recommended read:
Conclusion
USB powered speakers are usually the go-to sound solution for most computer users. By now, you must have seen that you really don't need to break the bank to have a good sound system.
So, whether you're watching movies, listening to music or gaming, you can have a pair of speakers or even a that fits both your needs and your pocket. Just pick one from our list and thank us later.