Today in this post, we are going to review the best external mics for Osmo Pocket.
My Best Pick
Rode VideoMic Pro R Camera-Mount Shotgun Microphone
Best Value for Money
Rode VideoMicro Compact On-Camera Microphone with Rycote Lyre Shock Mount, Auxiliary, Black
Great Durability
Rode SmartLav+ Lavalier Microphone for Smartphones
Last update on 2023-09-21 / Affiliate links / Images from Amazon Product Advertising API
Are you not satisfied with the audio of your DJI Osmo Pocket?
Do you have problems connecting external mics to your Osmo Pocket? If yes, then this article is for you.
Here,I have reviewed the best external mics that you can use to capture crisp, clean audio for recording videos with Osmo pocket.
Osmo Pocket is a handheld camera that comes with USB-C port at the bottom allowing you to connect external mics using adapters.
The popularity of Osmo Pocket is due to its ease of use, portability, and water resistance.
But the downside is its audio quality sucks because its internal mic is not good. Thus the need for external mics.
Here are our 5 best mics for Osmo Pocket
Overview
Videomic Pro is one of the best Rode mics that work well with the Osmo Pocket.
Its compact size makes them match each other without one looking so big and the other so small.
Also, you won't really feel the difference in weight, since Videomic pro is a lightweight mic. However, we also need to remember that the weight of the shock mount used for attachment is not considered here.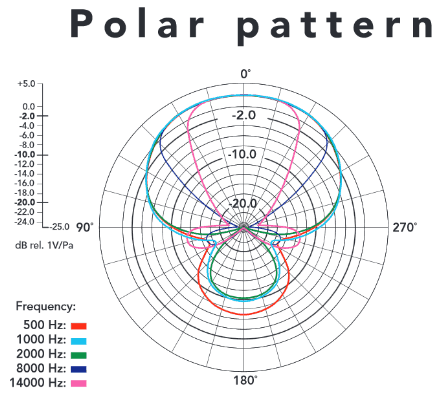 Moving on, Videomic pro's battery lasts for up to 70 hours of use. It also doesn't use phantom power from the camera or any other source.
Comparing it to others, it may not be much, but you can at least be sure of shooting conveniently for two days on a new alkaline battery. Not bad in my opinion, especially for a very mobile arrangement like this.
You can connect this mic to your DJI Osmo Pocket via a 3.5mm TRS connection since it's not a USB-C mic. This means you need a 3.5mm to USB-C adapter to hook it up to your Osmo pocket's USB-C port.
Sound quality
Rode Videomic pro has a sensitivity and low cut switch. They enable you to change the recording level and prevent bass buildup.
If you're an outdoors vlogger, the low cut should work for you. It helps reduce background sound that gets captured by the mic.
For some mics, using high sensitivity increases the gain, and therefore you may begin to hear the mic's noise at some point.
Videomic Pro does not have this problem because it has low noise. Even at high sensitivity, the mic's self-noise does not get in the way of your recording.
Also, this mic has a cardioid pickup pattern.
If you engage the lock-on feature of your Osmo pocket, you should remember that it's just the camera head that's following your movement; the mic isn't.
This means that you should limit your movement to areas where the mic's pick up is good.
Rode Videomic Pro has a frequency range of 40Hz to 20000Hz which is mostly flat.
Although the flat response gives no preference to speech, it is well-tempered and does not get overly bright or harsh. Also, this mic can handle loud sound sources with its maximum SPL at 138db.
Pros
Can record loud sources
Low noise
Cons
Battery charge doesn't last very long
Has no presence boost
Overview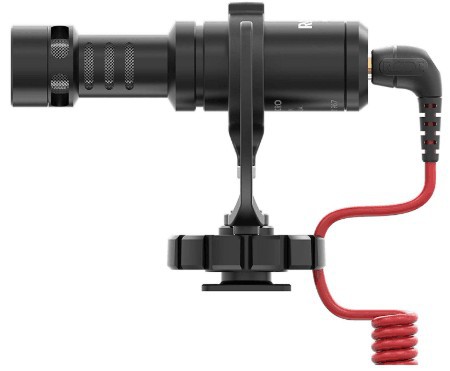 Rode Videomicro is the first mic on this list that's actually smaller in size than the Osmo pocket itself.
Obviously, it's also very light and easy to move around, even with the shock mount and adapter considered.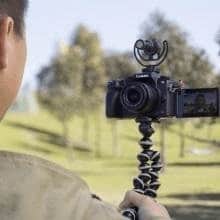 Because of its very small size, the Videomicro does not have space for a battery. Its power comes from your Osmo Pocket.
This means that if you'll be recording sound with it, your camera must be fully charged because you'll be using more power.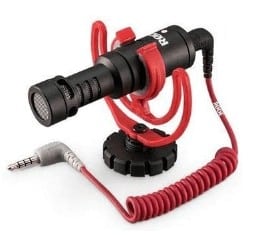 The audio connection here is via 3.5mm TRS cable. This means you'll need a 3.5mm to USB-C adapter to connect it to the USB-C port of your Osmo pocket camera, similar to what we do with GoPro external mics.
Sound quality
This mic has a consistent pickup pattern across its frequencies. For some other mics, the pickup is usually smooth until it reaches the lower frequencies, then things start to get uneven.
Videomic Pro has the same cardioid smooth pickup from its lowest frequency to the highest. It is the best Rode Shotgun mic favorite among videographers.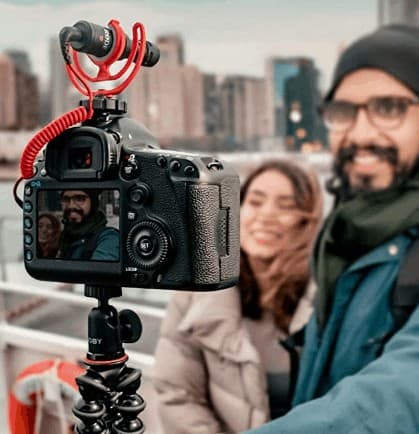 Also, its range is not as wide as you may like; its low frequency starts from 100Hz. While this eliminates some unwanted rumble, it may also make the recorded sound to seem thin.
This means that if you're capturing nature with your Osmo pocket, the sound may not be as natural as you want, especially in the low end.
Pros
The small size makes placement easy.
It can be moved around easily because it's quite light.
Cons
It has some self-noise.
The frequency range is not expansive enough.
Overview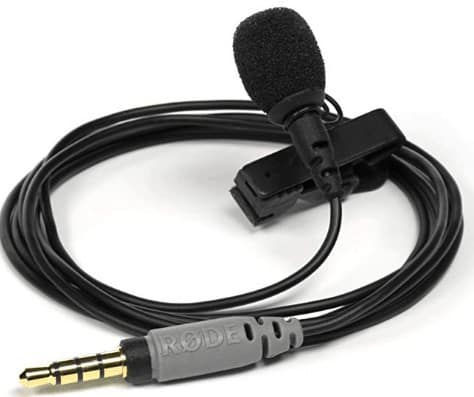 It's the only lav mic that made the list.
Rode Smartlav+ is a lavalier or lapel mic that you use by attaching it to the speaker's clothing with the clip.
Of course, this means that you can only use it to record one subject at a time. It's so small, so there's no space for batteries. Smartlav+ gets all the power it needs from your camera.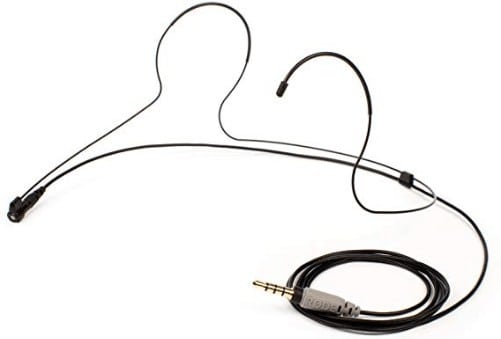 For this mic, the connection is a bit different from the others.
You would need two adapters here rather than one. This is because of the audio connection cable on the Smartlav+is TRRS, not TRS.
So, you need an adapter to convert this TRRS to TRS first, then another to convert TRS to the USB-C port on your Osmo pocket.
It is one of the best lav mic you can use for DSLR, or with iPhone.
Sound quality
This mic has an omnidirectional pickup pattern: it picks sound equally from all angles.
This should ordinarily be a problem for video recording, because of unwanted sounds getting in.
If the Osmo Pocket is locked on, the subject being recorded has some freedom to turn and move around, since the mic is omnidirectional, the sound will be the same while the camera head follows the subject automatically.
However, it's not much of a problem because the mic will be clipped to the speaker's clothing, so it will pick most of its sound from the intended source.

Also, it has a wide response range-20Hz to 20000Hz.
You don't have to worry about bass buildup since it's omnidirectional. If you're recording at high gain, the mic's self-noise may begin to show in your recordings.
Pros
Wide frequency range
No bass buildup
Cons
High self-noise.
May pick background sound.
Overview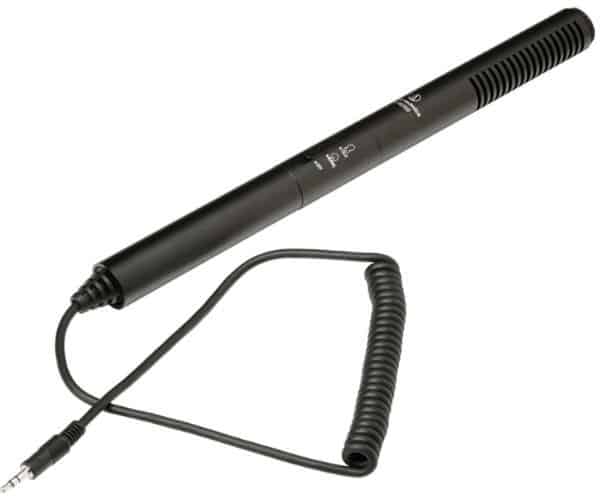 ATR 6550 is a condenser shotgun mic designed mainly for video recording. Its major visible feature is the option to select normal or "tele".
Choosing "tele" setting makes a number of audible changes that will be discussed under sound quality.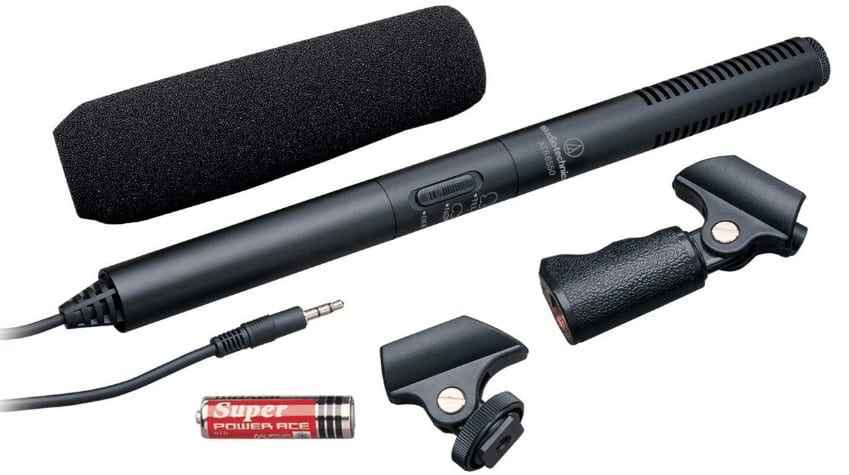 ATR6550 connects via its 3.5mm TRS port. This means that you must have a TRS to the USB-C adapter.
Audio Technica ATR 6550 is one of the best Audio Technica mics that comes with excellent features.
Sound quality
This mic's operation changes once you switch from "normal" to "tele".
At the "normal" setting, ATR 6550 has a cardioid pickup pattern. Once you switch to "tele", the polar pattern changes to supercardioid. This means that if you're some distance away from your Osmo pocket, you can still get clean sound if you get your placement right.
This is good because supercardioid rejects unwanted background sound better. The sensitivity also changes when you switch between "normal" and "tele", with tele being the more sensitive option.
Pros
Good off-axis sound rejection
Has a presence boost for speech clarity.
Cons
It can be a bit harsh at high volumes.
Placement can be difficult when recording subjects at a distance.
Overview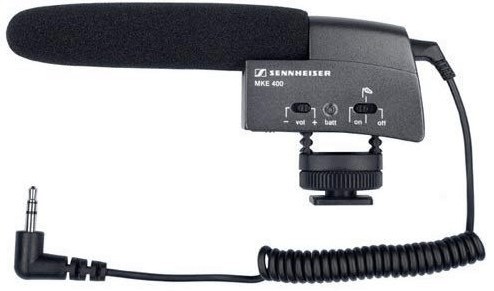 MKE 400 is a cardioid condenser microphone made for capturing sound when using smaller cameras.
It is a compact mic that comes with a removable windshield. To connect the MKE 400 to your handheld Osmo pocket, you need to use a USB-C to a 3.5mm adapter.
Remember that the adapter must have a 3.5mm TRS port because Osmo pocket does not work with TRRS.
The mic has enough room for a battery. When you insert a new alkaline battery, the mic can keep working for up to 300 hours. This figure may vary due to higher sensitivity settings. To conserve the battery life, switch the mic off whenever you're not recording.
Sound quality
When the low cut is not engaged, MKE 400 has a frequency range of 40Hz to 20000Hz.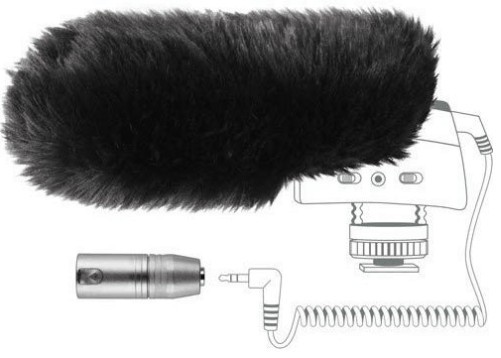 This range is wide enough for speech recording purposes. If you're recording outdoors or in an uncontrolled environment, it's better to use the low cut. It prevents low-frequency background noise from ruining your recording.
MKE 400's response is mostly flat. There's a gradual buildup at the lower frequency boundary and another roll-off from 10kHz.
This response makes this mic ideal if you're recording an activity, rather than a speech with your Osmo pocket. Your viewers won't be disturbed by sounds at the extremes of the frequency spectrum.
In-between the two extremes, the mic has a flat response. This means that you should expect little or no sound coloration from the mic.
Pros
Long battery life
Flat response
Sensitivity and low cut switches make the mic versatile
Cons
No indication of battery life
Frequency response not optimized for speech.
Read our other popular posts:
Conclusion
Osmo pocket is an amazing camera, built for the future of both hobbyist and professional video recording.
The only thing that may be an obstacle is audio. Since you now know a diverse range of options that you can use with your Osmo pocket, making a selection should be really easy.