Affiliate disclosure: In full transparency – some of the links on this website are affiliate links, if you use them to make a purchase we will earn a commission at no additional cost for you (none whatsoever!). Will this be a problem? This is how we manage to create free content for you. Please know that your trust is so important for us. If we recommend anything, it is always because we believe it is worth exploring. And, buy me a coffee ☕️
Today in this post we are going to review the best lav mics for iPhone.
Our Best iPhone Mic
Rode SmartLav+ Lavalier Microphone for Smartphones
Budget Friendly Clip on Lav Mic
Shure Microphone, Black with Red Foam (MV5-B-LTG)
My Favorite Wireless Lav Mic
BOYA BY-WM2G Wireless Lavalier Microphone System Compatible with iPhoneX 8 8 Plus 7 6 Smartphone,Canon 6D 600D Nikon D800 D3300 Sony A7 A9 DSLR GoPro Hero4 Hero3 Hero3+ Action Cameras
Last update on 2022-12-08 / Affiliate links / Updated prices and images from Amazon Product Advertising API
Since the launch of the first iPhone, smartphones have changed from simple communication devices to multi-purpose tools.
One of the areas where mobile phone use is growing is multimedia creation. You can use your phone for work-intensive tasks such as shooting movies, making music and recording voice-overs.
One of the keys to creating a great multimedia product such as those mentioned above is to have great sound.
Luckily, there are many great microphones that you can hook up to your iPhone to achieve that high-quality sound.
In this article, we'll look at the 7 best lavalier microphones that can be used with your iPhone.
Some of the great brands like Sennheiser, Rode, and Shure have developed lapel mics for iPhone that offers excellent audio.
Let's get started.
Top 7 lav mics for iPhone with excellent audio
Rode is a highly reputable company in the pro audio arena. It's well-known for making quality products at an affordable price. So it comes as no surprise that the Rode smartLav+, one of the best iPad mic holds a place on this list of great.
Build and design: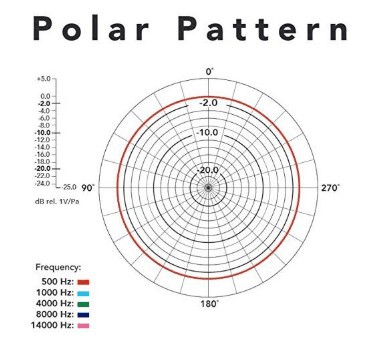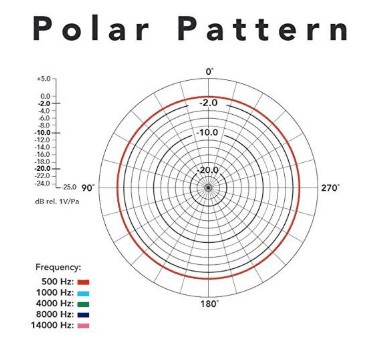 The Rode smartLav+ has an omnidirectional pickup pattern and is a lavalier microphone built specifically for smartphones. Also, it is one of the best lav mics you can use to record high-quality videos with DSLR.
The unit weighs in at 6 grams which makes it very discreet, light and easy to move around with.
It's a wired microphone with a maximum cable length of 1.4 meters. The cable is reinforced with Kevlar for increased durability. The mic also comes with a windshield to reduce wind noise.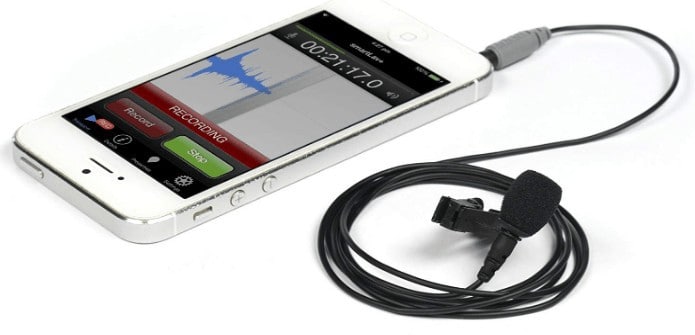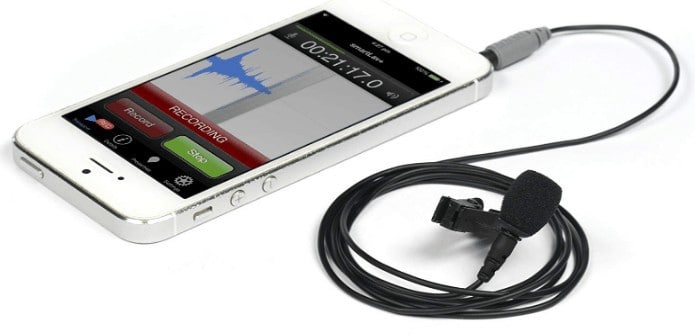 The smartLav+ uses a 3.5mm TRRS jack meaning it can be plugged directly into your iPhone 1 to iPhone 6 directly with no special hardware requirements. If you have an iPhone 7 or newer device you'll need to use a Lighting to 3.5mm adapter to connect it to your phone.
Sound quality:
It has a respectable frequency range of 60Hz to 18kHz which is what you expect in a microphone of this kind.
Lavalier mics don't need to pick up super low or super high frequencies because their primary use is for recording human speech, which does not reach those frequencies.
In optimal conditions, the SmartLav+ gives you broadcast-quality audio, making it suited for multiple use cases.
Pros
Good sound quality for the price
Durable Kevlar reinforced cable
Small, discreet microphone
Cons
The cable might be too short depending on your intended use
Shure is arguably the most well-known microphone brand name seeing as the company has created some of the most iconic microphones including the SM58 and SM57 which are the best-selling mics in the world.
With that in mind, it comes as no surprise that the Shure MVL makes the list of best lavalier mics for your iPhone.
Build and design: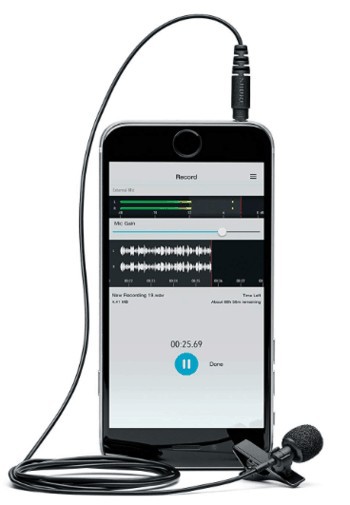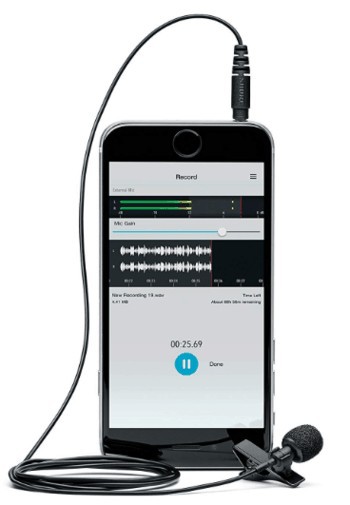 The Shure MVL is a wired microphone with an omnidirectional pickup pattern. It uses a 3.5mm TRRS connector for audio input meaning you need to use a Lightning to jack adapter if you have an iPhone 7 or newer device.
The cable is 1.2 meters long and has a soft, flexible feel. A metal clip is included in the package and its small size makes it relatively incognito when you're wearing it. A removable windshield and carrying pouch are also included in the package.
Sound quality: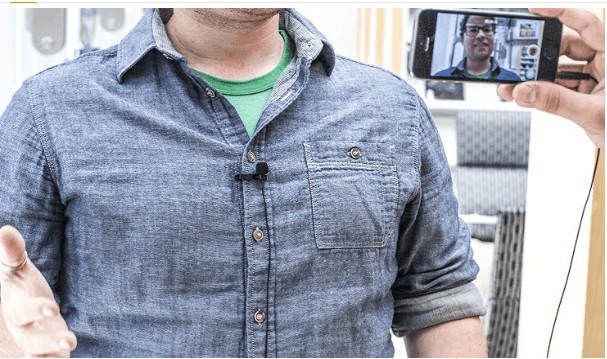 This mic offers high quality 24 bit /48kHz recording. It has a bright and crispy sound overall which can be a bad or good thing depending on the voice you're trying to record.
It has a high SPL level making it suitable for recording audio in noisy environments such as clubs, parties, and bars.
The high end of the mic can be a big airy and harsh sometimes but not enough to cause discomfort to listen to. Sometimes some static noise is also audible on this mic.
Pros
It comes with a dedicated iOS mobile app.
It has a high SPL level, making it suited for recording in loud environments
Good build quality
Cons
A lot of air on the high end of the frequency spectrum
Some noticeable static noise.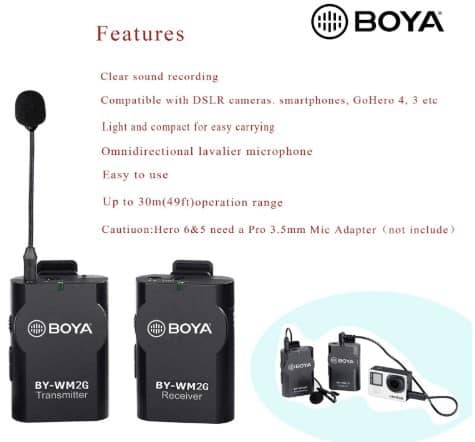 BOYA is a relatively new player in the microphone domain but it's making a name for itself. Their BY-WM3G is one of the best iPhone microphones on on the market.
Build and design: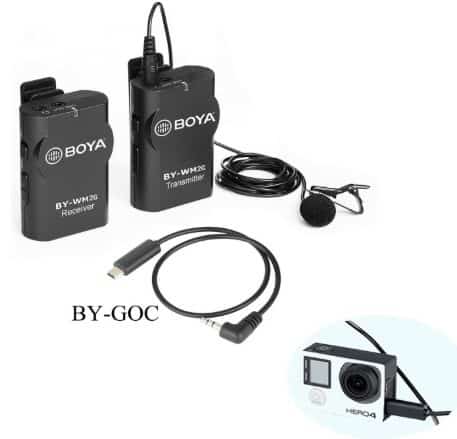 The microphone system uses a wireless transmitter and receiver technology.
The receiver can be connected to your iPhone using a 3.5mm jack. If you have an iPhone 7s or newer device you need to use a jack to Lighting adapter to input audio to your phone.
The microphone's portability makes it a great option for recording speech on the move so long as the transmitter and receiver are within 15m of each other. The battery lasts between 5 to 6 hours which is pretty decent.
Sound quality: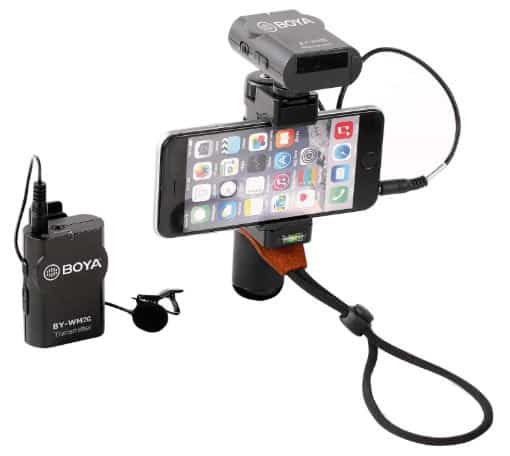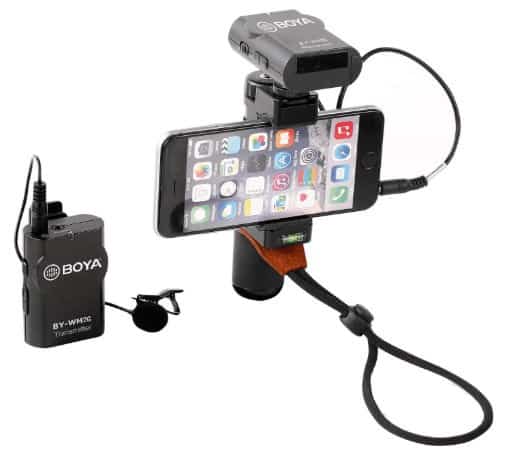 The microphone has a frequency response of 35Hz to 14kHz, making it suitable for voice recording but also susceptible to low-frequency noises such as coughing.
The pop-filter does help to reduce a bit of this noise so it's advisable to use it. The overall sound though is well-balanced and can be used for multiple purposes such as podcasting, YouTube videos, and vlogging.
Pros
Lightweight and relatively small body make it highly portable
Good sound at a reasonable price point.
Cons
No LED screen on the transmitter and receiver units.
Sennheiser is another heavyweight in the audio equipment realm so it's understandable that the Sennheiser ME 2-II is one of the better lavalier mics out there.
Build and design: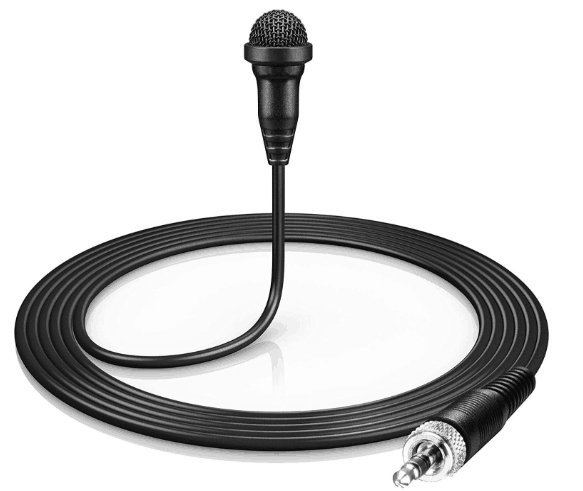 The ME 2-II is an omnidirectional wired mic. It has a built-in windshield and weighs 32 grams and uses a 3.5mm connector. The cable is 1.6m long and the unit as a whole is highly durable and designed for long-term use.
Sound quality:
The ME 2-II has a frequency response of 50Hz to 18kHz which is expected for a device of this kind.
It lets in minimal ambient noise in recordings making it perfect for speech purposes. It has a relatively flat response at all frequencies meaning that you get pretty accurate recordings which you can then equalize in your editing process if you wish to do so.
Pros
High-quality audio input
The robust and durable physical design
Relatively long cable 1.6-meter cable
Cons
It's relatively pricey.
The lapel clip is a bit flimsy and can break easily.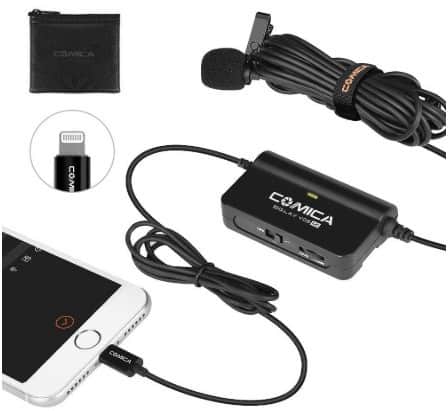 The Comica Audio CVM SIG. LAV V05 is a lavalier mic that's specifically designed for Apple devices and its main purpose for existence is to capture audio for interviews and video applications.
Build and design:
The microphone is a bit bulkier than some of the other mics discussed in this article.
It weighs in at 244 grams and much of this weigh is due to the built-in control unit which houses a dedicated 3V CR2032 battery with an LED indicator to monitor the battery's health.
A windshield is included in the package as well as a lapel clip.
The mic uses a Lighting cable to interface with your iPhone making it suited for iPhone 7 and newer devices. It has an omnidirectional pickup pattern.
Sound quality: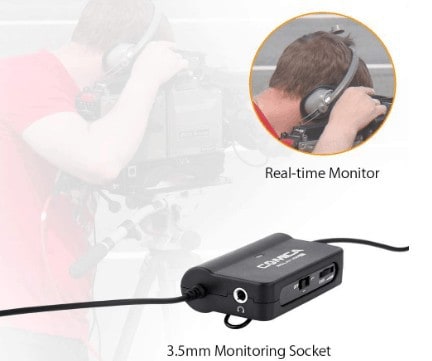 The CVM SIG-LAV V05 has a frequency response starting at 60Hz and peaking at 18kHz. It boasts a low cut filter function to help tame low-end rumble if you wish to do so.
You can boost or cut the input gain with the help of the onboard gain adjustment wheel.
Overall, the mic has a good wind-shielding capacity to help ensure clean recording.
Pros
Designed specifically for Apple devices
Has a built-in gain control wheel.
Cons
Uses an external battery pack.
More bulky and cumbersome than its peers.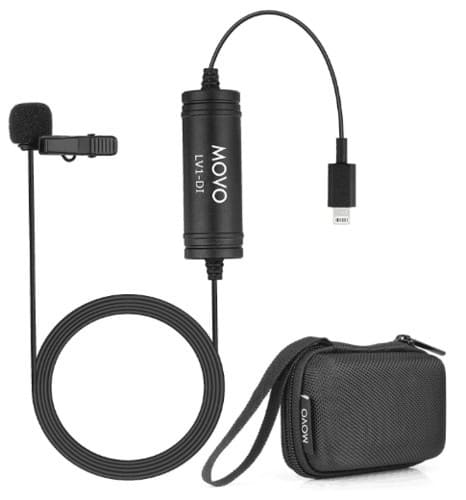 The Movo LV1-DI is another microphone that's specially designed for Apple devices. It's great for recording podcasts and vlogging.
Build and design:
The wired microphone uses a Lighting connector so you can simply plug it into your iPhone 7 or newer device and you're good to go.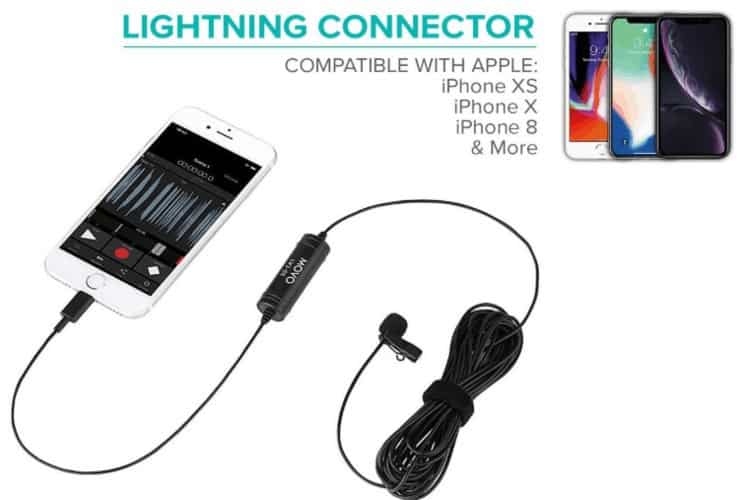 There's no need for any additional apps to get it working. It has a 6-meter cable which is convenient for moving around if you want your device to remain stationary. It has an omnidirectional pick-up pattern.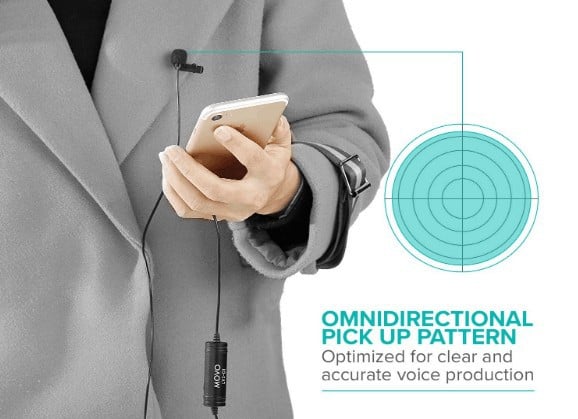 Sound quality:
The Movo LV1-DI has a frequency response of 30Hz to 20kHz. This makes it capable of capturing quite a large range of sounds.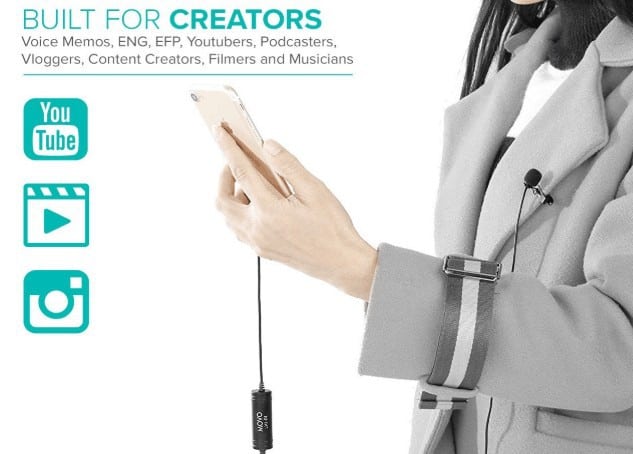 However, this also means that it picks up quite a lot of ambient sound, even when the wind cover is on so you may need to spend a bit of time during editing to reduce background noise or you should just use the mic in a quiet environment.
Pros
Specifically designed for Apple products
Decent quality sound at a decent price point.
Cons
Picks up a lot of ambient noise.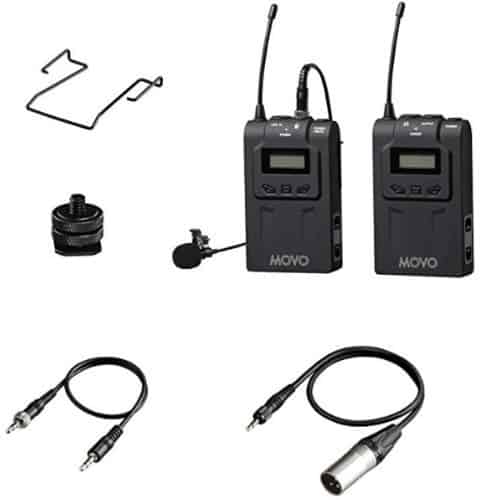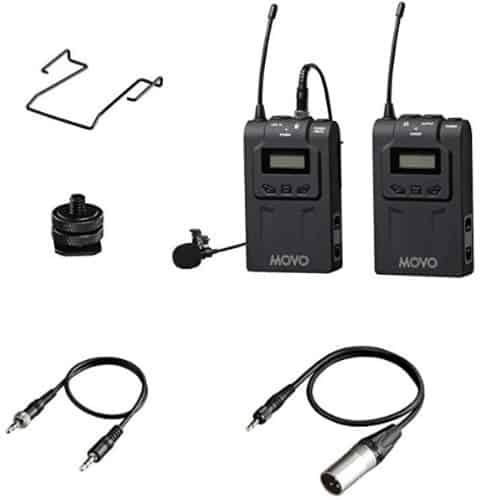 The Movo WMIC70 is a wireless microphone system you can use for recording professional-quality audio.
Build and design: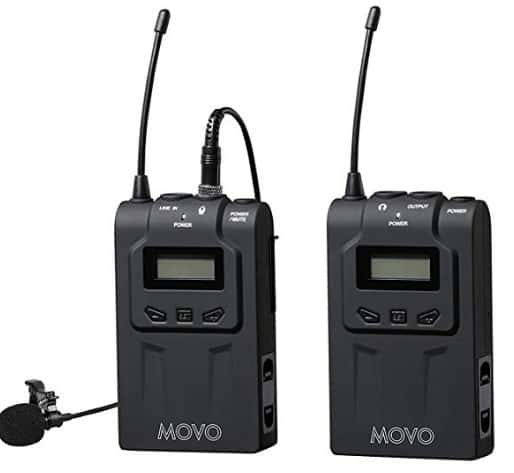 The wired Movo WMIC70 uses a 3.5mm line input and also comes with an XLR cable. Both the receiver and transmitter units are powered by two AA batteries which ought to last roughly 8 hours.
Each unit weighs in at 95g without the batteries and the lavalier microphone cable is 1.2 meters long.
All the components are solid and sturdy enough for relatively heavy use. The full wireless range between the transmitter and receiver is 100m.
Sound quality:
The Movo WMIC70 lavalier mic has a frequency response of 35Hz to 18kHz making it capable of capturing plenty of low-frequency sounds.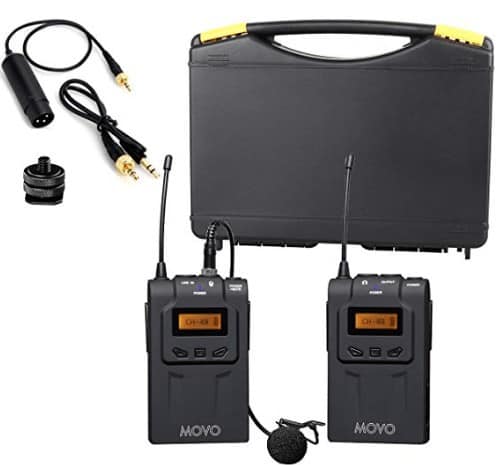 It has an omnidirectional pick-up pattern.
The sound is clean and bright. By default, the mics have a rather low volume but this can be solved by raising the gain on the control unit and also in the editing phase on your app/software.
You need to use this wisely though because raising it too much it may introduce some hiss in your recording.
Pros
Professional quality sound.
Long wireless range
Cons
Hiss is audible if the gain is raised too high.
Relatively high price.
Read our other popular posts:
Conclusion
Whether you're looking for a lavalier mic for iPhone to use it indoor or outdoor, the above list has all bases covered.
Remember that sometimes you have to experiment with the mic settings, positioning, and your environment to get the best performance out of each unit.
This is especially true if you're working on tasks such as short films, podcasts, and similar media.
Different microphones excel at different tasks but for the most part, the ones mentioned in this article will get most jobs done when it comes to the task of recording clean, professional-quality human speech.
Hi, I'm Jennifer I'm a passionate singer and an audiophile from Detroit, MI. 
I'm on a mission to help music creators to create fine music that help them position uniquely in the saturated music space.
Follow my blog for regular content :-)