Are you a GoPro user who loves making good sounding videos?
Our Best Pick
Sennheiser MKE 400 Compact Video Camera Shotgun Microphone with MZW400 Wind-muff and XLR Adapter and AAA Batteries Kit
Best Value for Money
Rode VideoMicro Compact On-Camera Microphone with Rycote Lyre Shock Mount, Auxiliary, Black
Crisp Clear Audio
RØDE Auxiliary VideoMic GO Lightweight On-camera Shotgun Microphone for Filmmaking, Content Creation and Location Recording
Our Best Pick
Sennheiser MKE 400 Compact Video Camera Shotgun Microphone with MZW400 Wind-muff and XLR Adapter and AAA Batteries Kit
Best Value for Money
Rode VideoMicro Compact On-Camera Microphone with Rycote Lyre Shock Mount, Auxiliary, Black
Last update on 2023-09-21 / Affiliate links / Images from Amazon Product Advertising API
Then definitely you will be looking for an external mic to use with GoPro.
GoPro cameras are increasing in popularity and use. However, there is one thing that prevents video makers from enjoying their GoPro cameras to the fullest: the sound quality.
The built-in microphones in GoPro and many other cameras are just not good enough to make quality audio recordings. Hence, the need for external microphones.
There's another issue here, because most, if not all GoPro cameras do not have the 3.5mm port needed to connect most external mics. Therefore, you need an adapter that can connect the external mic to the USB-C port available on GoPro cameras.
#

Product

Type of the adapter needed

Maximum SPL

Amazon product page

1

Sennheiser MKE 400 –

Our Best Pick

3.5mm to the USB-C adapter

126 dB

Check price

2

Best Value for Money

3.5mm TRS to USB-C adapter

140 dB

3

3.5mm to USB-C adapter

120 dB

4

Convert screw hole to a shoe mount by using an adapter

140 dB

5

Convert screw hole to a shoe mount by using an adapter

120 dB

6

3.5mm to USB-C adapter

132 dB

7

Shure VP83 LensHopper 

3.5mm to the USB-C adapter

140 dB



Check price
What type of mics works well with GoPros?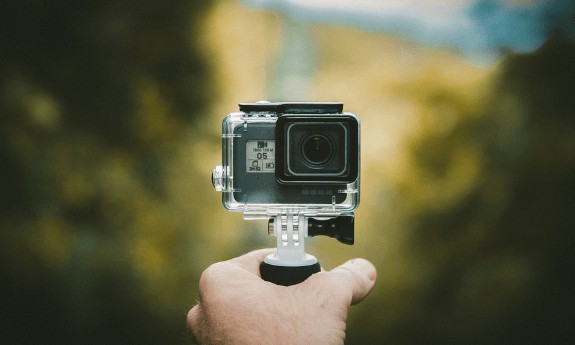 Shotgun mics
Some GoPro cameras have USB-C ports only while others have 3.5mm audio ports. For those with USB-C ports, you need an adapter that converts 3.5mm to USB-C to connect them to your shotgun mic.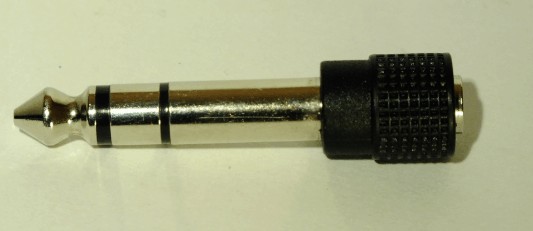 For GoPro cameras that have regular 3.5mm ports, you need to ensure that the cord you're using is the TRS type. If it's TRRS, you need a TRRS to TRS adaptor to make it work with your shotgun mic.
Lavalier mics
Generally, lavalier mics work well with GoPro cameras, but you may need to use adaptors as stated for the shotgun mics. All most all the lav mics support well with GoPro cameras.
Do All GoPros accept external microphones?
That being said, there are some GoPro cameras that do not work with external mics.
Here they are:
HERO cameras (HERO (2018)
HERO (2014)
HERO+
HERO+LCD
HERO4 Session
GoPros that are compatible with external microphones:
HERO7 Black
HERO6 Black
HERO5 Black
HERO5 Session
HERO4 Black / Silver
HERO3+ Black
HERO3 Black
Here are 7 best GoPro microphones
Build and design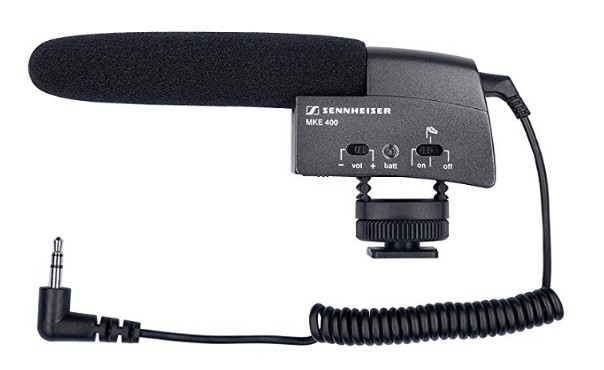 The MKE 400 is a compact shotgun microphone that you can attach to your GoPro camera via its integrated shock mount.
This shock mount not only allows you to attach the mic to your camera, but it also makes sure that camera movements and mic vibrations do not affect the integrity of your sound.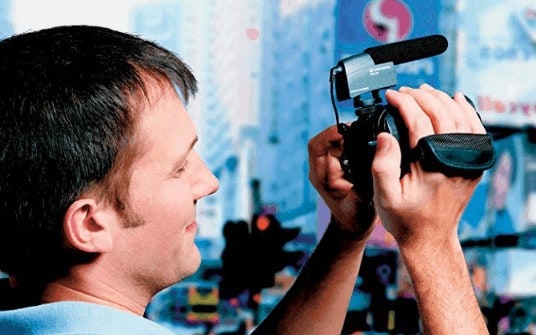 You can adjust the mic's sensitivity depending on how far or close you are to the sound source. MKE 400 uses a single AAA alkaline battery for power. One battery can give you up to 300 hours of use. This means that with a new battery, you can go shooting for more than a week without worrying about your battery dying.
Another good thing about this mic is that excluding the mics already mentioned, it supports any other GoPro camera smoothly.
It also has a switch that allows you to apply a high pass filter or low cut while recording. This way, you can avoid stubborn low-frequency background noise that keeps trying to get in.
The MKE 400 is compact, light and rugged; these are three qualities that will serve your need for a mic that will be on your GoPro camera. You will still need the GoPro USB-C to 3.5mm adapter for the connection since MKE doesn't have a USB port.
Sound quality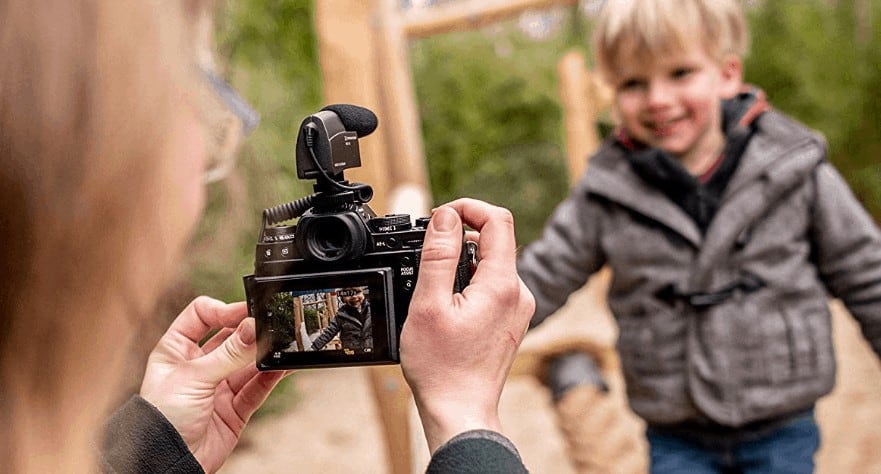 Sennheiser MKE 400's frequency response range is 40Hz to 20000Hz. This range is good enough to capture all parts of human speech and most parts of the environmental sound.
This mic has a maximum sound pressure level of 126 dB even with the sensitivity set to high. This means that you should be careful with loud sources and engage low sensitivity in those situations.
It has a super-cardioid polar pattern, which enables it to reject any sound that's not in front of it. Even sounds to the side of the mic are rejected.
Pros:
Compact and lightweight; good for GoPro cameras
Long battery life
Cons:
Because of its polar pattern, it can capture some unwanted sound, especially from directly behind the camera.
Switches are on the side, rather than behind, so it's not facing the camera handler directly.
Bottomline
The sensitivity adjustment option adds an extra touch to this impressive Sennheiser MKE 400 mic. So this is a best choice to use with GoPro.
Build and design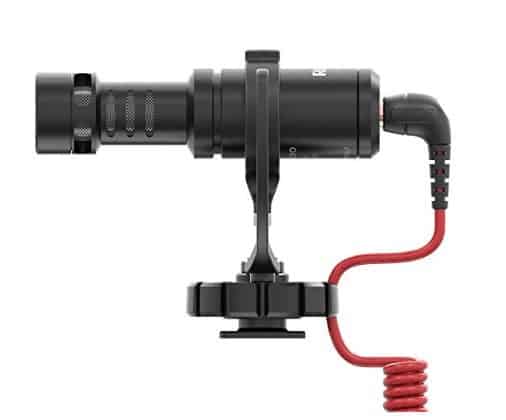 The Rode VideoMicro is a mini shotgun mic of sorts. It comes with a Rycote Lyre shock mount and it sits on your camera's shoe mount.
It's really a plug-and-play type of mic because it doesn't require any batteries or any on/of switching. All you need to do is hook it up to your camera and off you go.
It also comes with a dead cat windshield for outdoor use. It is built to attach easily to a tripod too.
The part that this mic uses to attach is usually called a hot shoe-cold shoe. That's because you can attach it to your camera or a tripod without any adapters.
This mic is really compact and does not increase the weight or size of your GoPro much. This small size comes at a cost though, there are no filters or switches that you can use in different situations.
To use the Video micro with your Gopro camera, use the 3.5mm TRS to USB-C adapter. Aside from those cameras that we've mentioned as being incompatible to any external microphone, Videomicro works well with all other GoPro cameras.
Sound quality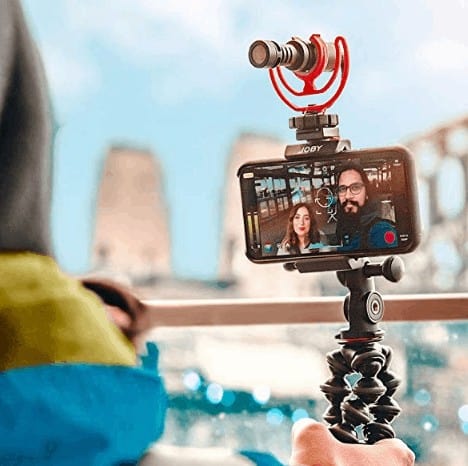 This mic has a pretty high maximum SPL of 140db. I guess it makes up for its lack of a pad switch. You can conveniently record some loud sources without worrying about clipping.
The VideoMicro has a frequency range of 100Hz -20kHz. Being a cardioid mic, this combination is close to ideal for speech recording.
If what the subject is saying is the most important part of your video, Rode VideoMicro will be an excellent choice. 100Hz lower frequency boundary eliminates low-frequency rumbles or noise.
Cons:
No switches or filters; less hands-on control
The dead cat may get in a shot at times
Bottomline
If you need a quick fix mic for your GoPro camera, Rode VideoMicro is your choice.
Build and design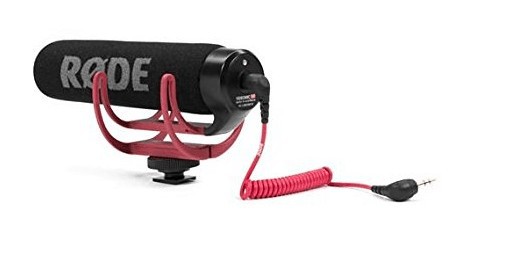 Videomic Go is mostly made of plastic, which helps in keeping its weight very low. With just 73 ounces, I am sure won't find many mics lighter than this one. It has an integrated Lyre shock mount that keeps the mic stable and in a prime position to capture sound.
Videomic Go has no switches or filters on it. All you will find on this mic is the 3.5mm jack input.
Like all other Rode Videomic microphones, Videomic Go works well with all GoPro cameras, with the exception of those that don't work with any external mics.
I think it's a case of "you can't eat your cake and have it" because the mic is quite compact and light, so the absence of all these switches is a way of conserving some space. Even at that, it still manages to retain the quality we 've known with Rode shotgun mics.
This mic's size and weight make it ideal for GoPro cameras because they are also known for being quite small and light. Also, the windscreen of the Videomic Go will not get in the way of your GoPro shots, even though it takes wide shots.
Also, it requires no batteries or phantom power. Its required power comes from your camera.
Sound quality
Since there are no filters and other tools for adjusting the recording settings, Rode has played it safe here.
The frequency range of 100Hz to 16000Hz shows that. So, even though there's no low cut filter, you still don't have to worry about low-frequency noise or build up.
This mic has a maximum SPL of 120db, which means you can record some reasonably loud sources. You must be careful with placement here, especially distance when it comes to loud sources.
Pros:
Lightest of all rode mics; good for GoPro cameras
Zero low-frequency background noise.
Cons:
No switches, so control is limited
Takes power from the camera, reducing the camera's battery life.
Bottomline
If you want to record your audio on where you go then buy Rode VideoMic Go. It is the best travel companion.
Build and design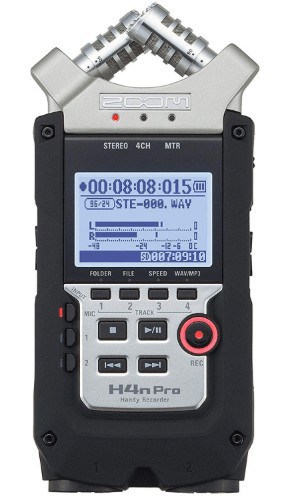 One major thing Zoom really took care of with the H4n is handling noise. Being a handheld recorder, there may be concerns about your recording being disturbed by the movement of hands on the recording device.
Zoom H4n's body is covered with a coating that has a firm grip, so there's less chance of your hand sliding back and forth on the device. Also, on the back of the recorder, there's a screw port through which you can attach the H4n to a tripod. Lastly, you also have the option of remote control.

Zoom H4n Pro has its navigation controls on its side and other buttons upfront. In terms of GoPro connectivity, you will need some basic editing skills, because you will need to sync the recorded video with the audio. You can do that on computer software.
To attach your h4n pro to your GoPro camera, you need an adapter that will allow you to screw in the recorder and place the camera via the shoe mount.
Sound quality
Interestingly, Zoom has given no information about this mic's frequency response, maximum SPL and other sound quality parameters.
However, listening to the sound, the in-built XY microphones have a considerable presence lift. While some people may not be fond of it, it makes vocals shine through giving that extra clarity edge. It may only become an issue if the voice is not your primary source and you need a flat response.
Pros:
Good grip; reduces handling noise
Different mic options
Cons:
You may need extra hands to position the recorder since it's not on the camera.
Difficult to predict its performance since some key specifications were not stated.
Bottomline
If you can do the editing involved after recording, Zoom H4n Pro will deliver the quality professional sound you need.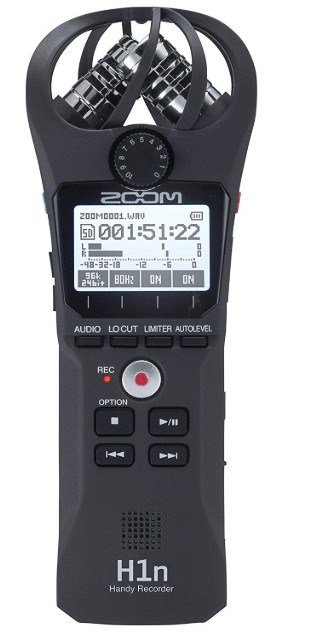 Build and design
Zoom H1n is a perfect example of a "handy" recorder. Not only can you hold it easily with one hand, but all the controls are also accessible with the same hand.
It has a small LCD display screen right in front that shows the status of your recordings and allows you to navigate other available options quite easily.
There is an XY microphone on top of the recorder that can record in stereo. The mic is protected by a plastic shield that does not get in the way of the recording.
You can adjust the gain level while recording, in real-time. There's a knob right above the screen for that purpose. The knob turns silently, so you don't need to worry about it disturbing your recording.

You can connect an external mic to this recorder via the 3.5mm input port on it. This can be useful if you have any wired lavalier mics or boom mic you need to connect externally. Zoom H1n has a MicroSD slot to save recorded audio. It can support up to 32GB memory card size.
If you want to attach this recorder to your Gopro camera, convert the screw hole to a shoe mount by using an adapter.
Sound quality
The highest quality obtainable with this recorder is 96kHz/24-bit in WAV format; which is pro-level quality audio.
However, you should be aware that the higher the quality, the more memory the audio takes. The XY type built-in stereo mic enables you to have a wider capture range, which makes your audio sound more natural.
Pros:
Easy to operate
Natural sound
Cons:
A bit fragile
Can't work it more than 32GB microSD at once.
Bottomline
To use this with your GoPro camera, you will do some editing after, but Zoom H1n worth it.
Build and design
Sennheiser MKE 440 has quite a peculiar design. The makers surely took stereo capturing very serious with this one.
The MKE 440 is a V-shaped mic. Before now, I've never seen anything like it. It's basically two shotgun mics arranged in the V-shape because that's exactly what it sounds like.
According to Sennheiser, they wanted to make a mic that captured sound in the same way the human ear did. This microphone's orientation gives a natural feeling to audio recorded with it.
The mic's body is a combination of metal and plastic. It has a solid build that feels and looks like it can last pretty long. The MKE 400 enables you to select among three sensitivity settings.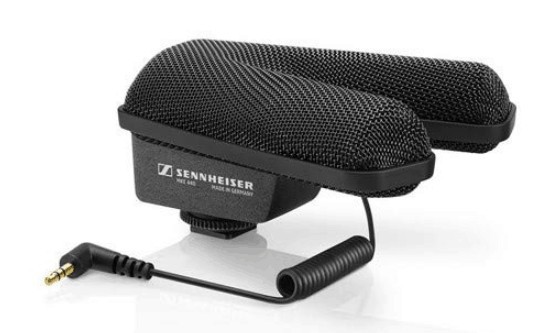 It also has a low cut filter that you can engage to remove low-frequency rumbles. One significant issue in this mic's design is its non-detachable cord.
If your GoPro camera is not among the ones listed as incompatible with external mics, then the MKE 440 will work for you.
You can't remove the 3.5mm jack from the camera. It may be an issue if the cord eventually gets damaged. For your GoPro camera connections, you need a 3.5mm to USB-C adapter.
Sound quality
I should note here that the MKE 440 is not an X-Y microphone, it is more like two cardioid microphones placed in a V-shape to capture a wider range.
Because the two mics are cardioid, there always seems to be space between the two mics in which the sound is not well captured.
Nevertheless, it still gives more context and width than a single cardioid, the mic would. It has a frequency response of 50Hz to 20kHz and a maximum SPL of 132db, which are both good enough ratings for professional quality recording.
Pros:
Natural sound; wider soundscape
Long battery life-over 100 hours
Cons:
The cord is not detachable
Stereo sound is not as natural as in field recorders
Bottomline
MKE 440 does the stereo mic job fairly well, although it could do better.
Build and design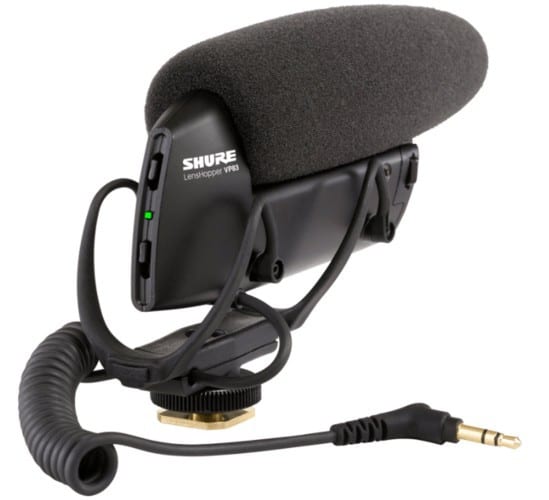 The VP83 LensHopper is a mic that is designed to sit on your camera using its Rycote Lyre shock mount. This shock mount not only holds the microphone firm balanced, but it also prevents vibrations from getting into the mic. This is the best external mic you should use with GoPro.
This mic is compatible with all GoPro cameras, with the exception of those that can't work with any external microphone mentioned earlier.
To connect the VP83 to your GoPro camera, you need the GoPro 3.5mm to the USB-C adapter. This is because VP83 only has a 3.5mm connection port, and GoPro cameras typically have USB-C port only.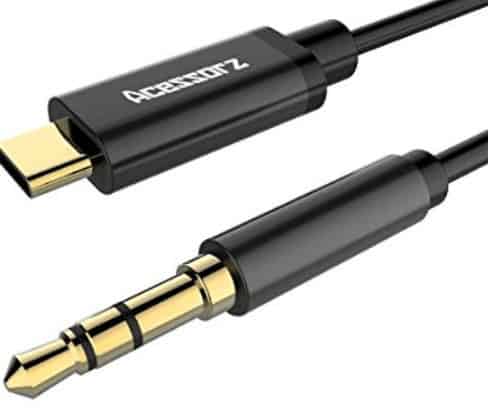 It's better to use the GoPro adapter because it's guaranteed to work with your audio. This goes for other 3.5mm microphones.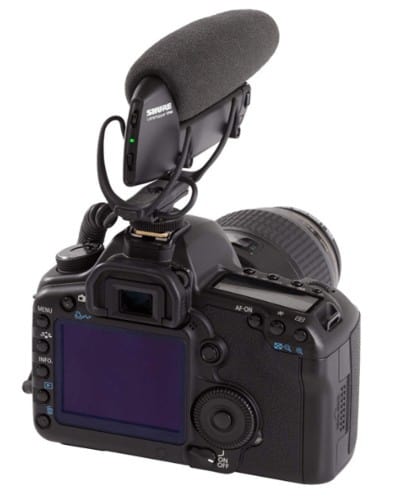 The VP83 also has two switches, located at the rear for easy access.
One switch allows you to either add a 20db boost or use the 10db pad. The 20db boost will prove useful when you're recording super quiet sources. However, be aware that it's not just your target source that will be picked, other sounds naturally become boosted too.
The other switch is the on/off switch. It also includes a low cut. The low cut or high pass switch enables you to prevent low-frequency background noise from getting into the mic.
Sound quality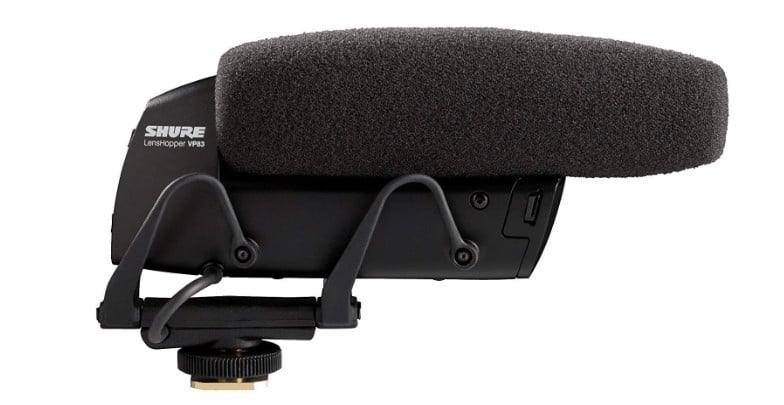 VP83's frequency response range is 50 Hz to 20 kHz. This range is good enough for recording purposes.
Of course, some other mics reach lower frequencies, but 50 Hz for a lower frequency boundary helps you to eliminate any possibility of having background noise lower than that.
If speech is your focus while recording video, you really do not need anything lower than 50Hz. It's also a super-cardioid mic, which means it mostly captures the sound right in front of it, so it gives you less noise to worry about.
Pros:
Compact design
High enough for Gopro cameras; doesn't get in the video
High SPL; can record loud sources effectively
Cons:
Because GoPro cameras are quite small, VP83 adds to the size
Bottomline
The VP83 LensHopper is a convenient choice for your GoPro camera if you don't mind the added size.
FAQs on best GoPro microphones
How to Connect TRRS Style Mics with GoPro Cameras?
You must use A TRRS to TRS adaptor unless it won't work. A TRS connector has two rings while a TRRS connector has three.
Which type of Adapters do I need to Connect with GoPro?
It depends on the particular camera you're using. Generally speaking, the two adapters that you would need are the TRRS to TRS adapter and a 3.5mm to USB-C adapter.
How To Add An External Mic To A GoPro?
Adding an external mic to a GoPro will require that you use one adapter or the other. Even if you have a USB mic. Because USB-C is relatively new, you will not find a lot of good mics that are USB-C type. You need adapters to convert whichever mic you wish to use to this form.

Also, some other GoPro mics use 3.5mm TRS input, and most 3.5mm mics use TRRS connectors. To fix this, you must use an adapter to convert the TRRS connector to TRS.
How to Connect the Shure XLR to USB adapter to your GoPro?
The x2u adapter allows you to use XLR mics as though they are USB mics. However, you still need to add another adapter that will convert that USB connector to a USB-C connector.
Why I need microphone housings to work with GoPro?
Since you need adapters to get the best out of external mics, there's a good chance that the setup might be a bit bulky and may even get in the shot while hanging. A mic housing will help you tidy up your setup by holding all those adapters in place.
Conclusion
These are the best GoPro microphones you can consider using to get a high-quality sound.
If you want better audio for the videos recorded with your GoPro camera, by now, you must have seen the options you have. Because if you're using a GoPro camera, your options are limited, it is better to pick from a tested and trusted set, hence the list.
I hope these GoPro microphones will provide you the best audio solutions.
If you have doubts let me know them in the comments section.