Today in this post let us review JBL Flip 4 vs Flip 3 and let's find which one wins the race.
Are you on the market for a Bluetooth speaker? If so, you can't go wrong with the JBL Flip series.
Last update on 2023-12-08 / Affiliate links / Images from Amazon Product Advertising API
Flip speakers are among the most popular in their price range, thanks to the great sound quality, robust build quality, portability, and respectable battery life.
Logic would have it that a newer version of a device ought to be better.
However, this is not always the case so it's important to critically compare the new with the old to assess whether the newer one meets your needs better.
With that in mind let's have a look at the JBL Flip 3 and Flip 4 to see whether the upgrade is worth it.
Before getting started with Flip 4 vs Flip 3, let's look at the specifications of both JBL Flip speakers.
| | | |
| --- | --- | --- |
| Features | | |
| Battery life | 12 hours | 10 hours |
| Bluetooth version | 4.2 | 4.1 |
| Waterproof/dustproof | Both waterproof and dustproof | Splashproof and dustproof |
| Voice Assistant integration | Yes | No |
| Speakerphone | Noise and echo-canceling | Noise and echo canceling |
| Weight | 0.51 kg | 0.45 kg |
| Power bank feature | No | No |
| Auto power off | Yes | Yes |
| Frequency response | 70Hz to 20kHz | 85Hz to 20kHz |
| Battery capacity | 3,000 mAh | 3,000 mAh |
| Amazon product page | | |
JBL Flip 4 vs Flip 3: There is a clear winner
Build and design
The build quality and physical design of the two speakers are similar.
Both units are built from rubber and fabric and are easy to grasp in a single hand due to the rugged feel and their small bodies.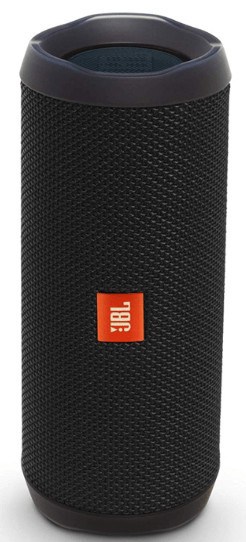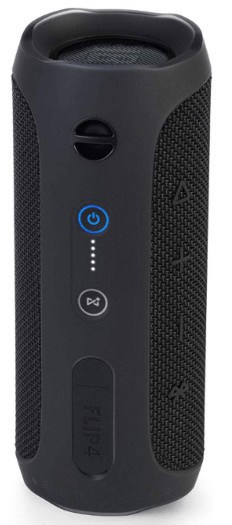 The power button sits on top of the chassis alongside the Bluetooth, volume and JBL Connect+ controls.
The JBL Flip 4 is slightly larger than Flip 3. Flip 4's dimensions are 68 x 175 x 70 mm while Flip 3 measures 64 x 169 x 64 mm. If you compare Flip 4 vs Flip 5, Flip 5 is taller than flip 4.
Flip 4 weighs in at 515 grams whereas the lighter Flip 3 weighs in at 450 grams. Despite the difference, both speakers can be tucked away in a small bag, handbag or backpack without adding much weight to your luggage.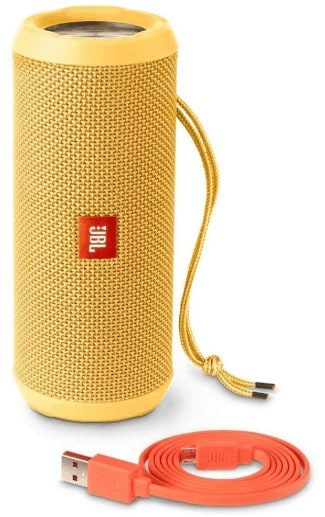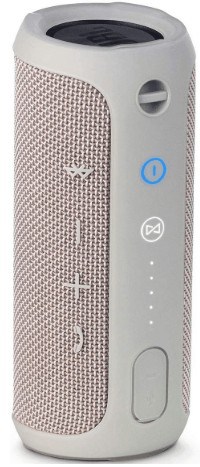 Flip 3 comes in 8 different color variations compared to Flip 4's 6 color variants.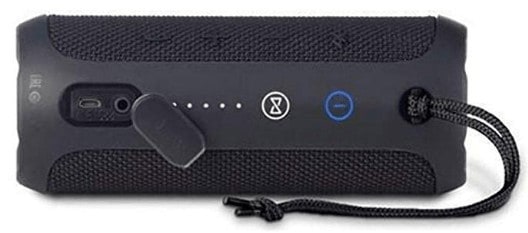 Both speakers charge via a micro-USB port. Both are capable of accepting audio input via Bluetooth and via a 3.5mm aux port. These ports sit in a compartment that can be closed by a cover to protect against water damage.
Verdict: These speakers are pretty evenly matched in the area of build quality and design. The aesthetic differences between them are almost negligible. Hence there's no clear winner in this category.
Features
Flip 4 uses version Bluetooth 4.2 for pairing with an audio device whereas Flip 3 uses the older version 4.1. This makes Flip 4 faster and connectivity stays active at a longer range.
Both Flip 4 and Flip 3 are portable party speakers come with a built-in speakerphone functionality which is both noise and echo canceling. This provides a crystal clear voice.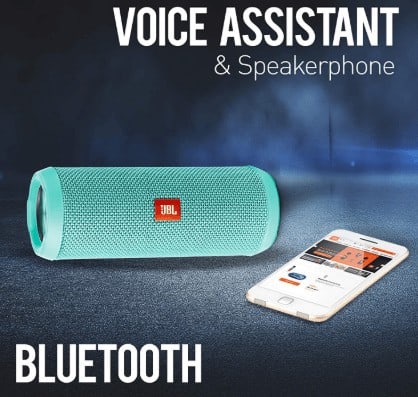 Flip 4 is capable of triggering a voice assistant such as Siri or Google Now at the press of a button. This is a feature Flip 3 lacks.
Although both speakers have a 3,000mAh capacity Flip 4 has a 12-hour playtime which is 20% more than Flip 3 which has a 10-hour playtime when fully charged. Both take 3.5 hours to charge.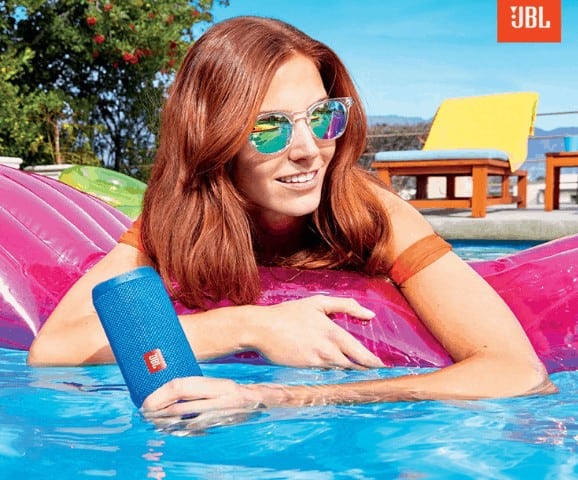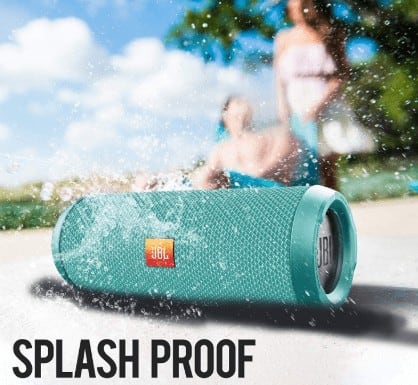 Flip 3 is splash-proof meaning it can hold its own against some drizzle or minor splashing of water. But you can say goodbye to your speaker if you dip it in water.
Flip 4 outdoes its younger brother in this area since it's IPX7 certified, meaning you can fully immerse it in 1-meter deep water for up to 30 minutes. UE Boom 2 is better than Flip 4 in this case as it is both waterproof and shockproof.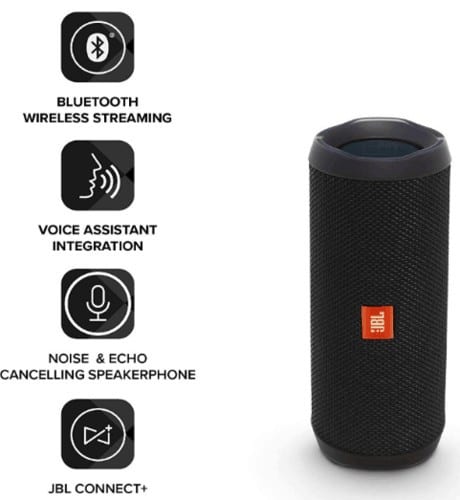 This makes it a better speaker to use at a small pool or beach party because you don't have to worry about water damage. You can also use it for listening to music in the shower or the kitchen as you wash dishes while your heart is at ease.
Both speakers come with the ability to pair with other JBL speakers using the Connect+ feature to amplify your audio output.
It's important to note that when you pair the speakers you don't get a stereo pair output, i.e. one speaker carries the left channel and the other carries the right but again this is not a deal-breaker.
During a small house party, you can place a Flip 3 or Flip 4 in each room around your house and play music. So no matter where you go you'll have the same music playing, which is pretty cool.
One notable feature that is missing in both these devices is the built-in power bank which is present in larger JBL devices such as the Charge 4 and Xtreme speaker lines. If you compare Flip 4 vs Charge 4, the power bank feature makes Charge 4 to excel over Flip 4.
But again that's not a deal-breaker. The power bank feature in a speaker in this price range and size would simply be a bonus.
Verdict: Feature-wise Flip 4 wins due to its improvements in waterproofing, battery life, smartphone assistant compatibility, and improved Bluetooth performance.
Sound quality and performance
Lows:
Flip 3 has a frequency response of 85 to 20,000Hz while Flip 4 has a slightly better frequency response of 70 to 20,000 Hz. This slight improvement makes Flip 4's low-end response audibly better than the 3's.
Both speakers have passive radiators to enhance the low-frequency response.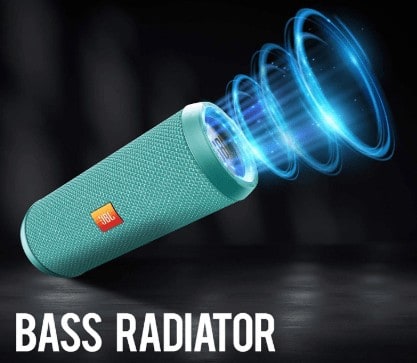 Flip 3 has an air of boominess on the low-end probably due to some coloration on the unit to exaggerate the bass a little.
On the other hand, bass sounds slightly smoother and more natural on Flip 4 making it the superior speaker in that regard.
Mids:
The mid on both Flip 3 and 4 aren't very different. They're both audible and reproduced very well. You can clearly hear guitars, pianos, the human voice and other sounds that work within that frequency range.
Highs:
However, there's an audibly distinct difference in the highs. Flip 3 is much brighter than Flip 4 on the high-end.
Hi-hats, crash cymbals and other high-end sounds can be a little too bright on Flip 3 depending on the type of music.
Flip 4 has a more natural sound probably due to less coloration thereby making it the winner of the two speakers in that category.
Flip 4 fills a small room with sound with more ease than Flip 3.
However, both speakers can be used for small events, small family gathering or for playing some ambient music to create an atmosphere, e.g. during dinner time. These speakers don't fare well as their bigger brothers in the JBL Charge, Xtreme and Boombox lines during outdoor use.
Verdict: Overall Flip 4 is the winner as far as sound quality is concerned and if that's a factor that you value then the upgrade might be worth it for you.
Similarities and differences
Similarities
Flip 4 uses Bluetooth 4.2 as opposed to Flip 3 which uses Bluetooth 4.1.
They have a rugged rubber and fabric design.
Both speakers are dustproof.
These portable speakers have noise-canceling speakerphone capability.
Differences
Flip 3 is a bit lighter and slimmer than Flip 4 meaning the 3 more portable.
Flip 4 is waterproof whereas Flip 3 is splash-proof.
JBL Flip 4 has a 12-hour battery life whereas Flip 3 has 10-hour battery life.
Flip 4 has better sound quality than Flip 3.

Pros and cons
Pros
Better sound quality than Flip 3
Flip 4 has longer battery life than Flip 3
Fully waterproof, IPX7 rated.
Uses a more recent (faster and longer range) version of Bluetooth.
Cons
The mids are slightly muddy.
The speaker comes in only 6 color variations as opposed to Flip 3's 8 color variations.
Pros
Supports pairing with 3 devices simultaneously
Has an excellent sound quality
Cons
Only splash-proof. Isn't fully water-resistant
No voice assistant integration.
Read Also: How to Fix Bluetooth Lag in Car? – 8 Super Quick Solutions
Verdict
So, want to know the winner in JBL Flip 4 vs Flip 3?
Both Flip 3 and Flip 4 are excellent speakers and they cost less than many other branded speakers whose performance can't rival the JBL devices.
The 3 major factors that differentiate these speakers are battery life, waterproofing, and sound quality. Flip 4 outperforms Flip 3 in all of these. However, that doesn't mean Flip 3 is a bad speaker at all. It's a damn good speaker!
Flip 4 isn't considerably more expensive than Flip 3 so if you don't already have a JBL speaker then you might as well just shell out the extra few bucks to get JBL Flip 4.