Do you intend to buy a Rode shotgun microphone to use with your DSLR for your next project?
There are a number of options to choose from, so you can easily get stuck.
However, this article will show you the top 7 Rode mics you can hook up to your DSLR to give your clients and audience an unforgettable audiovisual experience.
Just in case you're wondering why we are talking about Rode products alone, here is the reason:
Rode is a rockstar brand when we're talking about microphones. They have made legendary microphones that have rocked every part of the audio industry.
The video recording niche is no exception. At least 6 out of 10 videographers use a Rode shotgun mic.
Our Top 7 list is quite comprehensive as it comprises mic that would be suitable under different conditions, and with different kinds of DSLR cameras.
Benefits of using an external mic for your camera
One benefit that stands out among others, is that you have more freedom of movement. This is even more important when you need something close to professional quality.
I have met very few people who are pro camera handlers and pro sound guys at the same time. You often get to choose which path you want to pursue.
Even if you're pretty good at both, using an internal Mic would mean that you have to constantly choose between a good shot and a good sound capture.
Lastly, it would be near impossible for you to take a long shot without having overwhelming noise levels crowd your audio.
How to choose your DSLR camera microphone?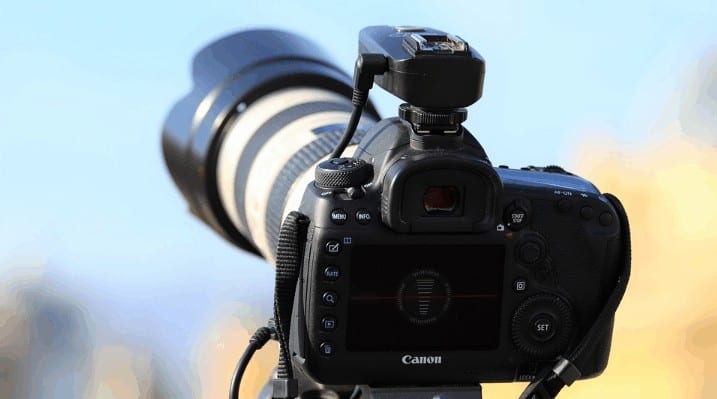 There are different kinds of mics you can use with your DSLR camera. The type you choose would depend on what kind of project you're working on.
Here are the different types you can consider.
#1. Shotgun mics:
A shotgun mic is a long, cylindrical shaped microphone which is adept at isolating the sound source.
It only picks up the sound source from in front of the mic while canceling all the sound sources from the sides and rear.
Thus, it is especially useful to filter out all the other ambient sounds and noise around the recording environment. It's designed to narrow down its pick up range while rejecting other ambient background sounds.
A shotgun mic is easily identifiable by its shape; long, slim and cylindrical, like a miniature shotgun.
It is the most commonly used type of mic for video recording, especially when using a DSLR.
This is because shotgun mics are able to record from the intended source while eliminating sound from other sources to a large extent.
Shotgun mics can either be placed on top of the camera or connected to a pole or mic stand. Either way, it's the duty of the technician to ensure that the mic is properly directed towards the intended source.
If you are an iPhone lover and love recording unprofessional videos using iPhone, I advise you to record videos using iPhone mics that provides you excellent sound. You will really really enjoy with these mics.
#2. Lavalier mics: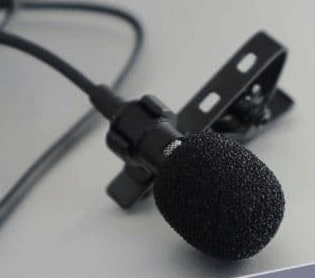 Lavalier mics are also known as lapel mics. The mic itself is typically small, and discreetly clipped to the user, such that it's usually not visible.
Lavalier mics are only a good choice when you're recording the video in a controlled environment; which means less environmental noise.
If you use a lavalier mic in a noisy environment, you'll be giving yourself a whole lot to do during editing; which may not even be enough to fix the issues created while recording.
#3. Handheld mics: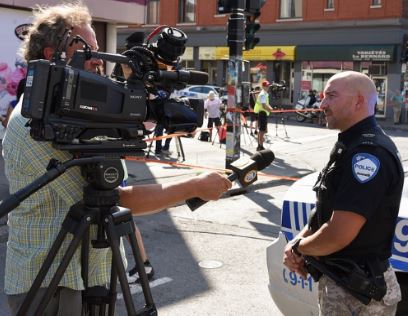 Handheld mics can also be a good option while recording with your DSLR.
The good thing with handheld mics is that they don't need any extra power source asides the regular connection to the camera.
However, if you're using a handheld,you will need to have some adapters. Most handheld microphones have XLR connectors, and most DSLRs have 3.5mm mini jack outputs; so you have to use an adapter to achieve the connection.
Also, handheld mics are quite solid and would survive some unfavorable conditions. However, they will be held by the subjects you're recording, so if the people in your video are not supposed to be holding mics, it's obviously not the right choice.
#4. Headsets:
I would only recommend headsets if you're recording in a very crowded place.
This is because it's not recommended for aesthetic purposes; it doesn't look too good, but sometimes, you can't really help it.
Headset mics are usually not the best in terms of frequency range and general sound quality.
#5. External recorders: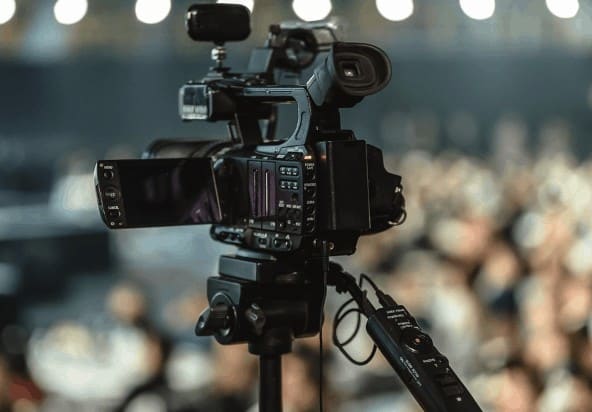 External recorders are simply recording devices that you connect your mic to, rather than record with your camera.
This will give the camera handler more freedom to move around, but the editor will have more work on his hands.
#6. Wired/Wireless: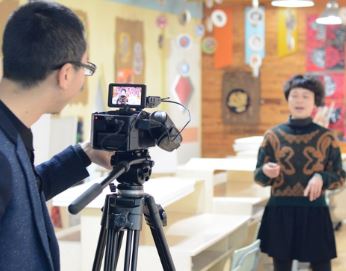 These options are mostly available if you're using lavaliers or handhelds.
Wireless mics make everything look neater and it gives more room for movement since you don't have to worry about cables.
However, to have wireless mic with quality sound, you must have almost twice the amount you would spend for the wired equivalent.
Here are our 7 best Rode shotgun mics for DSLR
Build and design
The Rode VideoMic Pro is a 9V battery powered mic. Rode decided to make this one a bit compact, with a full body length of 6 inches.
Without the batteries, it weighs just 85g. It's all together a smaller version, but with the same Rode quality that we've come to know.
The shock mount is a solid base that will ensure that the microphone is well separated from the camera and the vibrations that occur during use.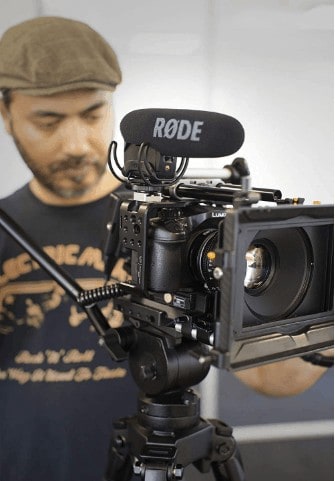 The mic controls are well placed at the rear, which means the controls are facing the camera handler directly. This means there's easy accessibility in case there is a need for a change while recording.
If you use an alkaline battery, you have at least 70 hours of recording time before the power runs out.
Sound quality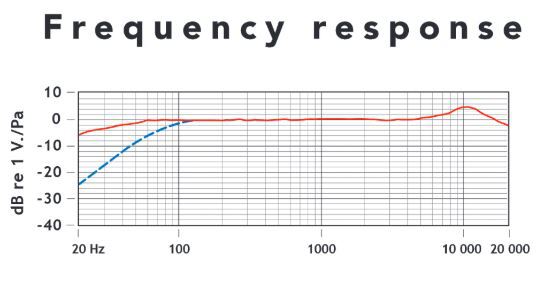 I'll start with the gain control. The Rode VideoMic Pro can work with a 10db pad or a 20db gain.
You may be wondering why anyone would need a 20db volume boost while recording.
There are two possible reasons.
If the sound source that you're recording is relatively low in volume, you may need to increase the mic gain to capture that sound effectively without moving too close.
Another reason is that some DSLR's audio capabilities are not that good; so they may affect your audio quality.
When working with such cameras, it is better you reduce the camera gain to the lowest possible, and compensate by increasing the mic gain. The Videomic pro's 20db gain boost control will be very handy in this case.
Generally speaking the Rode VideoMic Pro has a broadcast level sound quality, which means that speech is intelligible and clear, while eliminating off-axis noise. This is partly due to the supercardioid polar pattern.
Pros:
Compact design makes it a good choice for smaller cameras.
Gain pad and boost gives user more control.
Cons:
Doesn't work well when the subject is far away.
Build and design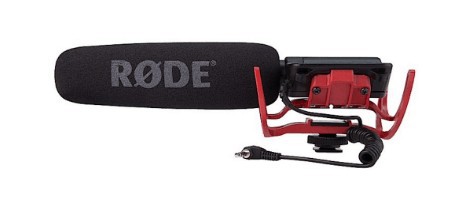 The Rode VideoMic is another compact condenser, supercardioid mic. One good thing about this mic is that the shock mount comes with the mic, and is designed such that it's very convenient to use with lighter DSLR cameras.
The weight distribution makes the camera handler steadier. To prevent the cable from getting in your way while recording, there are clips you can use to attach it to the shock mount.
The controls are quite close to the shock mount, so you may have difficulties reaching some of them.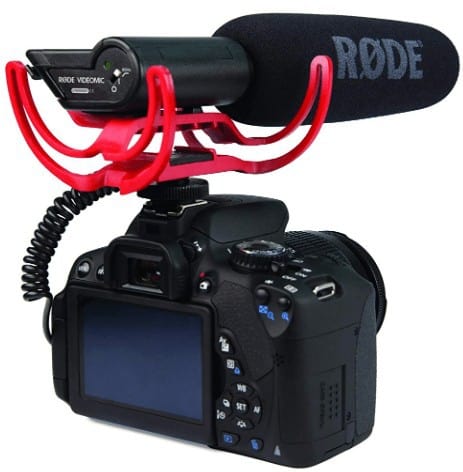 The windscreen is effective under normal conditions, but when there's heavy wind, you'll need to use a stronger one to prevent the wind noise from getting into your recording.
Sound quality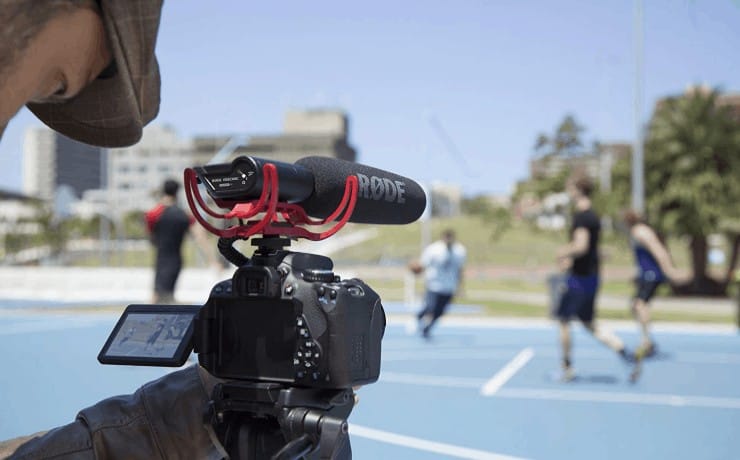 Like most Rode shotgun mics, the VideoMic has a high pass filter. This helps to reduce low-frequency noise, usually from air conditioners and other sources.
On the average, this mic will record from up to twenty feet, which is good enough for a DSLR.
However, at 20 feet, the sound should be moderately loud, with average environmental noise. If the unwanted sounds are pretty loud, you may not have that much freedom.
Additionally, you must point this mic directly at the position your sound is coming from.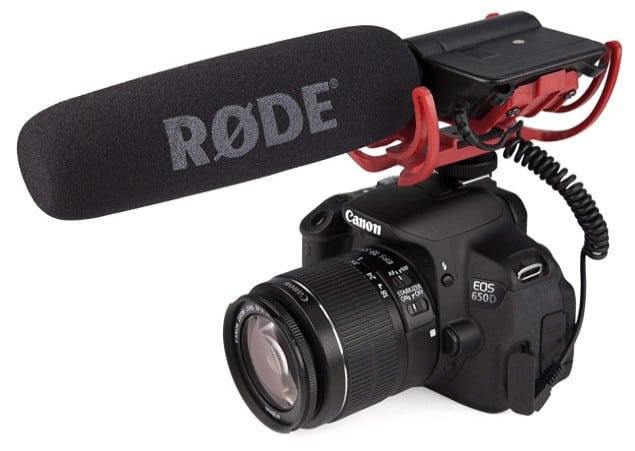 If you don't, you will have a slightly compromised sound quality.This is a good thing, because unwanted noise is avoided also.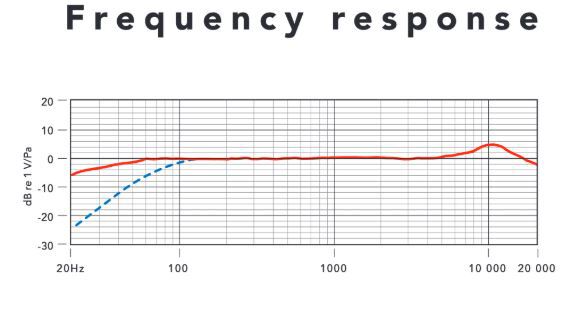 The frequency range is 40Hz to 20kHz; good enough to record with a DSLR. You can also have a bit of good soundscape representation, because it's a stereo mic.
This means that you can tell which side of the stage a speaker is, just by listening to the audio.
Pros:
Good for lightweight cameras
Good range (20 feet)
Cons:
Some controls may be obstructed
Windshield not effective in strong winds
Build and design

The Rode NTG2 is a condenser mic with a super-cardioid polar pattern. Compared to some other mics, we can consider it lightweight at 161 grams.
The NTG2 can either use a P48 phantom power or 1.5V AA battery. DSLR cameras typically won't provide phantom power, so AA battery it is.
It also comes with a windshield for reduced noise and plosives.
If you're not too familiar with video terms, the windshield is basically a pop filter that covers the whole receiving end of the mic(but trust video guys to be dramatic with names).
The NTG2 is 11 inches long, but still considered a short range shotgun microphone.
Sound quality
The NTG2's frequency response is flat for 20Hz to 20kHz range.
Ordinarily, this would be a good thing for a mic, but when you're using it with a DSLR, you may prefer it to be a little more open, with slight lifts around early parts of the high frequencies.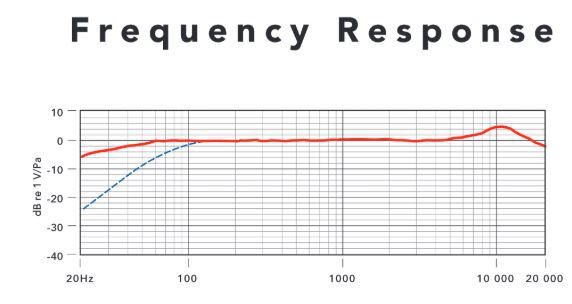 However, if your audio source is naturally audible, or you know your audio editing quite well, you would have no worries.
When recording with an NTG2, you may have to increase your DSLR gain to have enough volume.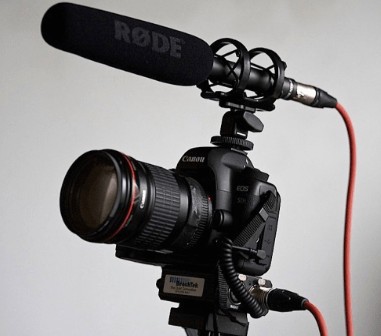 This mic may seem a bit on the soft side in some situations. A gain boost control would have been nice, but considering the 1.5V battery power source, any boost would drain the power in a matter of minutes.
A unique sound feature of this mic is its ability to filter out loud plosives and sibilance. If we consider this quality alone, the NTG2 ranks among the best mics in the video business.
Pros:
Very sensitive; captures every detail.
Effective at reducing off-axis sound.
Smooth frequency pattern ensures natural sound recording.
Cons:
Gain can be low in some situations.
Low battery power.
No on/off switch
Build and design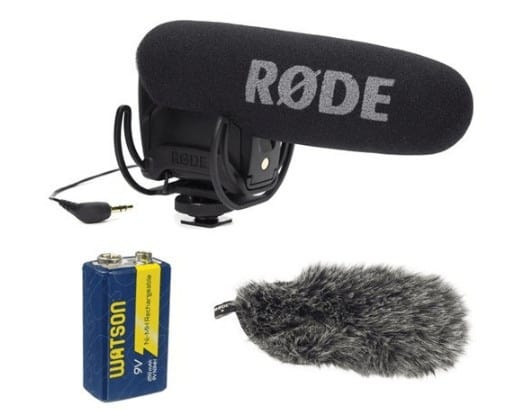 The Rode VMPR is a lot like the VideoMic Pro; just a little over six inches long, with an in-built shock mount.
One major difference here is that the shock mount does a much better job of keeping the camera vibrations away from the mic.
The controls are located at the rear, facing the camera handler. The on/of switch also doubles as the high pass filter.
This can be useful if you wish to reduce low frequency rumble in your recording. Just below the on/off switch is the gain control.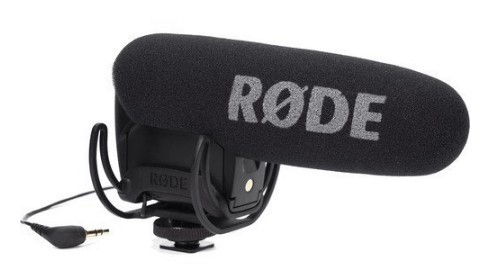 Here, you have three options:
10db attenuation
zero gain boost
20db and boost
The 20db gain boost will prove useful with many DSLR cameras as they sometimes have average audio circuits, and may not do enough justice to your audio.
However, you should also be aware that the battery life may be shorter than usual if you use the 20db gain boost for long.
Sound quality
The VideoMic Pro R produces broadcast quality sound. To get the best out of the Pro R, you must direct it accurately at the source, especially for the higher frequencies, speech clarity lies.
The frequency response is quite flat, not having any audible high frequency boost. When used for outdoor recording, the mic does a good job of recording the major subject you point it at, while having an audible, but not intrusive measure of surrounding ambience.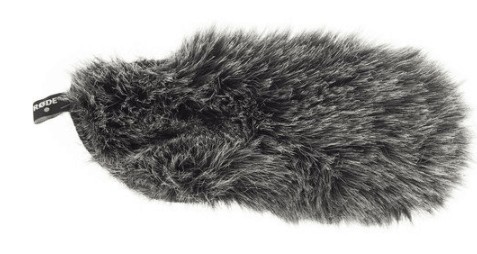 In a reasonably quiet outdoor environment, such as a riverside where the surrounding sounds are leaves rustling, birds chirping and slight breeze, you will get crisp and clear sound with the Pro R placed at least 5 feet from the subject.
Pros:
Strong shock mount
Long battery life
Cons:
May not be effective over long distance
Build and design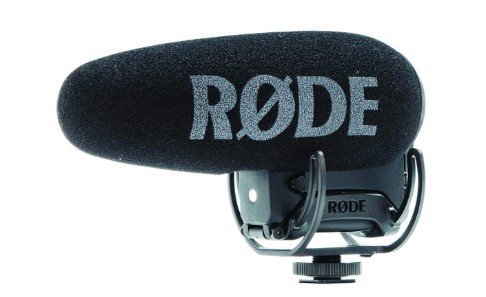 The Videomic Pro+ is a 17cm long shotgun with a weight of 122g. It has a 3.5 mm jack output with which you will connect it to the camera.
It can be powered by the Rode custom LB-1 Li-ion rechargeable battery, or two AA batteries. This rode mic will work for at least 100 hours; that's a pretty long period.
One interesting feature of the Rode Videomic Pro + is power management. In addition to the 100-hour battery power, the automatic power function ensures that whenever the mic is not connected to the camera, the mic does off automatically.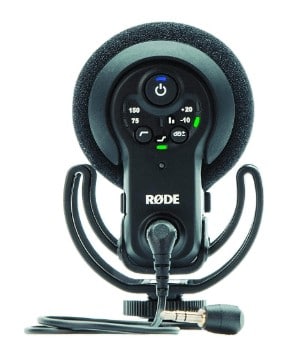 This can be especially useful when you're recording for a long period. At times, you'll find that you spend a sizeable fraction of your time planning shots and explaining stuff; especially when you're doing a very creative shoot.
When you're not shooting the VideoMic Pro+ helps you to conserve power by switching itself off.
Sound quality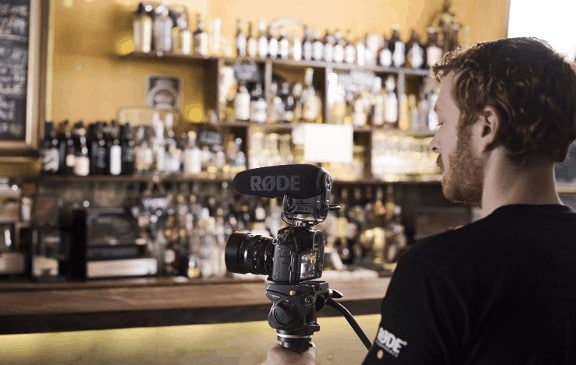 The VideoMic Pro+ has a supercardioid polar pattern. This means that you don't have to worry about surrounding noise while recording with it.
It also implies that you'll have to get your direction right while recording. This mic gives you a few options to make your audio smooth, without any issues.
The 2-stage high pass filter helps you to reduce low frequencies.
Here is the trouble with low frequencies:
While the mic is directional and will avoid most background noise, low-frequency sound is less directional, this means that low-frequency noise can be recorded even if the mic is not directed towards it.
So, 75Hz and 150Hz high pass filter will make a lot of difference.
Another interesting feature that is unique to the Pro+ is the safety channel. The safety channel records the same audio that the main channel is recording, but at 10db lower.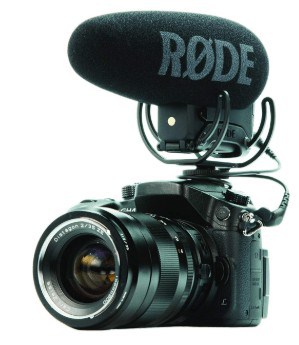 This is important just in case you have a sudden increase in volume while you're recording. This is common in outdoor shoots.
This means you can have your whole recorded material without clipping or distortion. I think this is even better than having a 10db pad button.
Talking about clipping, the VideoMic Pro+ has an SPL of 133db, so clipping may not necessarily be a recurring issue.
With a frequency range of 20Hz to 20kHz, you can be sure that all important parts of speech and ambience will be well captured.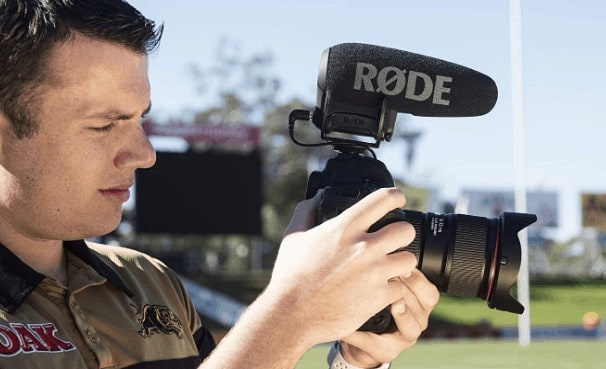 Pros:
Safety channel ensures clipping and distortion-free recording.
High pass filter prevents low frequency noise,
Automatic power function helps conserve battery life.
Cons:
Jack output position may be inconvenient at times.
A little on the large side.
Build and design
11 inches long, the NTG1 shotgun condenser microphone is good for both indoor and outdoor use. The housing is made of machined aluminum with epoxy finish. The epoxy finish adds to the already solid aluminium body.
It's like adding a very thin layer of hard plastic to the strong metal. When used outdoors, sunlight cannot have any adverse effect on the mic.
Like all shotgun mics, it has a cylindrical shape. I must say, it's quite nice when see the mic without the shield, it's sleek and slender, like a model of sorts.
The only source of power for the NTG1 is a 48V phantom power. It has no space for batteries. While this helps it to maintain a light weight, it may not be suitable for a number of DSLRs.
Some of these cameras cannot supply enough voltage to power the NTG1. If you're in this category, you should look to other options on the list.
Sound quality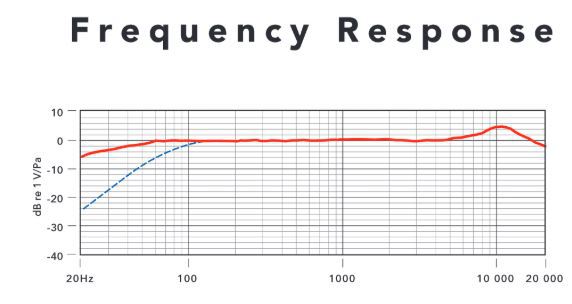 The Rode NTG1 has a frequency range of 20Hz to 20kHz, which would capture practically everything you need. You also have the option of rolling off up to 80Hz of low frequency while recording.
Some videographers find the high pass filter unnecessary, as they don't get the low frequency problems whether they use it or not.
I think this is because the audio circuits in their DSLR are quite average, and even if low frequency rumbles get in the mic, their camera can't fully capture that range.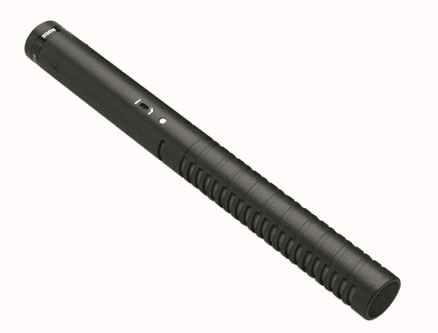 If you're currently experiencing this, you would also notice that some high frequency detail may be missing too. Either way, you would see the need for a high pass filter when you switch to a better DSLR.
Like every single Rode shotgun mic, the NTG does a really good job of dealing with unwanted noise, being a supercardioid condenser mic.
Pros:
Lightweight, even when powered.
Rugged build
Cons:
Doesn't use batteries, therefore can't be used with all DSLRs.
Durability is assured with up to 10 years warranty.
Build and design

The Rode NTG3 is a sleek condenser microphone with the solid build that is popular with all Rode shotgun mics.
One striking feature of this mic is the absence of any switches or controls on the body; just the receiving end and the XLR connection at the bottom. The NTG3 is powered by 48 volts phantom power.
This may discourage DSLR owners, because most cameras can't supply this kind of power. Even when the camera can, it would only make the DSLR's own battery run out fast. Either way, it's a drawback.
However, NTG3 is one of the most rugged of all Rode shotguns. This is because it does well under high humidity. For some other mics, you don't even need to have physical rainfall around, just air moisture can compromise your audio recording.
Sound quality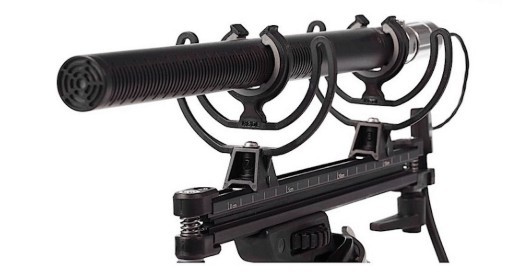 The Rode NTG3 has a relatively flat frequency response, but realistically what you get depend on a number of factors.
If you're recording outdoors, ambient noise can be an issue. This is mostly due to the absence of a high pass filter on the mic.
Proximity effect can be an issue too. If you get too close to your subject, there may be a low frequency boost which may drown out your sound.
What all of these mean, is that with the Rode NTG3 you need near professional handling to get the best.
Pros:
Simple and rugged design; very durable
Works well under wet conditions
Cons:
Power draining
No high pass filter
Recommended read: Rode NTG3 vs NTG4+: Which Shotgun Mic is Good for Videographers?
Conclusion:
These are our best mics to work with DSLR. Generally, most camera's internal mics are added as an afterthought; you can't expect much from them quality-wise.
A lot of shotgun microphones are used in various situations, beyond video recording. Unlike canon mics, most of the Rode shotguns can be used in music recording studios as overhead mics for drums; they have enough frequency range for it.
Of course, we can't say the same for some other shotgun mics like the nikon microphones. Besides, if the internal mic was good enough, why would camera manufacturers like canon and nikon make external mics?