Today we are going to review the best microphones to use with the iPad.
Our Best Pick
Shure MV88 Portable iOS Microphone for iPhone/iPad/iPod via Lightning Connector, Professional-Quality Sound, Digital Stereo Condenser Mic for Vloggers, Filmmakers, Music Makers and Journalists
Best Value for Money
Rode SmartLav+ Lavalier Microphone for Smartphones
Highly Portable iOS Microphone
ZOOM iQ7 MS Stereo Microphone for iPhone/iPad/iPod touch
Our Best Pick
Shure MV88 Portable iOS Microphone for iPhone/iPad/iPod via Lightning Connector, Professional-Quality Sound, Digital Stereo Condenser Mic for Vloggers, Filmmakers, Music Makers and Journalists
Last update on 2023-09-21 / Affiliate links / Images from Amazon Product Advertising API
Have you ever tried to record a video with your iPad and the audio wasn't satisfactory?
What you need is an external microphone that you can connect directly to your iPad.
Apple has massively increased the video quality across all their devices, including the iPad. However, the quality of audio recordings from these devices leaves much to be desired.
While we wait for the iPad to have an audio quality that matches the video, there are some external mics that you can use to achieve this. They mostly plug and play. All you need to do is hook them up to your iPad and you're ready to go.
Why do you need an external microphone for the iPad?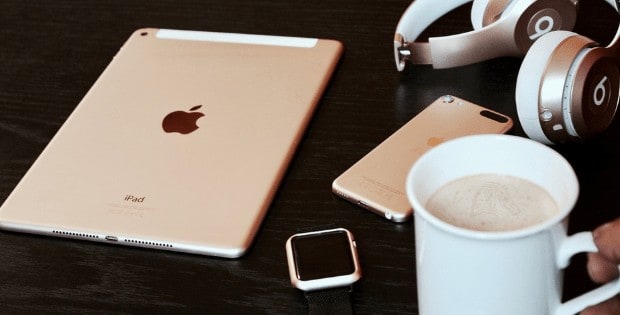 The answer to this is very simple.
Because the mic that comes with your iPad sucks! I'm not being cynical or anything here; it's just a fact.
The mic in your iPad has only been optimized for making and receiving calls, both voice, and video.
So, we really can't blame Apple for this. However, because of the many functions that this device can perform, you may be underutilizing it, or shortchanging yourself if you stick to the in-built mics for some uses.
For instance, if you create online video content, and you need to record the audio while doing so, while the video quality may be top-notch, the audio quality would most likely not meet up. To have an equally quality audio content, you need an external microphone.
Also, if you plan to make a podcast or other audio content, don't even think about using your iPad's internal mic. The quality will not be up to scratch. An external mic would help you achieve better quality audio recordings.
What type of mic works best for the iPad?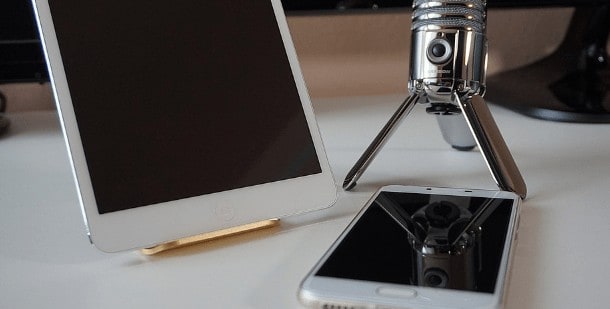 There are a number of mic types that you can choose from when you want a mic for your iPad. The exact purpose that you want to use the mic for should determine what type you'll choose.
Here are the options you have:
Lavalier/Lapel Mics: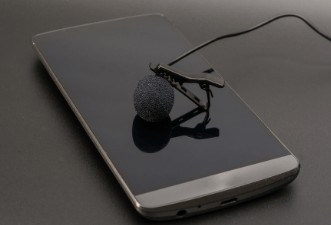 Lavalier or lapel mics are the smallest of the mics you can use with your iPad. All you need to do is clip it to your lapel, hook it up to your phone and you're ready to go.
In this case, you don't need a transmitter, all you need is to connect the mic directly to your phone. This type of mic is good if you're recording yourself, and your voice is the only thing you're recording
Wireless Mics: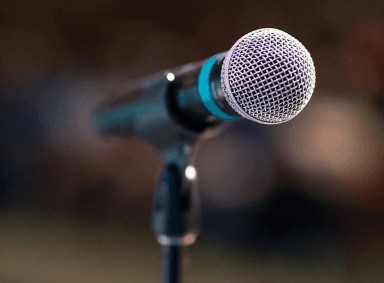 Using a wireless mic as an external microphone for your iPad has a huge advantage: you can plug your phone to a power source while recording with the mic.
With other types of mics, you do not have this option, because you may need to connect the mic to the iPad via the lightning port; that's the same port you should use for charging.
If you want to enjoy hands-free operation Bluetooth mics are good to go.
You should really consider this if you plan to record for very long stretches. Using an external mic would definitely be more power from your iPad, so, if you're recording for long, a wireless mic may be your best bet.
USB Mics: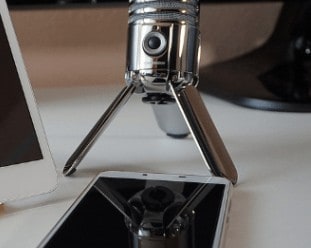 Some mics connect directly via USB, and some via micro USB. For the iPad, you will need to have an adapter to connect such mics, because the iPad does not have a USB port, rather it connects via the lightning cable.
There are mics that have a direct lightning connection, but if you want a particular USB mic for whatever reason, use an adapter.
You can use the best USB mics like Blue Yeti or Blue Microphones. If you are on a budget you can go with some of the best Blue Yeti alternatives that work best for iPad.
Shotgun Mics:
This design is common with a lot of video recorders. The ones that can connect directly to your iPad have quite a small design; I call them mini-shotguns, because they have shotgun mic designs, but they're smaller.
You can find some of the good Shotgun mics from the top brands like Rode that works well with both iPhone and iPad devices.
To use the real shotguns with your iPad, you need an adapter and a stand for the mic.
Here are our 5 best iPad mics handpicked for you
Build and design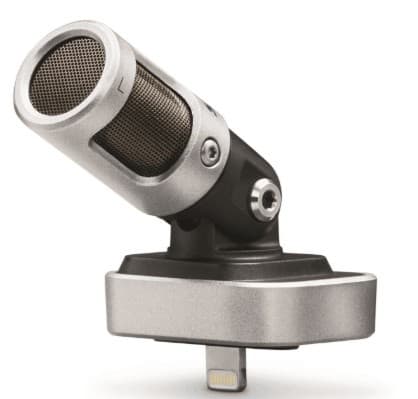 The Shure MV88 is a compact and excellent microphone with a lightning connector for your iPad and other iOS gadgets. The mic looks more like a 2 in 1 design, which was done so you can have a good stereo or summed mono sound capturing.
One of the mics has a cardioid condenser capsule that captures the sound directly in front of it, while the other mic has a bi-directional polar pattern that captures the sides of the sound source. The capturing pattern of the Shure MV88 is called the mid-side configuration.
You can point the mic in a different direction than your iPad because of the movable joint provided.
The package also includes a windscreen that should prevent wind noise from disturbing your recording, especially outdoors, and can also act as a pop filter for both outdoor and indoor use. Also, this is the best iPhone mic.
There's no headphone jack port on the mic, but you can use your phone's earphone jack to monitor the sound, with the ShurePlus Motiv App adjust the settings.
Sound quality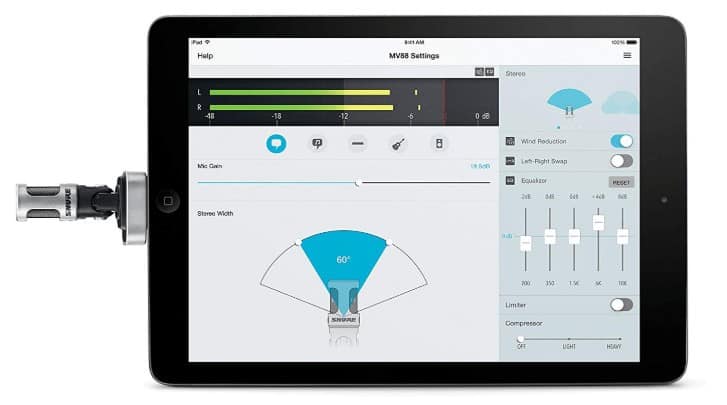 The Shure MV88 has a frequency response of 20Hz to 20,000 Hz and records audio at 16- bit and 24-bit.
You can select which one you prefer via the app. Also, you can record at 44.1kHz or 48kHz sample rates. If you're familiar with audio quality specs, you would observe that these figures signify quality and depth in sound.
The mic does a good job with the low frequencies, the 20Hz lower frequency boundary is not a hoax.
Although if you need some low-frequency emphasis in your recording, you should move a bit closer to the sound source. The frequency response of the MV88 is such that the lowest frequencies are reduced to avoid bass buildup due to proximity effect.
The mid and high frequencies also show some presence and clarity; clearly, the mic is optimized for speech.
Now, you can use your iPad for video conferencing, while other participants are using their computers; and you would still have superior sound.
If you're using this mic, you should take full advantage of its stereo recording capabilities. However, if you're recording a video, having a stand may serve you better.
This is because the stereo field recording may be unsettling to whoever is listening if there's too much shaking or moving around.
If singing is your hobby and if you love singing with your Smule app I highly recommend you to get Smule microphones that work well with ios devices.
Pros:
Stereo recording capabilities
Wide frequency response
Cons:
Stereo recording may need a stand to work well.
Bottomline
The Shure MV88 has all you need in a professional video recording mic, and it works seamlessly with your iPad. It's literally pro sound at your fingertips.
Build and design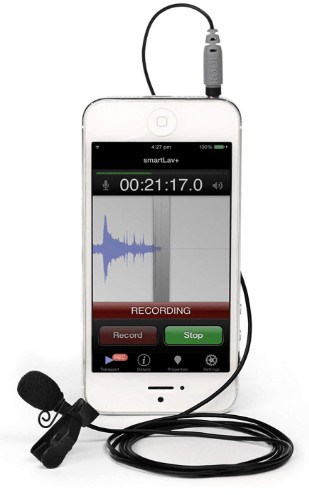 Most lavalier mics have an additional part to them; the transmitter that's fastened on the user's clothing.
In the Rode SmartLav+, you have the compact possibilities of a lapel mic without the troubles of a transmitter. This is because the SmartLav+ connects directly to your iPad.
So, your iPad works as both transmitter, receiver and recorder. Isn't that amazing?!
If you need a mic that would stay on you while being unobtrusive, sometimes almost invisible, the Rode SmartLav+ is really your guy.
Sometimes, you want to record an interview, and other times it's just you recording yourself with your iPad. Whichever way, the SmartLav+ would be a good way to focus on the sound source, while ignoring potential distractions.
Although it connects via a TRRS connector, it needs no additional power source; your iPad is enough to provide the power needed.
We're not sure if Apple will still keep adding the earphone jack to the iPad. If they don't you may have connectivity problems.
Sound quality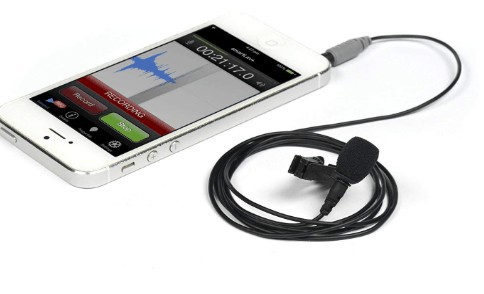 Like most other lavalier mics, the SmartLav+ has an omnidirectional polar pattern, which means you should not have problems with proximity effect.
What this means in essence, is that you won't have excess bass in your audio even if you happen to get too close to the mic.
Rode calls this a broadcast-grade microphone. I can agree with this to a large extent.

Looking at the frequency response for example, within the range of 60Hz to 18000Hz, there's a presence bump starting from around 5000Hz. It's a lapel mic, so I really don't expect anyone to use it for anything other than speech capturing.
This means that the low-frequency boundary of 60Hz can be considered good enough, more so because it already eliminates some level of low-frequency noise, which is a real issue with omnidirectional mics.
Pros:
Little to no proximity effect
Frequency response optimized for speech
Cons:
Monitoring is only possible via wireless earphones
Only useful for one person's speech recording.
Bottomline
Although, the occasions where you can use this mic are few, what it does, it does well; a specialized mic of sorts.
Build and design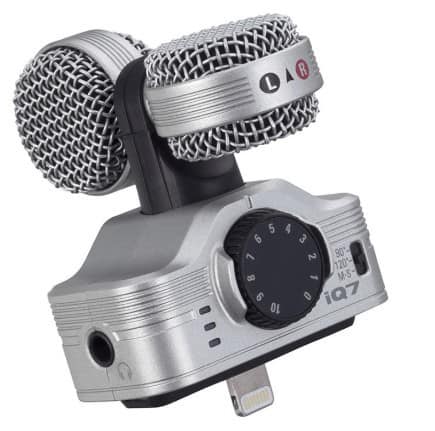 The Zoom iQ7 is a mic that gives you mid-side recording options straight into your iPad but it doesn't stop there. You can select and adjust the width of the stereo field to your taste, both before and after recording.
In front of the mic, there's are two lights – green and red; the green light switches on automatically anytime you're recording a video, and the red light flashes when your audio is peaking.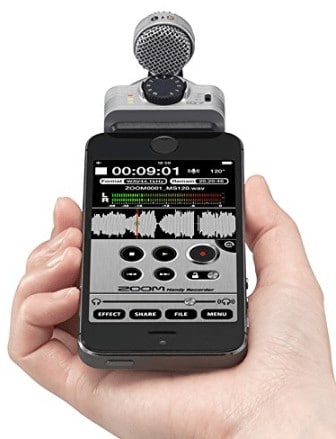 At the center, there's the volume knob that allows you to increase or reduce the recording gain level. It's quite flexible, giving you ten levels which you can choose from by rotating the knob.
On the right, if the front part, there is a switch that allows you to choose between mono and stereo recording modes. Also, you can select between 90°and 120° stereo spacing, or just the plain m-s recording if you wish.
Sound quality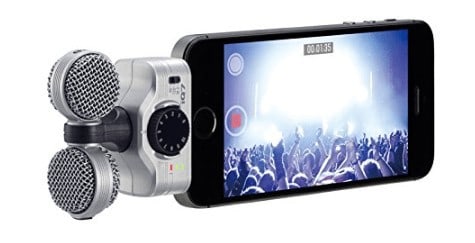 The maximum SPL of 120db is quite impressive for an iPad mic. This means you can record moderately loud sources without having any clipping or distortion. The audio quality is also good; it's capable of recording up to 48kHz/16-bit quality.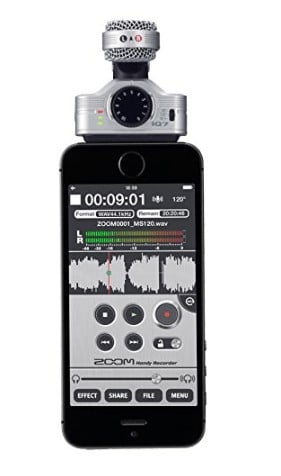 The windscreen that is supplied with the mic helps when recording outdoors. However, it's only useful with very light wind. Anything above the light wind, you'll need something stronger.
The frequency response of the iQ7 is not stated, but after testing, I noticed some sparkle on the higher frequencies and a good deal of presence on the high mids.
However, the low frequencies we're another story. It seemed as though there was a 100Hz roll-off, and the low mids were a little short on warmth too.
Pros:
Variable stereo width
Pro-level maximum SPL
Cons:
Not enough low frequency for some uses
Bottomline
Zoom iQ7 is a great mid-side recording microphone to record without any distortions.
Build and design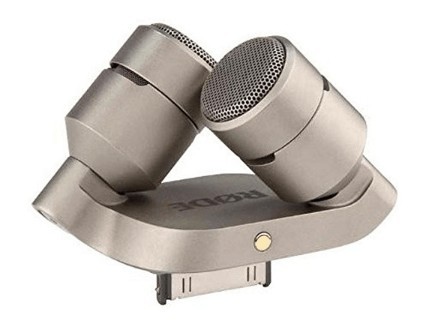 The Rode iXY is a cardioid condenser mic that is capable of stereo recording. It has a sleek design that looks more like the mic on a handheld audio recorder. The iXY has no switches off on it.
The all-metal body build can be a good and bad thing at the same time. It's a good thing because it guarantees some level of durability.
It may not be so good because the weight may sometimes cause the connecting ports to start sagging, especially when your iPad is held sideways.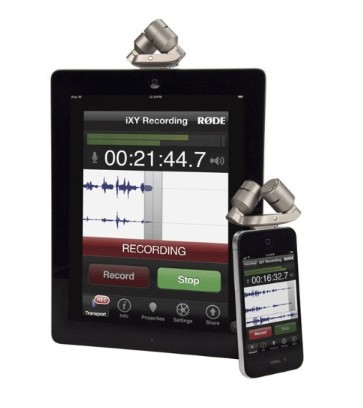 It seems as though the mic's weight is primarily on the lightning port. To have maximum satisfaction from this mic, you need the designated app. Without the app, you can't control even the most basic things on the mic.
One thing you must remember is that you should consciously save your recorded files after you stop each recording. If you don't, your audio may be deleted.
Sound quality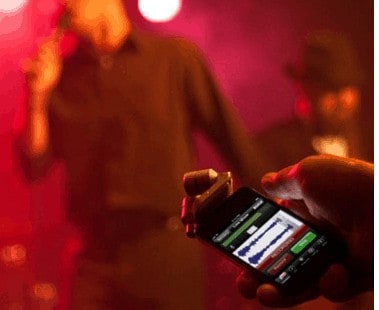 The Rode iXY has a maximum SPL of 139db. That's massive; almost drum mic level. What this means is that you can capture sound from loud sources and not experience any distortion whatsoever.
This is even more useful if you're recording in an uncontrolled area, like an outdoor recording. There's always the possibility of a sudden loud sound. If that happens, even though it affects your recording one way or the other, it will not hurt people's ears.
The frequency response is 20Hz to 20kHz, and the Rode iXY has a mostly flat response. The only exceptions are in the higher frequencies where there's a gentle lift.
Being a cardioid mic, it rejects off-axis sound so we'll.
Pros:
Metal body guarantees durability
High SPL
Cons:
The app may take up lots of memory on your iPad.
Bottomline
The Rode iXY may not be for everyone, but if you record from loud sources often, it's a good choice.
Build and design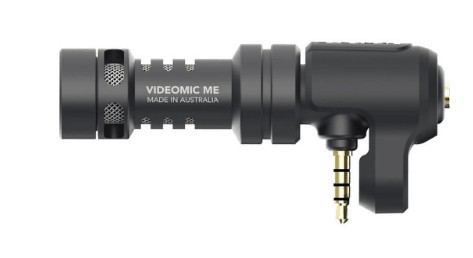 The Rode VideoMic Me is a cardioid condenser mic that you can connect directly to your iPad through the lightning port. Its body is made of aluminum, weighs 28 grams and is 75 mm long.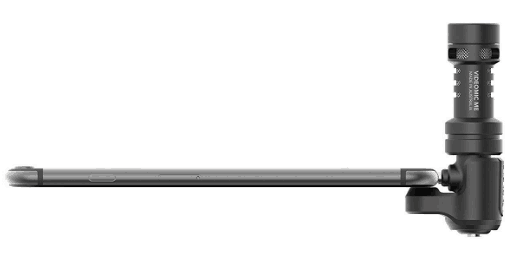 The mic has a cylindrical shape with a 3.5mm headphone jack on one end for monitoring. This monitoring means that when you connect your earphones here, you get to listen to the audio that's being recorded.
On the other side is the mesh grille that covers the capsule. Unlike other iPad mics, the Rode Me does not have any hinges or joints that you can use to adjust its direction. To direct it, you have to move the iPad itself. This can be pretty clumsy especially with a device this big.
Sound quality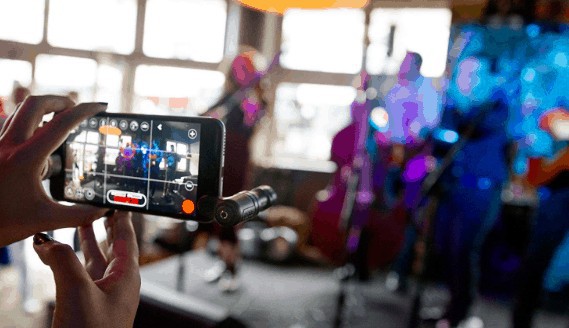 The VideoMic Me has a frequency response of 20Hz to 20kHz, which is flat for most of the range, but not without the expected presence bump from about 7KHz upwards. While this seems pretty good for even a pro much, the maximum SPL is also worth noting.
With a maximum SPL of 115db, you must be careful of how close you get to your sound source, and what kind of sound source you're recording.
Also remember that even if you reduce the recording gain on your iPad, what's coming into the mic remains the same and if it's too loud you would still have a distortion no matter what.
Pros:
Headphone jack for monitoring
Pocket-sized
Cons:
Not adjustable independent of the iPad.
Bottomline
The Rode VideoMic Me can be very useful if you want to record a video of yourself speaking, or you're recording is directly in front of you in general.
Conclusion
There are various reasons why you would want to use an external mic with your iPad. These uses may range from just posting a random video online to recording professional video content.
The best part about this article is that no matter what you're using the audio for, you have a mic that suits your needs. Not only that, you have a choice that suits your budget.
Because of the size of the iPad, handling may be an issue sometimes. There are stands and handles that you can use to have stable video recordings. This is more important if you're using the m-s type mics.
Related articles: 12 Best 8-Bit and 16-Bit Music Makers (Chiptune Music)