Are you a fan of Shure microphones?
Our Best Shure Mic
Shure SM58S Cardioid Dynamic Vocal Microphone with On/Off Switch, Pneumatic Shock Mount, Spherical Mesh Grille with Built-in Pop Filter, A25D Mic Clip, Storage Bag, 3-pin XLR Connector
Best Value for Money
Shure SM48S-LC Cardioid Dynamic Vocal Microphone with Lockable On/Off Switch, Shock-Mounted Cartridge and Pop Filter, A25D Mic Clip, Storage Bag, 3-pin XLR Connector, No Cable Included (SM48S-LC)
Shure Mic with Excellent Sound
Shure BETA 58A Vocal Microphone - Single Element Supercardioid Dynamic Mic for Stage and Studio, Includes A25D Adjustable Stand Adapter, 5/8" to 3/8" (Euro) Thread Adapter and Storage Bag
Our Best Shure Mic
Shure SM58S Cardioid Dynamic Vocal Microphone with On/Off Switch, Pneumatic Shock Mount, Spherical Mesh Grille with Built-in Pop Filter, A25D Mic Clip, Storage Bag, 3-pin XLR Connector
Best Value for Money
Shure SM48S-LC Cardioid Dynamic Vocal Microphone with Lockable On/Off Switch, Shock-Mounted Cartridge and Pop Filter, A25D Mic Clip, Storage Bag, 3-pin XLR Connector, No Cable Included (SM48S-LC)
Last update on 2023-12-08 / Affiliate links / Images from Amazon Product Advertising API
Are you looking for the best Shure mics that will give you clear vocals?
Well, that's a trick question, because for a legendary brand like Shure, if you find a mic that doesn't give clear vocals, then it wasn't made for that purpose.
This means that there's a long list of such mics; and trust me, it will take you so much time to check through them.
We've made your job easier with this article, listing out the top 5 choices among the numerous Shure pro mics that are good for vocals.
We have considered various factors in coming to this conclusion. So, whatever your specific needs are, take a look at our 5 best Shure mics that guarantee you crisp and clear vocals as soon as you start using them.
Here are our top picks for best Shure microphones
Build and design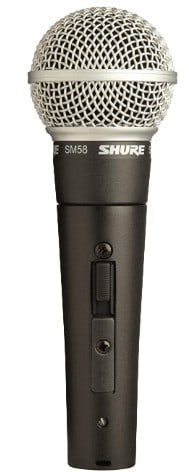 The Shure SM58S is a new version of the legendary SM58, with an on/off switch added. This mic has a very solid design that begins right at the head. The mic's head is covered with hard metal grille.
It would take several falls before you'll find even a dent on the grille. Moving further down the mic, you'll notice what makes it different from other SM58-the on/off switch.
This gives some added freedom for the vocalist, especially during live use, to activate and kill the mic as they please, without having to signal the sound engineer.
The mic is connected to the cable via its XLR port, located at the base. Shure sure know how to make rugged stuff; they have other workhorses in their lineup, like the SM57.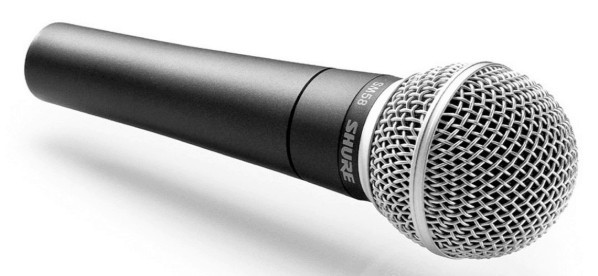 The SM58S is quite heavy; you immediately feel that weight once you handle it. While some may think otherwise, I believe the weight is a good thing. With that kind of weight, you're not likely to drop it due to carelessness.
Sound quality
The SM58S has a frequency response of 50Hz to 15000Hz. This range is wide enough for many vocal uses, particularly live vocals and live recordings.
There are two major features that make the SM58S good for vocals.
First, the low-frequency roll-off helps greatly in dealing with proximity effect; there's less bass build-up when the singer gets very close. However, the roll-off is in-built, so you can't control the effect.
Another reason this mic is good for vocals is the warmth and clarity it brings. It makes the vocals stand out in the music, even before mixing.
It's possible that you want a wider frequency response, probably to have more air or sparkle in your vocals, usually in studio recording conditions. In that case, you should consider the SM7B, which has a wider frequency response.
Lastly, SM58S has different ways of dealing with noise.
The pneumatic shock mount system reduces noise that comes from handling the mic.
The cardioid polar pattern ensures that the mic captures only what's in front of it, and rejects sound from other angles.
Pros:
Rugged body
Warm, clear sound
Reduces with proximity effect
Cons:
The frequency response may not be wide enough in some cases
It could be considered too weighty for some singers.
Bottomline
The SM58S is a tested and trusted product, sure to stand the test of time. It's suitable for all applications; on the road, in the studio or even at rehearsals.
#2. Shure SM48-LC –
Best Value for Money
Build and design: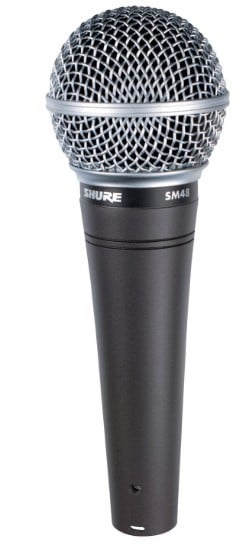 This mic's shape is the most popular handheld design you've seen; a round steel head on top of a black stem or shaft. The SM48-LC is the same as the SM-48; the only difference is that the SM48-LC is not supplied with a cable.
The head is covered with a metal grille. Underneath this grille is a spheric pop filter that helps to keep out undesired noise, including wind noise and breath sounds.
However, be sure that you don't depend so much on the in-built pop filter. Usually, when precision is needed, you may need a specialized pop filter.
It does not require any phantom power, neither does it have any switches. All you need to do is plug the mic into your mixer or audio interface and you're ready to go.
The SM48-LC offers you the solid handheld shape of the SM58, but a lot lighter. So, if you liked the SM58's shape, but found it a little weighty, here's your guy.
Sound quality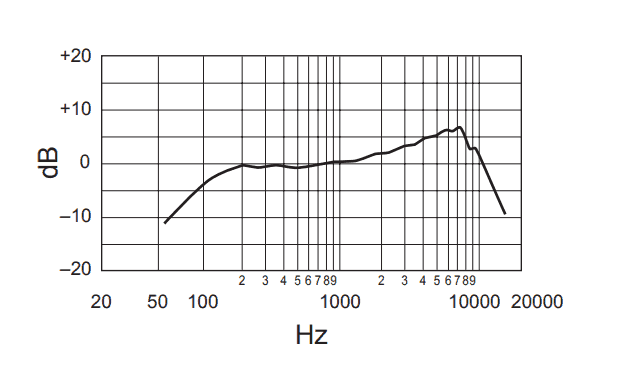 The SM48-LC has a frequency response of 55Hz to 14000Hz. Looking at this range, you may be tempted to write it off, especially when it comes to vocals. You shouldn't.
As run-of-the-mill as this mic may seem, it has its own character; the lift in frequency response from 2kHz to 9kHz gives clarity and some presence to vocals. For a low pitched singer, this mic can add some presence to the vocals.
Additionally, you should use a pop filter when recording with this mic; the popular studio filters will suffice. On stage, you can use a windshield to deal with plosives and sibilance. However, be careful with windscreens as they may cause some high-frequency attenuation.
Lastly, if you feel you need a microphone with wider frequency response, the SM7B will be a good pick for you.
Pros:
Lightweight and solid body; very handy
Requires little amount of power to work
Cons:
The in-built pop filter could be better (like the SM58S)
Bottomline:
This is a mic that wasn't really made for professional use, but if need be, can stand up to the occasion.
Build and design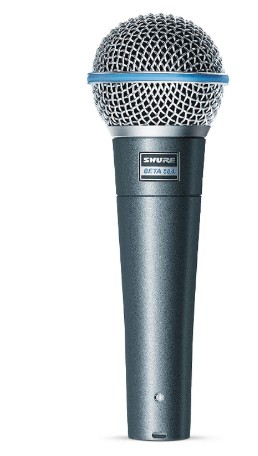 The Shure Beta 58A is quite similar to the SM58 in terms of design. However, one obvious difference between them is the blue horizontal strip, drawn through the middle of the strong metal grille on the mic's head.
The rest of the mic is a solid, rugged mass, that was built to last, much like most Shure mics. However, it doesn't have an on/off switch, so the vocalist has to trust the engineer to switch on and off when needed or use mic placement to their advantage.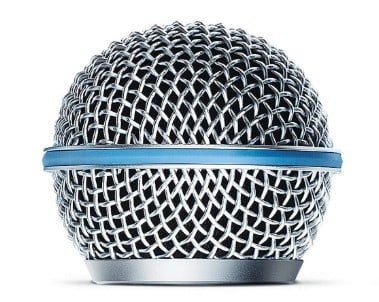 The Beta 58A can be good for your home studio use and on-stage applications since it can withstand a few kick arounds and rough handling. What you should guide against is too much exposure to water or moisture.
Aside from the external protection, there's additional coverage for the diaphragm in form of pop filters or windshields, just beneath the shield.
The windshield has the double duty of protecting the diaphragm and reducing wind noise. The connection is solely through the XLR port at the base. If you need a USB, port, you can purchase an XLR to USB adapter too.
Sound quality
The Beta 58A does justice to vocals in terms of clarity. The frequency response is such that the presence of the vocals shines through. Also, there is less feedback since the mic's polar pattern is supercardioid.
The pneumatic shock system is even more advanced than the SM58's, so you can expect a better handheld experience, with very little noise coming from contact with the microphone.
If you're using the Shure Beta 58A for recording vocals in the studio, you may not feel the impact of the handling noise so much.
On the other hand, when you're on stage, it can be so bad with some mics that simply removing the mic from its stand causes unpleasant noises. Not the Beta 58A though; it can handle various degrees of movements, from simple ones to full-on dance routines.
Additionally, with a frequency response of 50Hz to 16000Hz, you have just about enough range for your vocals. If you feel you need more, you could check the SM7B out. This is most preferred by female vocalists.
Pros:
Advanced shock mount system ensures more reduced handling noise
The neodymium magnet reduces noise output.
Cons:
No on/off switch, as found in the SM58S
Bottomline
The Shure Beta 58A fills in the blanks for home studio mic and live stage mic.If you need a "one size fits all", this is your best bet.
Build and design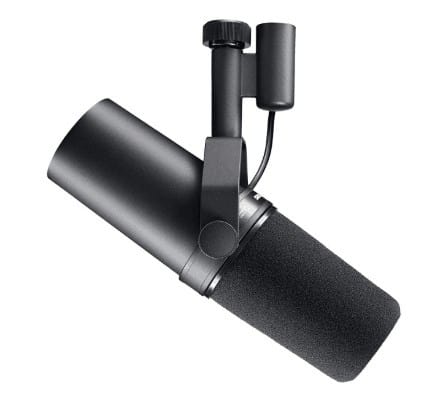 The Shure SM7B is a dynamic microphone with an internal shock mount and is great to use for voice-overs. This ensures that the mic movement will result in little or zero noise. This saves you a lot of time and space to set up the mic and other instruments.
At first glance, the mic looks large, but when you factor in the internal shock mount, and space and weight that'll be occupied by an external option, you will agree that it's really not too big.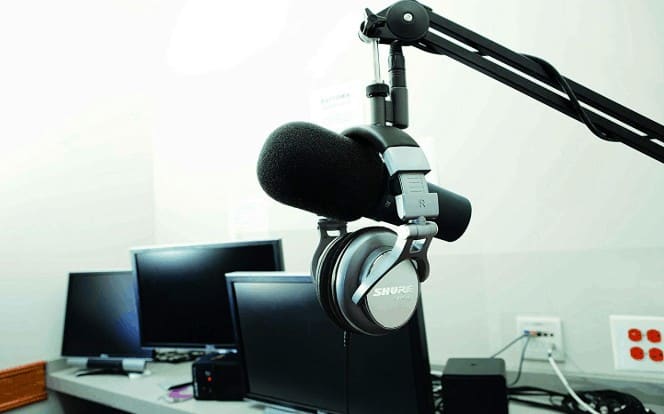 Of course, the SM7B has a windshield which doubles as a pop filter, but this may not do the job to your satisfaction, you may want more control over your recording process.
If that is the case, you can remove the external pop filter temporarily, and use a more conventional studio pop filter.
The shape of the SM7B is quite uncommon. It's a sleek cylindrical shape, connected to its mount via air-suspension shock isolation. This basically nullifies any possibility of having noise due to handling or movement.
Sound quality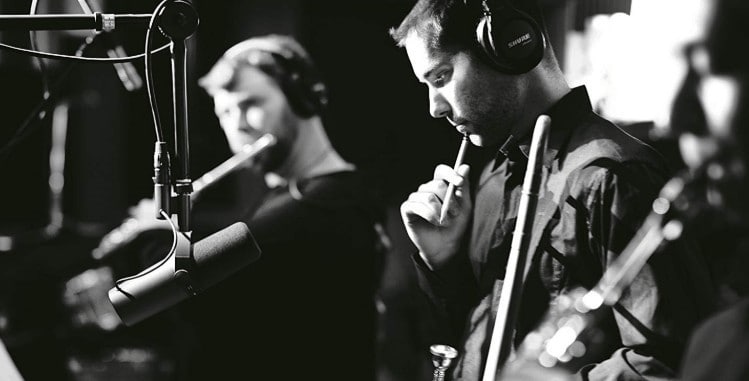 The low-frequency quality of this mic is worthy of note. The SM7B does such a good job of delivering a well-rounded low end without too much extension or any distortion at all.
This is a big deal because most mics avoid low-frequency troubles by using low cuts or giving the lower frequencies a much more reduced response. The SM7B, on the other hand, captures the low frequency and delivers it without any exaggerations or understatement; more like a bass mic.
You would think that a well-delivered low end would result in a less than average mid-range. The mid-range is just as accurate as of the lows, with as little fluctuations in the frequency response as possible.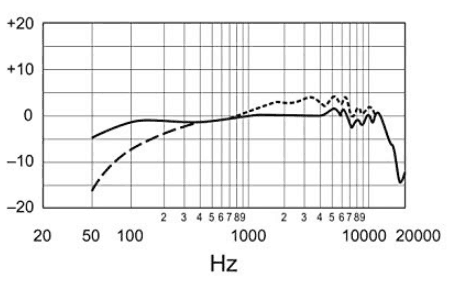 As good as a flat response sounds, some vocalists may not be very fond of it; some prefer some amount of boost to add warmth and presence.
You may be wondering what this SM7B has to sacrifice for a response this accurate.
Well, here it is: The mic has low gain, and you'll need a preamp or a good mixer to drive it enough to have sufficient volume for your recording or performance.
Pros:
Flat, accurate response
Excellent isolation from handling noise
Cons:
Needs a preamp or mixer to work.
Bottomline
This is a very good choice for the studio recording of vocals. It can work with all voice types because of its flat response.
Build and design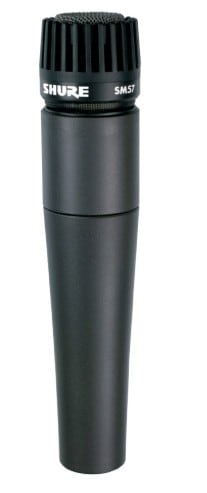 One of the legendary Shure mics, the SM57 is a dynamic cardioid microphone. Looking at this mic again, I keep wondering what was going through the designer's mind when they thought of this shape.
They probably thought, "Let's make a mic that can be used for anything", and out came the SM57.
The body is rugged, and it's capable of taking several hits without being damaged. The shape is characterized by its flat head on top of a narrow body. There are no controls or buttons on it all the vocalist needs to do is grab the mic and sing.
Speaking of vocalists, singers with big hands might find the SM57 a bit awkward because of its size; it may look small if they're holding it during a performance. Such performers can look to the SM58 for bigger, more solid handling.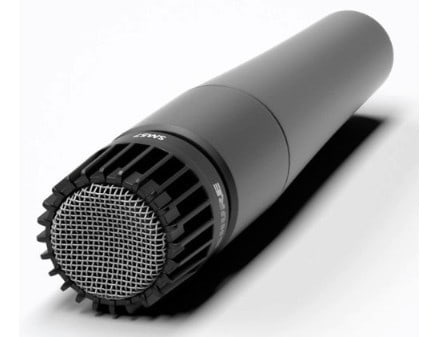 Like the rest of the Shure mics, it is connected via the XLR port. The compact design makes it a good choice when you're using a lot of mics.
You'd be surprised at how busy your stage would look if you had four or five silver-headed bulky mics for backup vocalists, as compared to having all SM57s. They just have a way of being discreet; not getting in the way of sage design and other things.
Sound quality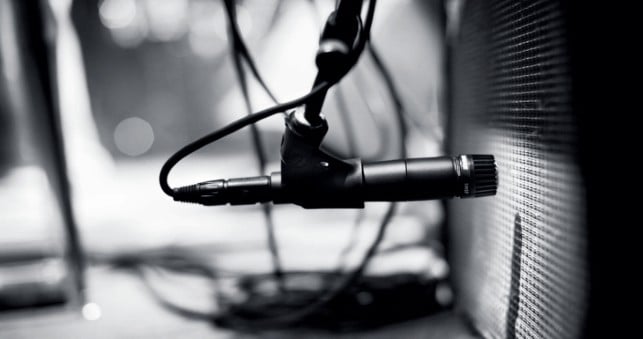 The SM57 is a mic that does what it has to do without making a fuss. It would readily capture even the loudest singer's sound without any distortion or clippings. Just for perspective, what do you expect from a mic that records loud snares with close miking, without distortion? This one is a real workhorse. On the other hand, it has a wide range of applications. Shure SM57 is widely used by drummers to record drum kits.
As far as frequency responses go, 40 to 15000Hz is pretty good for vocal recording and live use. If you are just a beginner and wish to improve your vocals I advise you to practice singing daily using good mics and mobile apps like Smule.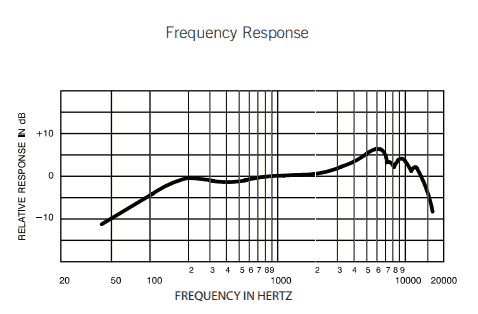 Pros:
Very high SPL can take loud sources effectively.
The compact design makes setup easier.
Cons:
Head cap could come off (replacement now available)
Bottomline:
I believe it's even better when your stage is small, or you're using a small venue for your event, this mic will really serve you well because it attains a pretty high gain level before it starts giving feedback. Plus, the cardioid polar pattern helps a lot in off-axis sound rejection.
Read our other popular posts:
Conclusion
This is all about the 5 best Shure mics. I realized while writing this article, that you can have a whole career as a recording engineer, live sound engineer, vocalist or even musician, using Shure microphones only.
They've managed to touch every part of mic used in the audio world, and it's amazing.
When next you need a mic from a trusted source, consider Shure dynamic mics and Shure condenser microphones. You can be sure to find one that will suit your needs and your budget.