Do you need a wireless microphone to connect directly to your computer? If yes, then this article is for you.
Wireless technology is popular for being more convenient than wired connections. This is also true for mics – especially when you're connecting them to your computer. For wired connections, you can always use USB mics, but if you're going wireless, your options are limited.
In this article, I review the top 6 wireless mics that you can use while connecting to your PC. But before diving in, let's see the things you should consider before buying a wireless PC microphone.
What to look for while buying wireless mics for a computer?
Microphone Type
You need to check whether it's a lavalier, handheld, or other types of mic. Most wireless mics for computers are either handheld or lavalier mics.
You will also find conference mics in this category.
Lav mics are great if you're recording just one person at a time. The same goes for handheld mics. Conference mics are more suitable when you need to capture multiple people talking in the same room.
Polar pattern
This will determine how much background noise is rejected by the mic. Cardioid and supercardioid capture more of what's right in front of them. This means that they reject most background noise.
Omnidirectional mics on the other hand capture more background noise, unless the manufacturers add some technology to reduce it.
Top 6 wireless microphones for computers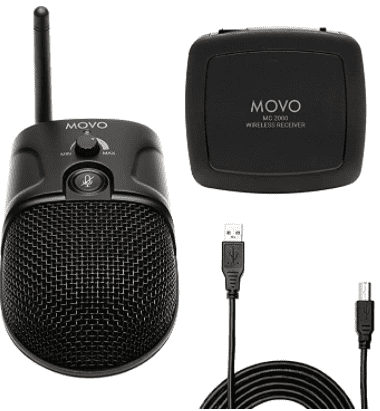 The Movo MC2000 is a conference mic that you can use when you need to capture audio from a group of people in a room. It has a low profile design that can sit right on the table without causing any distraction.
Being a conference mic, it has an omnidirectional pickup pattern. So, if you have 7 people around a table, it will pick each person's voice clearly.
The mic itself also acts as the transmitter. The receiver is connected to your computer via the USB port.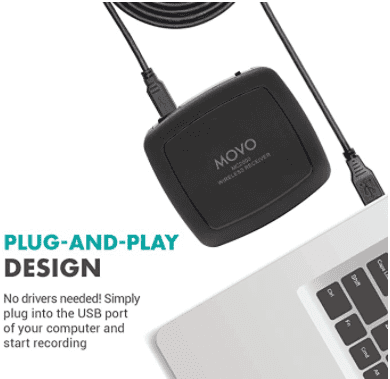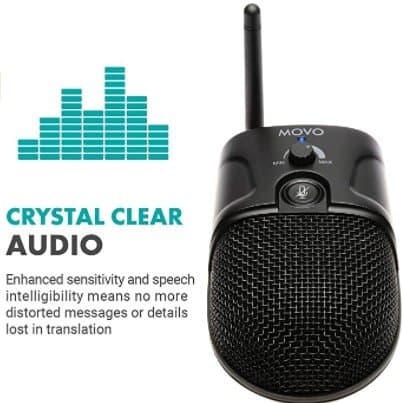 Also, the MC2000 has a built-in speaker. This makes the mic perfect for online meetings when you have multiple people in a room. This way, everyone doesn't have to connect with their individual devices. Just one computer is enough for the room.
In addition to its omnidirectional pickup, this wireless microphone system has noise cancellation technology that keeps everyone's voice clear and crisp at the other end.
Since this mic is designed for speech, the frequency response emphasizes voice clarity. There's less bass and reduced high frequencies, but the mid range is well pronounced.
The mic connects to the receiver via a wireless connection, while the receiver goes to your computer via its USB port. This mic unit retains an unbroken signal over a distance of 10 metres or 26-30 feet.
The MC2000 works best for group online meetings and podcasts involving three or more speakers.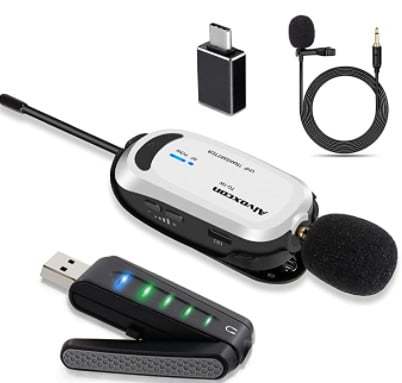 This wireless microphone system contains a lavalier mic, and USB receiver. The mic is cordless and you can either clip it to the speaker's clothing or use it as a handheld. The receiver has the shape and size of a regular USB memory stick or flash drive.
It has indicator lights for monitoring the sound level. If it indicates maximum sound levels, you can easily adjust with the volume control buttons on the side. It also has a 3.5mm port through which you can connect your speaker or headphones.
The receiver is powered by your computer's USB port, but the transmitter has a built-in rechargeable battery. It takes about 1 ½ hour to get a full charge, while a full battery will work for up to 6 hours.
The Alvoxcon mic comes with a small windshield that can help reduce wind noise and pop sounds. Being a lav mic, if you set it upright, it will capture the speech of the wearer with only little background noise.
That's not all. This mic can work at a distance of up to 100 ft when there's no obstruction.
If you want to capture speech from a single person, you should consider this lav mic because it gives a great degree of freedom to the user. It's suitable for podcasting, interviews, streaming gaming and even vlogging.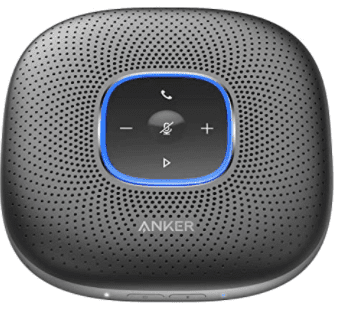 Anker pwerConf Bluetooth Speakerphone is a conference speaker that's designed to pick up speech from multiple people in a room.
With its built-in speaker, this mic is well equipped for use in online meetings. Even in a room of 10 people, this mic will pick each voice clearly while suppressing background noise.
Even though the Anker PowerConf is also wireless, it's different from the Movo MC2000. It has no receiver and connects to your computer via Bluetooth.
Aside from that, the only alternative is to connect via USB – C. However, it's best used with Bluetooth. If your computer has no Bluetooth, you can go for the Movo MC2000 conference mic.
That audio is of pristine quality. It captures and delivers crisp and clear speech, even though it has a wide frequency response range. Also, the polar pattern is obviously omnidirectional.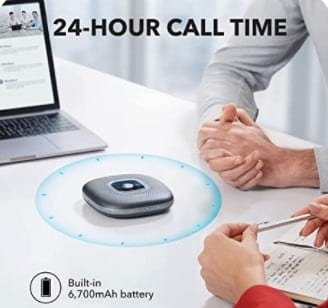 The PowerConf has a number of unique features, but the battery life stands out. When it's fully charged, you can have up to 24 hours of use. That's a lot when compared to even the Shure wireless handheld mic.
The controls available on this mic are for adjusting the volume, mute and calling.
Like Movo MC2000, Anker PowerConf is great for podcasting, online meetings and recording webinars. Especially when you need to capture audio from more than one person in a room.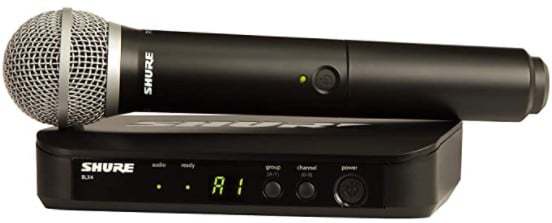 The Shure BLX24/PG58 wireless mic system includes a handheld mic and a receiver. The PG58 is a vocal wireless mic with the rugged and durable build that made Shure so famous. The only control on the mic is its on/off switch.
For some podcasters, streamers, or other content creators, this mic may seem like an overkill. However, if you plan to record a vocal musical performance with a wireless mic, then you should consider this mic.
The PG58 is a dynamic mic that will capture your vocal details and translate it accurately. The frequency response highest point is 15000 Hz, so you may not have the air and sparkle of wired condenser mics. But this is about the closest you can get with your PC.
The receiver is the part that connects to your PC. You can do this via the ¼-inch port. On the other end of the ¼-inch cable, you will use an adapter to convert it to a 3.5mm plug.

For the best audio performance, connect it through an external USB sound card before connecting to your computer.
This wireless connection allows a distance of up to 300 feet. That's a lot of room to move around while recording a performance.
Surely, this system is a little bulky and the receiver may take more space. If that's an issue, consider the Fifine USB Wireless handheld mic.
Like I mentioned earlier, this mic will be a great choice for streaming vocal performances -either live or recorded.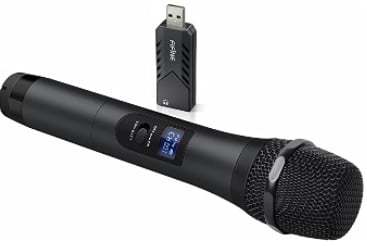 The Fifine USB wireless system includes a handheld mic that also works as trhe transmitter. As well as a USB receiver shaped like a flash drive.
The compact size of the receiver makes it fit in any space no matter how small. Though the receiver must be plugged into your computer's USB port, it also has a 3.5mm port that you can hookup to speakers or headphones.
The mic is powered by 2 AA batteries which you would have to buy separately. They are not added in the package.
Now, let's talk about the mic's audio performance.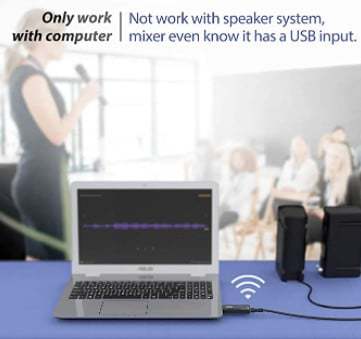 It has a cardioid pickup pattern. This enables it to reject most background noise while capturing what's right in front of it.
It's form factor makes it look like a vocal performance mic, but the sound quality puts it at the karaoke level. The sound is clear, but not at the vocal performance level.
When connected, you can get a clear signal for up to 65 feet. Of course, this distance reduces if there are obstructions.
You can use the Fifine USB wireless handheld mic for streaming, gaming, podcasting and karaoke performances. If you need a mic for a serious vocal performance, you should consider Shure BLX24/PG58.
The Kimafun wireless system is a lavalier microphone with a receiver. Unlike the Alvoxcon, the lav mic is not cordless. It has a cable that runs down to the transmitter.
The receiver is shaped similarly to the transmitter, and it connects to your computer via the 3.5mm plug.

For most modern laptops, there's just one audio jack. So, to monitor your sound, you need to use a USB adapter that has both mic input and headphone output. It's a lav mic, so with good placement, you should avoid most background noise.
[The microphone's audio quality is speech focused. It does a good job of making the voice clear and distinct. However, it does not give a full frequency range delivery. ]
The 2.4G wireless connection works over up to 80 feet or 30 metres. That's enough room to move around while giving a speech or presentation. The Kimafun wireless lav mic can also be used for podcasting, recording, and streaming.
Conclusion
I have reviewed 6 wireless microphones for computers in this article.
My top 3 picks are Movo MC2000, Alvoxcon USB lav mic and Fifine USB Wireless handheld mic.
All these three mics have receivers. This means that even if your computer does not have wireless connectivity, you can still use them conveniently.
Also, I picked Fifine over the Shure mic because it has a more compact set up and fits small arrangements better.