Affiliate disclosure: In full transparency – some of the links on this website are affiliate links, if you use them to make a purchase we will earn a commission at no additional cost for you (none whatsoever!). Will this be a problem? This is how we manage to create free content for you. Please know that your trust is so important for us. If we recommend anything, it is always because we believe it is worth exploring. And, buy me a coffee ☕️
Are you struggling to make the right choice between Zoom H1 and Zoom H1n?
Do you want to know the subtle differences that set them apart?
Then you are in the right place.
Today we are going to compare the two great portable recorders by Zoom and help you decide among Zoom H1 vs H1n.
[amazon table="13283″]
Zoom is a California-based manufacturer of video and audio communication devices that derive a variety of functions such as teleconferencing, webinars, chatting and team collaboration. This company is responsible for manufacturing great portable audio recorders.
You might be wondering: what are digital recorders used for?
Well, these handy devices have a wide range of applications in different sectors.
For instance, journalists can use them to record interviews in high resolution. These mics can also be used for recording live concert performances – you could also use them for band rehearsals. Also, Zoom H1 is the favorite recorder used by YouTubers for commentary.
If you often conduct interviews in the field (like most freelance journalists), then you'll probably require a portable recorder during your travels.
In addition, this equipment can be used to record conversations during important meetings. Students who wish to review their lectures can also benefit greatly from digital recorders.
Zoom H1 vs H1n: Let's find it out
Build and design
Right off the bat, both portable audio recorder devices have a surprisingly similar design and build. The Zoom H1 and Zoom H1n sport a durable body that has a lovely matte black finish. However, the H1n version has a sleeker finish than its H1 counterpart.
Zoom preferred to use versatile plastic material to construct each of these tiny recording devices. This robust construction makes both devices durable and quite easy to hold.
Most functions of the H1 portable recorder are located on the left side, making them easily accessible to users. These functions include a power toggle, volume control, play-rewind-forward buttons, and a USB port.

The H1n recorder, on the other hand, has some functions on the top – these include the play/pause, record, stop, forward and rewind buttons. However, the volume control buttons are on the right side.
There's a wide array of colors available for users who desire to get personalized digital recorders. These include black, gray, blue, red and rose gold. Both devices have these color selections.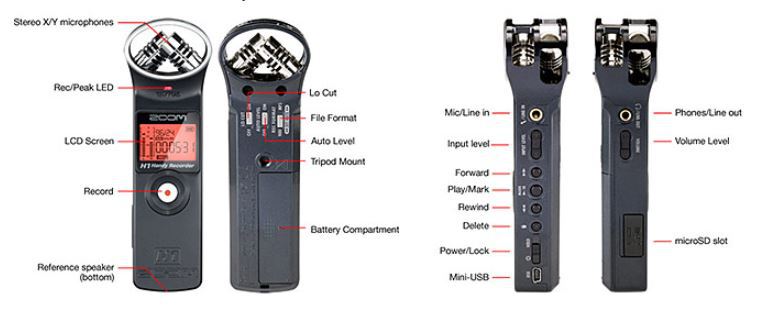 Zoom H1 has a 1-year warranty for users located within North America. This warranty covers any type of material defects and workmanship issues that could occur within one year. However, warranty information for the Zoom H1n doesn't exist.
Both devices have a USB input, so it's easy to integrate an external USB mic. The H1n digital recorder has a lot more buttons on the unit when compared to Zoom H1. The former device (H1n) has buttons located on the front whereas Zoom H1 has buttons on the sides.
Previously, most users preferred having buttons on the side, but this has quickly changed. Now, you can simply choose your preferred orientation.
The H1n has an audio gain dial located on the very top of the unit. This gain dial improves the sensitivity of the inbuilt condenser mics, helping to enhance the audibility of your voice recordings. However, this feature isn't present in the H1 portable audio recorder.
Zoom H1n's front panel has a set of four distinct buttons logically situated underneath its 1.25" LCD display. These buttons control the audio recorder's audio, low-cut, limiter, and auto level. The Zoom H1 has a single button located on the front panel – the record button.
In terms of weight, both recorders are lightweight and weigh the same. Here's a breakdown:
H1 – 2.1 oz (60g) without batteries
H1n – 2.1 oz (60g) without batteries
The Zoom recorder comparison shown above reveals just how portable these digital recorders really are.
Features
What's in the box?
The following accessories come included with the H1 portable audio recorder:
2GB microSD card
1 AA Battery
Operational manual
Steinberg Cubase and WaveLab LE software
These accessories are included with the H1n recorder:
2 AAA Batteries
Steinberg Cubase and WaveLab LE software
Quick Start Guide
Both voice recorders utilize the unique Zoom recording software, making their operation to be fast and efficient.
The H1 tiny recording device utilizes one Alkaline or Ni-MH AA battery. It also uses an AC adapter (AD-17, USB to AC type).
The Zoom H1n recorder utilizes two AAA batteries. These can either be alkaline/lithium batteries or nickel-metal hydride rechargeable batteries. In addition, you can utilize the AC adapter (Zoom AD-17).
Impedance compared:
| | | |
| --- | --- | --- |
| | Output load impedance | Input impedance |
| | 10kΩ | 2kΩ |
| | 10kΩ | 2kΩ |
Comparing the impedance levels of both devices, it's clear that they both have similar impedance characteristics.
Apart from the aforementioned features, both the Zoom H1 and Zoom H1n digital recorders have an onboard stereo microphone that is specially configured using an X/Y pattern, producing impressive stereo imaging.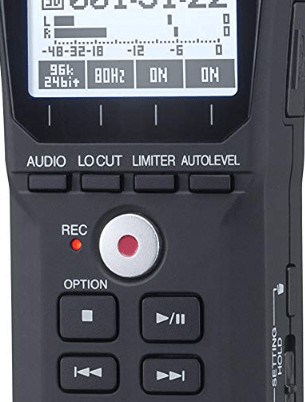 However, the H1n has additional enhancements that are lacking in the H1 portable recorder. This includes a limiter, adjustable playback speeds, overdub functions, and a voice emphasis filter.
Sound quality:
The Zoom H1 is equipped with an inbuilt low-cut filter that eliminates wind noise, rumble, pops, blowing and a wide array of low-frequency reverberations.
The Zoom H1n is also fitted with a low-cut filter that rejects all unwanted rumble and pops. It's also fitted with an advanced onboard limiter that provides a distortionless signal reaching 120 dB SPL, allowing users to record loud bands with remarkable clarity.
The mics of both audio recorders are configured using an X/Y polar pattern. This means that both microphones are oriented on a similar axis, providing the ideal localization while eliminating phase shifting. This pattern helps to produce stunning stereo reproduction.
The rated output level of Zoom H1 is -10dBm while that of Zoom H1n ranges from -∞ dB to -39 dBm.
Both these records at a sampling rate of maximum 96KHz/24-bit which is sufficient for most of the recordings.
Similarities between Zoom H1 and H1n
Both portable audio recorders sport a Line in jack, Mini USB port, high/low cut filters
The two tiny recording device has a similar X/Y microphone configuration
They both have a similar audio quality
Both record at a maximum of 96KHz/24-bit
Differences between Zoom H1 and H1n
There's an updated back-lit screen in H1n
The Zoom H1n has additional features like a built-in limiter, overdubbing feature, voice emphasis and playback speed control function.
H1 has volume controls on the right side while H1n has these controls on the right side.
H1n has audio gain dial whereas H1 doesn't have this.
H1n comes with additional controls like adjustable playback speeds, overdub functions, and a voice emphasis filter that are not present in H1.
Recommended read: Zoom H4n Pro vs H5 Portable Handy Recorder: Let's Settle This Now!
Verdict
Hope you guys found this post on Zoom H1 and H1n useful.
The Zoom H1n digital recorder is our ultimate winner. It has additional features that enhance its general functionality, especially the voice emphasize filter.
Although both mics are equally impressive, the H1n's new design uses one-touch button controls that simplify the recording of songs, podcasts, lectures and more. Judging by its much-improved features, the Zoom H1n's price is definitely worth it.
Hi, I'm Jennifer I'm a passionate singer and an audiophile from Detroit, MI. 
I'm on a mission to help music creators to create fine music that help them position uniquely in the saturated music space.
Follow my blog for regular content :-)