Are you looking for the best lawn mowing headphones with Radio that cancel the noise effectively?
Our Best Pick
Howard Leight by Honeywell Sync Hi-Visibility Digital AM/FM Radio Earmuff (1030390),Bright Yellow/Green, Unisex
Best Value for Money
3M WorkTunes Connect + AM/FM Hearing Protector with Bluetooth Wireless Technology, Ear protection for Mowing, Snowblowing, Construction, Work Shops,Black
Best Bluetooth Headphone
ION Audio Tough Sounds Hearing Protection Headphones with Bluetooth and Radio
Our Best Pick
Howard Leight by Honeywell Sync Hi-Visibility Digital AM/FM Radio Earmuff (1030390),Bright Yellow/Green, Unisex
Best Value for Money
3M WorkTunes Connect + AM/FM Hearing Protector with Bluetooth Wireless Technology, Ear protection for Mowing, Snowblowing, Construction, Work Shops,Black
Last update on 2023-12-08 / Affiliate links / Images from Amazon Product Advertising API
Then you are at the right place!
We all love the smell of freshly mowed lawns, but not everyone is particularly fond of the lawn mower's growl, and for good reason: that thing is loud! If you're the one doing the mowing, it gets worse; that's at least, 90db in your ears.
You need something to protect your hearing and protect your ears and head. Here's where yardwork headphones come in. They are specially made for use in very loud environments, where noise with more than 85db is generated.
You may have considered using earbud muffs, or even tried them. They're not bad, but these padded headphones give you the ultimate combination; reduced lawnmower noise, and the option of listening to the radio, or music from your device. How cool is that?
In this post, we have reviewed the top 5 radio headphones for lawn mowing.
Buying guide for lawn mowing headphones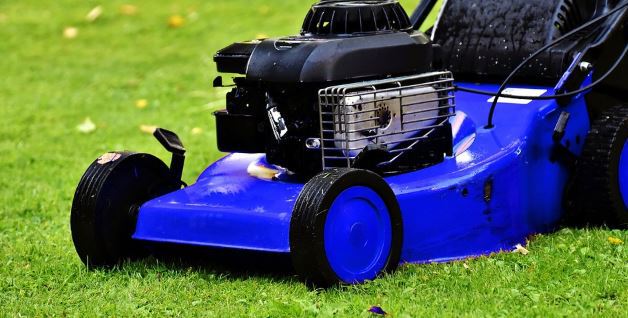 What to look for when buying a headphone for lawn mowing?
Wireless:
When you're mowing the lawn, or doing any work that involves loud noises, most of the time, you'll need both hands engaged. This means that if a cable gets in your way while working, you may not have a spare hand to get it out of the way. This is why it's best to use wireless headphones while lawn mowing; let's make sure the only thing getting mowed is the lawns.
Noise cancellation:
Noise cancellation is the process of nullifying the noise from the surrounding, mostly the lawn mower's noise. If you're buying headphones for lawn mowing, make sure that you go for the noise canceling ones; there's no point even listening to the radio when the mower is still loud in your ears.
Noise isolation:
Noise isolation, often confused with noise cancellation, involves keeping the noise out, this is achieved through the headphone build; the earmuff material and shape, the clamping force and others.
Durability:
A lawn mowing headphone should be durable; you should buy it and just keep using it for years. It's not nice if you have to spend more buying lawn mowing headphones than you spend on buying or fuelling your lawn mower.
Comfort:
These closed-back Lawn mowing headphones should be fairly comfortable. While the major function is noise reduction, you also want a distraction-free work process. If your headphones are irritating your ears, you may have a hard time concentrating.
5 Best Headphones for Lawn Mowing
Build and design
The Hi-visibility feature is a stand-out characteristic of the Honeywell Sync headphones. The earcups are bright green and the headband is reflective.
This means that if you decide to mow lawns in the dark (for whatever reasons) or in bad weather conditions with low visibility, these headphones have you covered.

Another cool feature of this headphone is the Air Flow Control technology that gives you added comfort. With the Honeywell Sync, you can have noise isolation without having to sacrifice your comfort over a long period.

This technology allows you to have normal sized earcups, lightweight and noise isolation.
The controls for these headphones are on the right earcup, and they can be easily accessed, since they're well located on four cardinal points, with a small ridge that you can use as a reference point.
I must say, that these headphones seem like a breath of fresh air, looking and feeling different than other lawn mowing headphones.
Sound quality
Air Flow Technology also has sound quality benefits. It helps to reduce noise across more frequencies. This technology has been discovered to increase Noise Reduction Ratings be up to 2db, with increased low-frequency noise attenuation.
Low-frequency noise reduction is usually an issue when dealing with earmuffs. Most times the earcups and muffs are not enough to keep these low frequencies out.
As a result, even though the overall noise is reduced, you still have more low frequency noise finding its way into your ears.
They can get in through the tiny spaces left by the earcups, through the back of the earcup itself, or as a result of vibrations or movement of the headphones; especially the part that joins the earcups to the headband.
The Air Flow technology takes care of this, such that your radio is clearer and you can hear your calls better.
Pros:
High visibility design ensures more safety
Comfortable ear pads
Air Flow technology ensures better isolation
Build and design
The 3M Worktunes headset is a Bluetooth enabled headphone that reduces external noise. The earmuffs are quite comfortable so that you can work for longer hours while having them on.
Also, there's an LCD screen that displays some information. Nothing fancy, just a simple display that lets you know what you're doing.
The buttons give you options of Bluetooth connection, changing music, picking a call and volume.
All control are on the left earphone; once you know the locations, you can cycle through the buttons without any trouble. The radio allows you to save up to 10 stations, 5 AM stations and 5 FM stations.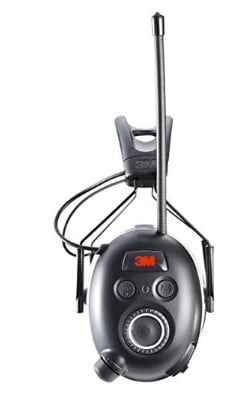 The headband design caught my attention: It's made of plastic. The benefit of this is that it's hard to get it stained, so it will hold less germs.
On the other hand, this plastic build may break more easily than others. Also, rather than a single curved headband, the 3M has straight lines with sharp edges.
While it can be good for aesthetics, it makes uncomfortable when placed around your neck. I guess it's all good since it would be on the head for most of the time.
Sound quality:
The NRR of 24db means that there is at least an 8db reduction in your lawn mower sound. This decrease in the noise brings the level to a healthier position.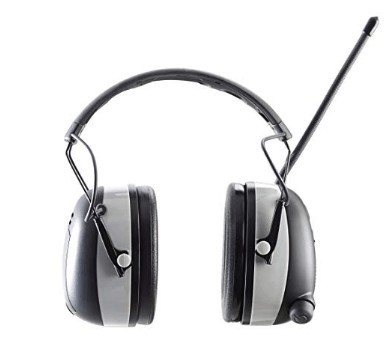 Since the headphone is essentially made for work, we expect a pretty decent sound quality, at least not distracting. I would advise that you avoid playing bassy music on these headphones, because they may have some distortion. If you want to hear bass music, I strongly advise you to get good bass headphones.
Low frequency control is not one of the 3M's strong points.
Also, make sure you stop the music if you intend to switch to radio, because the headphone won't stop one for the other, rather it keeps playing both.
Pros:
Accessible controls
3.5mm jack option
Replaceable muffs
Cons:
Low frequency distortion
Exposed connecting cable
Build and design: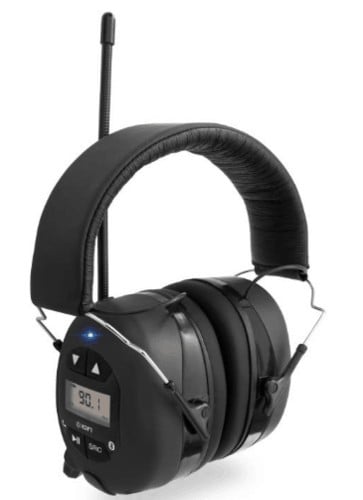 The ION Audio Tough Sounds headphones is a hearing protection headset with Bluetooth and radio. It is battery powered, and the battery, when fully charged can last up to 15 hours.
I think that's good enough for mowing, Also, the battery can charge up to 1000 times before you'll need to replace it. This means that you get up to 15,000 hours of use before you need to change the battery.
However, you'll need a technician's help to do the changing; the battery is not easily accessible.
The Audio Tough Sounds is quite light, which makes it good for long hours of use. The headbands are adjustable, but it may not adjust well enough for people with larger heads.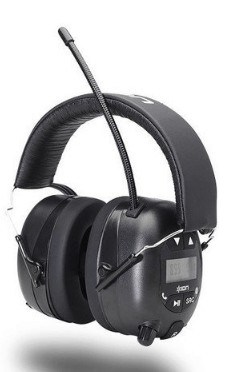 The earmuffs are quite comfortable too, you can be sure that your ears won't be irritated after using them for some time.
These headphones are strong, but also need to be handled with care; especially the area that connects the headband to the earmuffs. It may break easily if not carefully handled.
The AM/FM radio allows you to save up to 20 stations, and easily cycle through them by tapping on a button. The radio reception is very good, enabled by the antenna on the headset.
Also, it has an LCD screen that shows your options as you press the buttons. The on/off switch is added as a part of the volume knob.
Sound quality:
These headphones have a Noise Reduction Rating(NRR) of 25 db. This is good enough to reduce the sound that enters your ears to a safe level.
To be more specific, with its NRR, the sound that gets into your ears from your lawn mower should not be more than 81db, that's 4db less than the maximum allowed (85db).
The quality of sound is pretty good too, allowing you to hear the radio and music clearly.
Pros:
Offers lots of options for music, radio and communication
Relatively light, considering the many functions
LCD screen makes navigation easier
Cons:
Fragile headband connector
Battery not easily accessible
Build and design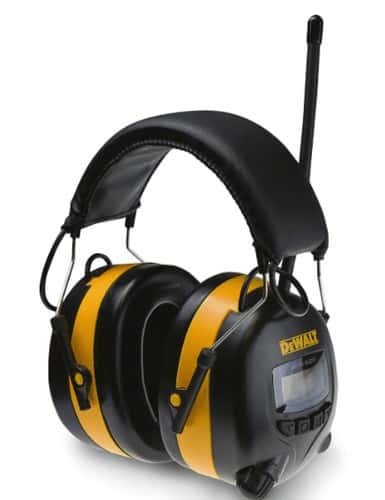 The Dewalt DPG15 is a noise reducing headset, with a digital AM/FM radio. It also includes an LCD display.
You can also connect it to your phone to listen to your favorite podcast and music, but you must do so with a 3.5mm audio jack. I would strongly advise you to make the cord as short as possible so that it does not get in your way while mowing.
The ear cups are soft, and you can use them for long periods without irritation or itching. I think the best part of the DPG15 is its strength.
Both the material used and the design make it a solid unit. Some lawn mowing headphones have their weak points at the joint that connects the headband to the earcups.
This headphone is strong in that area, with steel bands to join the headband to the earcups. Other parts are equally strong, making the Dewalt DPG15 a durable choice.
Sound quality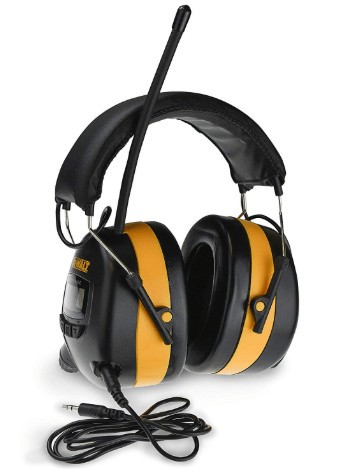 With a Noise Reduction Rating of 25, the DPG15 offers good protection from lawn mower noise. The NRR does not indicate the exact amount of noise reduction; a rating of 25db does not mean that the lawn mower's noise would be reduced by 25db, rather, it reduces by 9db.
To get the exact reduction, subtract 7 from the NRR number, then divide the result by 2. Your answer is the exact amount of reduction you have.
Therefore, the effectiveness of the headphone's noise cancellation or isolation is determined by how much reduction is made and how well the reduction puts you in the safe hearing zone.
The safe hearing threshold is 85db, and the average lawn mower sound level is 90db. So, for your headphones to be effective, it should have an NRR of at least 22db.
Pros:
Strong build
Headband flexible for wide range of head sizes
Longer battery life, due to Bluetooth absence
Cons:
No Bluetooth; cable can be clumsy
Build and design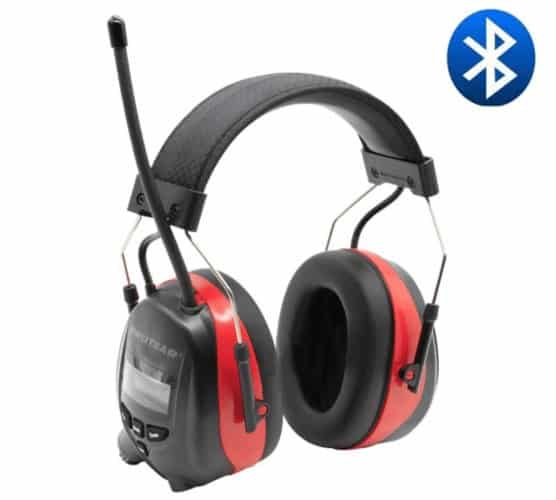 Even though they are primarily made for work safety, the PROTEAR safety headphones are not lacking in aesthetics. The black design with blue accents make these headphones look so sleek at first glance.
It has quite a comfortable headband, that makes it easier on the head when working long hours. The earmuffs are also quite plush and easy on the ears. Only repeated use without cleaning can make them irritating.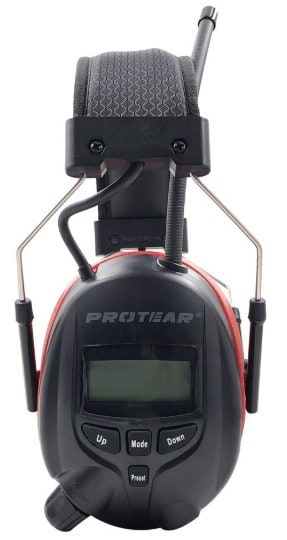 With its Bluetooth capability, you can connect your phone and other devices and listen to your favorite music or podcast while you mow the lawns. The controls are on the left earphone.
There are four buttons that allow you to scroll through music and radio stations, pause and play music, search and save radio stations, and answer your phone calls. You also have the option of a 3.5mm jack port, just in case you want a wired connection.
Lastly, there's an LCD screen on the left side that shows some necessary information.
Sound quality: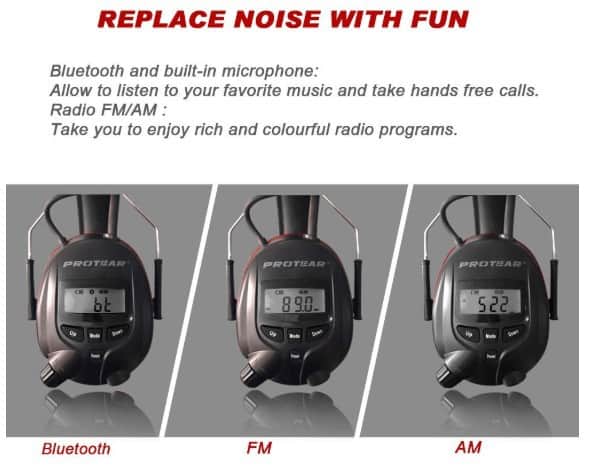 The PROTEAR Safety Ear headset has a Noise Reduction Rating of 25db. After calculations, I found that if you're using an average lawn mower, you get up to a 9db reduction in sound, bringing it down to at least 81db; that's about garbage disposal truck sound level, considered healthy enough.
Also, you should note that our tests are made using regular lawn mowers, whose sound levels are about 90db. If you're having louder lawn mower noise, you should probably get it looked at by a technician.
The volume levels are quite moderate. In fact, you may not notice any audible changes until you've turned the volume up about 4 to 5 levels.
This is good because, you're not just trying to drown out the lawn mower sound, you want to limit the sound that gets into your ears. Merely cranking up your music volume only replaces the source of loud sound, if does not eliminate the danger.
Pros:
Healthy Volume Control
Sleek Design
Strong headband connector
Cons:
Phone calls may not be loud enough
Why you should wear headphones when mowing?
To increase the productivity:
You would work faster when you wear headphones while mowing. There are two ways to this: First, you can concentrate better when there's less noise disturbing you. Also, you can listen to the radio, music, a podcast or whatever makes your work faster.
To protect your health:
Nobody should have avoidable hearing loss because they were mowing lawns. Sadly, this is possible if you mow lawns without protecting your ears. Noise above 85db is said as danger, especially if you're exposed to it consistently.
Safety:
Another possible danger while mowing lawns, is flying debris. This is why you should cover your eyes and ears. As you mow, small stones and sharp and may scatter out of the machine and fly all over the place. Headphone will protect your ears, and parts of your head from these. This also means that you should go for solid headphones.
What to consider when buying mowing headphones?
Nature of work:
Like almost every other skill, lawn mowing can be a hobby, something you do as the need arises, or a full-time job. What category you fall under can determine how much you need noise cancellation or isolation. If you only mow lawns twice a month, you can go for passive noise cancellation. However, I would recommend active headphones for full time mowing.
Mobility:
For mowing, you should consider headphones that would allow you to move freely without engaging your hands too much. That way, you can concentrate on the work. If you have to adjust the headphone headband every now and then, it's probably not a good choice.
Headphone design:
Usually, choice of headphone design is a matter of preference; but when you're using it for mowing, there are designs that work best. A headphone that will be effective when you're mowing lawns, should be light, wireless, and fairly comfortable at least.
Freedom of movement:
This is the major reason why all headphones mentioned here are wireless. Lawn mowing involves lots of movement; therefore you should use headphones that would make it easy to move around.
Conclusion
I believe this top 5 lawn mowing headphones list has touched every factor you may have considered and addressed some of your concerns too. Also, you must have seen one or two things you didn't consider previously.
Either ways, regardless of your budget, taste and other preferences, you should have one headphone that fits your needs here.
Also, it is important to always remember that the primary reason for using headphones while mowing is for noise reduction, and for ear protection. Other things are secondary.
This means that you must be careful not to simply try to drown the lawn mower's roar. You should rather aim to reduce the sound getting into your ears.
If you reduce, the mower's noise, only to replace it with louder music, you are exposing your ears to more damage. These lawn mowing headphones are specially created to give you the required balance.
On a lighter note though, I think it's about time we had quieter lawn mowers; like, this is 2019, even cars are silent now.