What are the best microphones for recording guitar amps?
The art of placing a mic in front of a guitar amp to capture its sound is very popular among audio producers and recording engineers.
Best Mic For Recording Guitar
Sennheiser Professional MD 421-II Cardioid Dynamic Instrument Microphone
Best Ribbon Mic
Beyerdynamic M160 Double Ribbon Microphone - Hypercardioid, Wired, Wireless
Best Value For Money
AKG Pro Audio C414 XLII Vocal Condenser Microphone, Multipattern, Black
Last update on 2023-09-29 / Affiliate links / Images from Amazon Product Advertising API
It gives certain robustness to the guitar tone, both on stage and in the recording studio.
This is a specialized function that can only be performed by certain microphones.
This article guides you to make the right choice among the thousands of mics available to record guitar.
Omnidirectional Wide Cardioid, Cardioid, Hypercardioid, and
Figure of Eight

Omnidirectional, cardioid, and figure-8
Here are our 7 best mics for guitar amps
Shure SM57 – Best for electric guitar
Specifications:
Frequency response 40Hz to 15kHz
Output Impedance: 150 ohms
Connector: 3- XLR
Polar Pattern: Cardioid
Weight: 0.63 lbs.
Setup and miking
Anywhere we're talking about quality dynamic mics, you can always expect the SM57 to be a part of the discussion. It is useful in almost all microphone use cases, including miking guitar amps.
The output port of the SM57 is an XLR outlet. Since it's an analog output, you'll need an external audio interface or soundcard to connect it to your computer. An alternative is using an XLR to USB adapter.
This mic can survive a few accidental drops without damage. It has a rugged body build made of all metal.
Sound quality and performance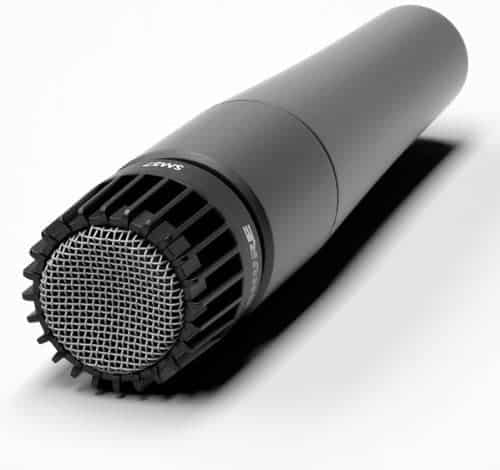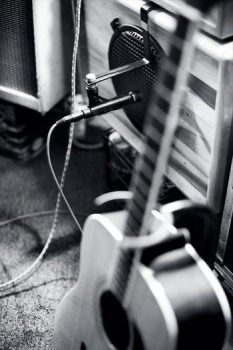 If you are miking your guitar cabinet on stage, you need a mic that will capture the amp's sound without catching bleeds from other instruments and voices on stage.
It's a similar case if you're recording in a room that is not well treated. If you are looking for the best mics for untreated rooms, then SM57 is the best mic you can use.
The SM57 combines a cardioid polar pattern, dynamic capsule, and super-slim body build.
These three features combine to give high-quality rejection of off-axis sound. Additionally, the guitar amp loudness will not be a problem. The SM57 can handle high gain sources. So, the power chords from your electric guitar will be well captured and recorded.
What we like
Compact design enables easy placement
Solid build makes the mic durable.
Very high SPL, can handle loud sound without distortion
What we don't like
Does not capture frequencies higher than 15000Hz
Very quiet sounds may not be well captured.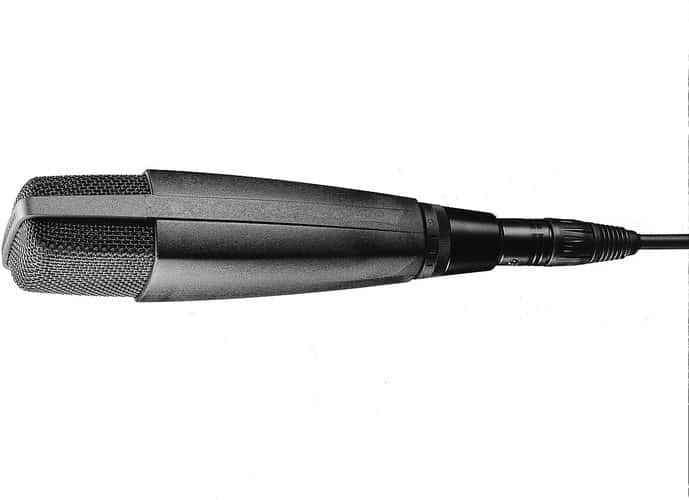 Specifications:
Sensitivity – 2 mV/Pa +- 3 dB
Impedance – 200 Ω
Frequency response – 30Hz – 17kHz
Weight – 385 g
Connector – XLR-3
Setup and miking
The MD 421 II is another versatile microphone. In terms of diverse use cases, it comes in at a close second to Shure SM57.
However, they may have similar uses but they look very different from one another.
The Sennheiser dynamic mic is bulky, especially at the head. It has an XLR output like most mics in its class. If you're recording via a DAW, you'll need an external soundcard to hook it up.
Sound quality and performance
The frequency range is a feature in which the MD 421 beats the SM57. It has a wider response range that makes it possible to capture higher frequencies.
Another superb feature that improves the sound quality is the 5-level bass roll-off.
There are five different high pass filter settings you can engage in.
If you intend to capture a lot of bass from your guitar amp, you may leave this switch as it is. However, if you prefer less rumble and more shine, use the bass roll-off to taste.
What we like
Wide frequency range enables the mic to pick higher frequencies
Great for solos; gives a clean tone with some bite.
What we don't like
Power chords lack some depth
Frequency response is not flat
Specifications:
Frequency response – 3Hz -15kHz
150 dB SPL
Sensitivity – 1,5 mV/Pa
Pick-up pattern : Super-Cardioid
Impedance: 350 Ohms
Contact Pressure: 2.5 N
Setup and miking


The Sennheiser E609 is another dynamic mic that is perfect for guitar amps.
Its build makes it suitable for studio, stage, and road use. To set this mic up with your guitar amp and computer, you need an interface in-between.
The E609 has an analog output. This means that it cannot plug directly into your computer. You need an interface that has pre-amp.
Most mixers and external soundcards have preamps, but XLR to USB adapters do not. Refer my post on the best microphone preamps if you are looking to buy one.
Sennheiser E609 works best when placed in a close-miking position. If you place it some meters away from the guitar amp, it may be difficult to get the direction right. This is an advantage for acoustic guitar players. Without the amp, you can't have the mic too close to the guitar so your hand doesn't bump it.
The flat shape of the mic may make you miss the sweet spot by a few inches.
Sound quality and performance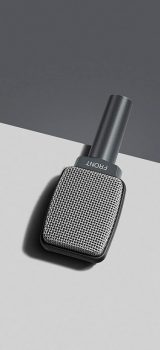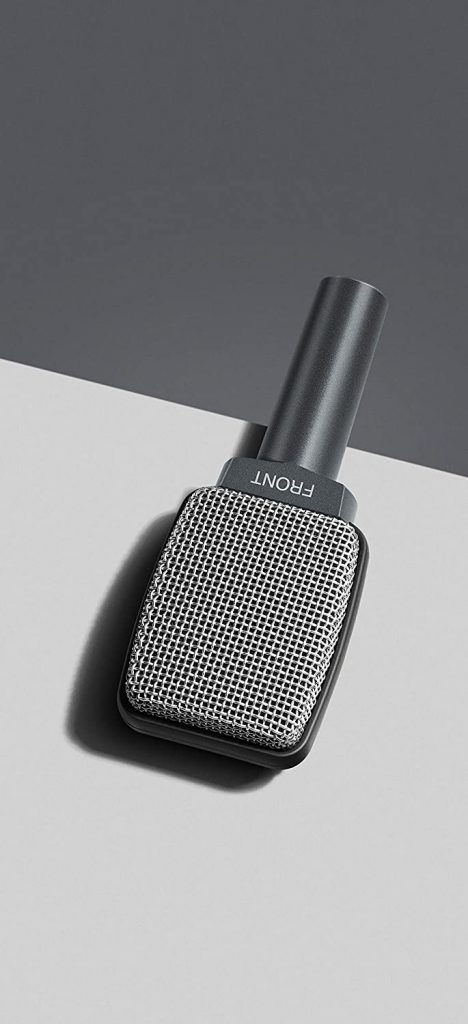 In a close-miking position, this mic will give one of the purest productions of your guitar amp sound. This is partly due to its hypercardioid pickup patters.
This pattern gives optimum rejection of off-axis sound. It captures what's right in front of it and ignores all extras. This quality will be helpful on stage.
Additionally, the E609 captures quieter notes well because it has very low self-noise.
What we like
Good for close-miking
Effective off-axis sound rejection
What we don't like
Needs pre-amp to work
Mic shape can make placement tricky.
Specifications:
Three attenuation levels (-6/-12/-18dB)
158dB SPL
Audio Frequency – 20Hz to 20kHz
Sensitivity – 23 mV/Pa
Signal to Noise – 88 dB-A
Preattunation Pad – -6; -12; -18 dB
Impedance – 200 Ohms
Setup and miking

The AKG C414 is the first condenser microphone on this list, and it has earned its place.
When it comes to being versatile the C414 is one condenser mic that can rival bigwigs like the SM57 and the MD 421.
One of the major reasons why this mic is so versatile is its range of polar patterns. You can choose from up to nine different pickup patterns for this mic.
Setting up the mic with your computer should be straightforward if you have the required hardware. Being an analog mic, you need an external soundcard, mixer, or preamp to connect it to your computer.
Sound quality and performance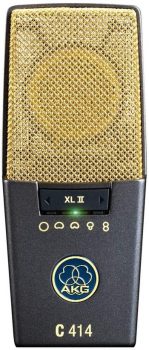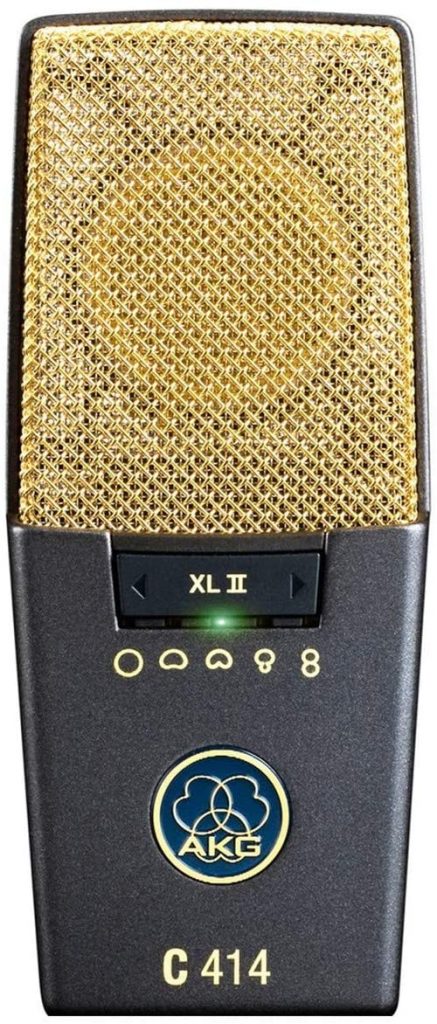 This mic has the characteristic warmth that we have come to expect with AKG mics.
Of course, everyone loves warmth when miking guitar amps. You can use the different bass-cut filters to deal with any potential bass rumble due to proximity effect.
Using this mic with your guitar amp, you do not lose any tonal element; rather, you gain some roundness and sparkle.
What we like
Has a characteristic warm sound
The mic is useful in many recording and performance cases because of its different polar patterns
Bass cut filter prevents bass build-up due to proximity effect.
What we don't like
Less off-axis sound rejection than dynamic mics
There are a lot of switches to deal with.

Specifications:
Frequency Response – :40Hz – 18kHz
Connection : 3-pin XLR male
Noise attenuation of 25 dB at 110°
Polar pattern : Hypercardioid
Setup and miking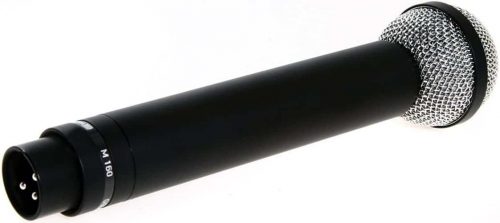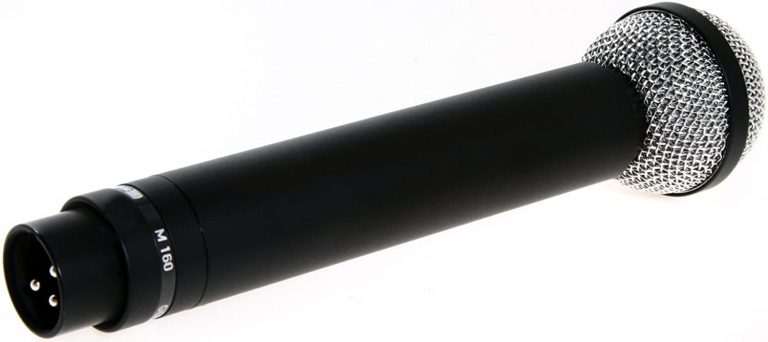 The Beyerdynamic M160 is one of the few ribbon mics we have. Even though ribbon mics are not very common, their sound is always unique.
It has a round head with a thin shaft, very much shaped like a regular handheld microphone. However, it's a range of use reaches very wide.
Producers and engineers have used the M160 to record drums, vocals, violins, and horns.
It's sensitive enough to catch the quieter instruments and has enough toughness to withstand high gain instruments.
The setup is similar to other XLR mics, connect to the interface, preamp or mixer via the XLR port and from there to your computer.
Sound quality and performance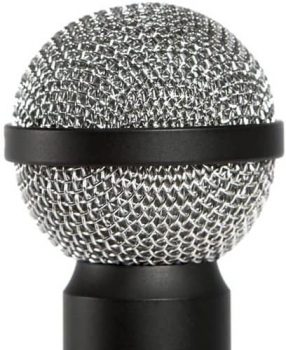 Ribbon mics are generally known to give a warm sound. However, the M160 takes this up a notch.
The double ribbon design ensures midrange smoothness without getting in the way of the vocals. With this mic in front of your amp, you get just enough mid-range bite to make the guitar sound sweet.
What we like
The mic has a warm, sweet sound
It gives midrange smoothness without excess brightness
What we don't like
It may not work for you if you want a totally flat response.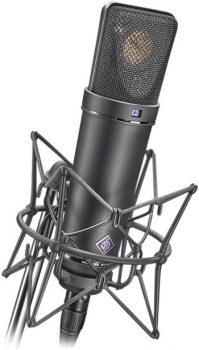 Specifications:
Frequency Response: 20Hz – 20kHz
Dynamic Range (Typical): 115dB
Transducer: (Pressure Gradient) Condenser
Impedance : 200 Ohms
THD: 0.5%
Operating Voltage : 48 V ± 4 V
Setup and miking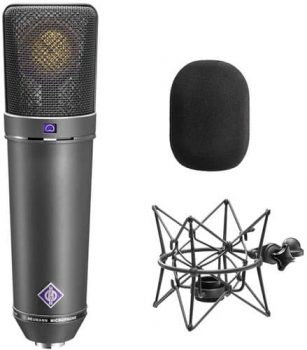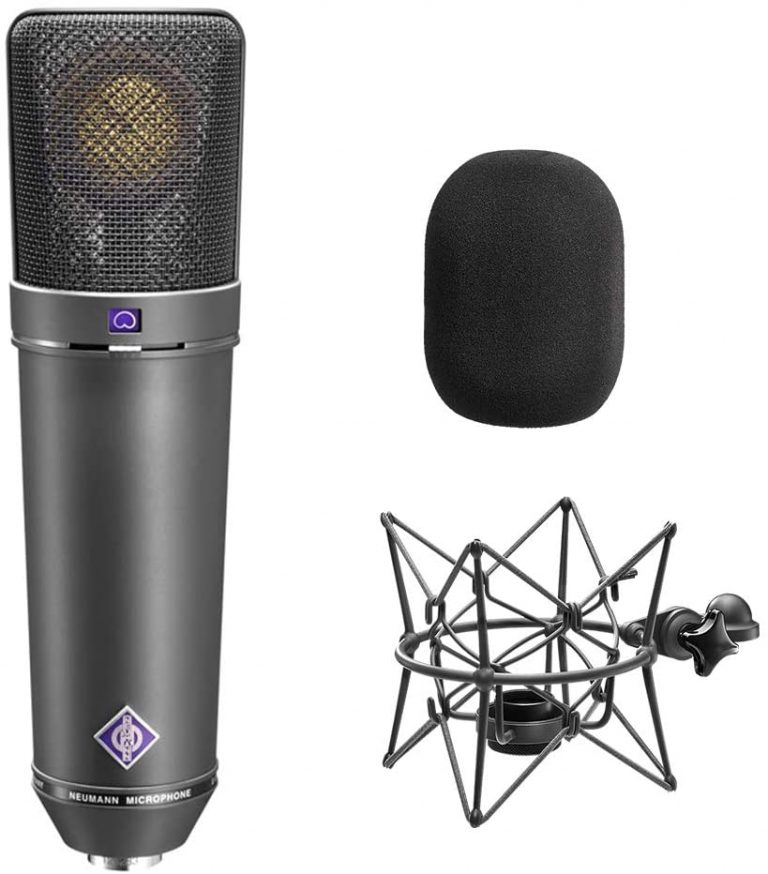 Neumann U87 Ai really needs no introduction. This mic shows up at every mic discussion, regardless of the category.
In case you don't know what the U87 is, it's the top shelf, top-class condenser microphone from Neumann. It's been around for a long time.
Setting up the mic is like every other XLR mic we have reviewed. You need an external soundcard to connect it to a computer.
If you're using it on stage, you simply need to connect it to the mixer and switch on the phantom power button.
Sound quality and performance

The U87 Ai is quite versatile, giving you up to three pickup patterns.
Although you will typically use the cardioid setting for a guitar amp, Omni can be useful too.
If you're recording your guitar amp in a well-treated room, you may want some of the ambiance to reflect in the recording. You should only do this in a perfect acoustic situation.
The U87 Ai has a wide frequency range that catches everything. It's also super sensitive and has very low self-noise. It will pick the smallest detail in the guitar sound. The thinnest string on your acoustic guitar will be picked just like the thickest one. To prevent distortion, engage the pad switch.
What we like
The mic is highly sensitive, therefore can capture quieter notes.
Has low self-noise
Has flat frequency response
What we don't like
Can't be used in imperfect acoustic spaces
There may be distortion at extreme levels.

Specifications:
Frequency Response: 30 -15,000 Hz
Sensitivity: -50 dBv Re. 1v/pa
Output Impedance: 300 Ohms
Maximum SPL: >135dB @ 20 Hz
Output Connector: Male XLR 3 pin
Setup and miking
If there was any reason why recording engineers wouldn't want a ribbon mic, it would be the weight.
Most ribbon mics are quite heavy, hence placement and movement were a pain. The Royer R-121 comes in to fix all of that.
This is a ribbon mic that has the unique sound quality that we love and is also lightweight. This means setting up the mic should be easy. The XLR output port goes in the audio interface, mixer or preamp.
Sound quality and performance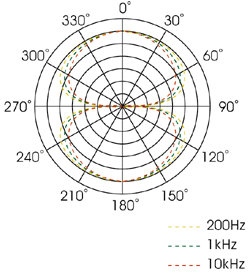 What stands out this ribbon mic is its ability to avoid distortion. Ribbon mics are known to give off distortion when placed very close to sound sources that have a lot of bass.
The R-121 is different. Unless you hit its maximum SPL, you won't have any distortion due to internal parts.
This mic sound is crisp and warm. If you're looking for a mic for extreme guitar amp use, the R-121 is a good choice. It captures delicate guitar styles without being harsh.
What we like
The mic prevents distortion.
The lightweight makes the mic easy to set up and transport.
What we don't like
Scratches can be easily visible on the mic.
What features to look while buying the best mic for guitar amp?
Diaphragm
There are two diaphragm sizes: large and small. Large-diaphragm microphones have a bigger surface area that captures sound.
So, other things being equal, their sound should be "bigger" than small diaphragm mics.
However, this also means that they may capture more off-axis sound.

It's better to go with small diaphragm mics for stage use.

In a controlled environment like the studio, you can use large-diaphragm mics.
Polar Pattern
For guitar amps, cardioid or supercardioid mics are better, because they will capture the guitar amp sound while rejecting unwanted ambient noise.
However, if you are in the recording studio and the room is well treated, you can use an omnidirectional mic to capture room sound with the guitar amp.
Condenser vs Dynamic
If you are on a tight budget, I would advise that you go for a dynamic mic. Here's why: an average dynamic mic will do a good job when used with a guitar amp.
On the other hand, the condenser mics that will perform well are the more expensive ones.
Max SPL
If you're using a condenser mic, the maximum SPL is important. Go for a mic with a maximum SPL of at least 140db. If you go for less, you risk having distorted sound, or worse, damaging the mic.
Recording Method
Do you prefer a close-miking system? If yes, then you should target dynamic mics or condenser mics with high maximum SPL.
If your mic is some distance away from the guitar amp, then you can use omnidirectional mics or condenser mics with average maximum SPL.
FAQs on Best Mic for Guitar Amp
Where should I mic my guitar amp?
It depends on what sound you want to hear. Placing the mic at the center gives more high frequency. Placing it on the cone gives it more mid-range quality.
What mic pattern is best for guitar amp?
A cardioid or supercardioid mic is best in most situations. However, you may experiment with other types.
Condenser or the dynamic mic suits best for recording live guitar?
For recording a live guitar, a dynamic mic would be good in most situations. However, you may consider a condenser mic if you wish to have room ambiance in your recording.
Which polar pattern should I use for guitar recording?
For stage performance, cardioid or supercardioid is most appropriate. In a well-treated recording studio, you may use the omnidirectional pattern for more space in your recording.
Also read:
Conclusion
All of these microphones will perform impressively with guitar amps.
However, if I have to pick my preferred 3 mics, it would be the Sennheiser MD 421 II, Beyerdynamic M160, and AKG C414.
The Sennheiser is a dynamic mic that gives the added benefits that a condenser mic gives.
The Beyerdynamic ribbon mic is in a class of its own. The warmth is everything.
I chose the AKG C414 because it's versatile and a top-quality mic. Also, it's in an affordable price range.