If you are an audiophile, you probably know what electrostatic headphones are.
Editor's Best Choice
STAX SR-007A MK2 Electrostatic Earspeakers [Japan Import]
Best For Long Term Listening
HIFIMAN Jade II Electrostatic Open-Back Headphones (Requires Separate electrostatic Amplifier)
Excellent Detailing
Koss ESP-950 Electrostatic Stereophone, Full Size Over-Ear Headphone, Leather Carrying Case Included, Black
Best For Long Term Listening
HIFIMAN Jade II Electrostatic Open-Back Headphones (Requires Separate electrostatic Amplifier)
Last update on 2023-09-21 / Affiliate links / Images from Amazon Product Advertising API
However, if you have not and would like to explore more, you have come to the right place. In layman's terms, electrostatic headphones have an entirely different working principle than normal headphones.
What makes them so unique?
Well, if we have to skip over the technicalities, it can be simply put that electrostatic headphones are superior. Be it unmatched detailing or amazing quality – electrostatic headphones lead the game.
Today, we will be talking about some of the best electrostatic headphones in the market today.
Here they are:
| | | | | |
| --- | --- | --- | --- | --- |
| | | | | |
| | | | | |
| | | | | |
| | | | | |
| | | Open-back and over-the-ear | | |
| | | | | |
Top 5 Best Electrostatic Headphones
Specifications:
Frequency response: 6Hz – 41kHz
Impedance: 170 KΩ
Capacitance: 94pF (including cable)
Sensitivity: 100 dB / 100 V r.m.s. at f = 1 KHz
Bias voltage: 580 V / DC
temperature range: 0 to 35
Fit and comfort
The STAX SR-007A MK2 fits comfortably by covering the outer side of the ears. They are designed for all-day use. Hence, it has a soft and warm feel to it.
The deep ear cups do not clamp down the ears in any way. The earpads can rotate 360 degrees.
The STAX SR-007A MK2 has a fixed hardtop. There is elastic in the lower headband, making it very flexible.
This headphone remains stable even when you are walking or looking around.
Sound quality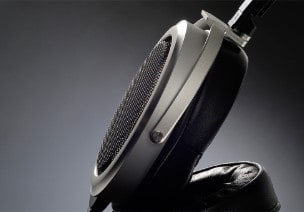 The STAX SR-007A MK2 is all about its extraordinary sound. In comparison to other electrostatic headphones, it is warmer and not too bright.
The bass never gets distorted. The midrange is very subtle. And the treble is muffled. Overall, the sound does not prick the ears.
Pros
Detailed and transparent sound
Amazing soundstage
Non-fatiguing body design
Cons
Falls on the expensive side
Dedicated amp required
Lacks in overall coherence
Specifications:
Frequency Response – 7Hz – 90KHz
Ear Coupling – Over-Ear
Connection Type – Wired
Connection Type – 550V-650V
Weight – 12.9oz (365g)
Fit and comfort
The clamping force in the HIFIMAN Jade II is relatively light. Nonetheless, its position does not alter once you place it over your head.
Wearing the HIFIMAN Jade II for long extended periods does not hamper its comfortability. The pressure on the cups is not very strong. They have been designed for providing maximum breathability.
The headband can be adjusted with the help of a traditional notch system.
Sound quality
Since the HIFIMAN Jade II has no isolation, the amount of sound leakage is significant. That is part of the reason why its bass does not have that great of an impact. It is monotone and lacks texture.
Overall, the sound of HIFIMAN Jade II is quite bright, especially the upper midrange.
The treble, however, is a combination of immaculate detailing and airiness. On top of that, it does not even sound harsh on the ears.
In Spite of the soundstage being sufficiently wide, there is a limitation in terms of depth. As a result, instrument separation and imaging are of poor quality.
Pros
Neutral, transparent and well-detailed sound
Comfortable fit and design
The soundstage is sufficiently wide
Cons
No premium feel despite the sturdy build
The cable is difficult to manage
Performance does not match the price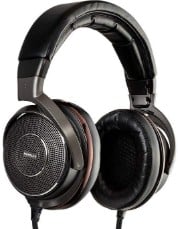 Specifications:
Frequency Response : 5Hz – 42KHz
Impedance: 10KΩ
Driver size : 50mm
Sensitivity : 97dB
Capacitance : 60pF
Max bias voltage : 500 VDC
Fit and comfort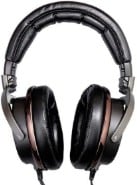 The lightweight and ergonomic design of the Monoprice Monolith ensures maximum comfort. They have been built for delivering unmatched levels of comfort irrespective of the duration of usage.
Be it the ear pads or the headband – everything is made from soft leather that elongates the life of these headphones along.
The ear cups of the Monoprice Monolith are specially designed in accordance with a golden ratio of angle. This promotes precise positioning thereby imitating a realistic sound effect with great balance and dimension.
Sound quality
The Monoprice Monolith features extremely low distortion when it comes to its sound performance. The open-back design is responsible for its wide soundstage and amazing sound quality.
Does not matter if you are working at your home or traveling somewhere – the Monoprice Monolith does not compromise with its sound.
These headphones excel in the midrange and high frequencies by enhancing the musical detail.
Pros
Very lightweight
Pocket-sized amplifier unit
The negligible amount of user feedback
Cons
Quite costly
Wiring issues
Persistent humming sound
Specifications:
Frequency response: 8Hz -35kHz
Impedence: 10KΩ
Sensitivity: 104dB
Voltage amplification: 60dB
S/N ratio: 100dB at 100Vrms output
THD+noise: 0.001% at 1kHz
Fit and comfort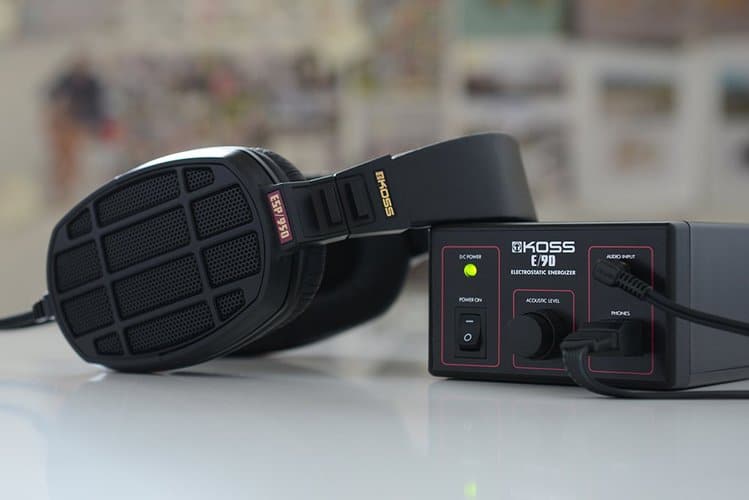 The extremely lightweight KOSS ESP-950 exceeds all expectations when it comes to comfortability.
The clamping force exerted by the ear pads is very light. In spite of being minimal, the force is adequate enough to keep the headphones in position.
Apart from being lightweight, the earpads feel very comfortable on the ears. This trait makes the KOSS ESP-950 good for long term listening.
Sound quality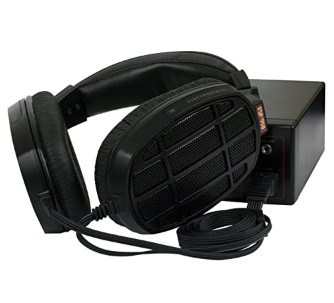 With a classic audiophile design, the KOSS ESP-950 has a more spacious and transparent sound.
These headphones are widely loved because of their ability to reproduce natural sounds precisely. From horns to guitars – the amount of detailing is mindblowing.
Credit for such a clean and clear sound also goes to the bigger and wider soundstage of the KOSS ESP-95.
It provides very low distortion, clean bass, remarkable power – all these factors combining to generate such unmatched sound quality.
Pros
Natural and ultra-clear sound
Highly detailed for ease of mixing
Very comfortable for long hours of usage
Cons
Slightly compromised build quality
Complaints of nagging issues
Room for improvement in terms of power supply
Specifications:
Frequency response: 5Hz – 42kHz
Capacitance: 110pF
Impedance: 145kΩ
sensitivity: 101dB
Bias voltage: 580V DC
Maximum sound pressure level: 118dB / 400Hz
Cable: silver-coated 6N
Fit and comfort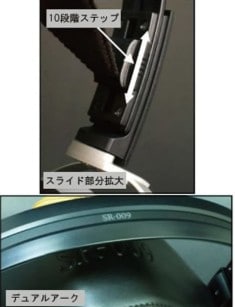 Made from real leather, the earpads of the STAX SR-009 are built to withstand severe environmental conditions.
The soft feel of the cushioned ear pads enables the users to work with the STAX SR-009 for hours with comfort.
The headband is designed in an arched shape. It is equipped with a position adjustment mechanism. Both the shape and the mechanism work in unison and makes the headphone sit perfectly over your head.
Sound quality
The STAX SR-009 has been created to produce a tuned sound. The low-end sounds powerful and the high-end has the necessary crisp to it.
This headphone specializes in delivering the sound exactly the way it is, like in a recording studio.
STAX SR-009 thrives in reproducing instrument sounds and their harmonics. The soundstage delivers a well-integrated, coherent, and whole sounding performance.
Pros
Very transparent and detailed sound output
Well balanced bass, mid and treble
Exquisite comfort levels for long-duration listening
Cons
Plastic based building material hampers the longevity
Prone to production errors
Treble can be over-pronounced at times
FAQs on Electrostatic Headphones
What are electrostatic headphones?
Electrostatic headphones are very different from the conventional dynamic headphones. They have a completely different working principle. They are superior to conventional headphones in terms of precision, audio quality and detailing.
How do electrostatic headphones work?
In electrostatic headphones, there are very thin diaphragms. The entire mechanism works when some electric charge is transferred to a film that is placed between two metal plates. On the application of audio voltage on these plates, they develop static cling and repulsion, which results in the movement of the film.
Why do electrostatic headphones need different amps?
The basic purpose of an amplifier is to raise the audio voltage generated from the source device. This voltage is generally low. So, the headphone needs an amp to increase this voltage to a level from where it is converted to sound waves through the speakers placed inside the headphones.
How to drive electrostatic headphones?
One simple way to drive electrostatic headphones is by increasing the voltage that is being generated from the source device through the amp.
Why are electrostatic headphones so expensive?
The amps used in electrostatic headphones are based on costly high-tech technology. Plus, the number of users of electrostatic headphones is very less in the market. There is not enough competition as well. This tends to elevate the price of these headphones.
Conclusion
Investing in electrostatic headphones should give the expected returns. And in this case, sound and comfort are the only two returns you would expect.
If you want to go by our recommendation, we would suggest going with the STAX SR-007A MK2, HIFIMAN Jade II, and Koss ESP-950.
They give you exceptionally detailed sound and ease of wearing it for long hours. At the end of the day, that is what you want from such high-end headphones.