In this post, we are going to present you the best violin mics for recording.
Our Best Pick
Neumann TLM 103 Large Diaphragm Condenser Microphone (Nickel) With Suspension Shockmount
Best Value for Money
Beyerdynamic M160 Double Ribbon Microphone - Hypercardioid, Wired, Wireless
Good Recording Microphone
Sennheiser Professional MD 441-U Dynamic Super-Cardioid Microphone,Black
Polar pattern
Large diaphragm capsule cardioid microphone
Our Best Pick
Neumann TLM 103 Large Diaphragm Condenser Microphone (Nickel) With Suspension Shockmount
Polar pattern
Large diaphragm capsule cardioid microphone
Best Value for Money
Beyerdynamic M160 Double Ribbon Microphone - Hypercardioid, Wired, Wireless
Last update on 2023-12-10 / Affiliate links / Images from Amazon Product Advertising API
Violins have always been a beautiful part of the music. Classical music, in particular, has been heavily influenced by these stringed instruments. Today, the beauty of the violin is being experienced across several genres, including rock music.
Having said that, if you wish to amplify your violin sound, you need to adopt some electrical solutions.
The most commonly used is the microphone. Just as we have flute mics and piano mics, there are some mics that work better for the violin than others.
Which microphones are the best for playing the violin on stage?
Which ones are better for recording violins in studios?
Let's find the solutions to all these questions.
Factors to consider before buying violin mic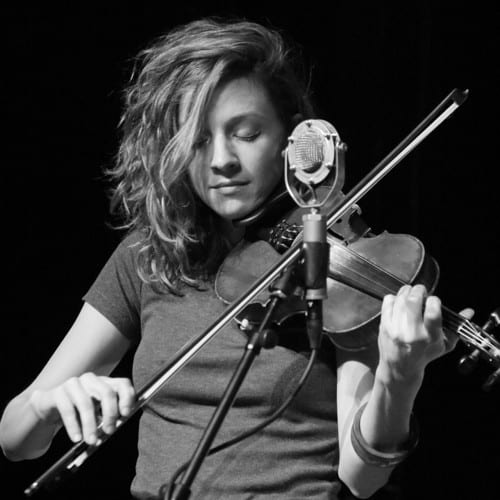 Frequency response
Any mic you wish to use for your violin must have at least a frequency range of 150HZ to 18000Hz.
Any narrower frequency range will not capture the full violin sound like it's supposed to. Also, since the violin is a high pitched instrument, it's better to use mics with tempered high frequencies to prevent harshness.
Directionality
For a violin, it's always better to use the mic with cardioid, super-cardioid or hypercardioid polar pattern.
They reject unwanted sounds more easily than other types.
Hypercardioid does better at rejecting such sounds than the cardioid. Avoid omnidirectional mics unless you're trying to record room sound in a well-treated studio.
Clip-on mics are best for solo sessions.
Recording location
Are you playing on stage or in the studio?
How good is the room acoustics of the location?
Some mics do a better job in less than ideal recording environments while others simply expose the acoustic issues in the room.
How to mic a violin
The first thing to consider here is distance. Since you'll most likely be using a cardioid or super-cardioid mic, proximity effect may be an issue.
To avoid this, the mic should be one to three feet away from the violin.
The mic stand should be about the height of the player so that the mic points down towards them.
Angle the receiving end of the mic such that it faces the area where the bow touches the strings.
Here are the top 5 violin microphones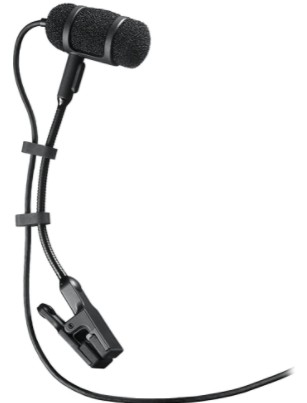 Build and design
The PRO 35 is a clip-on mic that you can use with your violin. The stem is made such that you can position the mic and it won't disturb your performance. Although the mic is primarily made for woodwind and brasswind players, it works quite well with the violin.
The UniMount clip provides some shock resistance so that your movements will not cause the mic to wobble. Also, the cable is clipped to the stem to prevent any inconveniences.
Sound quality

This mic has a cardioid polar pattern, so proper placement is essential to get the best from it. Once you get the placement right, you'll notice that it captures the finest details of the violin performance.
Because the mic has a high sensitivity, it picks even the quieter notes you play. To prevent rumbling background noise, simply engage the 80 Hz roll-off.
Even with the detailed production of this mic, it does not capture frequencies higher than 15000 Hz. This means that in a solo performance, your violin sound may be missing some sparkle and air.
Pros
The shock-resistant design prevents movements and vibrations from messing your sound up.
The mic's placement and polar pattern prevent background noise from getting in.
The PRO 35 is highly sensitive and captures even the quieter notes and passages.
Cons
It does not capture the highest frequencies above 15000 Hz. This means the sparkle in the sound maybe a little reduced.
Build and design
The AKG C414 XLS is your go-to mic when you're not sure of what to buy. This is because it works for everything. It has a solid body with its grille in the front and back. Because of how transparent it is, you instantly know how to position your violin to get the best sound.
It gives you 9 different polar pattern options, from all types of cardioid to omnidirectional. Any of these patterns can be useful when miking a violin, depending on what you want.
Also, you have the option of engaging the low-frequency roll-off to eliminate background rumble. I recommend that you always have it on the highest option for violin.
Sound quality
The AKG C414 gives you a rich tone, consistent with the original violin sound. Its frequency range is wider than what your violin can give. Also, if you're in a well-sounding room, you can have some ambiance to give the violin sound some character.
It is sensitive enough to capture the quieter notes and has enough sound pressure to handle very loud passages.
Pros
It has multiple polar patterns that enable you to explore different miking options, both in the studio and on stage.
It has a flat response that retains the integrity of the natural violin sound.
Cons
It requires you to always check the polar pattern before every performance so you don't use the wrong one.
There's a risk of picking up other sounds especially in a loud stage performance.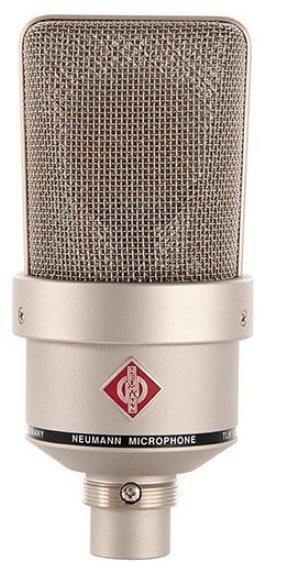 Build and design
TLM 103 is a cardioid condenser microphone from Neumann. Its capsule was made to imitate that of the U87 in behavior and sound.
It's a small mic, although not so light for its size. The metal grille and frame are all made of metal. TLM 103 is well built and solid.
It has no switches on it. It has a smooth body that ends in the XLR port for connection at the bottom. Also, it requires 48V phantom power to work. This can easily be provided by a mixer, preamp or external sound card.
Sound quality
TLM 103 a highly sensitive cardioid mic. When you use it to capture the violin sound, you can be sure it will pick all the loud and quiet notes.

Credit: Recordinghacks.com
Its frequency range is quite wide thus captures frequencies beyond the range of the violin. It can also be used in recording room ambiance when the room sounds great.
However, TLM 103 will be more suited to some violin players than others.
This is due to its brightness. There's a presence boost that makes the violin sound shine through. While this works well in some styles of music, some players prefer their sound to not be so bright.
Pros:
Highly sensitive
Good for studio violin recording.
It can also be used as a room mic when recording in the studio.
Cons:
Placement can be tricky because of the mic's shape.
Not practical where there is a group of violins.
Build and design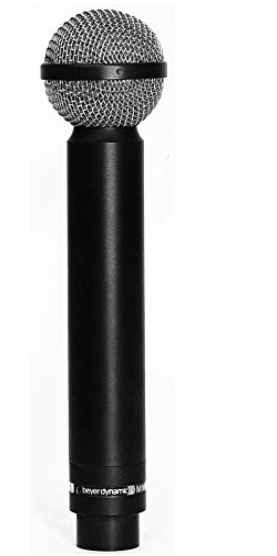 The M160 is a ribbon mic with a hypercardioid polar pattern. Its shape is quite unique. It has a thin shaft with the address end of the mic at the top, like a spherical ball that's wider than the shaft.
The mic has no switches or filters on it. This means that you can't make any changes to how the mic captures the sound. You can only tweak things on your DAW or on the mixer. It's a rugged mic that is built to withstand the rigors of live use.
This mic has a very tight polar pattern, which is a good thing, but a slight movement by the musician can put him in an off-axis position, especially when he's standing. This is a huge contrast to what you get with piano mics.
Sound quality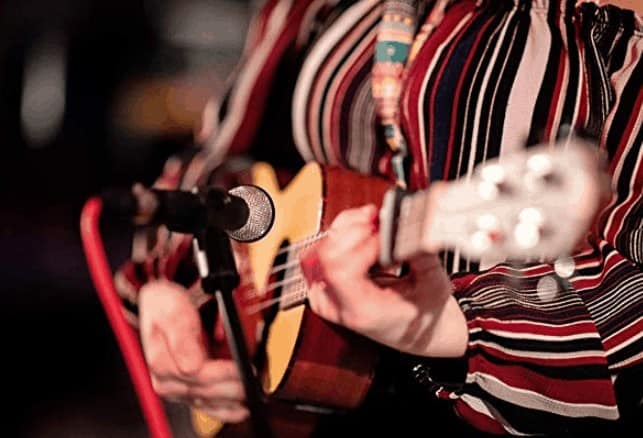 The M160 has that warm sound that is common to ribbon mics. It's not just a low mid-frequency boost warmth, it's warmth with some thickness.

It just makes the violin sound rich. I especially like this sound because it makes classical violin sound so good.
If you're playing for a film score and you need to record an emotional violin solo, this is the kind of mic you need. In the low octaves, you have that thick warm tone, and in the high octaves, things don't get too bright.
Naturally, the violin already has a tendency to have bright high notes. This may make them sound a bit too bright when you use it with a bright sounding mic. However, with the M160, you get a rich natural tone.
Pros:
Rich and warm sound
Hypercardioid pattern makes it good for stage use.
It's also good for studio recording, especially when with a band.
Cons:
If you need a very open bright sound this mic is not for you.
The slight movement of the violinist can cause a change in sound.
Build and design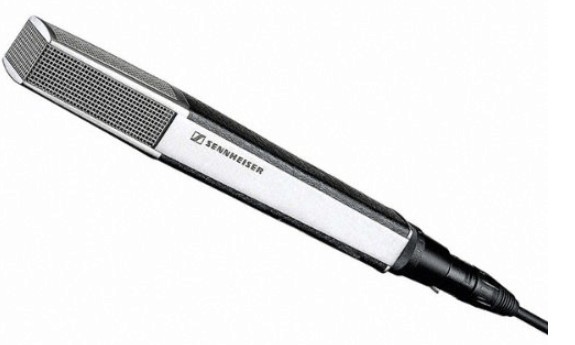 This mic is one of the most versatile violin mics you'll find. It has a lot of hands-on controls that make it useful in different situations.
The MD 441 is quite bulky, larger than most conventional mics. It has five possible settings for its low-frequency roll-off and two positions for the high-frequency boost. If you're not a fan of high-frequency roll-off, you can flip the high-frequency boost switch as you please.
Because of its size, you can't use any regular mic clip with it. Sennheiser supplies its mic clip, but the one that comes with this mic is quite fragile.
Sound quality

The mid frequencies of this microphone sound very natural with no coloration in that part. Although you can change that in the high mids by applying the high-frequency boost on the mic.
You can eliminate low-frequency background noise by engaging the low cut switch. For a violin, I don't think you need any frequency below 150Hz. It's better to cut everything below that to totally eliminate that rumble.
It is also a very sensitive mic that excels both on stage and in the studio. Its super-cardioid pattern ensures that mic bleed from other instruments on stage is not a problem.
Pros:
You can choose the sound you want with the switches.
Excellent rejection of background sounds.
Cons:
The clip is fragile.
The mic is quite bulky.
Read our other popular posts:
Conclusion
There are different ways to amplify your violin sound, but if you choose to use a mic on a stand, the mics we've listed are your best options.
In some cases, violin pickups come handy to amplify the sound and fine-tune it.
Take a good look at all the factors you need to consider and decide which one of them will be a good fit for you.
Rest assured that regardless of which of these three mics you decide to pick, you'll have a great experience.