Affiliate disclosure: In full transparency – some of the links on this website are affiliate links, if you use them to make a purchase we will earn a commission at no additional cost for you (none whatsoever!). Will this be a problem? This is how we manage to create free content for you. Please know that your trust is so important for us. If we recommend anything, it is always because we believe it is worth exploring. And, buy me a coffee ☕️
Floor standing speakers, also known as tower speakers are important components of your home entertainment system.
Our Best Pick
Q Acoustics 3050 Floorstanding Speaker Each (Graphite)
Best Value for Money
Polk Audio RTI A9 Floorstanding Speaker (Single, Cherry)
Floostanding Speaker with Excellent Bass
KEF Q500 Floorstanding Loudspeaker - American Walnut (Single)
Last update on 2023-03-24 / Affiliate links / Updated prices and images from Amazon Product Advertising API
Table of Best Floor Standing Speakers under $1k
These speakers much more surround sound experience and immersive sound effects when compared to other types of speakers. Klipsch RP-260F and Klipsch RP-280F are the great floor standing speakers by Klipsch.
Floor standing speakers are often tall and accommodate somewhat less area on the ground.
These speakers are great at producing bass as well as treble, as there are multiple drivers dedicated to each of the frequency ranges.
At times, you may have a dilemma to choose between floor standing speakers and bookshelf speakers. So it's important to know the difference in uses of each of these types of speakers.
Bookshelf speakers are suitable in small places like a bedroom, where the environment is more stereo favorable.
Whereas, floor standing speakers are great for using great sound with powerful bass delivering you cinematic audio experience, tower or floor standing speakers are the way to go.
But you do need to also remember that the bookshelf speakers often cost less than the tower speakers. The good bookshelf speakers cost you as low as $100.
Whereas on the other hand, the entry-level good floor standing speakers cost you at least $300. The mid-fi floor standing speakers cost you below $1000.
Best floor standing speakers under $1000 reviewed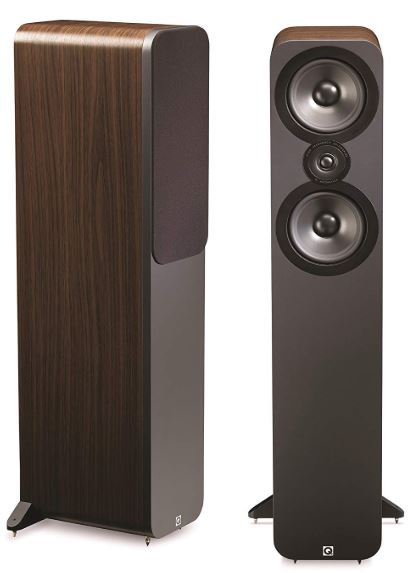 Build and design
These speakers are available in various colors like white and black lacquer, black leather, American walnut, and also matte graphite.
With a wide variety of options, you can choose what best suits your home decor.
The cone material in the bass and midrange drivers are made of Kevlar material for more durability and performance.
Due to the Kevlar construction of the drivers, both the tonality and the durability of the drivers will be increased.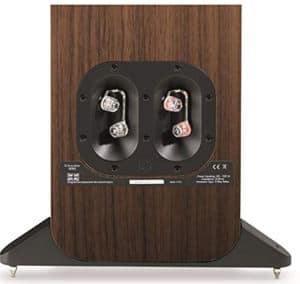 The tweeters are isolated from the main cabinet with butyl rubber, to make sure that the high treble range frequencies are unaffected by the vibration and impact caused by the bass and mids.
Sound:
These are not the reference speakers but have good consistency in various frequencies.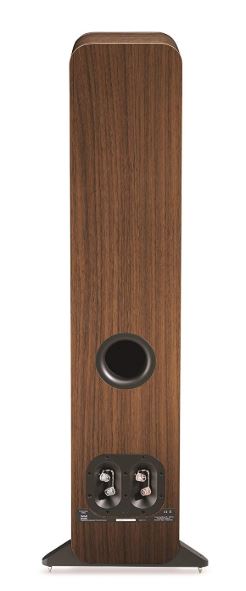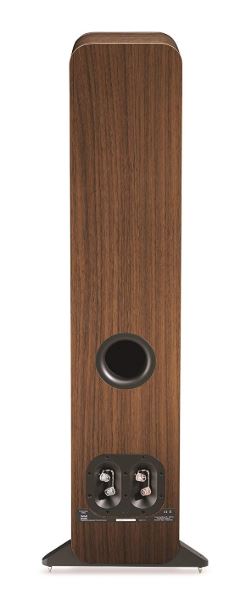 The bass is deep, crisp and makes a great impact. This the reason why the Tweeters are decoupled from the main cabinet to keep the tonality and the detail of the treble part unaffected.
The speakers perform surprisingly consistent across all the frequencies.
The soundstage offered by these speakers is full and wide and is remarkable.
Pros
Punchy bass
Great treble
Kevlar driver construction
Amazing soundstage
Cons
It is quite an old tower speaker on our list. But still, it is selling quite great online. Let us look at how this speaker stacks up with other floor standing speakers below $1000.
Build:
The speakers are available mainly in black and cherry wood versions.
I'll take the cherry version as an example, as this version is what I recommend. In the cheery version of the speakers, the speaker assembly is made completely of wood.
This ensures the speakers perform well without any resonance. The speakers are beautiful in design and performance.
The speakers flaunt MDF construction and resonance-free enclosures. The Medium Density Fiberboard enclosures will be darn good when it comes to dampening out unwanted vibrations and resonance. They are made of real wood.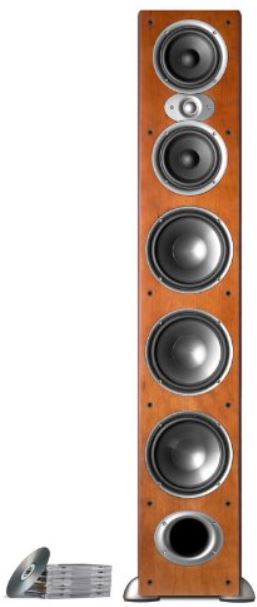 Sound:
The first thing you notice is the loudness of the speakers even at low volume levels. The speakers can go to great volumes without distortion.
The bass is tight and controlled. The bass is not strong and boomy like Fluance Signature Series. For most of them, the bass is just more than enough. However, you can also consider getting a subwoofer to couple with these speakers for much more stronger bass if you wish.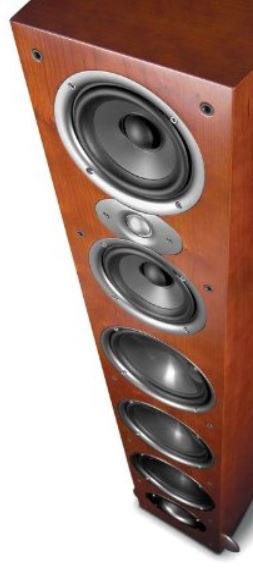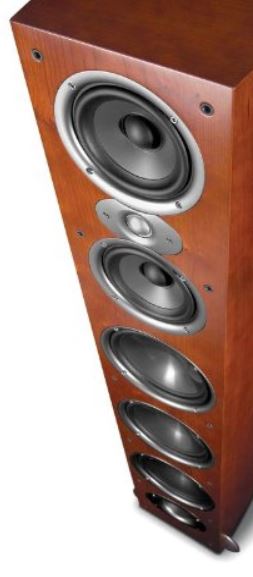 The highs are very clear without being harsh or too bright. The 1″ soft dome tweeters do the job great.
The soundstage is wide when compared to most of the mid-fi speakers out there. It is pretty immersive.
There's no special emphasis on a particular frequency range. These speakers sound pretty consistent.
Pros
Louder than other speakers
Great soundstage
Controlled bass
Pretty good treble
Cons
Build and design:
The main uniqueness of the speakers is the Uni-Q array. This array contains the midrange drivers and the tweeters placed concentrically within the same structure.
According to the manufacturers, the Uni-Q array construction ensures that the tonality and the wideness of the frequency response are maintained.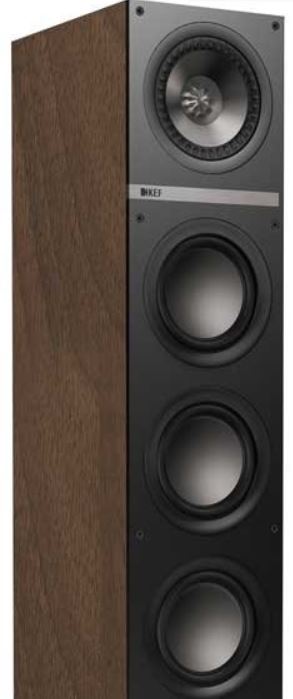 The speakers come with different colors like Black, Rosewood, American Walnut, and White.
The speakers have four steel 'plinth' spikes and they are the height is adjustable. It also prevents any rocking resonance when the speaker is hitting really loud.
Sound:
The sound is very balanced. The bass is not boomy at all. The bass is certainly punchy and detailed.
The speakers have 1 inch vented aluminum dome tweeter and also whopping three 5.25 inch bass drivers.
So, if you are an audiophile by some observation, the speakers tend to perform really well with when in the low frequencies and there's no distortion in the bass range whatsoever.
The soundstage in these speakers is excellent. They produce a good soundstage effect of making the movies and songs come alive.
Pros
Good bass – not too heavy not too less
Good treble and highs
Soundstage is great
Cons:
Build and design:
These speakers are the mid-range of the reference premiere series. These reference speakers are available either in the cherry or ebony finish. The speaker has a classic black ash touch to it. The speaker feels certainly premium.
The construction is of compressed molded rubber, and this ensures that the treble and the high-frequency part is produced distortion-free and has good details.
The grills of the speakers are held in place by neodymium magnets, so you need not fit the grill on and off manually.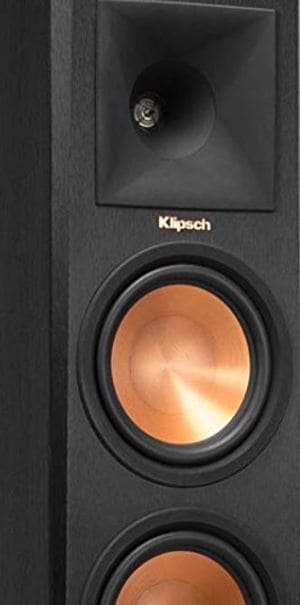 Sound:
As the reference speakers, these floor standing speakers are very neutral sounding. The treble part is very lively and sparky. Whereas, the bass part is strong.
As the reference speakers, these floor standing speakers are very neutral sounding. The treble part is very lively and sparky. Whereas, the bass part is strong.
As these are reference speakers, some people, especially the bass-heads, find the bass to be not satisfactory.
In that case, adding a good subwoofer like SVS PB2000 makes a great difference when it comes to bass.
This is a common problem with all the floor standing speakers that don't come with a dedicated subwoofer built in them.


In order to maintain the neutrality of sound, you may need to make use of a good receiver that has neutral sound. I usually recommend stereo receivers either by Yamaha or the Pioneer.
The sound produced by these speakers are ideal for both movie watchers and also audiophiles who preferably love to listen to pure music without any coloring whatsoever.
Pros
Reference or neutral sound
Great detail in the treble
Premium feel
Cons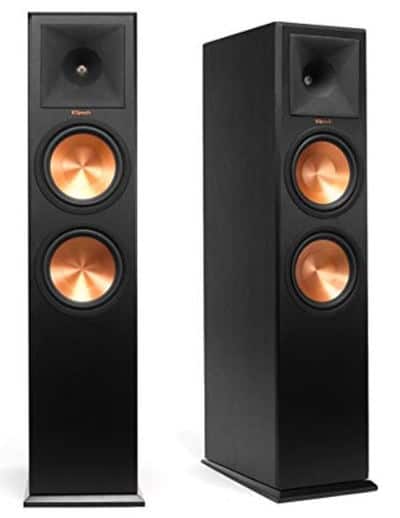 Klipsch has built a number of home theater sound systems, most of them are below $1000, but the RP-280F is the most imposing of them.

Klipsch RP-280F is one of the tower speaker brands under $1000 that promise top quality sound experience. You can fully expect to be blown away by the sheer crispiness and roundness of the sound; from the punchy, well-rounded bass to the clear, crisp high frequencies.

Before we go into all the very juicy stuff, let's see what Klipsch engineers have done in the design:

Build and design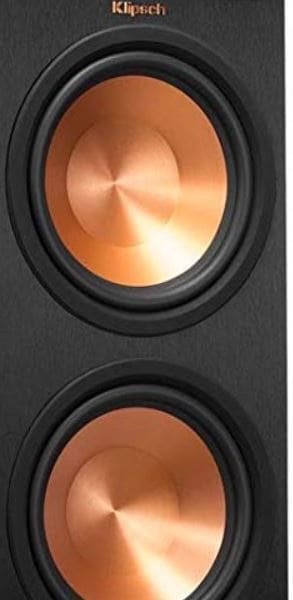 So, what do we have here?

The Klipsch RP-280F is manufactured and sold alongside a tilted base, with the "face" of the speakers, covered with a detachable metal mesh. The speaker retains its majestic look whether you choose the grille on or not. This speaker works well with TV and you will definitely enjoy it.

Personally, I prefer it without the grille; it makes the speaker look a lot more "threatening". Depending on your preference or taste, you can choose from 3 colors; black, ebony and cherry.
For your information, ebony is not the same as the black one. Perhaps it is better to see them as finishes rather than colors.

The cabinet is of polymer veneer finish, laid over medium density fiberboard.
Detaching the front grille reveals a 90 X 90 Tractrix horn, a linear travel suspension titanium tweeter and two woofers made of copper.
Here is the note
The tractrix horn is a technology adopted by Klipsch to ensure precision, clarity, and power. This technology is used in all of Klipsch's products except the headphones and subwoofers.
The linear travel suspension (LTS) prevents distortion when playing at high volumes. This ensures that the tweeters are long-lasting, and do not blow out for a long time.
The cerametallic woofers ensure minimal vibration of the woofer cones when producing sound.
The speaker's back design is also worthy of note, with the bass reflex port. It's not the tractrix horn, but it looks a lot like it, hence the reason it's called the tractrix port.
Sound quality
The low-frequency production is top-notch. The full package comes with 12 inch or 15-inch subwoofers, but the low end is quite good. This goes for all genres of music. This means that with the subwoofers, you can expect some groundbreaking discoveries.
The mids are also well represented. You can expect the vocals and other midrange instruments to be clear and have their space. The high frequencies are crisp and clean, without excessive sibilance or harshness.
It is not impossible that your favorite music or audio was not well mixed. The Klipsch RP-280F can be quite flattering, which means if you play your music through these speakers, you may be hearing a slightly better version of the original, just because you're hearing through the RP-280F.
What's more?
Another plus in terms of sound quality is that even at extremely low volumes, every element of the music can be heard and felt. There is enough space for every element to thrive.
Pros and cons
Pros
Rich, wide soundstage
Exotic design
Highly efficient and easy to drive
Cons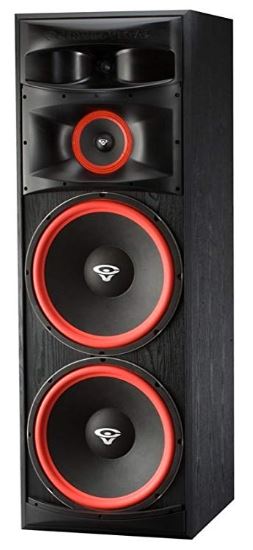 Build and design
At first glance, the Cerwin-Vega XLS-215 seems like something out of a concert venue. It is surely one of the most formidable floor standing speakers under $1000. They're really heavy, each of these beauties weigh over 100 pounds.

The makers have gone for the classic black grain wood finish. Cerwin -Vega really made a bold move with this one, deviating from the current miniature style demands of younger consumers. They have opted for a "larger than life" approach, which makes the speaker serve its true purpose.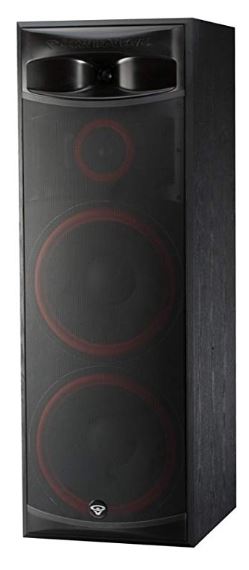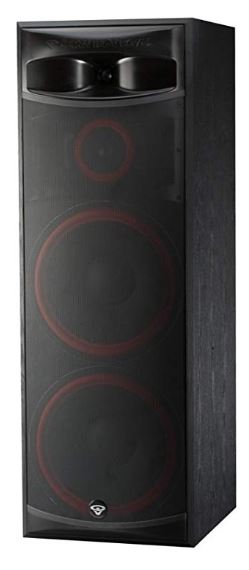 Sound quality
The bass is well represented in the massive soundstage provided by these speakers. You are not likely to have any real issues with boomy sound as there appears to be a little limiting to prevent distortion and sound swell when playing a badly mixed song.

The midrange and highs are clear and crisp, without the resonant sounds that are sometimes heard in horn-loaded speakers. Even at very high volumes, the Cerwin-Vega XLS-215 holds its own, without distorting or producing any unpleasant, grainy sounds.

If you listen to a music piece that was recorded live; vocals, instruments and all, it almost feels like your favorite band decided to give you a private show.

One more thing;

Another good thing here is that this speaker needs minimal amplifier push to start playing loud.

Pros and cons
Pros
Wide and immersive soundstage
Smooth sound at high volumes
Cons
This is the best floor standing speakers you can get if you love bass.
Build and design
Being 4ft high speakers these are a little bit when compared to other tower or floor standing speakers in the range.


Due to the great looking finishing and the sleek drivers, the unit appears to be more expensive than it is.
One thing I absolutely loved about the build quality is that the drivers have a separate enclosure inside, which is pretty unheard of in case of mid-fi floor standing speakers.
Sound:
The speakers come with two 8″ woofers, a 5″ mid-woofer, and a 1″ dome tweeter. As you can notice some emphasis is given the low frequency and bass sounds.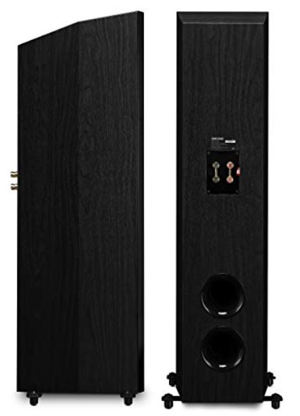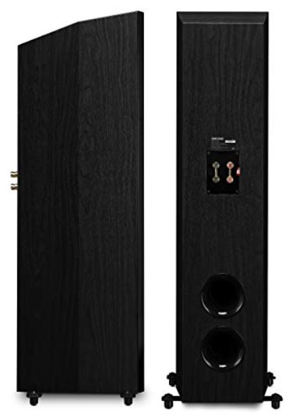 The bass is thunderous. Unlike Klipsch RP-260F and other reference speakers, there's no need of external subwoofers.
Added to the two built-in woofers, the speakers support bi-amping. You can amp the low frequency/ the bass part separately without affecting the mids and the treble part.
Although these speakers don't have a subwoofer built-in, the bass crossover frequency has been considerably reduced from around 1000Hz to 530 Hz. So, yes there's an emphasis on low-frequency details.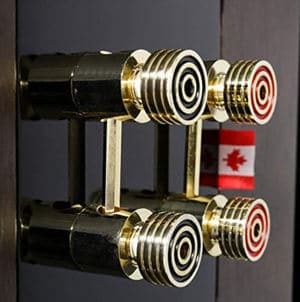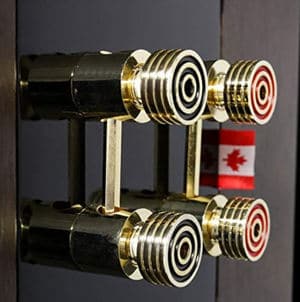 Pros
Thunderous bass
Support for bi-amping.
Good treble
Built-in subwoofers
Cons
Choosing the best floor standing speakers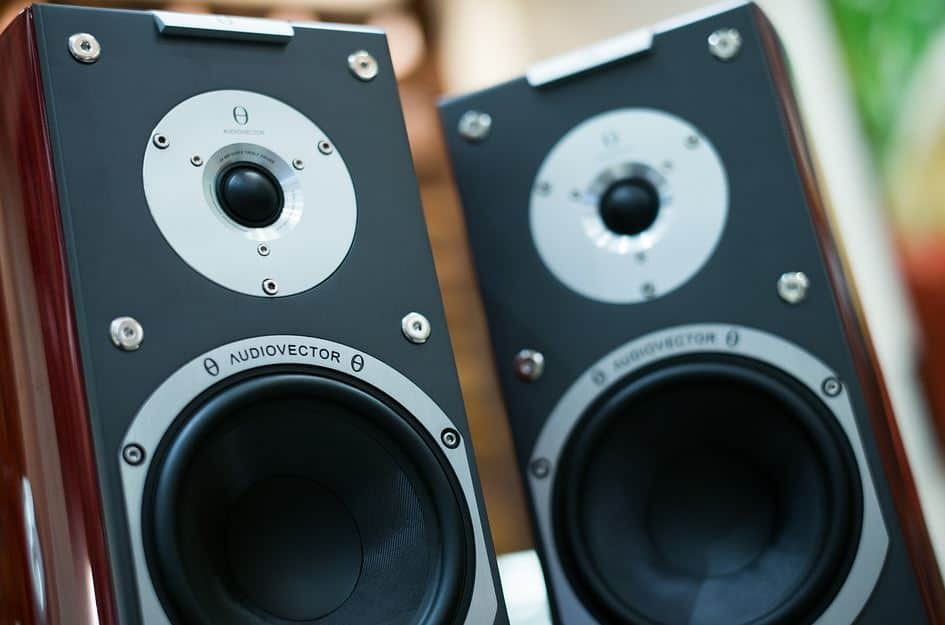 The majority of the floor-standing speakers are at least 4 ft tall and consumes at least 1 ft area. Even some mid-fi speakers are as tall as 5ft. The height of these speakers depends upon the various speaker models and also the configuration.
Drivers: If you take any speaker, there should be four drivers in it to deliver the sounds across the various frequency ranges. There are mainly four types of drivers that come with any floor standing speakers. They are – Tweeters, Midrange drivers, Woofers, and Subwoofers.
Tweeters: These are relatively small drivers that are usually present at the top of the speaker.
They are responsible for producing distortion-free high-frequency Treble sound. They are entirely dedicated to high-frequency sounds.
Midrange drivers: These drivers specially meant for producing midrange frequency sound. the sounds that fall under this frequency are the vocals of the singer or the conversations in the movie that you are watching.
Woofers: These drivers are responsible for the superior Bass response that is given by your speakers. These drivers produce low-frequency sound ranging from 50 Hertz to 1000 Hertz or higher.
Subwoofers: these drivers focus on Ultra-low-frequency sounds between 20 Hz to 50 Hz. These drivers are responsible for the impact of the base.
Build: The build is one of the most crucial factors to be considered while buying floor standing speakers.
The cabinet should be sturdy and antiresonant so that the cabinet doesn't vibrate and cause distortion when the drivers are vibrating at higher volume sounds.
The color and feel of the cabinet should also in such a color that compliments your decor.
FAQs on floor-standing speakers
Do I need a subwoofer with floor-standing speakers?
If you're a bass head, you may need it for frequencies below 35Hz. Just make sure to set its crossover frequencies correctly so that the room doesn't get boomy.
Are floor standing speakers better than bookshelf?
Generally, larger speakers have more range than smaller ones, so a floor-standing speaker should sound better than a bookshelf speaker.
Can I use floor-standing speakers for surround sound?
Yes, you can. The key here is arrangement and having a central system that supports surround sound.
How to connect floor stand speakers to a receiver?
The best way is to connect corresponding ports: RCA to RCA, XLR to XLR and so on. If there are no corresponding ports, you'll need an adapter.
How to set up floor standing speakers?
The first step is the arrangement. For a stereo set, place each speaker on either side of the front wall. Increase the distance between them for a wider stereo sound.
Wrapping up
While buying floor standing speakers, you need to consider your needs. For example, speakers like Fluance Signature Series are great at bass.
Some of them are good at the treble part like Klipsch RP-260F and are great if you listen to treble-heavy music like classical songs.
You also need to consider the color of the speakers that suit your home decor and setup.
Hope you'll make a wise decision while buying a good floor standing speakers under $1000.
Hi, I'm Jennifer I'm a passionate singer and an audiophile from Detroit, MI. 
I'm on a mission to help music creators to create fine music that help them position uniquely in the saturated music space.
Follow my blog for regular content :-)