When looking for the best bookshelf speakers under 100 USD, we can find many interesting options.
Our Best Pick
Micca MB42X Advanced Bookshelf Speakers for Home Theater Surround Sound, Stereo, and Passive Near Field Monitor, 2-Way (Black, Pair)
Best Value for Money
Sony SSCS5 3-Way 3-Driver Bookshelf Speaker System (Pair) - Black
Best Powered Bookshelf Speakers
Edifier R1280T Powered Bookshelf Speakers - 2.0 Active Near Field Monitors - Studio Monitor Speaker - Wooden Enclosure - 42 Watts RMS
Our Best Pick
Micca MB42X Advanced Bookshelf Speakers for Home Theater Surround Sound, Stereo, and Passive Near Field Monitor, 2-Way (Black, Pair)
Last update on 2023-12-08 / Affiliate links / Images from Amazon Product Advertising API
Bookshelf speakers can be a great option if you are looking for hi-quality audio in a compact and nice-looking cabinet.
If you want to choose the right speaker pair for you, then you'll need some background info about them. Let's talk a little bit about that!
What to look for while buying Bookshelf speakers?
Design
One of the most basic aspects of a bookshelf speaker is its exterior design. These kinds of speakers are supposed to be on a shelf, in a living room, home theater room or somewhere similar. In this sense, the looks are important.
You should check that their design will look nice with the rest of your equipment or furniture. This may include A/V receivers, amplifiers, disc players, TV screens, etc.
So, check if they are available in different colors and finishes. It's also important to see their size and weight and if they can be suspended or wall-mounted.
Passive vs. active
Passive speakers are those that need an external power amplifier to function. The good part of this is that they don't need to be connected to the power outlet.
An active speaker has an included power amplifier "in the box", so they don't need anything else to start working.
The downside is that they need to be connected to the power outlet, which in some cases could be a little complicated. For example, if you wish to place them in a corner of a room.
Traditional speakers used to be passive. So, there are many audio systems out there with power amps ready to feed passive speakers.
Active speakers is a newer trend, so they may be the right choice for you if you don't have audio equipment already.
When using passive speakers, you should be aware of its "power rating" or "handling power". This measures how much electric energy (power) can the speaker receive before getting damaged.
In this scenario, it's very important to use the proper amplifier.
An amplifier with too little power could cause heavy distortion and damage the speaker. An amplifier with an excess of power can burn the speaker as well.
So, when selecting passive speakers, you should check that they match the power amplifier according to the impedance of the speaker.
For example, if the amplifier recommends a minimum of 8 ohms on each channel, then you should not use a speaker with an impedance lower than that.
Not doing this can harm, not your speakers, but your amplifier!
Active speakers, on the other hand, don't need any kind of extra effort to start using them.
Frequency response
This is a very important technical specification. It shows how well the speaker reproduces audible frequencies. The human ear has a theoretical frequency range that goes from 20 Hz to 20,000 Hz (20 kHz).
So, the perfect speaker should be able to reproduce that range effectively. Well, that's not going to happen with any real loudspeaker!
Physics plays its part here and it would be almost impossible to build a device like that with a single loudspeaker (driver).
That's why most speaker systems use 2 or 3 drivers (tweeter, woofer). They divide this huge frequency range into smaller ranges, so each driver can handle a part of it.
The bad news is that, if you want deep and punchy bass, then the speaker cone needs to move a lot of air, and that requires a larger cone.
This makes it difficult for small loudspeakers to generate enough bass energy.
That's why most bookshelf speakers won't have a great low-frequency response. Most of them can't go below 70 Hz, so you'll need a subwoofer if you want to go deeper than that.
On the other hand, the high frequencies should not be a problem at all for this kind of speakers. Some tweeter designs even can exceed the human range and go beyond 20 kHz! (maybe your dog will complain a bit!).
Anyway, for most situations, you should look for 20 kHz or so when checking the specifications.
The best Bookshelf speakers under $100
After all this information, let's focus on the best models available. There are many options out there, each one with special characteristics for every particular need.
Among them, these models could be considered the best options in the "under 100 bucks" price range:
This model of loudspeakers system could be considered as one of the best in this segment. They should not be confused with the Micca MB42 model, which uses a less advanced crossover circuit.
The crossover circuit quality is essential for high-fidelity reproduction in passive loudspeaker systems.
The MB42X crossover limits the reproduction of low frequencies from the tweeter and the high frequencies from the woofer.
This is totally different than the MBX42, which only has a capacitor filter for the tweeters. The sound of this circuit gives the system a much more balanced and dynamic sound.
A nice feature is the magnetic grill system. It allows the protective grill to take off and put on depending on what kind of looks you prefer.
The MB42X have a solid bass sound thanks to its bass reflex design. This allows the units to reproduce frequencies down to 60 Hz even with a small woofer (4").
The midrange and highs are very clear thanks to its silk tweeter design. They can be used for music listening or as part of a home theatre system.
If you want speakers to use in your home parties, I would suggest you go with portable party speakers.
Pros:
High-quality construction
Good low-frequency response
Excellent value
Cons:
You can find speakers with better-looking materials in the same price range
#2. Sony SSCS5 –
Best value for money
These passive speakers have a 5.25" woofer and a 1" dome tweeter. They have a maximum input power of 120 Watts and a nominal impedance of 8 ohms.
This gives them a very good versatility when connecting to different power amplifiers.
It means that you should use a power amp that delivers at least 60 W @ 8 ohms on each channel to take full advantage of their power handling.
The cabinet uses a bass reflex design, so they can have an extended bass response even for a small size box. Its frequency response goes from 80 Hz up to 50 kHz!
This high range is due to the Sony's Nano Fine® balanced tweeter design. All this translates into a punchy enough bass reproduction and very clear and defined highs.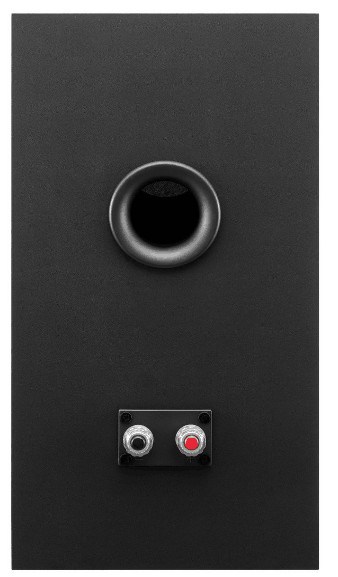 Pros:
Fair frequency response for the size
Precise and dynamic sound reproduction
Hi-quality, durable construction
Small enough to fit almost anywhere
Cons:
Limited low-frequency response.
These are the active speakers on our list. As we mentioned before, active speakers have a power amplifier integrated within the enclosure.
This allows for the user to forget about amplifiers, impedance and all that stuff. You just need to plug them, turn them on and there you go!
Although they don't seem to handle too much power, the integrated custom power amp takes all the possible sound level out of the system without damaging the speakers.
Another advantage of this active system is that it can be connected directly to any line-level device, like a smartphone, computer, audio mixer or even a computer interface.
This makes this model a good option for home-studio producers looking for near-field monitors too.
The looks are based on a "retro" design, which can look good on many vintage systems.
A great advantage is that they have a 2-band shelving EQ (treble and bass). This gives you the opportunity to make basic adjustments without the need of an external equalizer in your setup.
They also have a remote control for volume and mute functions.
Now, the sound is decent for this woofer size. It lacks some bass, but that's pretty much what you would expect from small woofers.
The tweeters are made of silk, but they do not reproduce the whole high-frequency spectrum as other models in this range.
If you want still the greater sound quality to use in your home theaters Floor standing speakers are the best options.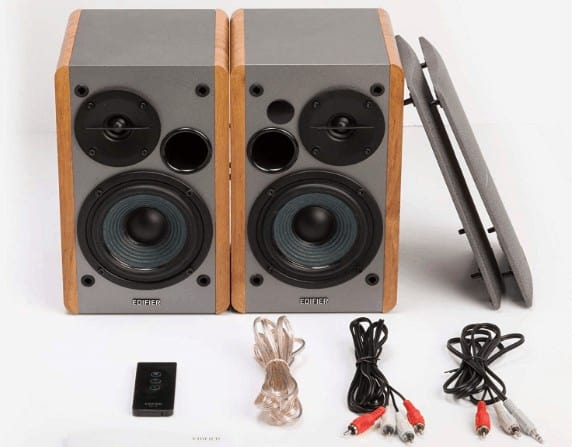 Pros:
No need to use an external amplifier
Shelving EQ
Good price for active systems
RCA inputs make them very versatile
Cons:
Limited frequency response
Not too loud
If we are talking about respected brands for this market segment, we have to talk about Polk Audio. The company from Baltimore has created this versatile and solid system: the T15.
They have a bass reflex enclosure design. The tuned port is on the front and it's engineered with Polk's proprietary Dynamic Balance technology.
This gives them a very good balance between crossover frequencies.
That's pretty much the same principle that many studio monitors use: bass reflex enclosure design and front tuned ports.
The box is made of MDF, which brings good performance, low resonance and low weight. They can be placed on a shelf or, if you need it, they also got a built-in keyhole slot for wall mounting.
They have a good frequency range that goes beyond the 20 kHz on highs and can go down to 60Hz for lows, which is pretty good.
If you are on travelling or trekking, use Bluetooth speakers that provides you the best sound quality with its superior wireless connectivity.
Pros:
Good solid construction
Good value
Good frequency response
Cons:
Only good for small rooms
The Fluance AV5 have a great value, considering the low price at which you can get them.
They are a 2-way system with a 5" woofer and 1" tweeter. The enclosure is made of MDF, so it provides a low-resonance, low-distortion performance.
They have a double-port bass reflex design. The ports are on the front, so the system presents lower distortion in low frequencies than other systems with ports on the back.
Anyway, a drawback of this is that the low-frequency response is not as good as others in this category.
They have a good 100 W handling power and 8 ohms of nominal impedance, so it can be used with a wide range of receivers and power amplifiers.
Among all the speakers here, these could have the less well-rounded sound. But for the price, you can get a great value here.
Pros:
Very good value
Solid construction
Price
Cons:
Lack of bass
Too much midrange for some "ears"
The B652-AIR have the largest cone of this list. This gives them the possibility to generate some more sound pressure level for low frequencies.
They also present an Air Motion Transformer tweeter design, which performs well and gives a clear sound that can go beyond 20 kHz.
They have a nominal impedance of 6 ohms, which makes them versatile when looking for an amplifier or receiver to connect them.
Perhaps the best part of all is that you can get very decent sound for less than 50 USD! Besides that, the construction quality is good enough to be used with your stereo or home theatre system.
Pros:
Great value for the price
Nice broad frequency range
Good handling power
Cons:
Bigger than others
Somewhat limited low-frequency response
These speakers are among the largest of this selection, something that may not be a bad thing for many people.
The brand Infinity has the backup of a very respected company in the professional audio industry: Harman.
One of the key differences between these and other speakers is the material used for the drivers' construction. They are made of a special synthetic material that Infinity calls Metal Matrix Diaphragm (MMD).
This is basically a combination of metal and polymers.
The advantage of this is clear, as explained by Infinity: "Sound propagates at a higher velocity in metals than in materials such as polymers and papers.
Sound will travel through MMD material nearly twice as fast as it will through any other cone material, thus, moving unwanted resonances outside the audible range."
They also have acoustic waveguides for the tweeters. This creates a more uniform dispersion of high frequencies and, in some cases, a "more immersive" experience.
With all this technology, the Infinity P153 Primus can deliver very low distortion avoiding unwanted resonances. The result, very good sonic experience.
Pros:
Advanced technology for reduced unwanted resonances
Low distortion
Good low-frequency response
Cons:
Somewhat bigger and heavier than others in this category
Wrap up
As we can see, there are many very good options for all kinds of tastes when choosing bookshelf speakers Under 100 USD. If you need the warranty of a brand, then you can go for the Sony or Infinity models.
If you need an active solution, then the Edifier speakers are the way to go.
The Micca have a great frequency response and quality and the Dayton Audio and Fluance have a great price hard to beat.
So, the final decision is up to you, but you can see that it is possible to get a very good sound without expending a lot of money!
Read Also: How to Fix Bluetooth Lag in Car? – 8 Super Quick Solutions