In this post, we are going to review the best DJ speakers and help you decide which one is your best bet.
Our Best Pick
Pyle, Black, Floor-Standing (PSUFM1035A)
Best Value for Money
Rockville 10" 400 Watt 8-Ohm 2-Way Passive DJ/Pro PA Speaker, 10 inch (RSG10)
Best Powered Speaker
Pyle Powered PA Speaker System Active & Passive Bluetooth Loudspeakers Kit with 8 Inch Speakers, Wired Microphone, MP3/USB/SD/AUX Readers, Speaker Stands,Remote Control - Pyle PPHP849KT Black
Last update on 2023-09-21 / Affiliate links / Images from Amazon Product Advertising API
Either you're a hobbyist DJ or a full-fledged professional, your speaker system is one of the top 2, if not the most important equipment in your set up.
With so many speaker choices out there, making this choice can be hard sometimes.
A lot goes through your mind: Are there any speakers that would work better for DJs?
What options do I have if I'm on a budget?
Are there any speakers a DJ should avoid?
Well, no more worries, because this article shows you exactly what you are looking for.
Let's get started.
#

Product

Passive/Active

Bluetooth options

Frequency response

Amazon product page
1

Our Best Pick

Active

Yes

20Hz to 20kHz

2

Rockville 10" 400 Watt Speaker

–

Best Value for Money

Passive

No
50Hz to 20 kHz
3
Active + Passive

Yes

65Hz to 18000Hz

4

Active

Yes

20Hz to 20000Hz

5

Passive

No

55Hz to 20000Hz
Factors to consider when choosing the best DJ speakers for home
Passive vs active speakers
Before we go on to say one is better than the other, there are some things to consider. A passive speaker generally does not have its own amp. It needs to be connected to an external amplifier to work.
Although they're usually cheaper than active speakers, you still have to buy an amp to drive them. For a start, you may do for an active speaker. This is because it's easier to transport since there's no amp to worry about (those amps can be heavy).
However, as your career grows and you get larger gigs, it becomes important to have central control for all your speakers, especially when you have about three or four of them.
Bass production
Unless you're playing at a party for 50-year-olds, you should pay close attention to the bass production of your speakers. It's the life of the party.
You can know this even before you hear the speaker. The frequency range can show you a lot. A good bass producing speaker must start from 80Hz at the worst.
Frequency range
Your speaker should produce a considerably wide frequency response; at least 80Hz to 18000kHz. In addition to this, you should go for speakers that have differentiated woofers and tweeters.
They produce cleaner bass and treble sounds. For home parties and other small venues, 8", 10" or 12" woofers can do the job.
Here are our 5 best DJ speakers
Build and design
Specifications:
Amplifier Power Rating – 1000 W Peak (at 4 Ohms)
500 W RMS (at 4 Ohms)
Speaker Sensitivity – 90 dB
Frequency Response – 20 Hz to 20 kHz
Wireless Connectivity – Bluetooth
AC Input Power – 110 to 220 VAC, 50 / 60 Hz
Audio I/O – 1 x RCA Speaker Output, 1 x 2RCA Output, 2 x 1/4" Mic Input, 1 x 1/8" / 3.5 mm Aux/Line Input, 1 x 2RCA Input
USB – 1 x USB Type-A (External Memory)
The first thing that grabs your attention as you switch on this speaker system is the lights. Yes, this system comes with its own party lights – little wonder it's called a Disco Jam speaker system. It's an active speaker system.
It is also Bluetooth enabled and provides you with other connectivity options like the 3.5mm aux port, sd card slot, and the USB port.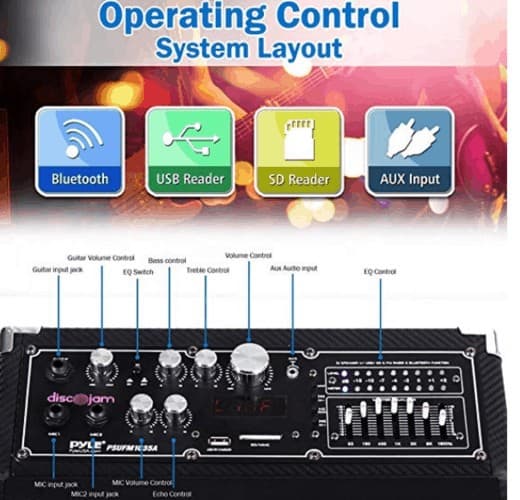 The Pyle Pro is a floor-standing speaker that has enough room for you to connect your mic input and even do some EQing. However, you should be aware that the EQ settings affect everything that's connected to the system.
Sound quality
To make any party pop, you need speakers with lots of basses, and that's exactly what you get with the PSUFM1035A. With a frequency response of 20Hz to 20kHz, all the sub-bass sounds will be clearly heard. Just make sure you're not stopping it from happening with the equalizer.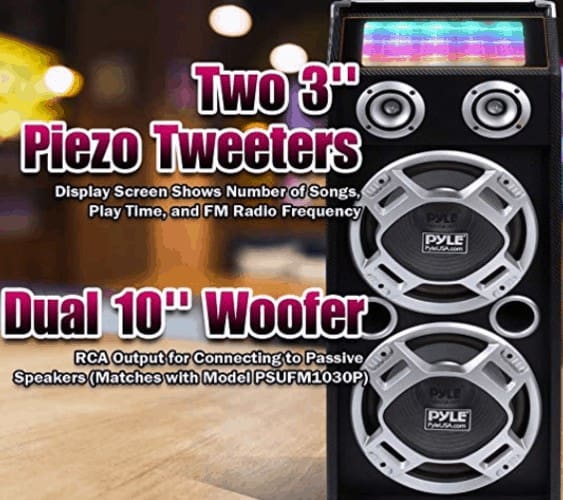 You can use the EQ to adjust the original sound to suit your taste. If you play a song that seems to lack that punchy or pumping bass, you can slide the low-frequency EQ control up to make up for it.
The 10" woofer makes the punchy bass priority for this speaker. Also, its crossover frequency is 3.2 kHz.
Pros:
All in one design makes it easy to move your stuff for smaller parties
Bluetooth connectivity reduces the cables you'll have to use.
Party lights add color to your set.
Cons:
Light works with gain level, and it needs high gain to be bright.
It only connects to other speakers or amp via RCA ports.
Bottomline
If you don't have all your gear yet, the PSUFM1035A is a good choice to start out your DJing career.
Build and design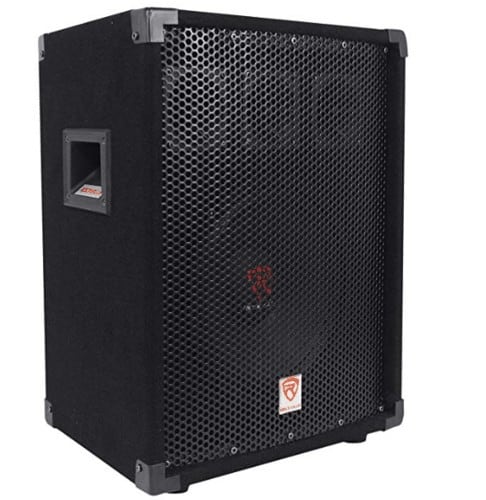 Specifications:
Woofer: Single 10" Pro Audio Woofer
Tweeters: 3 Piezo 3" Bullet Tweeters
RMS Power: 150 Watts
Program Power: 200 Watts
Peak Power: 400 Watts
Impedance: 8-Ohm
Sensitivity: 93dB @ 1w/1m
Frequency Response: 50Hz – 20 kHz
Connections: SpeakON Input connection, ¼" In/Out connections (Parallel)
This party starter has a 10" woofer and three 3" bullet tweeters.
Even though it's made of MDF, the wood fibers are properly set in place such that you don't have any pieces falling off for whatever reason. There is a metal grille over the face of the speaker that protects the woofer and tweeters from damage.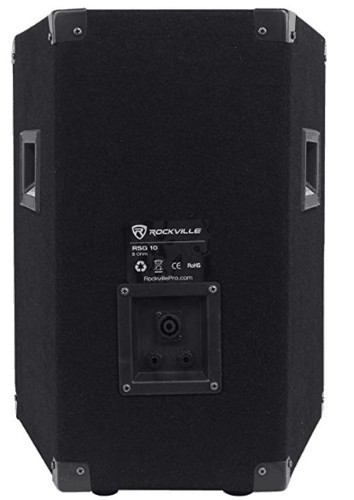 Also, it's a passive speaker, which means you need an external amp at least to make it work. You can only connect it to your amp via the 1/4" speakON located at its rear.
Sound quality
The shape of the speaker allows it to sound to reach a wider range. This means that a speaker with similar specs may not be able to disperse its sound like this Rockville speaker. It also does really well in terms of loudness.
It has a peak power rating of 400W, so with the right amps, you can really crank this thing loud. For wider or larger venues, add another Rockville 10" speaker and place both on either side of the room, making them your left and right speakers.
How "big" a speaker's sound can depend largely on its size, and for this speaker's size, it packs a lot of energy.
The bass is quite good, and it packs some punch, although, for party speakers, it could do a little better in that department. At the same time, we can't really fault the makers – it's a 10-inch woofer.
Pros:
Solid build that adequately protects internal parts.
Easy to transport because of its size.
Wide sound dispersion
Cons:
Needs amp to work
Has only speakON connectivity
Bottomline
If you have an amp, or you have the extra bucks for it, this speaker will be a good pick, especially when you're performing at more official events.
Build and Design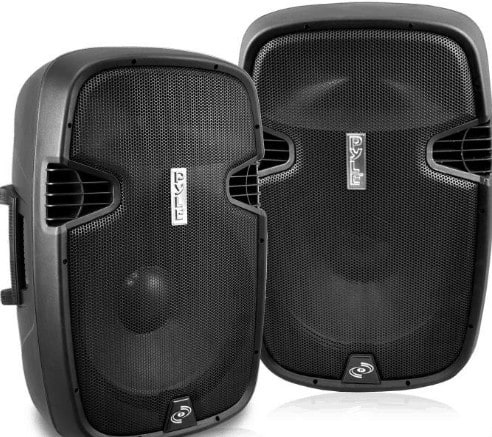 Specifications:
Impedance: 8 Ohm
Mic Input Level: <15mV
T.H.D.: <1%
Sensitivity: 92dB (+/-2dB)
Line Input/Output Level: >250mV
Single Speaker Weight: 5.98 lbs.
Digital Audio File Compatibility: MP3, WMA
Maximum SD/USB Flash Memory Support: 32GB
Pyle PPHP849KT is an all-in-one powered speaker that gives you different connectivity options.
You can play your music through Bluetooth connection, connecting a flash drive to the USB port, using a memory card, or hooking up your laptop or phone to the speaker via the 3.5mm aux input.
If you have an amp, and you want to drive this Pyle speaker like it's a passive speaker, its speakON and XLR ports will enable you to do this.
The best part of this speaker is how portable it is. If you need something for your gig and you don't have a car, you should consider this. You could ride a bus with it quite conveniently.
Sound quality
Pyle PPHP849KT has a frequency range of 65Hz to 18000Hz. Even though its low frequencies do not go as deep as some other speakers, 65Hz can offer a lot of energy if the speaker produces it well enough.
In fact, most people don't hear below 50Hz. Having said that, speakers that reach lower frequencies can often have a better-rounded low frequency.
Additionally, with a sensitivity of 92db, you can get a lot of gain difference every time you turn the volume knob. At maximum volume, this speaker's sound will work well for your house party, unless you're looking to shake the house to its foundations.
Pros
Pros:
Lightweight; easy to carry around
Easy to set up even for a novice
Wireless option
Cons:
Not very good with sub-bass sound.
Only good for small venues.
Bottomline
With this speaker, you don't have to worry about additional gear for your house party. Just hook it up to your computer or DJ setup and you're good to go.
Build and design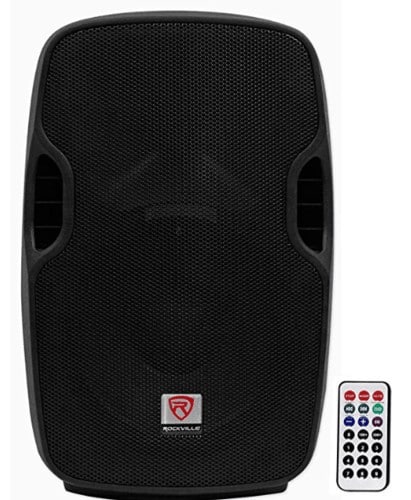 Specifications:
Frequency Response: 20Hz-20KHz
Maximum SPL @1w/1m: 102dB peak / 100dB continuous
Power: 400 Watts Peak/200 Watts Program/100 Watts RMS
Channel 1 features XLR and 1/4" TRS" inputs with volume control
Channel 2 features RCA, and 1/8" aux inputs with volume control
Bluetooth range: 32 feet
Voice coil: 1.5" KSV coil
The BPA10 is an active speaker that can act as standalone equipment for your home djing. This is because it comes fitted with PA system capabilities. This means that it already has an amp, so no need to bring one.
With the BPA10, you have various connection options. It comes with Bluetooth, USB, sd card, and 3.5mm aux input options.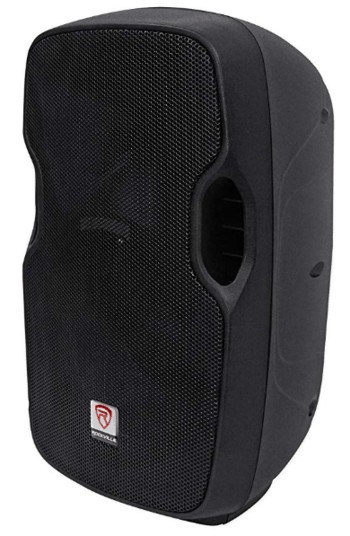 It also comes with a remote that really makes the Bluetooth function more useful. With the remote, if you connect your DJing laptop or phone to the speaker, you don't have to move close to change things and turn the knobs. It really makes things much easier.
Sound quality
The BPA10 has a frequency range that you find on pro equipment; 20Hz to 20000Hz. With this kind of range, it does justice to even the bassiest forms of music. If your party is full of trap music lovers, then they would love the sub-bass production of the BPA10.
You can adjust how much bass you want with the 2-Band EQ on the speaker. The EQ doesn't give you so much freedom to change things, but it's good enough to simply drop the bass or increase the treble if there's a need for that.
The sound from this speaker feels like it has a "big" character to it. This is because it has a wide dispersion area. As soon as the sound comes out of the speaker, it spreads into the room along its width. How far in length the sound can go is not as impressive though.
Pros:
Deep bass response
Easy to transport
Compact design
Cons:
Two band EQ provides less control
Needs speakers stand before sound can travel well.
Bottomline
Lightweight, wireless options and good bass. BPA10 really is the modern DJ speaker; makes life much easier.
Build and design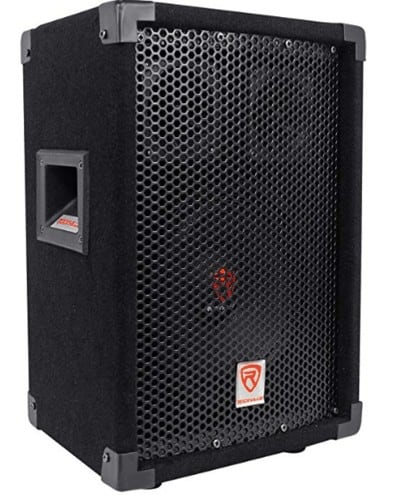 Specifications:
RMS Power: 100 Watts
Program Power: 150 Watts
Peak Power: 300 Watts
1.5" High Temperature Aluminum Voice Coil
8-Ohm Impedance
Sensitivity: 90dB @ 1w/1m
Frequency Response: 55Hz – 20 kHz
SpeakON Input connection
¼" In/Out connections (Parallel)
RSG8 is a passive speaker by Rockville. It has an 8-inch woofer and two bullet tweeters. From its design, it's obvious that this speaker is in the family of passive Rockville speakers. Its body is carpeted such that it gives it a sleek finish.
It's quite common in entertainment that your equipment setup convinces your clients or fans that you're worth their money.
By the time you combine two speakers like this with an amp that's good enough to power it, you give off the "Pro DJ" vibe.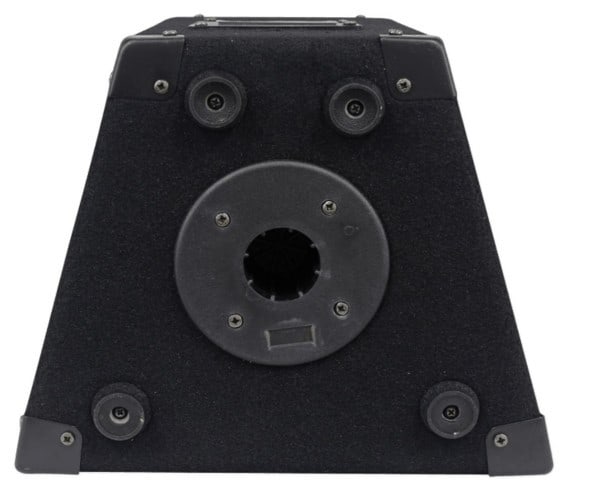 You can connect the RSG8 to your amps via the speakON connector at its rear.
One minor drawback here is that it only offers a speakON connection with no other options. SpeakON ports last really long, so you should have no problems with that aspect.
Sound quality
This is a 300W rated speaker with a sensitivity of 90db. This means that between the lowest volume setting and the highest, you have a lot of gains.
Its frequency range is 55Hz to 20000Hz, which covers most of the audible frequencies.
The bass is quite punchy while the mid is mostly tempered. The highs also are quite crisp and clear. Although if you want a lot of bass and sub-bass in your sound, you should add a sub to the mix.
Pros:
Punchy bass sound
No controls on the speaker, so you can place it as far as you want.
Cons:
Has only speakON connector port.
It's quite bulky.
Bottomline
This is definitely a good speaker to have in your arsenal. It'll serve you well and for a long time.
Recommended read:
Conclusion
For DJs, the options are quite numerous. Depending on what kind of DJ you are, you are now aware of options as diverse as the very loud Pyle floor standing speaker and the smaller Rockville 10".
Other options have also shown you the different classes of speakers that you can explore. You can now make an informed choice from any one of these speakers, and you can be sure there'll be no regrets.