So you bought the newest Samsung Galaxy, and you love it, obviously… I do not blame you.
But, an Android by itself isn't that fun, right?
You perfectly know, you need one of those docks!
Why?
Simple! Docks are cool assets to have in your living room or next to your bed.
They will let you listen to music from their speakers with the really good sound quality considering their size.
Also, they serve as charging units for our phones.
They have really cool-looking shapes, colors and at the end of the day make your room look more stylish and modern.
You should, in fact, get one of those as soon as possible.
Now, which are the Best Android Speaker Docks?
Read this and you will know!
What to look at when buying an Android speaker dock?
First things first, most of these docks work as alarm clock docks, meaning they feature an actual clock, with alarm and night light.
If this is something you are looking for, then you will be really happy when you buy your first dock.
Some of these might also include an actual radio for AM and FM channels.
Are you one of those users who listen to the radio while getting ready for work?
Guess what, Android docks do have radios!
Another cool feature they might include is the speaker for listening to music.
So yes, you connect your Android phone to the dock, play back your music, listen and enjoy the latest hit single.
Now, keep in mind, not all docks have every single one of these features.
You are gonna have to look for several docks until you find the one that better adapts to your needs.
However, most of them will have at least the speaker option.
So, let's find which one best suits you.
This Philips unit features a music-oriented design, ideal for music lovers and people who really enjoy high sound quality reproduction.
It comes with a Bluetooth connection option for Android devices that will let you listen to music with no wires, tuned for deep and tight bass reproduction.
Another nice feature is the shielding technology that is designed to block mobile devices interference, so you will be sure, absolutely no noise will happen while listening to music.
This unit can be powered with the included AC cable, working as a dock, but also with the rechargeable batteries, making it easy to carry around as a portable speaker and set virtually anywhere!
If you do not have an Android device, no worries, it also features an AUX connection for any 3.5mm device so you can listen to anything on it.
All of these features are really great if you are looking for a dock for music reproduction, perhaps if you are a musician or music fanatic, making it considerably superior compared to others on the market.
Pros
Shielding technology blocks all kinds of mobile phone interference.
Music options can be battery operated (great Battery Life) or AC powered.
Cons
No radio option included.
Bottomline: Philips AS351/37 is perhaps one of the best Android docks for music reproduction as it can literally do it all, music-oriented.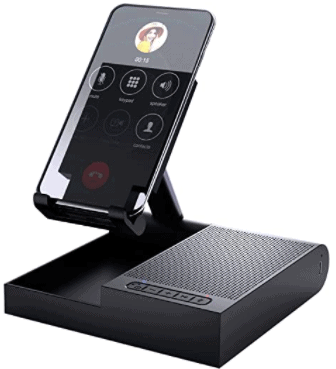 DOSS has designed this speaker as a device for office operation because it is especially useful at making calls from the dock without having to actually hold the phone next to your face.
If you work from an office, calling clients and your phone is your most important tool, this dock is a great feature for your space.
The first and most important feature is the fact of being able to connect the phone to the dock and actually talking from it using the speakerphone option.
This device features a noise-canceling algorithm that makes your voice sound even more clear than normal, making it easier for your peers to listen to you while talking.
This algorithm will eliminate all kinds of background noise, yielding rich and clear sound quality.
It also features a magnetic levitation speaker and two microphones arranged in a 360 array to capture sound from multiple speakers, ideal for teleconferencing and remote group meetings.
Once again, these are all features that really make this product stand out from the rest when referring to the office and corporation-oriented situations with a Smart Speaker.
Pros
The noise-canceling algorithm is simply unbeatable for Phone Calls.
Full compatibility with apps such as Skype, Zoom, Webex, Google Hangout, Amazon Music, and Meet.
Cons
No radio feature or music listening.
Bottomline: Simply perfect when dealing with office-related situations, remote group meetings, and conferences.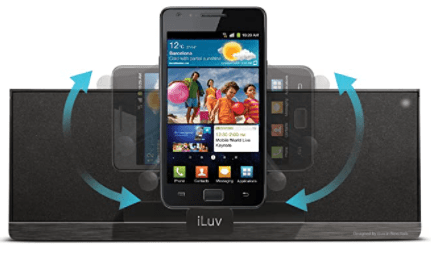 iLuv has designed this dock thinking about an all-around device for home use, because it can really do lots of things such as charging, listening to music, Bluetooth connection, etc.
If you own an Android device (like a Samsung Galaxy), you can simply "dock" your phone into this and it will automatically start charging it right away. Perfect compatibility.
Now, once connected it features the option of playing back music with the included dynamic acoustic speakers that yield extended low-frequency response and clear highs, ideal for most commercial music.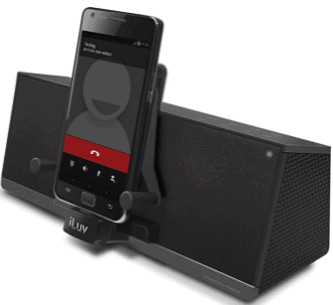 You can also use the featured speakerphone option if you just want to talk to your friends while cooking in the kitchen for example!
The dock lets you play videos from YouTube or Netflix and run apps while the phone is connected. Ideal for users who might be doing something else such as reading or cooking. Great for multitasking!
If by some reason you do not have an Android phone, you can connect to the speaker using the standard 3.5mm aux input and listen to the music coming from your other device.
Pros
Speakerphone option, great for multitasking
The dock lets you play games, run apps and watch videos while the phone is connected
Cons
No radio function available
Bottomline: The nice dock for home use that looks nice, has nice audio quality, and has most of the stuff you will ever need!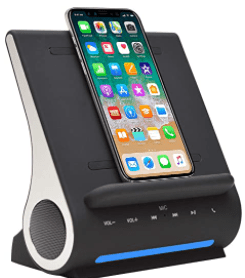 Azpen has developed a dock that will really look stylish and fantastic in your living room due to its modern and black design.
One of the key features included in the wireless charging option. Yes, wireless charging!
You just place your phone on the dock and it will charge it with absolutely no wires, up to 5 watts.
You can also connect your phone to the actual speaker using the Bluetooth wireless connection and playback music from your phone in the included stereo speaker system.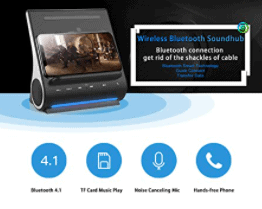 The system features two speakers that create a nice stereo image and 5 watts of power.
It presents buttons for audio transport functions such as previous, next, volume up, volume down, play/pause, etc.
The dock comes with a built-in microphone for speakerphone operation and hands-free calling.
It also features a MicroSD card slot on the back so you can connect your MicroSD card loaded with music to playback whenever!
Pros
Supports wireless charging for Samsung Galaxy and Android phones.
You can charge up to 3 devices at the same time.
Cons
Low power output on the speaker makes it a bit too soft.
Bottomline: Cool-looking dock for your living room. Easy to operate with wireless charging feature and music playback.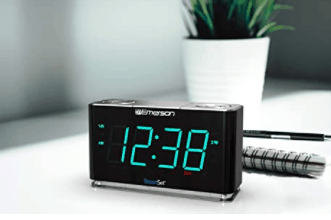 The Emerson SmartSet is the typical alarm clock you would have on your night desk, with a "modern twist" of technology.
First, the device features a fully operational radio with FM capabilities and up to 20 favorite preset stations.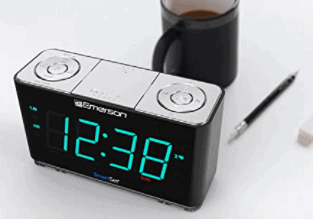 You also get a clock with a programmable alarm that automatically sets itself to the correct date and time after a power outage!
It also lets you charge your phone with a 5V (2.1A) USB port for fast charging applications.
The lights from the clock can be dimmed before going to sleep, helping you keep the room nice and dark!
Finally, you get a set of very small speakers to playback music from your device, nothing special to be honest.
Pros
Fully functional clock function with alarm with the auto programmable feature.
Cons
No speakerphone option
Low level and low-quality stereo playback system
Bottomline: Good option if you are looking for a system that serves as a night table clock and alarm that also charges your phone, nothing else other than that.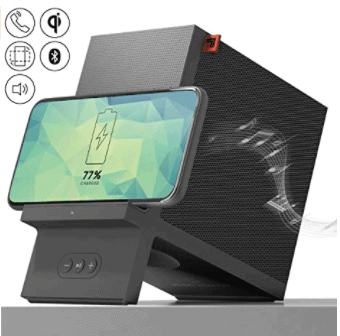 As most products are designed by SHARPER IMAGE, the Wireless Qi Charging Dock looks modern and revolutionary.
The first impressive feature is the square-looking design that resembles a diamond, which will look amazing as part of your living room like a piece of furniture. Your guests will love it.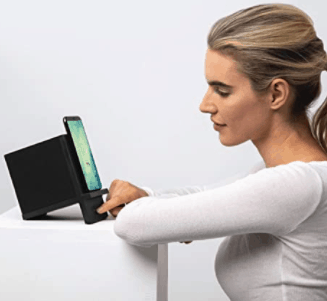 Another great feature is the Qi-Certified 10-watt wireless charging feature for fast charging functionalities, something not seen on other docks on the market. Simply place your phone on the dock, no need to connect it, and the fast charging will happen instantaneously.
The tilted design makes it great for audio quality reproduction due to its passive radiator, giving you a powerful low-frequency response, especially impressive on such a small device like this.
Another feature is the possibility of taking calls using the speaker option and built-in microphone, so you can talk and charge your phone at the same time, hands-free.
Pros
Impressively powerful 10-watts wireless charger included
Passive radiator delivers great low-end reproduction
Cons
No other connection option besides Bluetooth.
Bottomline: Are you looking for a really cool and modern-designed dock, with great audio quality that can wirelessly charge your phone? This is the one.
Conclusion
Let's assume your main goal is to find the best dock for hand-free talking, conferences, and speakerphone operation at your meeting room and office. In that case, the best option for you will be the DOSS Bluetooth USB Speakerphone. The included noise-canceling algorithm is simply pristine.
Now, if you want a dock that works as a great clock and alarm for your night table next to your bed, the best option will be the Emerson SmartSet Dock. No way to beat the auto-programmable clock feature.
Last, but never least, if you want super-fast wireless charging with a nice-sounding playback system, the answer is the SHARPER IMAGE Qi Charging Dock. You will not regret it!