In this post, we are going to review the top 7 Astatic microphones that are widely used in single-sideband communications, CB and amateur.
Our Best Pick
Astatic 302-AST878DM CB Desk Microphone, Black, Auxiliary
Best Value for Money
Astatic (302-10036 RD104E Road Devil Amplified 4-Pin CB Microphone, Black
Excellent Noise Cancellation
Astatic 302-636LB1 Black Noise Cancelling 4 Pin CB Microphone (Bulk),XLR
Last update on 2023-09-21 / Affiliate links / Images from Amazon Product Advertising API
The Astatic company, currently known as CAD audio is a household name in microphone production.
If you are only familiar with mics used in studio and live music environment, "Astatic" as a name may not ring a bell.
This is because their products are most useful for outside music performance environments. Astatic microphones are generally used in very large outdoor spaces where the public address is needed.
From airports to sports venues, schools and even on the road, Astatic addresses the needs of long-range speech production. It is also excellent in the production of wireless boom mics, vintage mics, CB desk mics.
History of Astatic mics
The original Astatic corporation was founded in 1931. It was the brainchild of two radio technicians who wished for better microphones to transmit with.
The problem they were trying to eliminate was the presence of static in their transmissions; hence the name Astatic.
The radio technicians behind this were Woodworth and Chorpening. After the company was formed, they continued to improve on their microphone quality, and with the help of some engineers, developed crystal microphones and other interesting innovations.
They were very instrumental during the world war in aiding communications and ensuring increased signal strength.
Fast forward to the present, the Astatic Commercial Audio Products company has pioneered and advanced the production of a wide range of microphones for use in churches, schools, restaurants, and even trucks.
Key features of Astatic mics
While Astatic has produced a wide range of microphones, there are certain features that are common to their products; we can call them signature features. Here are some of such characteristics:
ABS Housing:
ABS is an acronym for Acrylonitrile Butadiene Styrene. Never mind the tongue-twisting jargon; ABS is a super-tough, heat resistant, and really strong plastic material commonly used as casing for Astatic microphones. ABS can also absorb shock and scratches.
At times, it may take some deliberate destructive action to break ABS material. Another juicy part of this material is the low price. I'm sure you now know why Astatic has chosen this for their microphone housing.
Noise cancellation:
I'm sure you have heard of noise-canceling headphones. You may even start to wonder if noise cancellation is a thing when we're talking about mics.
If you plan to use a microphone in a noisy environment, the mic handles surrounding noise is quite important. As an example, an announcer is trying to give a notice in a sports arena with lots of fans screaming.
Even if the announcer is in a booth, the deafening noise will definitely make its way into the mic. If the mic has noise-canceling properties, the announcement made will be intelligible, in spite of the surrounding noise.
Audio heads may argue that what we're describing here is actually noise suppression and no cancellation, but you get the point. Right?
4-Pin Connector:
The 4-Pin connector adds to the ruggedness of Astatic mics wiring. The main benefit of a 4-pin connector is that it can withstand some rough handling without being disconnected.
Astatic even goes further to secure the connection with a threaded locking collar. With this double protection, you can never go wrong with your connection.
Here are our top Astatic microphones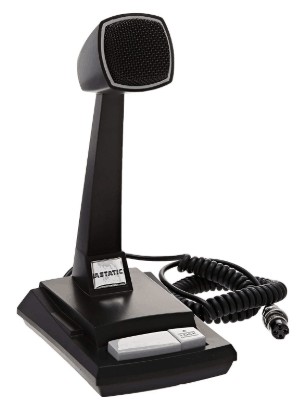 The Astatic 302-AST878DM is a top quality omni directional ceramic cartridge microphone. It features the push-to-talk and lock-to-talk buttons for ease of use. The overall design is pretty simple, with a metallic grille mesh on the face.
The mouthpiece is connected to the base via a vertical stem made of the same cycolac resin material.
At the base, you would find the push-to-talk and lock-to-talk buttons. Interestingly, these buttons are not clearly labeled PTT or LTT. The PTT button is larger, while the LTT button is quite smaller, with "LOCK" inscribed on it.
Together, they form a horizontal white contrast along the black base of the desk microphone. Just looking at this desk mic, you would feel its sturdy build.
Additionally, the cable is considerably thick, complete with the 4 pins female connector at the end for connection to the sound system.
If you would be using this desk mic anytime soon, always remember to take a standard 9V battery with you. The 4 pin connector cannot provide all the power the Astatic needs to work.

In the description, we said that the 302-AST878DM is an Omni-directional ceramic cartridge microphone; that's a lot of information in one sentence.
Let's break it down a bit: The Omni-directional nature of this desk mic is one of the reasons why it is a noise-canceling microphone.
Unidirectional mics have a tendency to give a lot of wind noise as a result of air entering the rear acoustic panel.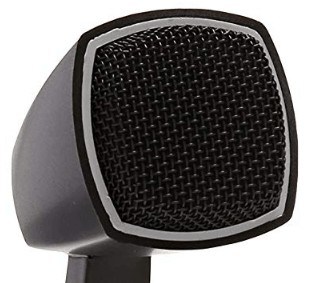 With Omni-directional mics, there are no rear acoustic panels. Hence, no rear acoustic panel means no wind noise.
Another advantage of omnidirectional mics is the absence of bass buildup due to close voicing. If you move your mouth quite close to an omnidirectional mic, you don't need to worry about having a boomy sound.
Also, for an omnidirectional mic, you don't necessarily have to speak directly to the top of the mic to have good production.

This quality is important for the peculiar uses of this mic. An announcer may not be so careful as to where exactly their mouth is directed. The Omni-directional mic would pick their voice anyway.
Pros and cons
Can't be used as handheld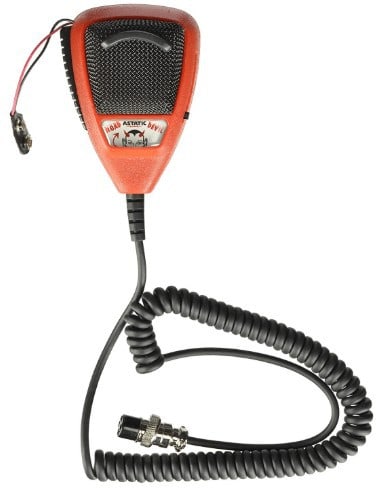 This mic is popularly called the Road Devil microphone with an in-built amplifier and is pretty similar to Road King CB mic in its look.
The Astatic 302-10036 RD104E Road Devil is quite small in size, and you get the impression that Astatic made it for mobile use. The head is shaped like a raised cobra's head, with the ABS plastic housing.
The grille is also made to withstand long periods of use. There is a gain switch at the right side, which you can use to adjust the sound level.
You might want to start at low levels to prevent feedback because this mic can get really loud when driven. It's connected via a thick coiled cord with a 4-pin connector at the end.
The Astatic 302-10036 RD104E is an electret microphone. What does this mean? In terms of sound production, it's just another type of condenser microphone.
The difference is in the method it uses to obtain the electricity it needs to work. Rather than using a polarized power supply, the electret microphone uses a permanently charged material. A 9-Volt battery will do a good job here.
Pros:
Suitable for mobile use
In-built amplifier


Cons:
Lots of feedback when used at high volumes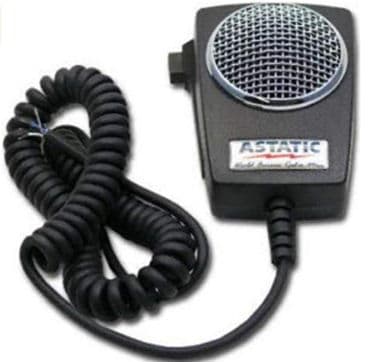 The Astatic 302-D104M6B is a 9-volt battery-powered microphone. The battery is held in place by four screws on the back of the mic. It also has a volume control switch on the left side.
The housing is made of ABS plastic, sometimes incorrectly called plastic rubber. The microphone is connected via a coiled cable with Astatic's signature 4 pin connector at the end.
Looking through the features of this mic only proves one thing; It was made for tough conditions. It is a ceramic cartridge microphone. This means they are capable of producing high voltage output.

It sounds very similar to the D104 desk mic; you can say it's the handheld or mobile version.
Pros:
Provides high voltage output
Good to use with mobile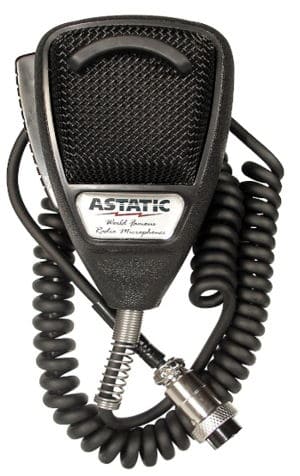 The Astatic 302-636LB1 as usual sports the signature rugged build we have come to know Astatic for. With the coated steel grille and ABS plastic housing, durability is assured. It is a handheld microphone with a push-to-talk button on the side.
Besides durability, the use of ABS plastic also ensures that the microphone maintains its aesthetics; minimal scratches due to use and abuse.
You can only get the best out of this microphone when you hold it close to your mouth. The connectivity is made possible by a solid coiled flexible cable with a 4 pin connector at the end.
While some other Astatic mics are only used for CB communications, the Astatic 302-636LB1 can be very useful for amateur radio and SSB communications also.
CB is an acronym for citizens band radio. It is a radio communication technology that works over short distances. It can be used by private individuals.
Depending on the country, a number of channels will be allocated for CB radio use. Presently in the US, 40 channels are allocated to CB communications.
Pros:
Effective for mobile use
Rugged
This is a handheld astatic microphone that can be used on the go. One peculiar quality it has is its enhanced sensitivity. The Astatic (302-10005) D104M6B generally picks up more noise and sound than most other Astatic mics.
However, other external features look like the signature Astatic approach: They tackle durability first, then worry about aesthetics. It sports a volume knob on the top left side, next to the chrome grille at the center of the microphone.
The cable and connector are also regular Astatic designs; sturdy, flexible, coiled cable and a 4-pin connector.
The Astatic (302-10005) D104M6B is a 9-volt powered amplified ceramic microphone. Hence, you can expect high volume levels in return for low voltage inputs. It has a push-to-talk button, but no lock-to-talk button.

Incidentally, the PTT button is a little stiff, so you may find in a bit hard to talk in paragraphs.
Pros:
Compatible with mobile devices
Cons:
Lacks lock to talk button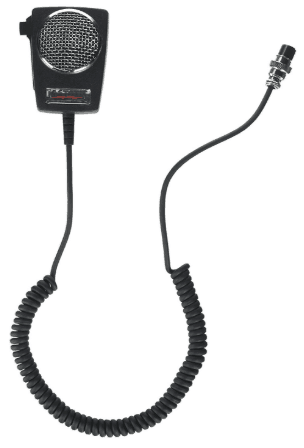 For some reason, Astatic handheld microphone heads look like cobras staring right at you. The design is brilliant though; it makes the mic very handy and any switch or knob is accessible.
Astatic did not change their design approach with the Astatic (302-10001SE) 636LSE.
However, they did something different with the cable; going with the chrome covering this time rather than the rubber ones we're familiar with.
Other design features include the ever strong ABS housing and the chrome grille built to withstand adverse weather conditions.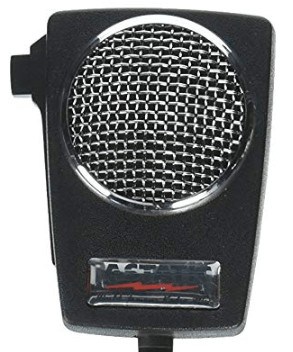 The Astatic (302-10001SE) 636LSE is a low impedance dynamic element microphone. The low impedance here means that the signal can travel over long distances without losing strength.
You will also need to insert a 9-volt battery to make it work. It can reach really loud levels because of the in-built amplifier and gain control.

This particular Astatic is also a noise-canceling microphone, hence it can be used outdoors. You can be sure to hear what's being said clearly, even in a noisy environment.
Pros:
Suitable for outdoor mobile use
Durable
Cons:
Difficult to use in indoors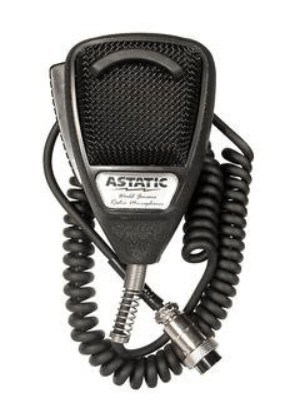 The Astatic 636L is a more recent model in the famous Astatic line of handheld microphones. It typically comes as a black, teardrop shaped microphone with the regular Astatic solid build found across their products.
All parts of this device are optimized for long-lasting performance. The housing is made of strong ABS plastic, and it is connected via a solid coiled cable and 4-pin connector.
The Astatic 636L is a dynamic noise-canceling Astatic microphone. The frequency range covers 100Hz to 5000Hz; just what you need to make an intelligible speech. It is also a low impedance microphone with an impedance rating of 200 ohms.
However, it would work well with devices with an impedance rating of 50 to 1000 ohms. You will find the PTT switch easy to use, it has a spring mechanism that snaps right back when you release it.
On a lighter note, I find it funny how Astatic chooses to name its products. As an example, how do you tell someone over the phone, "Hey Jack, could you help me pick up the Astatic 302-100001SE on your way home"?
It may be easy to read, but I dare you to read it aloud like you were actually on the phone with a friend. See?
Anyways, it's a small price to pay for the durability, ruggedness, and quality Astatic brings to the table.
Pros:
It is one of the top gear microphones
Great build
Conclusion:
Read our other popular posts:
The above listed are the best Astatic microphones available in the market. Among them, Astatic 302-AST878DM Cb Desk Mic is my best pick because of its lock-to-talk function that enables you to speak for long periods without breaks.

The Astatic (302-10001SE) 636LSE comes next because of its chrome cable; I think it's pretty cool. These Astatic mics are all noise canceling mics. We have one more Astatic mic called a silver eagle and is good for outdoor use.