Today in this post, we are going to review the best Hifonics amps. Hifonics amps are the best car amps loved by most of the bassheads.
Table could not be displayed.
Are you a basshead?
Do you want to enjoy bass-heavy sounds in your car?
Then, you cannot rely on the sound system fitted by the carmakers. You must introduce new gear.
Hifonics has a number of amps that are specially made to drive your car woofers. With these amps, your car will be buzzing with subsonic sauce.
Before going further, let me explain why Hifonics amps?
Hifonics is the best manufacturer of car audio amplifiers.
Hifonics amps are the favorite choice of audio enthusiasts because of the fact that they are highly reliable and provides the best value for the money spent.

And one more thing is, Hifonics amps are so inexpensive than its competitors like Rockford Power series or JBL amps.
Hifonics has released five series of amps. The very first series is the super amps.
Next is the Brutus Elite and Brutus BRX followed by Gemini Elite GEX and Zeus.
Among these series of Hifonics amps Brutus series amps are the most popular ones.
Also, Brutus BRZ amps are slightly better and have a longer life than BRX amps.
Let's get started.
Here are the 5 best Hifonics amps:
Overview
Hifonics 1516.1D is a subwoofer amplifier with two inputs and two outputs. It measures 12.5 x 2.4 x 9.8 inches. This size shouldn't take up too much space in your car. Its power is rated 1500W.
However, it can only produce that much power when you're using a 1-ohm speaker. If your car uses 4-ohm speakers, they will draw just 550W from the amp. Of course, it depends on how much bass boost you decide to put on.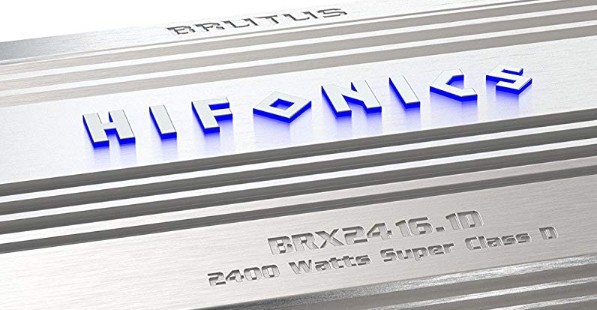 The control knobs can be found on the rear end of this Brutus amp. These knobs are made such that you can't turn them accidentally. We'll talk about what these knobs do under sound quality.
Sound quality
This subwoofer amp has a frequency response of 10Hz to 250Hz. This means it can play bass sounds that are even lower than the human hearing threshold.
The only barrier that may exist here is your car speakers. For car woofers that cannot produce such low frequencies, 1516.1D has a variable subsonic filter. It allows you to cut off up to 35Hz to keep your speakers healthy.
Additionally, you should not have any issues with noise when using this amp. With a signal to noise ratio of about 95db, even the quietest sounds should play without being disturbed by noise.
Features
Ultra-Fi MOSFETS Circuit provides maximizing power efficiency while improving sound quality
LED power (green) and protect (red) indicators
Built-in system diagnostics
Preamp RCA outputs to daisy chain multiple amps
3-way protection circuitry (thermal, overload, and speaker short protection)
1 12V battery required to drive this amp
Weighs 11.4 pounds
Overview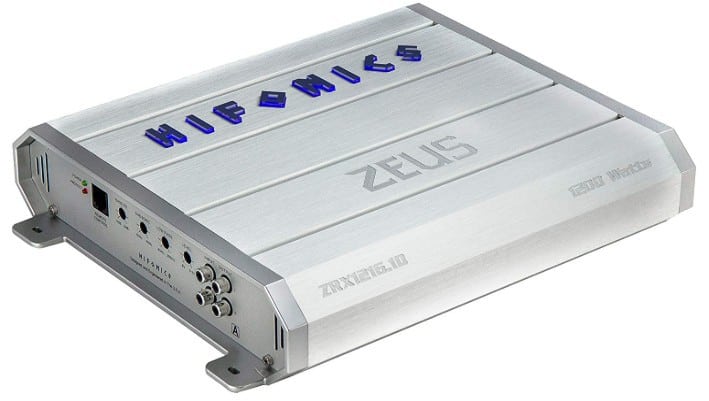 This Zeus amp is a class D mono subwoofer amplifier. It converts low-level audio signals into bold, loud sound while maintaining a reasonable temperature level.
It doesn't get hot like other amp classes. Also, Class D is the most efficient of all amp classes. It gives you a loud sound while keeping the quality intact.
ZRX1216 measures 12.6 x 2.4 x 10 inches. The connection is made via RCA input and output ports at the rear of the amp.

In terms of power, this amp shells out 1200W per 1-ohm speaker. This means your 4-ohm car speaker can draw up to 400W. This is usually enough for most car woofers.
Even if you're using more than one channel, ZRX1216.1D is a mono amp. This means you can't have stereo separation. This shouldn't be a problem since it's a subwoofer amp. There's almost no chance that you'll play a song that has a stereo subsonic frequencies.
Sound quality

Hifonics ZRX1216.1D Zeus Amplifier's frequency range is 10Hz to 300Hz. It's generally a narrow range, but it's wide for a subwoofer amp.
Also, if your connecting cables make sure they are good. You shouldn't have noise problems with this system. Its signal to noise ratio is 95db. It also has a reasonable total harmonic distortion level: 0.1%. This enables you to have a loud sound without affecting quality.
Even though, these specs indicate quality sound, the speakers that you use with the amp are equally important. Your car stereo will still sound mediocre if you use weak speakers with this amp.
Features
Illuminated Hifonics Badge
Old School Hifonics Heatsink for Superior Heat Dissipation
PWM MOSFET Power Supply for Maximum Current Levels and it keeps the amp cool by limiting the distortions.
Diagnostic Indicators
DC, Short Circuit, Thermal, and Overload Protection
Low-Level RCA Inputs and Outputs
It comes with a BASS REMOTE for you to control and adjust the bass frequencies.
The product weighs 4.41 pounds
1 12V battery is required.
Overview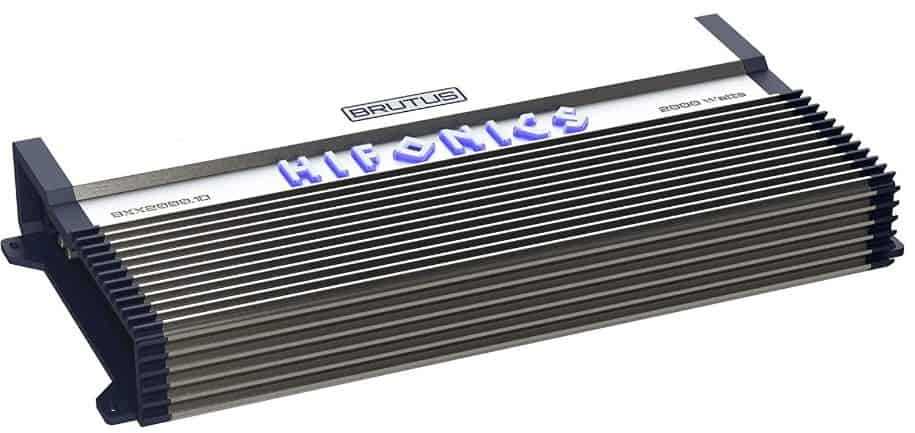 BXX3000.1D packs a whole 3000W power in its Class D amplifier technology.
This efficient method makes sure that you get top-quality sound even after amplification.
Hifonics has made sure that the quality of this sound doesn't drop on its way out of the amp.
This is why the outputs were made using Ultra-Fi MOSFET. It ensures that changes in the song intensity won't cause any distortion in your car stereo.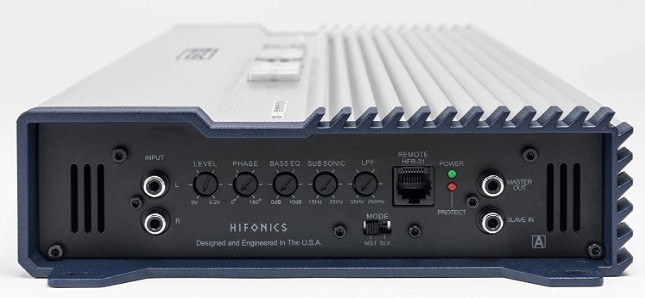 The bass remote makes it easy for you to increase the bass intensity. You don't need to reach for the amp itself, just turn the bass remote knob.
Sound quality
BXX3000.1D has a frequency range of 10Hz to 250Hz. If your car stereo speakers can't reach that low, you can engage the subsonic filter to remove up to 35Hz.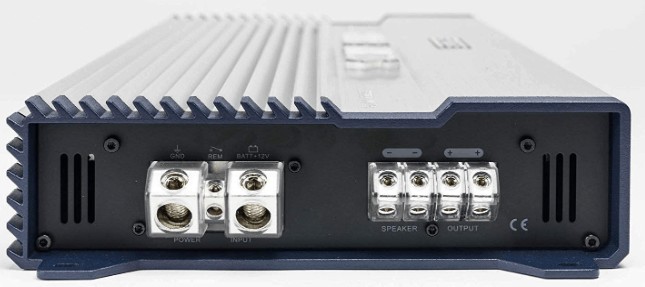 The phase shift feature is also worth mentioning. Sometimes, if you're driving the woofers and tweeters with different amps, the sounds may arrive at your ears at different times.
Even though its milliseconds apart, there's still a difference. The phase shift knobs help you to fix this.
Features
The maximum low voltage signal from the source unit comes into the amplifier circuit with minimal distortion.
Nickel-plated RCA jacks create the most efficient audio connection and resist corrosion.
Variable electronic crossovers allow for complete control of the sound.
The product weighs 16.6 pounds
Overview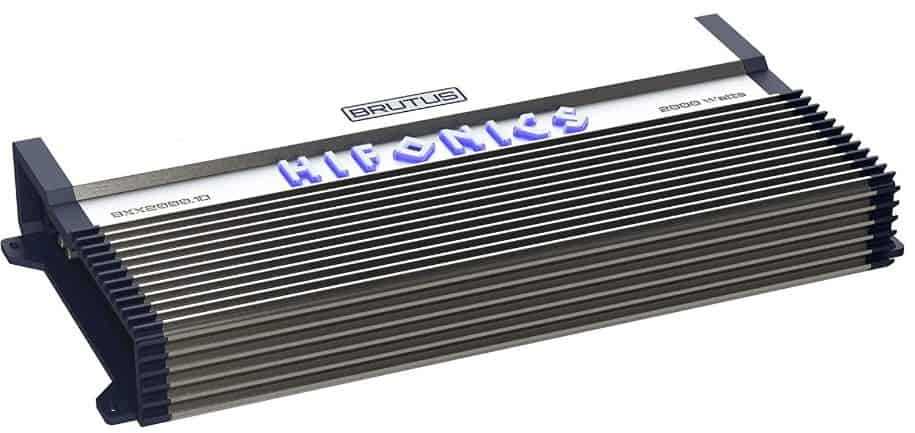 BXX2000.1D is another amplifier that is manufactured using super class D technology. Aside from the benefits already mentioned, Class D amplifiers will save you some of your car battery energy. It uses power intelligently.
Rather than using a fixed amount of energy, the consumption reduces with quieter parts of the music and increases when the music has more energy.
This will be useful if you host mini parties using your car stereo as the sound system. You don't have to keep the engine running to keep your battery from dying.
Sound quality
The 10Hz to 250Hz frequency range is driven by the 2000W power that this amp provides.
You can make some adjustments to the sound production based on your speaker specs.
The subsonic filter and variable low pass crossover knobs give you added control over the kind of sound you want from your woofers.
This amp gives a clean audio production with no audible distortion, even at loud volume.
Features
Control of amplifier output with on-board electronic crossover to tailor specific frequencies to speakers.
Classic aluminum Hifonics design to minimize heat build-up on the Ultra-Fi™ output devices
The dual coil Pulse Width Modulated power supply keeps the voltage constant through the Ultra-Fi output devices
The product weighs 13.4 pounds
Overview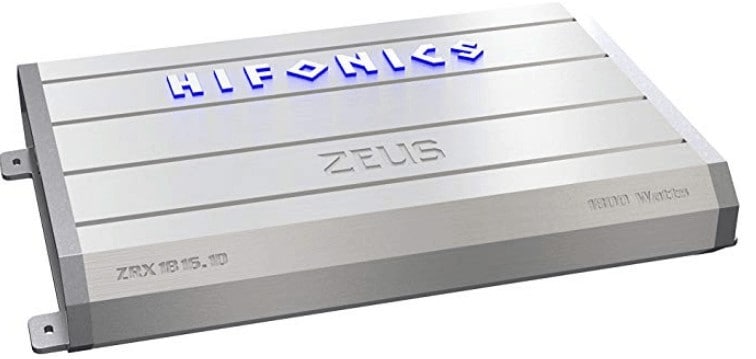 ZRX1816.1D is a mono output amplifier that drives your car sound system with up to 1800W of power.
4-ohm speakers will draw only 500W though, and that's all they need to start blasting. Even though it has mono output only, if you have multiple channels, you can be sure to have the same bass frequency production from all the speakers.

Actually, mono is better than stereo for any system that is dedicated to bass production.
This is because, in the process of music production, most audio producers keep everything below 400Hz in mono. This means that if your woofer amp does not have stereo output, you're not missing anything.
Sound quality

This amp gives you more than enough room to have a heavy sound. The bass boost control allows you to add up to 12db boost to the bass-heavy sound.
Unless you're DJing from the trunk of your car, you shouldn't need to turn the bass boost all the way up.
With a frequency response of 10Hz to 300Hz, this amp is the ultimate car audio gear for bassheads. All you need is to purchase fitting speakers, and you're all set.
Features
PWM MOSFET Power Supply for Maximum Current Levels
Diagnostic Indicators
DC, Short Circuit, Thermal, and Overload Protection
Low-Level RCA Inputs and Outputs
It doesn't come with wireless remote
Amp weighs 9.12 pounds
To drive this amp you need 1 12V battery
Read our other popular posts:
Conclusion
Hope you found the best Hifonics amp for you car stereo.
New cars don't come with the bass-heavy sound that will satisfy bassheads. If you want such sounds, you must fix it after purchase. These five Hifonics amps that we've listed will surely give you that trunk-shaking bass sound.