Are you a big fan of Harman Kardon speakers?
Today we have put together Harman Kardon Onyx Studio 3 vs 4 and help you decide which one you should get.
Harman Kardon wireless speakers are a family of cute Bluetooth speakers that give good quality sound.
Studio 3 and Studio 4 are two middle members of this family.
Studio 4 is essentially an upgrade of Studio 3, but do the upgrades really make any difference in performance?
Is there a reason to choose Studio 4 over Studio 3? Is Studio 3 still better in some ways? I'll answer all these questions and more in this article.
Let's get started.
Table could not be displayed.
Harman Kardon Onyx Studio 3 vs 4: Let's find the winner
Build and design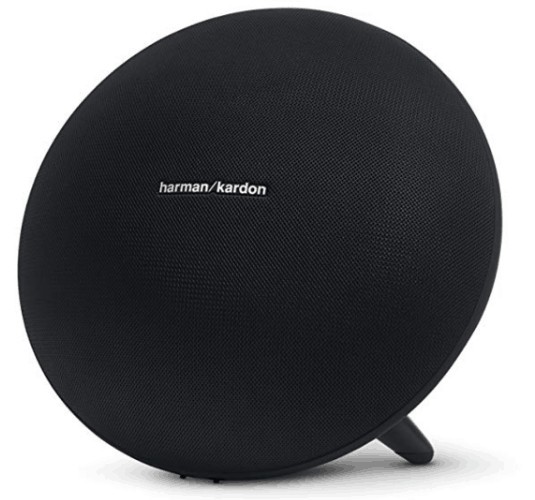 Onyx Studio speakers generally have similar structures from Onyx Studio 2 to Onyx Studio 5.
In fact, in terms of build and design, this comparison would not be much different from a Harman Kardon Onyx Studio 2 vs 1 comparison.
For Onyx Studio 3, there are a few minor details that are peculiar to it. It has a grille that you can choose to remove. I usually prefer to keep the grille in place to protect the speakers, and also because the Studio 3 doesn't look good without the grille.
Colors available:
The two popular colors you would easily find are black and white.
However, Studio 3 is also available in two other colors: blue and purple, although you would need to do some searching to find them, especially the purple one.
Here is the interesting thing:
Studio 4 on the other hand, only comes in three colors; white, black and blue.
Harman Kardon Onyx Studio 3 and 4 look very much alike in many ways. Their handles are located on the rear. These handles make it easy if you wish to carry them along on long walks.
While Studio 3 has a passive bass radiator on its back. Studio 4 has a bass reflex port. More on this later.
If you wish to use these speakers a home office or wherever they have feet that keep them stable on flat surfaces.
Both Studio 3 and Studio 4 have their feet covered in rubber material to prevent them from moving while you're playing loud music.
The rubber material also stops heavy bass from causing vibration on the surface.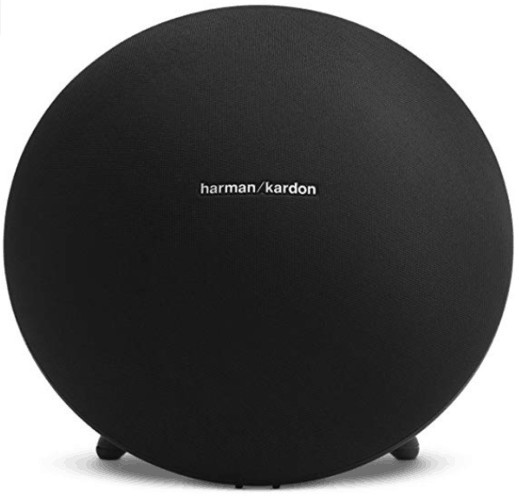 There's one let down that is common to these two speakers. They're not waterproof. They're not even sweatproof.

I call this a downside because it limits the use of the Bluetooth speakers. For instance, you can't take any of them to the pool or the beach without risking permanent damage to them.
If you want Bluetooth speakers that would withstand water splashes, you could look towards other products like some Bonica Bluetooth speakers.
Inputs and controls: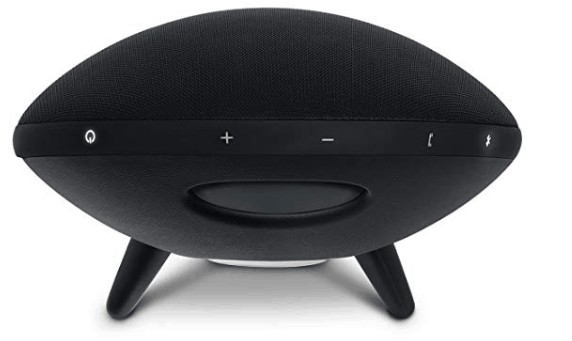 Like all Onyx speakers, Studio 3 and 4 have three input ports:
A micro USB port that is only useful for the firmware update. It's a bit surprising that you can't use the micro USB port to charge the speakers or to even connect your device to play music.
There is also a 3.5mm input in case you wish to use them as aux speakers.
Lastly, the power input port is used for charging the speakers.
For both speakers, their controls are placed in similar positions; on top of the speakers. However, Onyx Studio 3 has five control buttons while Studio 4 has six.
The control panel looks exactly the same as the control panel on Onyx Studio 2. It's located on the top.
There are 5 control buttons.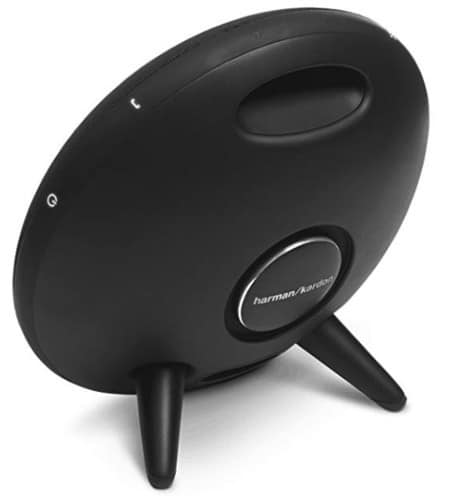 Volume buttons (+ and –) are in the center. The power button is on the right side, and the speakerphone and Bluetooth buttons are on the left.
The power button and the Bluetooth button are backlit. While both Bluetooth speakers have two volume buttons, a power button, a hands-free button, and a Bluetooth button, Studio 4 adds a Connect+ button to the mix.
Verdict: For both Harman Kardon Bluetooth speakers, their design is quite similar, and it may be hard to pick one over the other.

Having said that, if I find the purple version of Onyx Studio 3, I would go with it, since Studio 3 does not have a purple version.
Sound quality
Both Studio 3 and Studio 4 sound pretty impressive. They both have punchy bass, tidy mids, and sparkling highs.
However, there are some differences.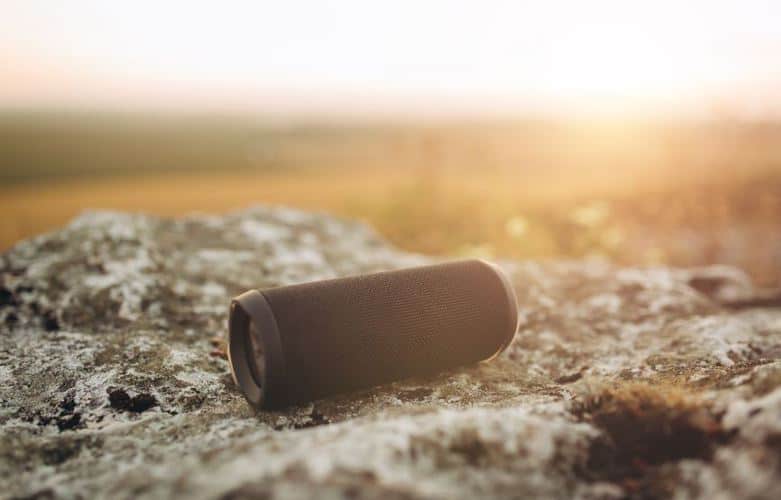 Bass:
For Studio 3, the bass is tidy and punchy, although its size and frequency response range prevents it from producing sub-bass sound.
You can expect the kicks in your pop, hip hop, and EDM songs to hit as hard as you expect with this wireless speaker. Even though the bass is punchy, it doesn't overshadow the mid frequencies or make the overall sound boomy or muddy.
For the Studio 4, the bass is a little stronger than Studio 3. If your favorite music is not bass-heavy, you may not notice this difference. If you're a basshead however, Studio 4 gives you that little extra punch.
You must be careful with the volume control, because, at maximum volume, the bass may begin to distort. So, when playing bass-heavy music, you should aim for 80% maximum volume. You can go up to 90% for some songs too.
Mids:
Both speakers have tidy mids. Elements in that region can be clearly heard without any parts getting too much or too little attention.
I think these Bluetooth speakers do really well in the mid-region.
For some other speakers, the manufacturers simply drop the mids to very low levels so that it doesn't get unpleasant.
For Studio 3 and 4, the mids are very pleasant, and at the perfect levels. Both speakers will give you ultimate enjoyment with jazz and classical music.
Highs:
The high frequencies are also quite prominent in both wireless speakers, like the bass. They have sparkling high frequencies that give life and excitement to your music.
In Studio 3, some music may sound a little harsh if they're already rich in high-frequency sounds.
Studio 4 has a wider soundstage than Studio 3, even while using just one speaker.
Verdict: For sound quality, I would pick studio 4 because of that little extra bass and more space in the soundstage.

The distortion at maximum volume is only slight and I think I can live with it. If you don't play bass-heavy music so much, Studio 3 can work quite well for you.
Features
If you've not noticed much difference between these two Bluetooth speakers, you're about to.
Bluetooth version:
First, Onyx studio 3 uses Bluetooth 4.1 connection. Studio 4 uses Bluetooth 4.2. There is a major difference in these two Bluetooth versions: Studio 3 allows you to connect up to three devices to the speaker at the same time.
Pairing options:
Also, you can connect the Studio 3 to another Studio 3 speaker. This gives you more volume.
Your studio 3 speakers can serve as portable party speakers if you have two.
However, Studio 4 gives you a lot more freedom with its 4.2 connection. Like Studio 3, you can connect up to three devices via Bluetooth, but you can also connect up to 100 Studio 4 speakers to each other.

It can be really cool to have a party with multiple Bluetooth speakers pumping out music.
Elements in the music seem to have more space with Studio 4. Also, you can increase your soundstage with studio 4 by adding another onyx speaker and pairing them in stereo mode.
Studio 3 cannot achieve this because it can't pair in stereo mode.
Yes, you heard it right!
Also, when you download the HK Connect app, you can connect Studio 4 Bluetooth speakers in stereo mode.
This means that with two Onyx Studio 4 speakers, you can have them as your right and left channels, having a full stereo experience. You can choose between this and the party mode with the Onyx app.
If you have two Studio 4 speakers, you can place them on either side of your desk and use them just like bookshelf speakers.
The app's performance could be much better, but it still provides some really good options. To be honest, the app does not work for studio 3 speakers.
Battery life:
One other thing that Harman Kardon should really improve is the batteries of these speakers.
Studio 3 has a 2600mAH battery that lasts only 5 hours at 50% volume. It means that you can't really play loud music outdoors for long.
Studio 4's battery has a slight improvement. It is a 3000mAH battery that lasts 7 hours at 50% volume. Studio 4 battery is better but still needs improvement.
The differences in features of both speakers are quite obvious. I know most people will agree that Studio 4 is better in this regard. Even though Studio 4 could do with some improvements, it's an upgrade on Studio 3.
Verdict: The app compatibility makes a lot of difference for Studio 4 since it allows you to connect two speakers in stereo mode.

Of course, I would not be connecting 100 speakers, but it feels good to know I have such an option. In the features department, Studio 4 does it for me.
Similarities
Studio 3 and 4 have very similar designs and build; shapes, materials, and buttons are almost the same.
The mid-frequency response of both Bluetooth speakers sounds similar.
Differences
While Studio 3 uses Bluetooth 4.1 version, Studio 4 uses Bluetooth 4.2.
Studio 4 allows you to use two speakers in stereo mode, but studio 3 only allows you to use two speakers to increase the overall volume, not in stereo mode.
Onyx Studio 2 vs Onyx Studio 3
Onyx Studio 2 is the Bluetooth speaker released before studio 3.
The Bluetooth version used in Studio 2 is Bluetooth 3.0. By today's standards, that's old school.
It only allows two devices to pair with the speaker at the same time. Also, you can only connect one speaker to the device.
By contrast, Studio 3 uses Bluetooth 4.1, which allows you to connect up to 3 devices and two speakers in dual mode.
The major differences are seen in the Bluetooth connectivity. Other features of both speakers are quite similar. Battery life, sound quality, frequency response, and other important factors are similar in both speakers.
Read our other popular posts:
Conclusion
As you have seen, Harman Kardon Onyx Studio 3 vs 4 have more similarities than differences. However, the differences are so important that they can influence your decision as to which one you would eventually choose.
I would pick the Studio 4 provided I can afford the extra buck, mainly because of the stereo mode option.