If you are looking for some of the best portable party speakers, you need to make sure that you choose the speakers that can be loud without any loss in quality.
Our Best Pick
Bose SoundLink Color II Bluetooth Speaker Soft Black (Renewed)
Best Value for Money
Sony XB10 Portable Wireless Speaker with Bluetooth (Yellow)
Loudest Party Speaker
JBL Xtreme Portable Wireless Bluetooth Speaker (Black)
Last update on 2023-12-08 / Affiliate links / Images from Amazon Product Advertising API
Added to that, having some extra bass with a built-in subwoofer is also preferred, as most of the parties play rock and hip-hop.
Some of the speakers may be portable with a rechargeable battery, and some others may need a power outlet.
Things to look while getting portable party speakers
With the wide variety of speakers available in the market, it may be a tough job for you to pick a speaker that serves your purpose well and is under your budget.
I would recommend you to go for portable party speakers as they'll be handy to use in any party situations, whether it be house parties, BBQs, or beach parties.
Sound quality
When it comes to party speakers, it's essential to buy speakers that are loud enough to spark up the dance floor. As you may have noticed, some of the speakers make a crackling or buzzing sound when in high volumes.
They sacrifice the sound quality for loudness. Although many of the speakers have good bass, they lack details, especially when in high volumes.
For parties with a large number of people, you need speakers with good pairing options. Also, I suggest you go with speakers that come with attractive lights for night parties.
Bass
As you'll be playing plenty of bass-heavy songs in parties, it's essential to have some punchy bass. Some of the party speakers do come with an inbuilt subwoofer for enhanced bass output.
The bass sets the real party mood. Previously, portable speakers were not offering good bass.
Nowadays, the bass-heavy party speakers like TREMOR Bluetooth Speaker offers up to 8 hours of playback at full volume and bass, and 18 hours for normal use.
Portability
Most of the party speakers are made portable to make them easily be used in different parties. They come with a rechargeable battery that can offer a decent playback time.
However, if you plan to play the speakers at maximum volume, it's crucial for you to choose a party speaker that has good playback time for a single charge.
For large parties or gigs, PA speakers are good enough as they are easy to carry around but you need to buy the amplifier separately.
For house parties, all you need is an active speaker that comes with a built-in amplifier. However, for a good size living room, desktop speakers are a good choice.
Bluetooth
With Bluetooth speakers, apart from playing music from the USB, you can also stream music from your smartphone. People are moving towards hip- hop music, nowadays.
Although there will be some loss in quality when playing via Bluetooth, some speakers that support AptX encoding works great.
However, do note that the smartphone should be near to the speaker even while partying in the case of Bluetooth. For house parties, the Bluetooth feature works great.
10 best portable party speakers picked for you
After extensive research, this post reviews some of the excellent speakers suitable for parties.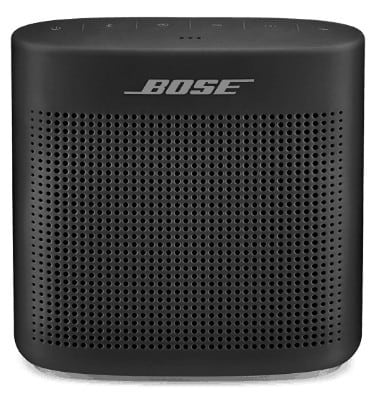 Specifications
Water resistance – IPX4 rating
Battery life – Up to 8 hours/charge
Siri/Google – Yes
Bluetooth connectivity – Bluetooth 4.2
Drivers – Dual 40mm Drivers
Wireless range – 33' / 10 m
Inputs – 1 x 1/8" / 3.5 mm Stereo, 1 x USB Micro-B
Voice prompts – allowed
Design and build
The Bose Color Bluetooth speaker II has a compact design and lightweight, making it ideal for mobile use. The top and bottom have an oval shape. The rounded corners are quite visible when you're viewing it from the front or rear.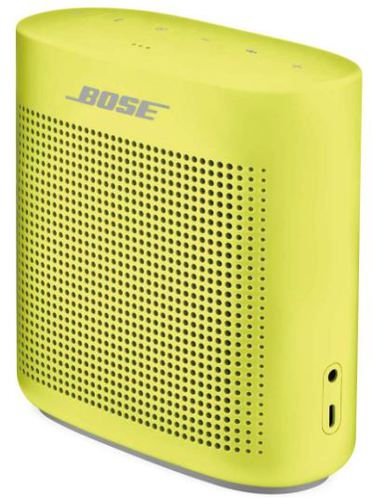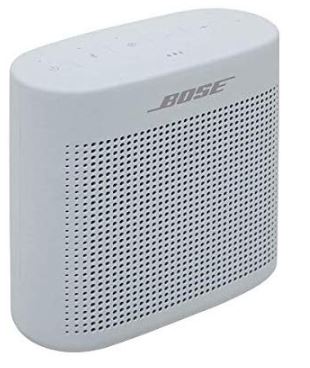 It's available in about six different colors, hence the name. This Bose Bluetooth speaker is easy to operate, with all its buttons on the top.
Control buttons:
The control and navigation functions are also quite easy to locate and operate. To make things easy, some buttons have more than one function. For example, the pause and play button can also be used to skip a track by double-tapping it.
Sound quality
In terms of sound, I'll describe Color as a bass head's favorite. The reason is not far fetched.
The bass frequency does quite well, bringing the energy needed to the music. However, the bass energy takes some toll on the mid and high frequencies. music may sound dull to the ears.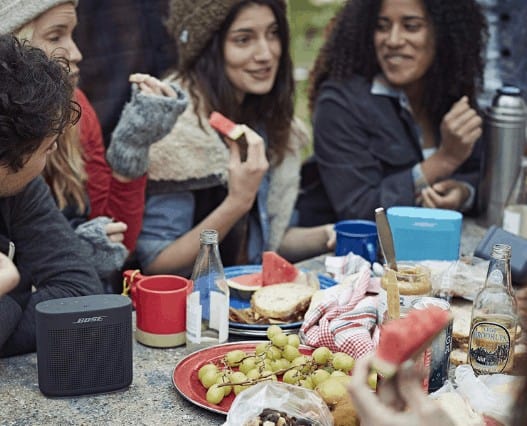 But hey, we're talking party speakers here, and to have your party lit, you need some banging bass, and the Bose Color gives you just that.
Another thing you would need from a speaker to get your party going is volume. If you must keep the party energy, you must keep the volume up, and sometimes you need to take the volume up a notch every now and then just to get the party going.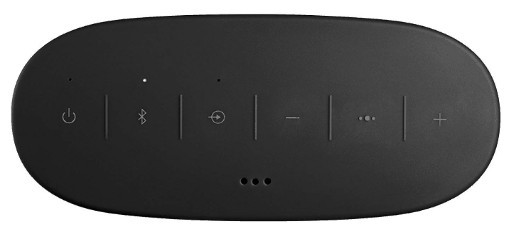 The Bose Color has enough room for these high volume needs. It provides not just loud volumes but also retains the high-quality sound as you keep turning it up.
Because of this Bluetooth speaker's size, the spatial representation of sound may be a bit underwhelming. You may not have a top-notch production of the soundscape.
Pairing options: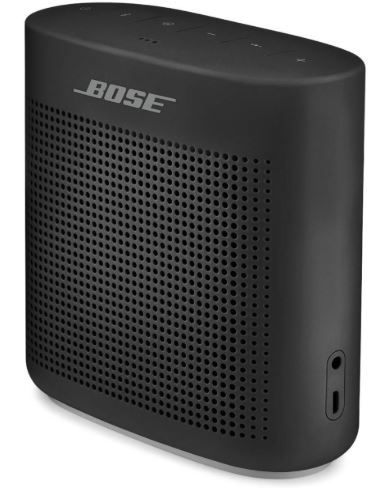 It pairs with your devices via Bluetooth, and it can effectively recall pairings for up to eight connections.

This means that when you connect your phone to the Bose Color once, you don't need to go through that pairing process anymore. It can do this with a maximum of 8 devices.
To get a blasting sound just pair two SoundLink speakers together in stereo mode. You can personalize your settings and switch between the devices with the help if Bose Connect app.
Waterproof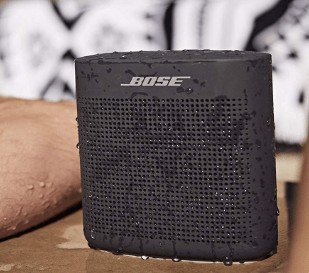 Bose Soundlink Color is water-resistant with an IPX4 waterproof rating. You can use it for beach parties without worrying about the speaker getting damaged.
Battery life
Bose Soundlink Color || comes with 8 hours battery life and has a rechargeable lithium-ion battery. The battery life is upgraded for 2 hours compared to its old version Bose Soundlink Micro which has only 6 hours of playtime.
Pros:
Compact design; good for mobile use
Easy navigation
Cons:
Stereo soundscape not wide enough
Specifications:
Weight – 4.6 pounds
Battery life – 15 hours of playtime, 10,000mAH rechargeable battery
Water-resistance – Splashproof
Speakerphone – Yes, noise and echo-canceling speakerphone.
Powerbank – Yes
Bluetooth version – 4.1
Signal-to-Noise Ratio – 80 dB

Build and design
Lightweight:
The JBL Xtreme weighs 4.6 pounds. This kind of weight erases any thought of mobile use or easy moving around of this speaker, although you may choose to carry it around if you intend to build some biceps.
The shape is cylindrical, and it is covered with mesh fabric that gives it a sleek look.
The buttons on this JBL speaker are pretty straightforward; something you would expect from a standard Bluetooth speaker, but with one unique addition.
Controls: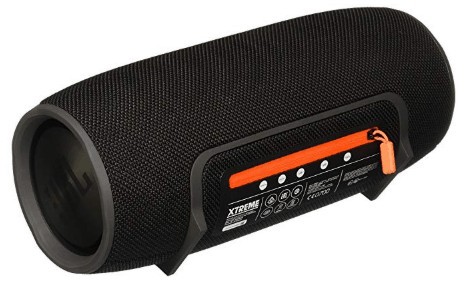 The JBL Xtreme has a dedicated button that allows you to connect to other JBL speakers seamlessly. This is a cool feature, although the use of it is another issue.

Well, I can think of one way this can be useful. If you can afford it, you can have a big party with the music blaring from JBL speakers only. Simply connect the speakers to each other with a dedicated button.
Sound quality
Why is the JBL Xtreme good for parties?
Because it can play music at very loud levels while retaining the sound quality. You can practically churn out your music and make your party guests keep vibing, even in bigger venues.
The low frequencies are well rounded, with no unnecessary boosts in the region. The mids are quite warm and the highs retain the clarity in the music.
For a party, I'm assuming you would need a good amount of bass to boost the energy in the room. Even if the choice of music is not hip hop or other electronic music, you still need some low-end performance.
Here, the JBL Xtreme does not disappoint. While you shouldn't expect an unnatural bass boost in the sound, this Bluetooth speaker is sure to cover all needed bass frequencies, no matter how low.

So, expect to have some nice sub-bass and 808 movements that would turn any party animal's head.
Battery life
The battery power is quoted as 10000mah, but the figures mean nothing if performance doesn't match up. In terms of practical use, the Xtreme would play music at loud levels for up to 15 hours, and at moderate levels for about 17 hours.
Pros:
Long battery life
Natural sound
Specifications;
Waterproof – IPX7
Battery life – 12 hours of playtime
Weight – 1.14 pounds
Charging time (hrs) – 3.5
Bluetooth version – 4.1
Speakerphone – included
Battery capacity (mAh) – 10,000
Transducer – Woofer 2 x 63 mm


Build & design
The JBL Flip 4 has 6 buttons; four on the side and two on the back. You can easily know how much power you have left via the five battery indicator lights.
I think this can be an important feature, and with time, you can predict how many hours you have left by how many indicator lights are on.
The speaker is available in 6 vibrant colors: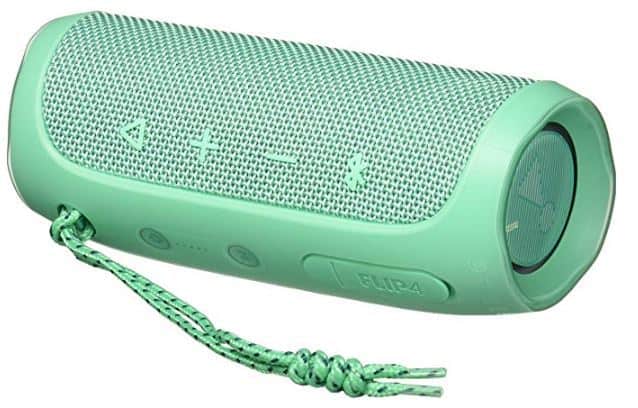 Sound quality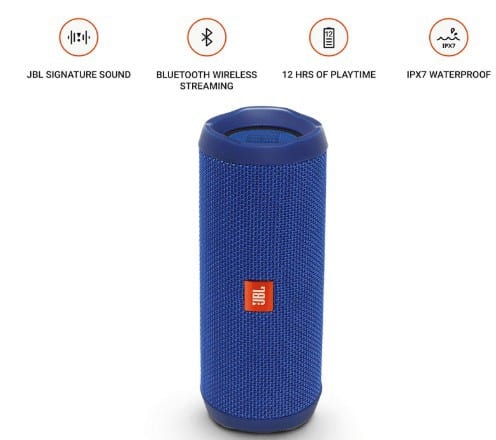 The JBL Flip 4 does a pretty good job of replicating the high frequencies. Your music will definitely not lack presence or clarity with this speaker.

Even at maximum volume, there is no audible distortion on the high frequencies. The mid frequencies have what I would call a disciplined sound too. No special artifacts, just replicate your music pretty well.
For the low frequencies, which are considered the party energy drivers, the JBL Flip 4 does a good production without mudding things up in the mid.
This quality is important because some Bluetooth speakers have such great enhanced bass that it boils over to the mids.
Waterproof
The JBL Flip 4 is a speaker you can take to the pool or the beach and not have to worry about it.
It has an IPX7 water resistance rating, which means that it will keep working, even when inside water.
Additionally, if you leave the Flip 4 on the sand, the dirt won't get in. While this does not mean you should go dipping your speaker in water just for kicks, it is refreshing to know that your heart won't be racing each time the speaker drops in water.
Still, on water resistance, you should know that the speaker does not float, so if you're going swimming in the ocean, you should leave it on the beach. If this JBL speaker falls into the ocean, just forget about it.
Battery life
One more feature I found interesting is the difference in the battery running hours when Flip 4 is used on max volume, and when the volume is halved. The battery life drops from 12 hours at 50% volume to 4 hours at maximum volume.
It has a built-in 3000mAh rechargeable li-ion battery.
Pros:
Comes with battery level indicator
Water-resistant
Cons:
Short battery running hours at maximum volume.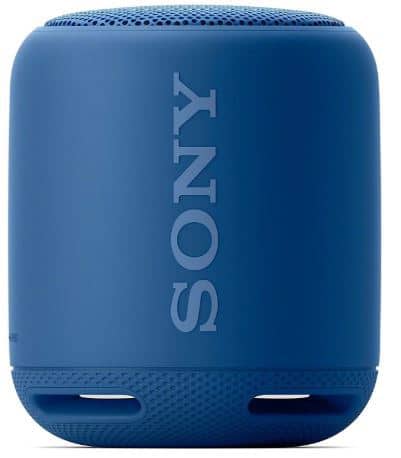 Specifications
Battery life – 16 hours
Speaker size – mono speaker 46 mm
Bluetooth version – 4.2
NFC – Yes
Wireless range – 33' / 10 m
IP Rating – IPX5
Passive radiators – 1
Inputs – 1 x USB Micro-B

Build and design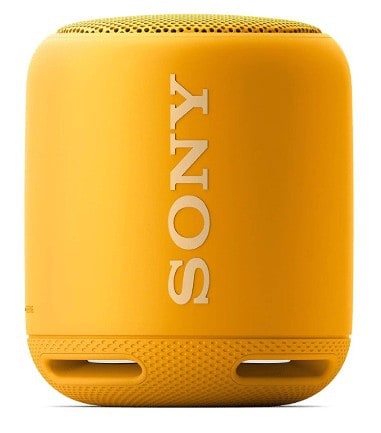 The charging port is a micro USB, and the speaker comes with a charging cable.
You can easily carry this speaker around since it is quite light and portable. One unique feature of this Sony Bluetooth speaker is the possibility of linking it with another of its kind via the wireless connection.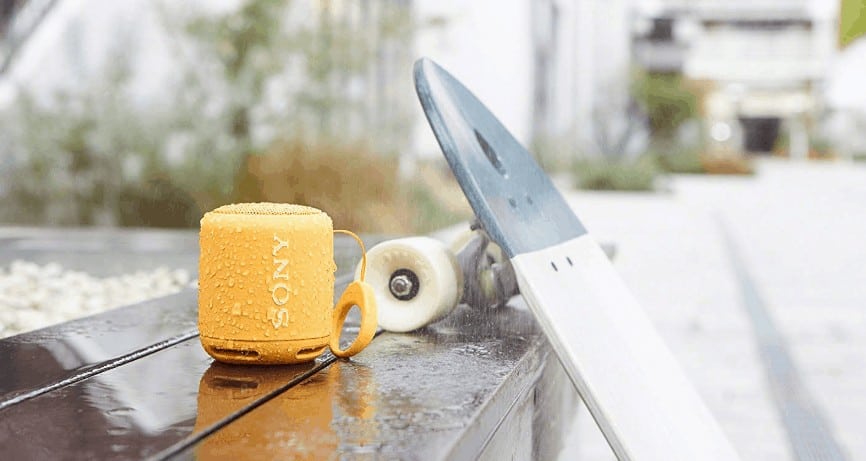 That's not all, you can form a stereo pair with two of this speaker. What this means is that, with two Sony XB10 properly positioned, your party can have a full range stereo sound with each of the speakers serving as the left and right channels.

You may not really understand how exciting this is if you haven't tried it yet.
Sound quality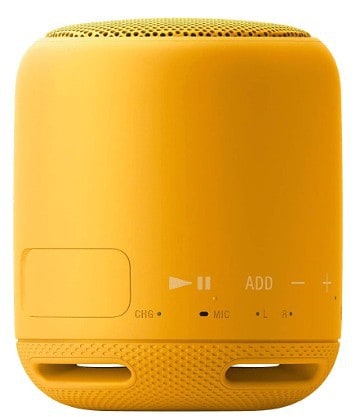 At moderate volumes, the low frequencies of this speaker are delivered solidly. Even up until the low mids, there is a strong, coherent delivery of the bass sound.
However, when you crank up the volume as you would often do in a party, you may start to hear some distortions in the low frequency.
The Sony XB10 seems not to be consistent with sound quality across all volumes, especially where the low frequency is concerned.
However, the mid and high frequencies are well reproduced, with no distortions at maximum volumes. There's an audible amount of presence and clarity in the speaker's production.
Waterproof
The XB10 is a Sony wireless Bluetooth speaker with an IPX5 water resistance rating. This means that it can withstand accidental drops in water for short periods; anything longer than an average drop-and-pick time may cause damage.
Battery life
Additionally, the battery when fully charged works for up to 16 hours. This may be more or less depending on your listening volume. For a party, you shouldn't expect up to 16 hours battery, unless you'll be sticking strictly with low volumes.
Pros:
Stereo pairing
Presence and clarity
Cons:
Low-frequency distortion at high volume.
Build and design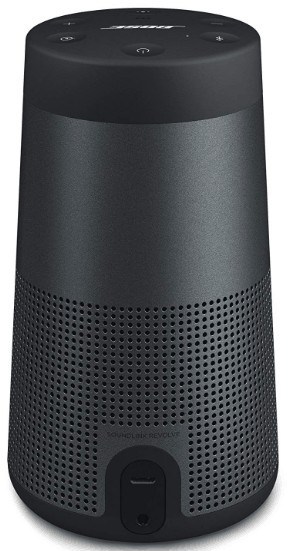 Specifications:
3" Full-Range Driver
Bluetooth 4.2 with NFC Connectivity
Built-In Rechargeable Battery
IPX4 Splashproof
Bluetooth: 4.2
Built in mic: yes
NFC: Yes
Battery life: 12 hrs
Weight: 1.5 lb / 0.7 kg
Build and design
The Bose Revolve is a cylindrical Bluetooth speaker with an aluminum finish on the curved surface.
The two circular faces of the Bose are covered with rubber that serves as a shock absorber that prevents damage in case of an accidental drop.
Like most Bluetooth speakers, the Bose Revolve is charged via a micro USB port. All the buttons are located on top of the speaker; power, volume, AUX and so on.
It is available in tow colors: Black and gray. This speaker is a travelers' favorite and is easily portable weighing just 1.46 pounds.
Sound quality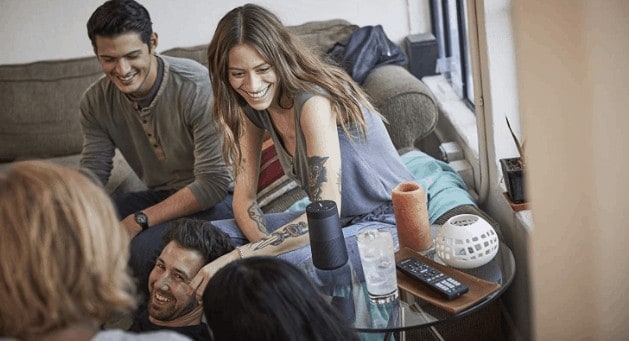 Sound quality
The Bose Revolve blares your music in 360 degrees! This means that sound literally comes out of all parts of the cylinder's curved surface. So, you really don't have to break a sweat over the speaker placement.
This Bose Bluetooth speaker produces quality sound and retains that quality even at maximum volume levels. This is important if you want your party to pop. No one wants to hear distortions in the music.
The low, mid and high frequencies are well reproduced. For bass heads and party animals in general, this speaker may not give the bass emphasis that you're looking for, but all you need is to place it close to a wall and listen to the magic.
Battery life
The manufacturers have quoted a run time of 12 hours for a fully charged battery.
However, in reality, I discovered that this is only true when the volume is set halfway. You should expect a lower run time if you're blasting music at a party.
Also, if you're planning to use the Bose SoundLink Revolve for a party, make sure you start your charging at least 4 hours before the party because that's exactly the amount of time it takes to get the speaker fully charged.
Pros:
360 degree sound
Consistency at high volumes
Cons:
Short battery life at high volumes.
Build and design
The built quality of this speaker is rugged. The build quality is the one that you notice when you unbox it for the first time. The speakers are made especially for outdoor use with a nice rubber sealing for the buttons.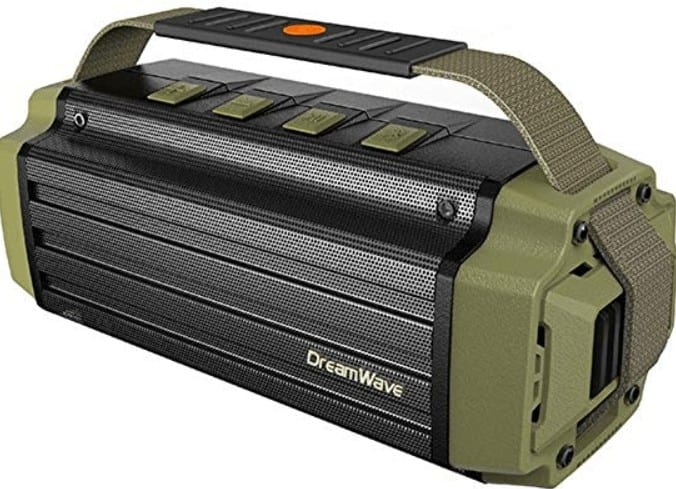 Sound quality
The loudness of the speaker is excellent as the name says it all – tremor. The speaker can go to high volumes without any hissing or crackling sounds.
The consistency of these speakers in various frequency ranges is great. The bass is roaring, and the treble is excellent. The bass is shockingly deep even in open-space environments.
The two passive radiators coupled with powerful full-range drivers does the bass magic.
The sound can go loud so that you may end up closing your ears when playing with these indoor. At any level of volume, the sound won't distort at all. Thanks to the anti-distortion circuitry that does the job well.
You can pair your smartphone with this speaker with Bluetooth. You can also use the NFC feature by placing your smartphone device on the left side of the speaker near the small NFC logo.
The only downside of this speaker is that the sound is directional. If you want the omnidirectional sound with the same sound quality, go for BigBlue Party speakers that I've reviewed below.
Waterproof
The speaker is rated IPX5, which can survive rain or any water splashes. The speaker is also shock-proof to some extent.
We can call this the perfect rugged party speaker you can ever get for the price. It's a great speaker both indoor and especially for outdoor use.
Battery life
The main reason why I picked up these speakers as the best speakers for parties, because of its massive 20800 mAh that offers up to 15 hours of playback.
Pros:
Long battery life
Excellent bass
Build and design
A powerful 5 1/4' woofer and a passive radiator are built right into the speaker, which sets the right mood for the party. The bass is as powerful as a separate subwoofer, which is surprising.
The connection is Bluetooth. This means you need to have your Bluetooth enabled device or your smartphone near to the speaker for it to spark up the party.
Sound quality
This speaker comes with four full-range drivers. These drivers enable the speaker to produce 360-degree sound.
The bass is roaring, and the trebles are also crystal clear. The speaker can get to any loudness with no distortion in sound quality at all.
I was amazed by the loudness of the music these speakers offer. Thanks to the drivers that are housed in every direction, giving you omnidirectional full range playback.
Waterproof
The speaker is also resistant to rain and splashes of water. This is great for pool and beach parties.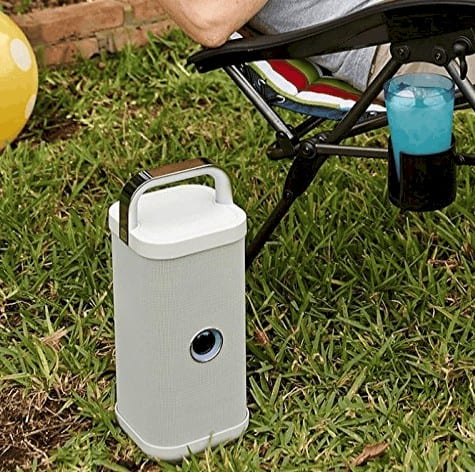 Battery life
This speaker offers you up to 5 hours playback in full volume after charging it completely and 10 hours of playback at moderate volume.
Considering the sound to be omnidirectional with four drivers, this is decent. Using the speakers even while charging will not cause any damage to the speakers, which is great.
Pros:
Powerful bass
360 degree sound
Cons:
Battery life is quite low
Build and design
Once you open the box, the first thing you notice is that the speaker is large. The speaker is too big to be called a Bluetooth speaker.
However, the speaker stand comes with transportation wheels to make the moving of speakers easier.
The speakers are well built. When gauging the durability of these speakers, the first thing you notice is that the corners of the speakers are reinforced with steel. The construction seems very durable and professional looking.
This 50 watts speaker offers good bass than most of the Bluetooth speakers with the dedicated bass port.
The lighting fixture at the top of the speaker is a great attraction. You can set the lightings to be normal, random or sync according to the music beats.
You are free to download the Party Rocker app for your smartphone and control the lighting speed and colors. This also allows controlling the normal settings of the LED lights on the speaker itself.
Sound quality
The speakers can get very loud without any distortion for outdoor parties depending upon the settings of the speaker and also the smartphone which you connect to it via Bluetooth.
The one downside is that you can't control the treble or the bass in the speaker itself. You need to tweak them in your smartphone settings.
The Bluetooth range seems to be quite short compared to other speakers in this range. However, this may not be an issue for you if you use the speakers close to your smartphone
Battery life
The battery life is too good and lasts up to 10 hours in moderate volume. It takes only 2 hours to get fully charged which is decent.
Pros:
Great build
Comes with moving wheels
If you are looking for a good party speaker from Sony, this speaker won't disappoint you. This speaker measures 3ft wide and roughly 1.5 fit and is very portable to go to parties.
This is a 420 Watt speaker, which means you need a power outlet for it to work. This means, if you are planning to use the speaker in beaches and pools this may be a setback to you.
This speaker is only suitable to be used in home parties and may be in BBQs. Needless to say, this is a serious downside for most of them. If this speaker is made wireless without sacrificing sound quality, it would be in my top 3 picks.
This speaker supports Bluetooth, USB, and AUX. With these options, you don't need to rely only on the Bluetooth for playing your music.
The DJ LED lights are a bonus and are nice to have. There are different LED settings; you can tweak and play with them.
But the lights are not so dominant and fancy as that of ION Audio Block Party Live which I've reviewed above.
Sound quality
The speaker comes with two large subwoofers and 2 tweeters to perform well in the lower range and as well the treble range.
The bass is thunderous. If you don't like the powerful bass of the speakers, you can always turn the bass off to normal by hitting the 'bass bazooka' button.
The speaker performs great across all the frequencies and sounds absolutely loud when the volume knob is maxed.
Pros:
Provides good control over the bass
Great control features
Cons:
Not suitable for outdoors
Build and design
This speaker is an upgraded version of the previous ION Audio Party Rocker Live, which is currently priced at a lower price and lacks some fancy features like spinning lights and karaoke effects. These both sound the same.
Like that of any other ION Audio party speakers, the main attraction is LED lights. In this speaker, the LED light fixture spins causing a dynamic mood at the party.
The lights can be switched off, synced with the music, or can be controlled with the app as per your wish. It also comes with various light colors.
With this speaker, users have the ability to stream the music from Bluetooth or plug in the smartphone with AUX cable directly.
Sound quality
The speaker is rated at 50W power, and has a powerful 6.5" woofer and wide-dispersion tweeter. The overall sound quality is excellent.
The bass is great but seems to distort a little when in high levels and volume for some music genres.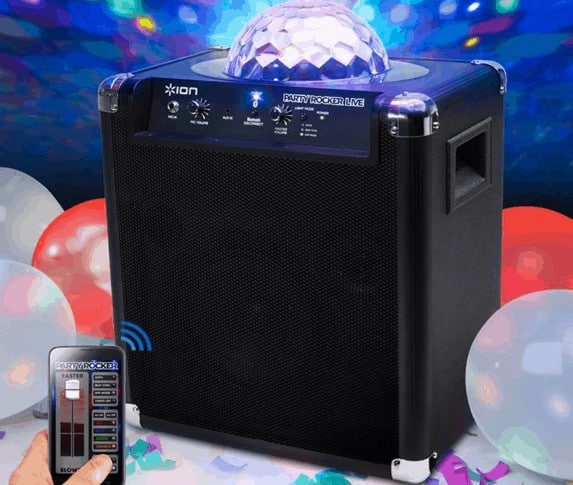 The bass is decent and punchy. As usual, you can boost the bass further by tweaking the music player settings in your smartphones.
Battery life
The battery life lasts for 8 hours at a decent volume, which is great. Nevertheless, it takes less than 2 hours to charge the battery back up fully.
Pros:
Comes with great LED lightings
Bass is good
Recommended read:
Wrapping up
These are some of the best party speakers that you can buy today.
As you may have noticed that portability is one of the most important aspects you need to look for in party speakers. If you are going for battery-powered speakers, make sure that the battery life is excellent.
Also make sure that the build quality is excellent, that too when planning to buy the speakers for outdoor use. The rugged construction with IPX5 ratings is good to go. The speaker should survive while trekking, pools, beaches and plenty of abuse.
What do you think is the best portable party speakers for the price?