In this post today I will review the two amazing Bluetooth speakers with blasting sound i.e. JBL Flip 4 vs UE Boom 2.
JBL Flip 4 and UE Boom 2 are two popular products among music lovers all over.
Last update on 2023-09-21 / Affiliate links / Images from Amazon Product Advertising API
They are quite similar in structure, features, and even sound quality and performance, which makes it hard to choose between them at times.
This is quite common in most JBL vs UE boom comparisons. At their price points, Flip 4 and Boom 2 are two of the most sought after wireless outdoor speakers, even though they're quite similar.
Are there any differences between Flip 4 and Boom 2? Is there anything to consider before picking one of them? Which one is better between JBL Flip 4 and UE Boom 2?
This article answers all of these questions and more.
Let's get started.
Features
JBL Flip 4
Ultimate Ears Boom 2
Weight
515g
548g
Playback time
Up to 12 hours
Up to 15 hours
Bluetooth version
4.2
4.2
Voice recognition
Google Assistant and Siri
Google Assistant and Siri
Controls
Power on/off, volume
Volume
Hands-free function
Yes, speakerphone included
Yes, speakerphone included
Battery
Rechargeable lithium-ion,
capacity 3000 mAh
Rechargeable lithium-ion,
capacity 2200 mAh
Recharge time
3.5 hour(s)
2.5 hours
Waterproof
Yes, IPX7 rated
Both waterproof [IPX7] & shockproof
Dustproof
Yes
Yes
Amazon product page

Buy Flip 4

Buy UE Boom 2
JBL Flip 4 vs UE Boom 2: Let's find the winner
Build and design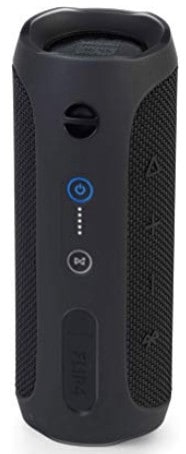 JBL Flip 4 has a very familiar design; the cylindrical shape, most common with Bluetooth speakers. The unique side of this design is the exposed bass radiators on either side of the speaker.
It's built for outdoor efficiency. The fabric that covers the speaker's grille and protects it from any dust or dirt particles.
UE Boom 2 is quite similar in terms of shape, looks, and even the fabric. Thankfully, there are no exposed bass radiators on this one. This marks the major difference when you have your first look.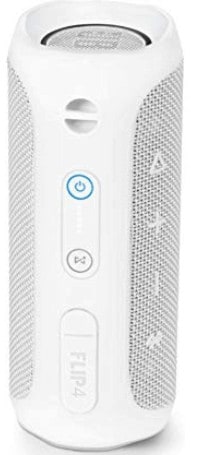 Both wireless speakers are available in a number of flashy colors. You're surely going to find a favorite among them.
Flip 4 comes in black, white, blue red grey and green. Friendly advice though; if you plan to take your speaker out on the beach, do not buy white; it usually doesn't end well.
Boom 2 mixes up the colors a bit, giving you a more flashy mix of the colors.
It's available in red (cherry bomb, phantom(grey and black), Greenmachine (green and blue), tropical (purple and orange, white (Yeti) and Brainfreeze (blue).



All the fancy names are just for the different color combos; no extra features added.
You can connect your phone through wired the aux if you wish; both speakers have 3.5mm ports that enable you to do just that.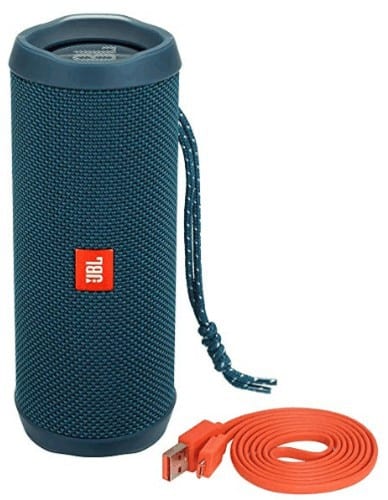 Also, besides the aux ports are micro USB charging ports. These are covered with flaps that blend in with the rest of the speakers' exterior.
UE Boom 2 has larger control buttons; the button for increasing its volume stands as a big cross on the speaker. This helps you navigate the buttons easily.

You can simply reach out of the shower to change the music with your eyes closed. Flip 4 has relatively large buttons too, just not as large as the Boom's.
Also, the Boom 2 is lighter; almost 200g difference. Unless you're holding the speakers for several hours, this shouldn't be a bother.
Verdict: Being the lighter and flashier one, Boom 2 wins the build and design category.
Features
Unboxing the JBL Flip 4, we find a micro USB cable for charging, a safety sheet, a quick start guide and a warranty card. Oh, and the JBL Flip 4 speaker too. No wall charger included though.
Boom 2 comes with a wall charger, alongside the MicroUSB cable, instructions and warranty information.
Moving on to connectivity options, both speakers give you the option of using a wired connection via the 3.5mm aux ports.
It's funny they did not provide aux cables though. Maybe they don't really want us using the wired option.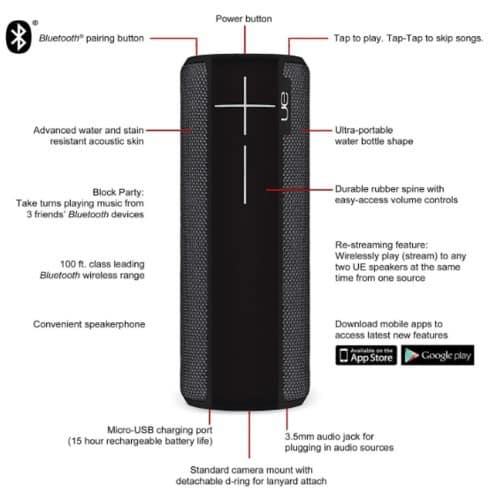 For a wireless connection, both the Flip 4 and Boom 2 allow you to connect 2 devices at the same time. This way, you can answer a call from your phone while watching a video on your computer without stressing.
Both support Bluetooth version 4.2 with a range upto 100ft distance without any solid barriers. A Flip 3 vs UE boom 2 check shows that Flip 3 allows up to 3 devices at the same time.
Now, here comes the difference in wireless connection: UE Boom 2 is equipped with the NFC feature and can connect with NFC enabled devices with it. Flip 4 lacks NFC.
UE Megaboom and JBL surely had the outdoors in mind when making these speakers. Both devices can withstand immersion in water.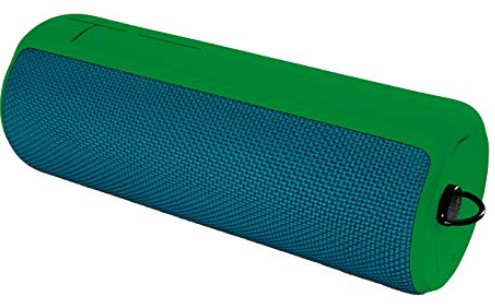 Of course, you shouldn't leave it in the pool (who does that anyway?), but if it falls in, you can simply pick it up without any worries.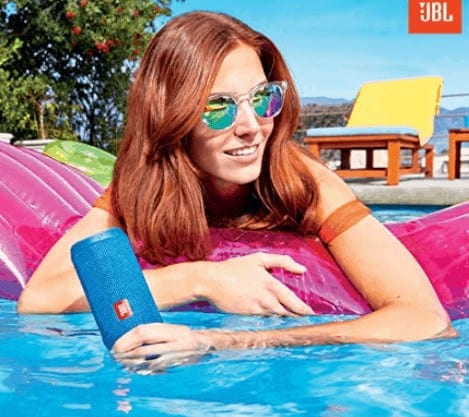 The fabric also makes your beach trips a lot more fun. Sand or dust can't get in the speaker grille.
These two speakers definitely have a lot in common, but Boom 2 edges out Flip 4 in the power department with 15 hours of playback time, as compared to 12 hours on flip 4.

If you compare Flip 4 vs Flip 5, both have the same amount of battery life. But Flip 3 has 2 hours less battery life compared to Flip 4.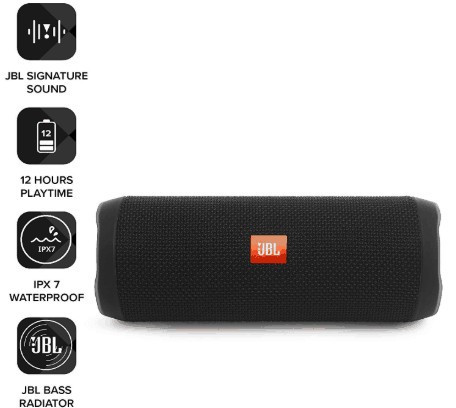 Of course, there may be some difference when you're playing at very high volumes, but both speakers are affected in that regard, so UE Boom 2 still has it.
If you have the JBL Connect app, you can connect two Flip 4 speakers in party mode, making both plays the same sounds, or set them as stereo speakers, using one as right and the other as the left channel.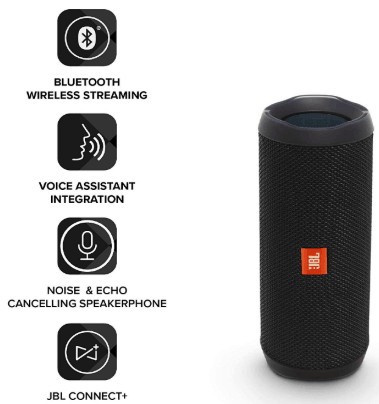 The stereo option would be awesome for a movie night with friends while the party mode works well for parties. Hence you can use Flip 4 as the best party speaker.
However, you can't connect Flip 4 to other JBL speakers like the JBL Flip 3 or JBL Charge 3.
Boom 2, on the other hand, can only do the party mode, although you can connect it to Boom, Boom 3 and Megaboom speakers; up to a hundred of them!
Voice recognition is similar in both speakers. You can access Google Assistant and Siri too. This enables you to use voice commands to control all features. If you compare JBL Flip 4 vs Charge 4, Charge 4 lacks speakerphone.
Verdict: While Flip 4 may lack NFC, it provides a stereo connection option via the app, which Boom 2 does not. The stereo option will make me choose Flip 4 here.
Sound quality and performance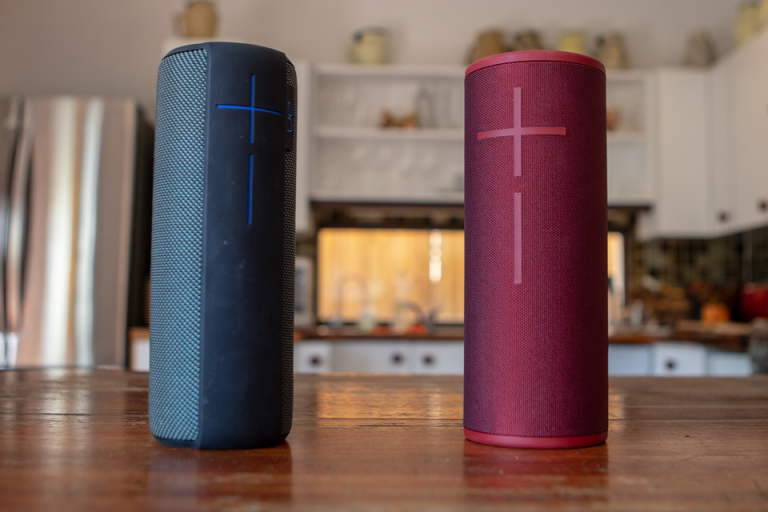 Bass
The bass sounds in both speakers do not reach as low as hip hop and electronic music fans may like. It's understandable given the size of the bass radiators.
However, the bass that comes out is actually well defined. Flip 4, in particular, does not clip or distort at all in the low frequencies, even at the highest volumes.
Boom 2 sounds quite similar in the low frequencies. At high volumes, the bass sounds stay smooth but expect shorter battery life if it stays that way for long.
Mids
Listening to both speakers, it seems there's a built-in smile-shaped EQ in both of them. This is because the mid frequencies are reduced just a bit.
You may not feel a lot of differences of you listen to pop and electronic music alone, but with jazz and other acoustic music, some of the midrange elements seem to be a bit muddled. Again, this is true for both speakers.
Highs
In the high frequencies, that there's no harshness even at high volumes in JBL Flip 4. On boom 2 though, you may experience some slight over brightness sometimes.
Verdict: That slight harshness at maximum volume makes Boom 2 best in this category.
Flip 4 vs UE Boom 2: Similarities and differences
Similarities
JBL Flip 4 and UE Boom 2 have very similar shapes and designs, although lots of other Bluetooth speakers have the same shape.
Both speakers offer wired connection options with micro-USB charging.
Boom 2 and Flip 4 both are water-resistant and dustproof.
In terms of sound quality, both speakers have well-defined bass, although not very deep.
Relatively, both speakers are lightweight. They're also easy to carry around since they're not bulky.
Differences
UE Boom 2 has the NFC pairing feature, which is absent in Flip 4
Though both connections allow you to connect multiple speakers, only Flip 4 gives you the stereo mode option. Boom 2 gives only the party feature, but with more speakers.
Boom 2 gives 360-degree sound, with audio coming from all sides of the speaker, while Flip 4 has louder angles.
Pros and cons
JBL Flip 4
Pros
Can survive being submerged in water.
No distortions even at very high volumes.
Rugged enough for outdoor use
Cons
Lacks NFC feature.
Can only connect Flip 4 speakers; rejects other JBL speakers.
UE Boom 2
Pros
360-degree sound gives equal production from all angles.
Has NFC pairing feature.
Can connect with more than a hundred Ultimate Ears speakers.
Cons
Can be a little harsh in high frequency when playing at maximum volume.
Can't connect in stereo mode.
Read Also: How to Fix Bluetooth Lag in Car? – 8 Super Quick Solutions
Verdict
So, which one do you guys think is the winner among JBL Flip 4 vs UE Boom 2?
Both speakers offer very similar features, which makes it a bit difficult to pick one out or the other. Having said that, the subtle differences are enough to draw a conclusion.
Boom 2 gives 360-degree sound, which can be a really good feature, especially in a room party. Everyone in the room gets the same quality of sound regardless of what side of the speaker they are.
Even though Flip 4 doesn't have 360 degrees sound, it gives smoother sound when it's at max volume. This makes it good for house or block parties.
Additionally, Boom 2 offers 3 more hours in battery life. 3 hours is a lot. You can watch a movie (or two) at that time. If you're playing music, that's more than enough time to play two albums.
Adding the NFC in Boom 2 to the mix, I think the Boom 2 has an overall slight edge here.