Today in this post we are going to review JBL Charge 3 vs UE Megaboom and help you decide which speaker is best for you.
Last update on 2023-09-21 / Affiliate links / Images from Amazon Product Advertising API
Everybody loves a speaker that delivers excellent sound on all occasions. Something that will rock your apartment with the best bass for your EDM.
At the same time, you can take it with you when going outdoors, and the party doesn't stop.
JBL Charge 3 and UE Megaboom are two of such speakers. Tough, wireless, good for both indoors and outdoors, the list goes on.
However, if you were to choose between these two speakers, which should you go for?
Is there anyone of them that is better for indoor use or outdoor use?
Are there any issues that you need to consider before choosing any one of these two speakers?
All of these questions are answered in this article.
First, let's start with what these portable party speakers look and feel like.
| | | |
| --- | --- | --- |
| Features | JBL Charge 3 | UE Megaboom |
| Weight | 800g | 877g |
| Frequency Response | 65Hz – 20kHz | 60Hz – 20kHz |
| Does it have a USB port? | Yes | Yes |
| Waterproof | Yes, has an IPX7 rating | Yes, has an IPX7 rating |
| Battery life | 20 hrs | 20 hrs |
| Drivers | 2 45 mm drivers | 2 51 mm drivers |
| Does it come with stereo speakers? | Yes | No |
| Charge Time | 4.5 hours | 2.5 hours |
| Amazon product page | Check price | Check price |
JBL Charge 3 vs UE Megaboom: Let's find the winner
Build and design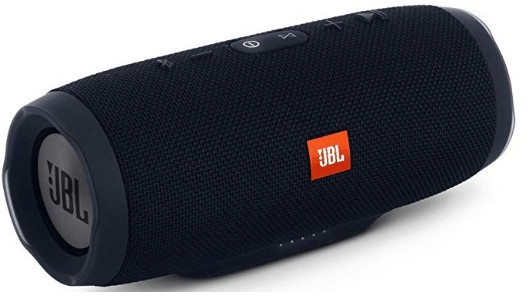 The similarities between JBL Charge 3 and UE Megaboom are obvious even from the construction.
The Charge 3 has a cylindrical shape, with rubberized ends. The rubberized ends are both for protection and balance.
The bass radiators are exposed, so the rubber ends help to protect them from harmful contact. Also, in terms of balance, the rubberized ends enable you to stand the speaker vertically.
UE Megaboom is quite similar; it's cylindrical, although not as rounded as the JBL. There's also not much difference in the size and weight of these speakers.
Although, some users may notice some difference in weight. UE Megaboom is about 77 grams lighter than the JBL charge.
Actually, both speakers are quite heavy. If you place any of them in your backpack, you'll certainly feel the pull on your shoulders. This is why I won't really recommend it for taking a stroll or running for exercise.
If you want lighter JBLs, go for the flip speakers; JBL Flip 5, Flip 4 or Flip 3. Another brand you can look at is the Bose Soundlink speakers.
Both these speakers are very good for indoor and outdoor use. Well, almost every speaker is good for indoor use, but when it comes to outdoor use that some of them fail.
For JBL Charge 3 and UE Megaboom, they're made for outdoor use. I say this because they both have an IPX7 waterproof rating.
This means that they can survive being submerged in water for up to 30 minutes. Of course, I wouldn't advise you to go dipping them every now and then, but if you happen to be at a pool or at the beach, you don't need to worry about damage.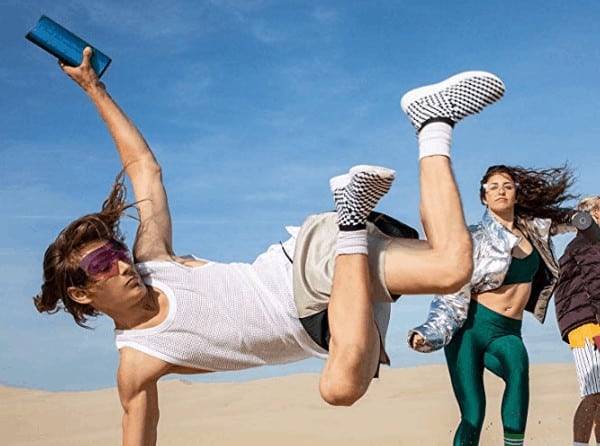 Ultimate Ears and JBL really made their speakers for everyone, and it shows. They are available in different attractive colors: red, blue-gray, violet, and of course, black. You can buy a color that suits you without affecting your room design.
Verdict: Both Bluetooth speakers are similar from a design perspective. However, while the exposed bass radiators on the Charge 3 look really cool, it prevents you from placing it vertically. So, I'll go with the UE Megaboom here.
Sound quality and performance
Lows:
Because of its size, you expect Charge 3 to produce powerful bass, and it does. The two bass radiators do their job quite well.
Since the lower frequency starts from 65 HZ, you may miss out on some sub-bass vibration, but you still get a lot punchy from the bass.
Also, because of the bass radiators, you can't place Charge 3 vertically. If you do, you'll be blocking some of the basses. For maximum enjoyment, place it horizontally.
Megaboom has a similar bass response, but unlike Charge 3, you can place it vertically and still enjoy your sound to the fullest.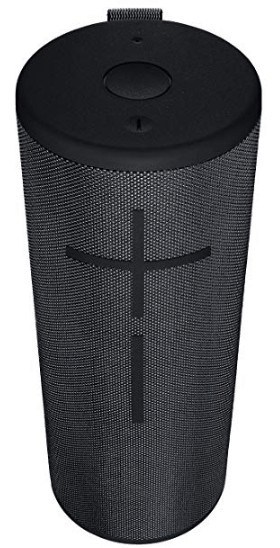 Also, Megaboom gives you 360 degree sound. This means that you hear the same quality of sound regardless of which side of the speaker you are.
Charge 3 does not sound the same from all sides. So, to enjoy the Charge 3, place it horizontally, with the logo facing you. For 360-degree sound, go for JBL Pulse 3 or Pulse 4.
Mids:
Mids sound similar in both speakers. There's enough clarity to hear the elements in this region; guitars, vocals synths, and others.

I should note here that both JBL and UE Megaboomhave jus the right amount of mids. In some other speakers, the mids are more reduced to give more room to the bass and treble.
This makes such speakers not suitable for some genres or styles of music.
Charge 3 and Megaboom's mids are full and clean. This makes them good options for jazz and classical music lovers.
Highs
The highs are also clear but seem to lack some brightness. This is common in waterproof speakers.
It's usually because of the material used to cover the speaker grille to protect it from water. You will notice this more with Charge 3 than with Megaboom.
It does not imply that music from these Bluetooth speakers is dull. Their highs are still quite bright. You only notice such changes when playing songs with a lot of harsh or loud high frequencies.
Pairing options:
UE Megaboom has another slight advantage over Charge 3: You can connect another Megaboom to it in stereo mode.

Using the app, you can pair two Megaboom speakers and you have a full of stereo.
On the other hand, UE Megaboom 3 offers excellent pairing options. You can connect two of them in stereo mode. Also, you can pair it with multiple Ultimate Ears Boom, other Boom series speakers like Boom 2, Boom 3 for more volume.
For the JBL, you can use the connect app to pair multiple JBL speakers to give louder sounds.
These speakers are also quite loud. They're definitely made for outdoor use.
Verdict: I would have called a tie here since they sound alike. However, Megaboom has 360 degrees sound and Charge 3 doesn't; so I'll go with Megaboom here.
Features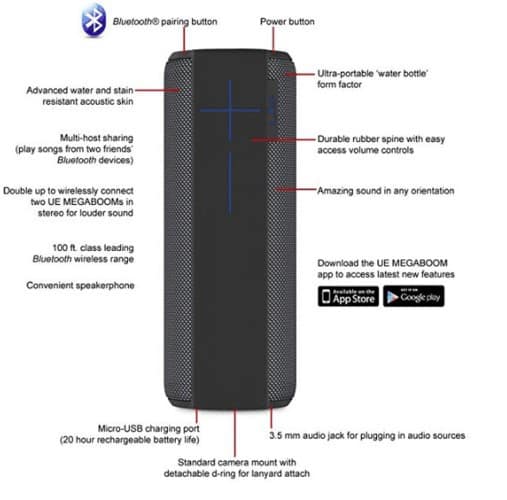 NFC connectivity:
The first major difference in the features of these speakers is NFC connection capability.
Megaboom has NFC which you can use to pair devices by simply touching one end of the speaker with your phone or other NFC enabled device.
Charge 3 does not have this feature. In terms of connectivity. The Bluetooth streaming in Charge 3 is clear for about 50 feet if there are no walls to disrupt the connection.
However, you can still get 20 to 30 feet even if you are in another room with walls in between. The range of Bluetooth connection is similar for both JBL Charge 3 and Ultimate Ear Megaboom.
Battery life:
The JBL portable speaker has a similar battery life when compared to UE Megaboom.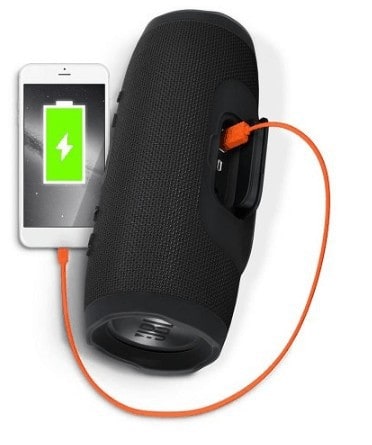 Both batteries can last as long as 20 hours. You can also use Charge 3 as a power source to charge your phone and other devices. It has an input port for that purpose.
Drivers:
Additionally, each of the speakers had four drivers; two bass drivers and two tweeters.
Waterproof/dustproof:
In addition to being waterproof, UE Megaboom is also dustproof, which means that even the smallest dust and sand particles won't get inside the speaker or damage it.
This is important if you wish to take the speaker to the beach. You wouldn't have to worry about the sand damaging it. Charge 3 is also waterproof and dustproof with an IPX7 rating.
Verdict: Megaboom has NFC which the JBL doesn't have, but with the JBL, I can charge my phone outdoors. I think I'll go with JBL here. I can't use NFC if my phone battery is dead anyway.
JBL Charge 3 vs UE Megaboom: Similarities and differences
Similarities
Each of the speakers has 20-hour battery lives.
JBL Charge 3 and UE Megaboom have similar frequency response and actually sound alike.
With the apps, you can achieve both loud party music and stereo sound with both the Charge 3 and UE Megaboom.
Voice assistant feature is available for use on both speakers.
Differences
While you can connect your device to UE Megaboom using NFC, Charge 3 only offers the traditional Bluetooth pairing model as the only wireless option.
UE Megaboom offers 360-degree sound and gives the same performance whether you stand it up or lay it down. On the other hand, Charge 3 only sounds well when in a horizontal position. Also, it doesn't give 360-degree sound; it has a good side.
When you're outdoors, you can use Charge 3 as a power bank if your phone runs out of battery. You can't do this with UE Megaboom.
Pros and cons
JBL Charge 3
Pros:
The waterproof casing protects it from damage by water splashes.
It can be used as an additional power source for phones.
Loud sound; good for house parties.
Cons:
Doesn't have the NFC feature
High frequencies are not very bright.
High frequencies are not very bright.
Bass radiators are exposed.
UE Megaboom
Pros:
NFC enabled.
Available in various attractive colors.
Punchy bass.
Cons:
Can't stand vertically while it's charging.
You can't use it as a power bank
Read our other popular posts:
Conclusion
It's time to announce the winner in JBL Charge 3 vs UE Megaboom battle.
These two portable Bluetooth speakers have very good features, and it even gets better with later versions.
UE Megaboom 2 and Megaboom 3 have a lot more to offer, while JBL Charge 4 gives you the NFC that is absent in Charge 3.
The power bank feature of Charge 3 is really tempting, but so is the NFC and 360 degrees sound in UE Megaboom.
If I must choose, I'll go with the UE Megaboom, since I won't be making so much sacrifice in terms of price. If I need stereo sound, I would love to stand both speakers vertically. Charge 3 does not give me this freedom.