Today in this post let us decide which among Sennheiser PXC 550 vs Bose QC35 is the best noise-canceling headphone?
Last update on 2023-12-08 / Affiliate links / Images from Amazon Product Advertising API
Sennheiser and Bose are well-known names in the headphone manufacturing industry. It's no surprise that these products are usually compared with each other. They're like the Apple and Samsung of wireless headphones.
Sennheiser PXC 550 and Bose QC35 are two good examples of the quality that these companies are capable of. They're both wireless Bluetooth headphones with active noise cancellation. Thes similar features make them favorites in their target market.
However, we want to know which one of these two is better.
Are there any differences between these two noise-canceling headphones?
Which one sounds better, Sennheiser or Bose?
Let's find answers to all these questions.
| | | |
| --- | --- | --- |
| Features | | |
| Bluetooth connection | AptX Bluetooth connection | Standard Bluetooth connection |
| Sound Pressure Level | 110 dB | 110 dB |
| Headphone design | Over-ear | Over-ear |
| Battery life | 30 hrs | 20 hrs |
| Alexa Enabled | No | Yes |
| Amazon product page | Check price | Check Price |
Sennheiser PXC 550 vs Bose QC35: Here are the subtle differences
Build and design
The Sennheiser PXC 550 has a very comfortable design. You notice this on the earcups when you put it on.
They have leather pads that do not irritate your skin even after long hours of use. Even the headband is padded, and it does not clamp on your head too hard. The oval shape of the earcups makes them fit well without being too tight.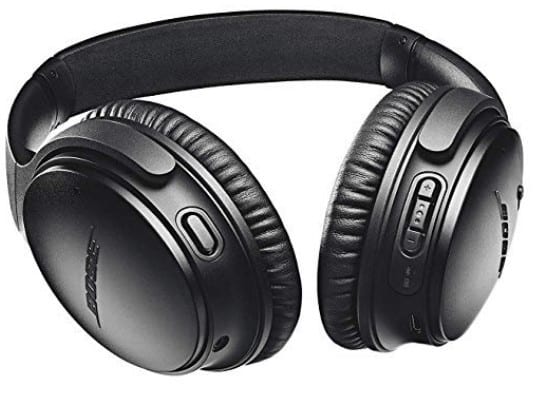 Also, the headband is adjustable for different head sizes. Similar to this, Bose QC35 also has an impressive fit on the head. Like the Sennheiser, there is enough padding to make sure that your head never hurts from putting them on.
Bose QC35 has a very good balance. This means that the earcups are not much heavier than the headband. Since the weight is well distributed, it makes it easier to wear them for longer periods.
Both pairs of wireless headsets can be folded to reduce their size, but the Sennheiser folds better. QC35 can still be a bit bulky after folding.
The PXC 550 also powers off automatically anytime you fold it and powers on when you unfold. Cool huh?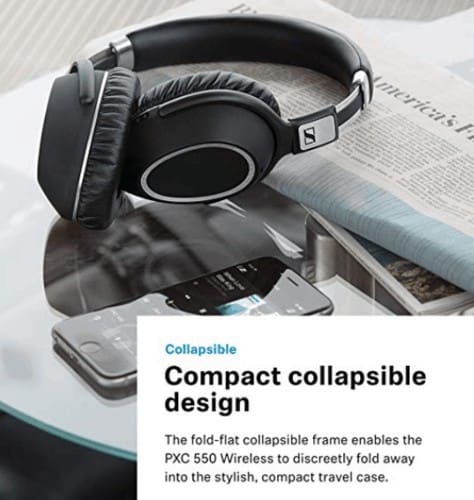 Personally, I wish my headphones to not be flashy in any way. Which is why I dig the matte black design of PXC 550.
It looks really cool and not flashy at the same time. It's also the only color in which the headphones are available. QC35, however, has something for lovers of glitter. These wireless headphones are available in both black and silver colors.
Both pairs of Bluetooth headphones have a number of buttons to navigate their controls. The Bose QC35 has more control buttons than the Sennheiser.
However, fewer buttons on the Sennheiser may not really be a disadvantage, because it has some features that you can control with your gestures alone.
Both pairs have the active noise cancellation switch, but that's where it stops for PXC 550. The QC35 has the pause, and skip buttons.
Sound quality
While there are slight differences in the sound profile of these headphones, they are similar in many ways.
One really good part that impressed me was how wide the soundstage is for both headphones.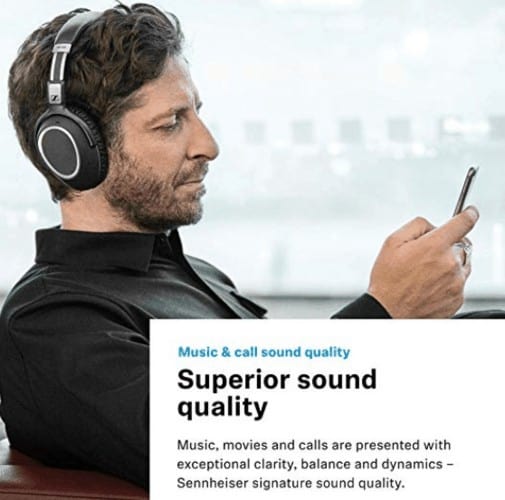 They sound really open and almost make you forget that all the sound you're hearing is coming from two small cans on your ears.
They sound more like you are in a larger space. We usually have this experience with open-back headphones, but to have it with closed-back ones like these is very nice.
Lows:
Both the PXC 550 and QC35 have a similar bass response. The bass is punchy and you will definitely love all your bass-heavy songs with them.
Even songs with not so much bass sound well rounded in the low frequencies. However, the PXC 550, can sometimes sound a little heavy on the bass, especially when you're listening to genres like trap and some bass-heavy EDM songs.
Mids:
The mid frequencies of both headphones are quite good, with no serious emphasis on the frequencies. This is acceptable since our ears generally pick mid frequencies more easily.
Also, most instruments and mics are boosted in those areas, so they should naturally be audible without a mid boost.
The Sennheiser headphones give you some options though; you can choose speech, movies, music or club mode. This will automatically make changes to the EQ to suit the mode you choose.
Highs:
The highs are crisp in both headphones, and since they both have a wide frequency response, all the details in the high-frequency region will be heard. The highs are also quite tight. This means that they handle brightness quite well without making it harsh.
Noise cancellation
Both the Sennheiser and Bose have two levels of noise cancellation.
At the passive level, their designs, especially the earcups are made to keep out external noise, the fact that they are closed-back headphones also helps with this.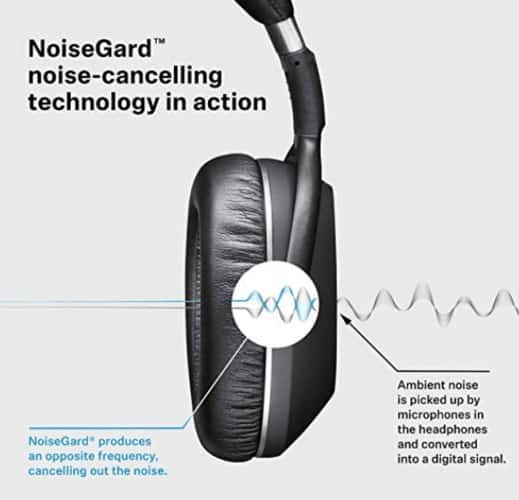 At the active noise cancellation level, both pairs of headphones really do a good job, although it comes at the expense of battery life.
I should note here that the Sennheiser PXC 550 has a slightly better active noise cancellation than QC35. QC35 does better noise cancellation in the low frequencies than the higher frequencies.

However, it's still a good option to use Bose QC35 noise cancellation headphones in air travel since the engine noises are low-frequency sounds mostly.
If your battery level is low and you're not in a place where you can have a quick charge, you could switch to passive noise cancellation. These headphone's noise isolation is better than many other headphones.
However, if you have a need to hear the external environment for a short while, you'll need to turn off the active noise cancellation switch on both headphones or take them off your ears. It would be nice to have simpler gestures that can be used faster.
Features
Both pairs of headphones are quite durable. This is partly because you don't have to worry about the cable is faulty.
One major difference in the features of these headphones is the Bluetooth connection types used.

While Bose QC35 uses the standard Bluetooth connection, PXC 550 uses the AptX Bluetooth connection. What's the difference?
Originally Bluetooth wasn't used to stream music. At best it could be used to share music and other forms of data between devices.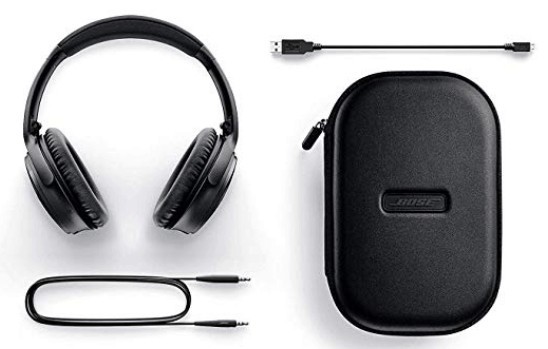 This means that with the standard Bluetooth connection, you will not have the best audio quality. This is simply because the standard Bluetooth connection cannot provide that quality.
AptX was created as a solution to this. So, the AptX bluetooth connection gives you the highest audio streaming quality.
Among Sennheiser PXC 550 vs Bose QC35, PXC 550 gives you this quality via AptX connection, we can say it's superior, in that sense.
Because of the active noise cancellation feature, these headphones would need more power to work.
This is why they're high impedance headphones. Ordinarily, while the active noise cancellation is off, both headphones have less than 50 ohms impedance.
However, as soon as you switch on the active noise cancellation more power is needed. Thankfully, both headphones come with capable batteries to provide the power needed.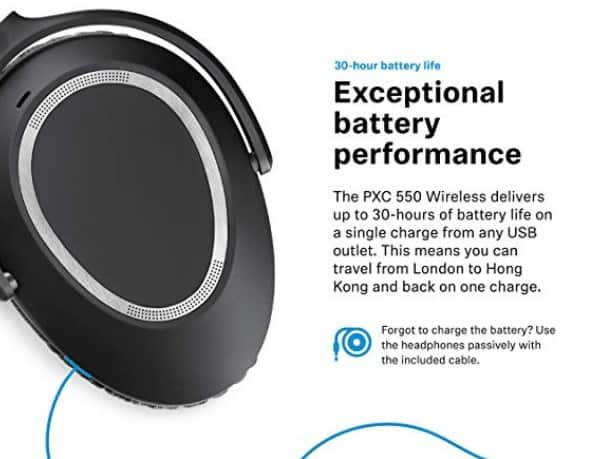 Speaking of batteries, Sennheiser PXC 550s batteries charge for about 3 hours and provides up to 30 hours of battery usage. This means you can have a full day of use without running out of power.
Bose, on the other hand, gives 20 hours of power with active noise canceling and 40 hours of power without it. Of course, PXC 550 has longer battery life.
Both headphones have 110 SPL. That's the loudness level it can reach without the drivers distorting the sound.
I think this level is good because it's quite healthy for your ears. Also, since the headphones have noise cancellation, you're going to hear what you're playing really well, so you wouldn't need so much gain to have loud music.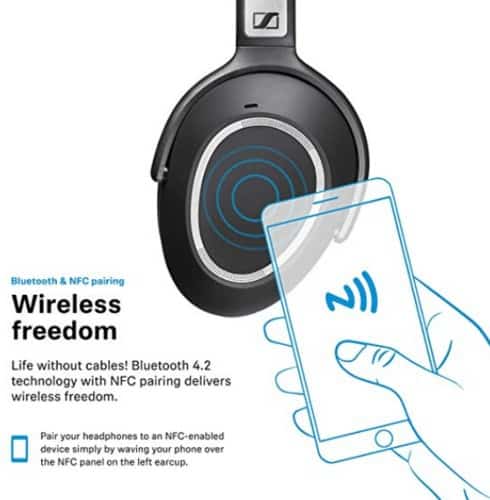 Pairing Bose Quietcomfort 35 and Sennheiser PXC 550 to your device is a breeze; it's as easy as switching them on or off.
If your phone features NFC technology, you can easily pair it with either of these headphones by simply touching the headset with your phone.
For a premium experience, you should get the apps that work with the headphones. For the Sennheiser, use the CapTune app. It's available on both iOS and Android.
You can expand your options by controlling the amount of noise canceling you have. If you wish to allow some external sound, you can do it with the app.
PXC 550 works well with Alexa. Just make sure your app is updated and you'll have no problems.
For Bose QC35, use the Bose Connect app. It allows you to use both Google Assistant and Alexa on your headphones without having to reach for your phone.
Similarities and differences
Similarities
Both headphones have active noise canceling feature, which can be activated by flipping the switch.
Leather material is used as padding on the headband and earcups of both pairs of headsets.
They both use wireless, Bluetooth connection.
Differences
While the Bose Bluetooth headset uses the standard Bluetooth connection, the Sennheiser headset uses the better AptX feature.
QC35 controls are navigated via the buttons only, whereas PXC 550 allows you to use gestures like tapping and swiping on the earcups to use some controls.
Pros and Cons
Bose QC35
Pros:
Comfortable for long periods of use.
Punchy bass.
Long battery hours.
Cons:
Uses standard bluetooth connection, rather than the high-quality AptX
May sometimes allow little high-frequency sound to leak into the earcups.
Sennheiser PXC 550
Pros:
Highest quality audio streaming with AptX technology.
Wide stereo soundstage gives all elements space.
Well defined bass.
Cons:
For some users, headband adjustment may not be big enough.
Controls can be easily triggered by mistake.
Verdict
Let us declare the winner among Sennheiser PXC 550 vs Bose QC35.
After we've looked at both these Bose and Sennheiser over-ear headphones, it's time to select our winner.
The Sennheiser is really cool, especially with the controls. Even if they get triggered by mistake sometimes, it's easy to navigate them. It's much better than fumbling around looking for buttons.
Considering most of the other features, both wireless headphones are very similar. The Sennheiser bluetooth headset gets another point for the AptX technology used.
At the end of the day, I have to choose the Sennheiser PXC 550. The headband can still cater to my size. If it doesn't fit your head, you can go with the QC35.