Today in this post, we are going to review JBL Flip 4 vs Flip 5 and help you decide which JBL speaker is right for you.
Last update on 2023-12-08 / Affiliate links / Images from Amazon Product Advertising API
Each year or so JBL releases a new Flip speaker which is its most popular portable Bluetooth speaker range. With the release of Flip 5, JBL seems to be heading in a slightly new direction.
Are the modifications a deal-breaker?
It depends on what features you're looking for in a speaker. Some people might like the product modifications while others may not be pleased.
This is expected whenever a change is introduced and you one can't help but compare Flip 5 to its predecessor, Flip 4. Let's just dive right in and explore whether it's worth upgrading to Flip 5 from Flip 4.
JBL Flip 4 vs Flip 5: Specifications
| | | |
| --- | --- | --- |
| Features | JBl Flip 4 | JBL Flip 5 |
| Battery life | 12 hours | 12 hours |
| Bluetooth version | 4.2 | 4.2 |
| Waterproof/dustproof | Both waterproof and dustproof | Both waterproof and dustproof |
| Voice Assistant integration | Yes | No |
| Speakerphone | Noise and echo-canceling | No |
| Weight | 0.51 kg | 0.54 kg |
| Power bank feature | No | No |
| Auto power off | Yes | Yes |
| Frequency response | 70Hz to 20kHz | 65Hz to 20,000Hz |
| Battery capacity | 3,000 mAh | 4,800 mAh |
| Amazon product page | Check price | Check price |
JBL Flip 4 vs Flip 5: Let's clear the smoke
Build and design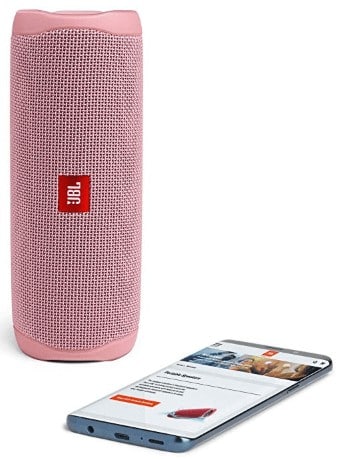 Flip 4 and Flip 5 are both highly durable due to their rubber fabric housing which is dust-resistant and water-resistant. You don't have to worry about cracking these speakers open if you drop them from a modest height.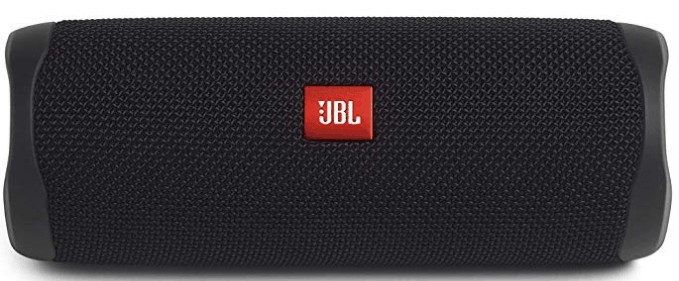 Both speakers have a power button, Bluetooth pairing, and volume up/down buttons. Flip 4 has a JBL Connect+ button whereas Flip 5 has a PartyBoost button.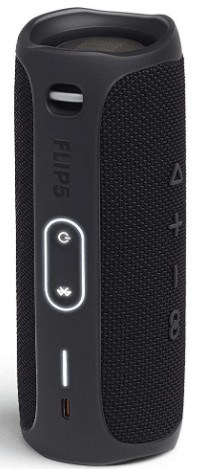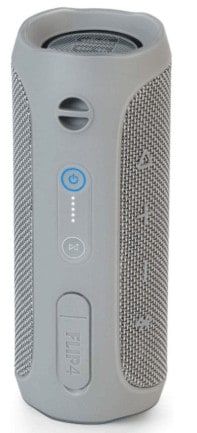 Flip 4 weighs 510 grams and comes in 6 bright colors whereas Flip 5 comes in 11 color variations and weighs a little at 540 grams.
Flip 5 is also marginally taller at 7.1 x 2.7 x 2.9 inches whereas Flip 4 is 6.88 x 2.67 x 2.75 inches. Both of these speakers are bigger than Flip 3 at 6.7 x 2.5 x 2.5 inches.
Flip 4 has a micro-USB port and 3.5mm aux jack for audio input. These two ports are neatly tucked away in a compartment which can be to prevent water damage. Flip 5 has a USB-C port which is used for charging. It has no 3.5mm aux jack unlike Flip 4.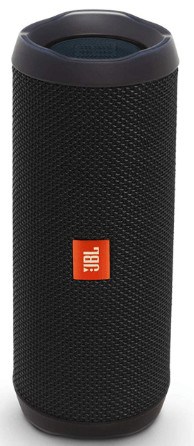 Verdict: All-in-all Flip 4 is better in terms of physical design mainly because Flip 5 doesn't have an aux port.

Lack of an aux port can be a deal-breaker if you own audio devices that don't support Bluetooth such as some MP3 players. However, Flip 5's support of USB-C is an edge it has over Flip 4.
Features
Both JBL Flip 4 and Flip 5 come with a charging head, charging cable and lanyard cable in the box along with the instruction manual.
Flip 4 supports Bluetooth 4.2 and a 3.5mm cable connection while Flip 5 only supports Bluetooth 4.2 for audio playback.
Here is the good news,
With JBL Flip 4 you can pair with two devices at any given time. This is a fun feature to use when two people want to seamlessly play music back and forth without having to constantly connect and disconnect from the speaker.
Whereas Flip 5 can only connect to a single device at any given time.
Both devices are IPX7 rated meaning they can be submerged at a depth of 1 meter for 30 minutes.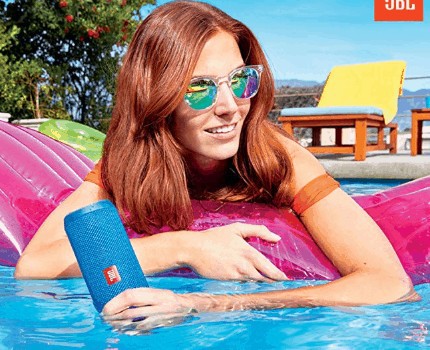 You can even play music in the shallow end of a pool, inflatable pool or bathtub. Since both speakers are dustproof you can use them comfortably at a picnic or on a sandy beach without worrying about dust damage.
One feature that lacks in Flip 4 and Flip 5 is a power bank. If this is a feature you need the JBL Charge 4 is the right speaker for you since it comes with a power bank.
Unlike the older Flip 3 and Flip 4 speakers which have the Connect+ feature to connect multiple JBL speakers and amplify your party, the Flip 5 comes with the newer PartyBoost mode. This is the most essential feature needed in the party speakers.
One great feature about the PartyBoost mode is the ability to pair two Flip 5 speakers and use one as the left while the other is the right, resulting in a stereo pair.
Unfortunately, Flip 5 can't be paired with any speakers that use the Connect+ technology from older generations which is upsetting if you already have another Flip 4, Flip 3 or speakers from the Charge or Extreme line.
Both Flip 4 and 5 have a 12-hour battery life despite Flip 5 having a larger battery capacity of 4,800mAh against Flip 4's 3,000mAh. Flip 5's battery takes 2.5 hours to charge against Flip 4's 3.5-hour charging time.
Compared to Flip 4, its closet competitor Charge 4 has quiet a longer battery life of 20 hours.
Flip 4 supports speakerphone functionality whereas Flip 5 doesn't, which is rather disappointing.
Verdict: In summary Flip 4 has a better feature-set despite being an older speaker.

It has better compatibility with other JBL speakers and speakerphone support and aux input on top of the other features it shares with Flip 5.
Sound quality
An area where Flip 5 outdoes Flip 4 is in sound quality, which at the end of the day is probably the most important thing to look for in a speaker. The newer Flip 5 is louder and has a better bass response than its predecessor.
JBl Flip 5 has a frequency response of 65Hz to 20,000Hz whereas Flip 4 has 70Hz to 20,000Hz. Flip 5 has a mono driver whereas Flip 4 has two drivers for stereo audio.
Bass
Both speakers have passive radiators to help with the bass response, and they're rather cool to look at when they're in action.
Bass sounds better on Flip 5. It packs more punch than you'd expect for a speaker of its size. The bass is controlled with minimal distortion. Flip 4 is no slouch in the bass department either. However, it's not as punchy as its brother.
Mids
The mids on both speakers are not considerably different. They are a little muddy but not enough to be a deal-breaker. Midrange sounds are clear and distinct enough that most people wouldn't even notice.
Highs
The highs on Flip 4 are a little harsher than on Flip 5. Flip 5's highs are tamer and less exaggerated resulting in a flatter, less colored response.
High-frequency sounds can be listened for a slightly longer period on Flip 5 without as much ear-fatigue as Flip 4.
Verdict: All-in-all Flip 5 is the winner in the sound quality department although it's a mono speaker. If you want stereo audio you have to get a pair of Flip 5s, which might be what JBL was going for with this redesign.

The difference is pretty clear though. Flip 5's audio quality is just better than Flip 4 and Flip 3 too.
Similarities
Flip 4 and 5 are made of similar materials.
Both of them are water-proof and dustproof
JBL Flip 4 and 5 both support Bluetooth version 4.2
Differences
Flip 4 has a 3.5mm aux input port unlike Flip 5.
JBL Flip 4 uses JBL Connect+ to connect to other JBL speakers while Flip 5 uses PartyBoost.
Flip 4 has speakerphone functionality unlike Flip 5.
The younger Flip 4 uses micro-USB while Flip 5 uses USB-C for charging.
Flip 4 has stereo speakers whereas Flip 5 has a mono speaker.
JBL Flip 4's lowest frequency is 70Hz while Flip 5's in 65Hz.
Pros and cons
JBL Flip 4
Pros
Loud sound despite its small physical size
Has a 3.5mm aux input
Has a noise-canceling microphone for speakerphone support
Lighter and cheaper than the Flip 5
Both waterproof and dustproof
Cons
Sound quality is good but isn't as good as Flip 5
Uses micro-USB instead of USB-C
JBL Flip 5
Pros
Louder than all its predecessors
Has better bass response than Flip 5
Charges faster than Flip 4
Both dust and waterproof
Cons
It has no 3.5mm audio input jack. Audio playback is only via Bluetooth
It lacks speakerphone functionality
Read our other popular posts:
Conclusion
Let's announce the winner in JBL Flip 4 vs Flip 5 battle.
JBL seems to be taking a new direction with its Flip 5 range by removing some of its most-loved features.
However, it did not slack in the most important areas which are sound quality and battery life. Flip 5 is a great speaker if you want great quality sound in a portable package.
Flip 4 has more features such as speakerphone, a 3.5mm aux input and the ability to connect to older generations of JBL speakers.
These two speakers are like brothers but each one has its selling point. If you just want great sound and don't care too much about anything else then Flip 5 is the better choice for you.
If you want an all-round device for using as a speakerphone, etc Flip 4 might be a better fit for you.
Both are great devices but JBL Flip 5 is a great choice is you're getting your first JBL speaker. If you have older JBL devices then the Flip 4 will play better since you can use the Connect+ feature to amplify your sound.