Having a home Theatre is all about the experience. You want to be immersed in an environment that makes you feel like you're watching a movie in a theatre. Everyone has their own reasons for creating a home entertainment system, but when it comes to sound systems, there are many options in the industry today
One of the most common and difficult questions that audiophiles face is, "Should I get a Kef or a Klipsch sound system?"
Kef and Klipsch, two well-known brands, are making a name for themselves in the home Theatre industry among music enthusiasts by providing more than average speakers.
However, there is a lot of disagreement about which brand is superior to the other.
Nobody is wrong; both brands are innovative, bringing excellent products to market. To clarify, we decided to compare Kef vs Klipsch to provide a more comprehensive overview of both brands' products and which is best for home Theatre.
Kef vs Klipsch: Aspects Compared
Design and build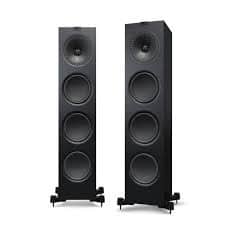 Klipsch's construction and design are unquestionably classic. It employs a horn-loaded tweeter to produce powerful and accurate sound as well as a distinct signature sound. Klipsch is designed to last, with high-quality components, clean and durable finishes, and a stylish appearance.
When it comes to speaker technology, Klipsch has always been at the forefront of innovation.
Klipsch manufactures a wide variety of products, including floor standing speakers, bookshelf speakers, surround speakers, subwoofers, on-wall speakers, table-top and portable wireless speakers, and outdoor speakers. This means that Klipsch has whatever speaker or soundbar you need for your Home Theatre.
Klipsch also uses high-quality materials in its products, such as wood, metal, and leather. Because all of their products are well-built, sturdy, and have a premium feel to them, they are slightly more expensive than most other brands on the market.
The Klipsch Reference 3.1, an all-wireless system with the best sound you'll ever hear on the market, is one of the most notable Klipsch products. So, if you're tired of the cumbersome and time-consuming wired setup, the Klipsch Reference Home Theatre System is for you.
Kef was among the first to use the "Uni-Q" design, which places the tweeter in front of the woofer rather than above or below it. This is very effective at reducing phase issues. One feature that distinguishes Kef speakers from others is that, unlike Klipsch, Kef places its tweeters in the middle of the midrange driver. As a result, it is one-of-a-kind.
Kef uses high-quality materials in their products, such as aluminum and wood, to ensure the best possible sound quality.
Kef, like Klipsch, also creates incredible in-wall and in-ceiling outdoor speakers.
Performance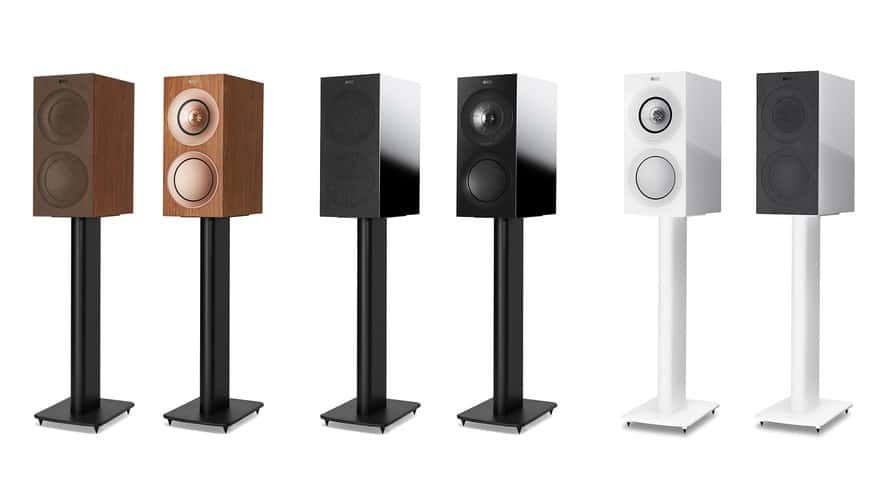 Klipsch is well-known for its horn-loaded speakers, which are designed to reproduce sound at high output levels while minimizing distortion. Kef, on the other hand, is known for its innovative use of materials, such as its Uni-Q driver array, which employs a tweeter mounted directly in the center of a midrange woofer.
Klipsch is well-known for producing high-quality speakers with stunning high frequencies.
Kef subwoofers perform admirably and deliver the clean, fat, and round bass that most people seek. They are adaptable and can be installed in small or large rooms, both indoors and outdoors. Consider their flagship Reference 8b subwoofer, which is a distortion-free subwoofer.
Audio quality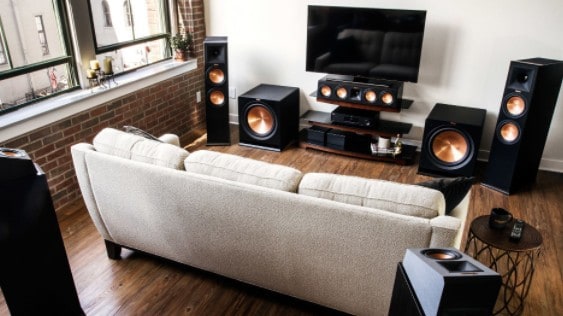 Klipsch is well-known for its meticulous attention to detail, particularly when it comes to audio quality and sound signature. Some speakers, for example, include a Tractrix horn, which reduces distortion and improves sound quality. All of this is done with one goal in mind: to provide customers with better audio quality.
While the designs are quite similar, there are several differences between Kef and Klipsch speakers. The main difference is that Kef's speaker sound signature is to produce clean sound and quality, with a more traditional design and high-quality materials.
The Q series, R series, and T series from Kef proves this
Klipsch speakers are designed for loudness, with a somewhat futuristic design that is less concerned with sound quality and more concerned with creating a loud listening experience.
This means that Kef should have a better low-end frequency response, sensitivity, and audiophile sound than Klipsch.
Although Kef may appear to be the superior company in terms of audio quality, Klipsch does have some excellent high-quality audio products.
Take for example the KD Series Home Theater Klipsch and the Reference Cinema system both of which provide incredible sound depth and clarity.
Connectivity options
Klipsch and Kef both offer wired and wireless systems to meet your requirements. The Kef Q Series includes everything you need, including a subwoofer and a soundbar if desired. Klipsch's Reference Premiere series is made up of individual speakers rather than a single unit, allowing you to mix and match components to your liking. The Klipsch RP-280F towers have dual binding posts for connecting multiple wires at the same time.
Bluetooth wireless technology is used in the latest Kef Home Theatre systems. The wireless design allows you to use the system even when you're long-distance away. You can place your system in the back of your room and listen to it from the other side.
Power requirements
Klipsch speakers are easy to use. They are very efficient and require minimum power. This makes them suitable for home Theatres with a smaller capacity. The speakers are also able to produce high volumes without distortion.
Besides the Klipsch Heritage Wireless Three speakers, Klipsch also offers the Reference Cinema surround sound system which includes a powered subwoofer and satellite speakers that give you everything you need for a complete home Theatre system in one box.
Kef speakers have individually powered wireless speakers, so you have to make sure all the components are included in the package.
Kef has built-in amplifiers for each speaker, which means that you need an amplifier for each speaker, which can be quite expensive.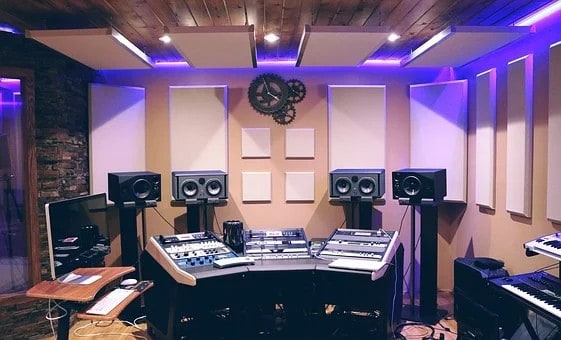 Kef also has dedicated amplifiers for specific frequencies like bass, mid-range, or treble that can be confusing to use at first because you need to make sure you don't mix them up.
Kef offers their award-winning LS50 wireless speakers which feature built-in amplifiers that power each speaker individually. This means you can connect your music source, select your favorite streaming service, or play from your local library via AirPlay 2, Bluetooth, or streaming services like Tidal and start your listening session immediately with no A/V receiver or separate external amplification.
Pros and cons
Kef Pros
Features unique driver: So you can listen from anywhere and from all angles.
Unique set up and build
Clarity
Excellent low end
Klipsch Pros
Wide range of products to choose
High-quality products
Maximum loudness and high frequency
Klipsch Cons
Expensive
Might not be ideal for everyone
Wrap up: Kef or Klipsch?
Finally, it is up to you to determine which speaker system is best for your Home Theatre.
It comes down to your personal taste in music. Do you prefer strong bass and deep lows, a more balanced mix, or more highs?
Both Kef and Klipsch systems can produce excellent sound in your Home Theatre and will outperform similarly priced alternatives like Bowers & Wilkins and Sonos.

Choosing between these two speakers may come down to comparing characteristics between speakers like audio quality, build and design, performance, price range, connectivity options, power requirements, budget considerations, or specific sound quality preferences, all of which we have discussed in this article.
In any case, neither system is a bad choice for home Theatre speaker sound.
If loudness is your primary goal, Klipsch speakers are a good choice; however, if you want excellent low end and bass, Kef speakers are a better choice.
Which do you prefer, Kef or Klipsch? Please share your thoughts in the comments section below.
Read our other popular posts:
6 Best Budget Subwoofer for Cars in 2023 (Bass-Heavy)