Today in this post I am going to review the best Harman Kardon speakers with excellent sound quality.
Harman Kardon is a popular name in audio gadget production. One of the reasons why people love their products is their design.
Wireless Speaker With Excellent Bass
Harman Kardon Onyx Studio 5 Bluetooth Wireless Speaker (Onyx5) (Blue)
Excellent Compatibility
Harman Kardon SoundSticks III 2.1 Speaker System
Best For Budget
Harman Kardon Allure Voice-Activated Home Speaker with Alexa, Black (Renewed)
Last update on 2023-12-08 / Affiliate links / Images from Amazon Product Advertising API
They have an eye for the spectacular. Most Harman Kardon speakers have their own class in terms of shape and overall design.
The sound quality is also premium. Solid bass production that gets your party started and up-to-date features like voice commands and wireless connection; these are few of the benefits of choosing a Harman Kardon speaker.
This article brings you the 7 best Harman Kardon speakers: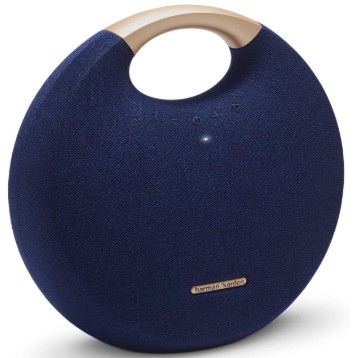 Specifications:
Bluetooth version: 4.2
Supported Bluetooth profiles: A2DP, AVRCP
NFC: No
Bluetooth range: Up to 33ft
Multi-host: Yes (Connect up to 2 devices simultaneously)
Daisy chain: Yes (pair up to 2 speakers together for louder sound)
3.5 mm audio cable Input: Yes
Music playing time (hrs): 8
Features
We recognize Onyx speakers immediately because of the signature round shape, and Onyx 5 is no different.
However, there are some slight differences; rather than the legs added for stability in the previous versions, Harman Kardon used a rubberized base under a wider body frame.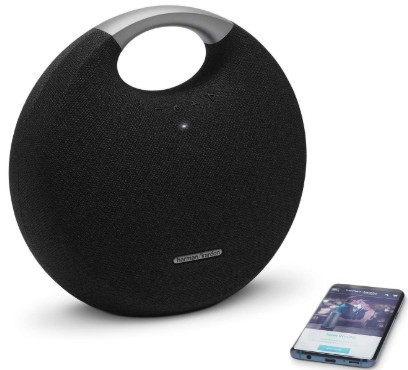 Also, there's a handle just in case you wish to carry the speaker around a lot. Another slight change is the position of the controls.
Onyx 5 has onboard controls that enable you to play/pause music, adjust the volume and pair your device to the speaker.
The Bluetooth version in use here is 4.2. It meets expectations with its range of 33 feet.
Like any modern wireless speaker, it has the multi-host feature that lets you connect two units of Onyx 5 speakers to each other.
Also, avoid water when using the speaker because it's not waterproof.
The battery life is not so impressive. Though it has a playback time of 8 hours, it takes up to 5 hours to get a full charge. Besides, you only get up to 8 hours of battery life if you play music at 50 percent volume or less.
Sound quality
The Studio 5 has a woofer and a tweeter; this is way less than what we find in previous versions. They have 4 drivers. However, the woofer in Onyx Studio 5 is larger than that of previous onyx speakers.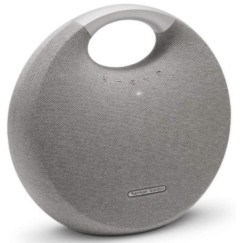 There's some emphasis on bass production in this speaker. The bass is punchy and strong, but this effect is better noticed at lower volumes. When you turn the speaker up, the bass boost reduces gradually. You can use this as a party speaker.
This could be a deliberate move by Harman Kardon to prevent distortion at high volumes. If that is the case, then their efforts proved fruitful, because even at maximum volume, there are no sound distortions.
Vocals and midrange instruments are clear and nothing is overshadowed by the bass boost. The highs are also crisp and bright without any harshness.

The speaker is good for both music blasting and podcast or audiobook listening but cannot be used as a DJ speaker.
Pros
The design is impressive, and it's a good thing that there's no distortion with high volume listening.
Good bass sound while avoiding distortion at high volumes.
Cons
This speaker lacks NFC features; it would have made pairing a lot easier.
The battery life is just 8 hours, and it takes 5 hours to be fully charged.
Recommended read:
Harman Kardon Onyx Studio 3 vs 4: Comparing Them is Stupidity!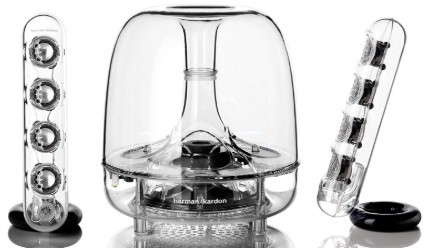 Specifications:
System Components: 2 speakers, subwoofer
Amplification Type: active subwoofer, passive satellites
Audio System Nominal Output Power (Total): 40 Watt
Frequency Response: 44 – 20000 Hz
Audio Amplifier: integrated
Connectivity Technology: wired
Speaker Type: satellite speaker
Driver Type: full-range driver
Driver Qty: 4
Features
These Harman Kardon speakers do not look like regular speakers at all. It's a design that would surely add some spice to your room decor. You may actually need to take a second look to recognize that it's a speaker.
The three components are transparent, it's a rare speaker design that allows you to see the internal parts. Little wonder you'll find these speakers in New York City's Museum of Modern Art.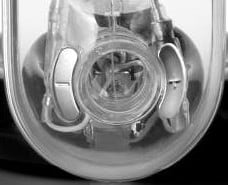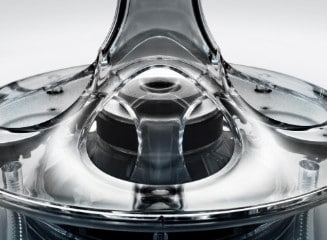 Like the design, the controls are unorthodox also. The volume is adjusted by using touch-sensitive buttons. The buttons may seem a little too sensitive though, so you may push the volume too high accidentally.
There is a bass control on the subwoofer. It's useful if you feel you need more or less bass in your music. However, because it's on the woofer, it may be tricky to control it while using your computer.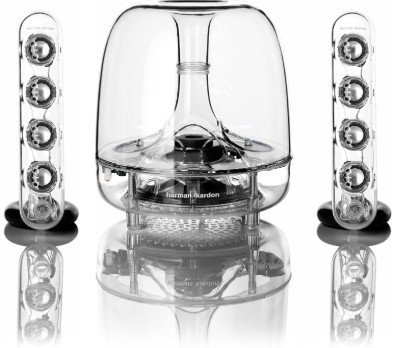 The Soundsticks III uses wired connection; 3.5mm port precisely. This means that they're compatible with PCs, game consoles, DVDs and even some TVs – basically any device with a 3.5mm output.
Comparing the Soundsticks III with any other speaker in the Harman Kardon family is hard because it looks nothing like any of them.
The speaker is surely not made to be carried around. The fact that it's in 3 parts makes that even more difficult. It's best for indoor use. Dust and water will do damage to it.
The Soundstick III setup is good for movie nights with friends. It's not loud enough for a party though.
Sound quality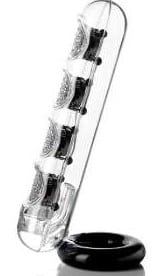 Each of the satellite speakers has four 1-inch transducers for the tweeters. You can see the transducers through the transparent frame of the speakers.
For the subwoofer, there's a single 6-inch downward-firing subwoofer giving 20 watts of power. So, what do these drivers mean in terms of sound production?
The subwoofer does its job pretty well. The bass is deep and punchy. Bassheads would absolutely love it.
It's not every time you get a speaker of this size that gives that much bass. The other part of the frequency that matches the bass performance is the higher frequencies.
It's crisp and is not overly sibilant or harsh. The same can't be said of the midrange though. There's not enough clarity in that region. People who love jazz and classical music may find the sound a bit underwhelming in this regard. Hip hop heads would love it though.
Pros
The excellent bass response made possible by the downward-firing subwoofer.
The unique design of the satellite speakers and subwoofer adds to your room's beauty.
Cons
Adjustments are not so easily made because control buttons are overly sensitive.
It doesn't use batteries, so it always needs a power outlet to work.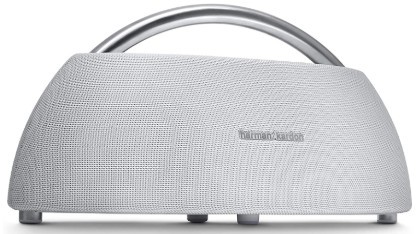 Specifications:
MP3 | Smartphone | Tablet compatibility: iPod (3G), iPod (4G), iPod mini, iPod nano, iPod with color display, iPod with video (5G)
Remote control: avaialble
Designed for: portable use
Type: speaker dock
iPod Compatibility: iPod (3G), iPod (4G), iPod mini, iPod nano, iPod with color display, iPod with video (5G)
Connector Type: mini-phone stereo 3.5 mm
Remote Control Technology: radio
Battery life: 8 hours

Features
It's another Harman Kardon speaker that looks very different from others. Although its design is not as striking as Soundsticks III, the Go+Play still looks unique. The body is covered with fabric, and it has a stainless steel handle.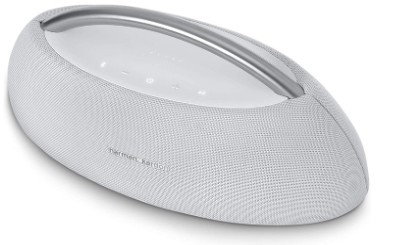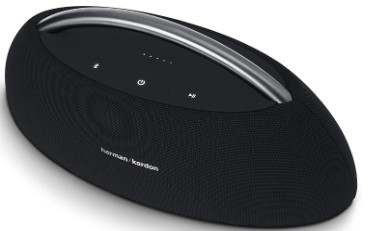 It's shaped like a pressing iron that has a round base. The speaker looks like something portable with the kind of handle it has.
However, when you actually move it around, it's a different story. Go+Play weighs 3.5kg. If you carry it around often, your biceps will surely bulge a bit.
The control buttons are at the top of the speaker. With these, you can adjust the volume and play/pause your music. Of course, the Go+Play is a Bluetooth speaker, but it only has the basic Bluetooth features. There's no NFC pairing, AptX or Spotify connect.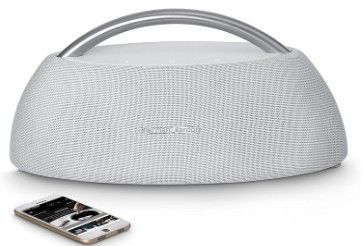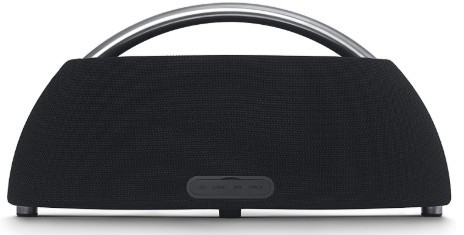 You can charge your devices through the USB port on the speaker. The consequence, of course, is that you may not have enough charge to play your music.
Slight, accidental exposure to water can be handled, but heavy rain or water splashes would be too much for these speakers to handle. In summary, prevent water from getting to the speaker at all costs.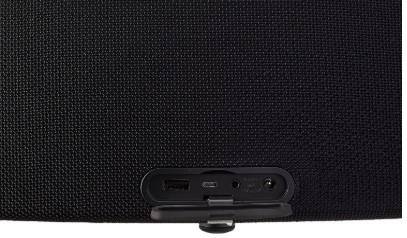 The battery lasts for 8 hours when it's fully charged. This is enough time to have a room party or a cookout. It won't give you a full day's entertainment though.
Sound quality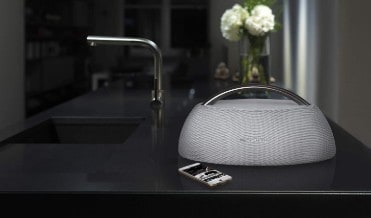 Like the previous Harman Kardon speakers on the list, the Go+Play has good, deep bass. The bass level lies on the sweet spot between too little and too much.
This means that it doesn't overshadow the higher frequencies, and it does not sound too light either. This makes the Go+Play a good party speaker.
The high frequencies are crisp and bright. For any modern party. What you need is pumping bass and sharp highs. This speaker has both.
Pros
Go+Play has thumping bass, which is quite punchy considering its size.
The shape enables it to blast music in all directions.
Cons
The midrange is understated, so piano music may not be enjoyed fully.
It only has basic Bluetooth support. There's no AptX or even NFC option.
Harman Kardon Allure – Voice-Activated Home Speaker With Alexa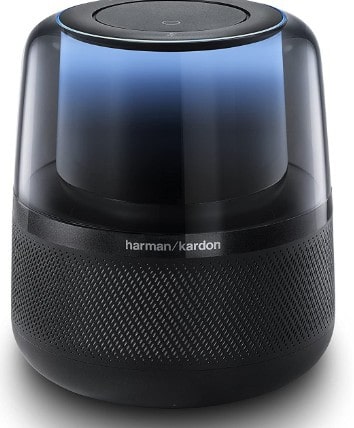 Specifications:
Total rated power: 20W RMS
Frequency response: 60Hz – 20kHz
Transducers: 44.45mm x 2
Dimension (W x D x H): 114 x114 x160mm
Weight: 1.1 kg
Power supply: 5V/2.3A
Battery type: Lithium-ion Polymer (3.7V/6000mAh)
Music playtime: up to 10 hours
Features
Looking at all these speakers, it looks like Harman Kardon had only one thing in mind: "Make sure they look nothing like speakers at all."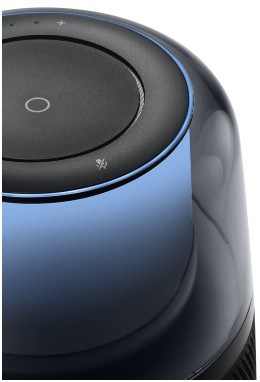 Allure home speaker has a cylindrical shape with round edges. The part that the sound comes out from is the bottom half of the speaker. It's made of metal and has perforated holes to let the sound out. The other half is transparent plastic with LED light inside.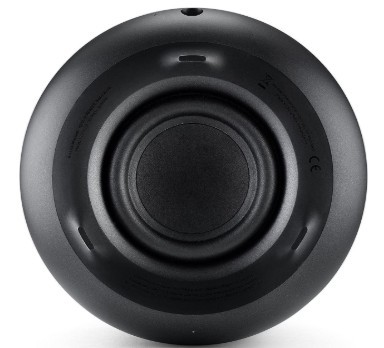 Playback and pairing are controlled by the multifunction button that's right on the speaker. This button is touch-sensitive. You can play/pause your music, adjust the volume and pair your device with it.
Allure is also Alexa compatible. It can be a good substitute for Amazon Echo if you want better sound quality. Alexa takes your voice command via the speaker's mic and carries them out promptly. It can also work with the voice assistant on your phone.
This speaker is not your go-to gadget for a beach visit or a pool party. This is because it's not waterproof at all. Water or dust will cause some damage.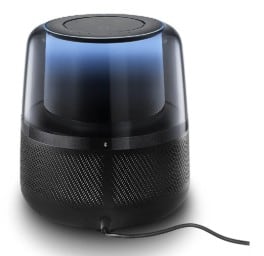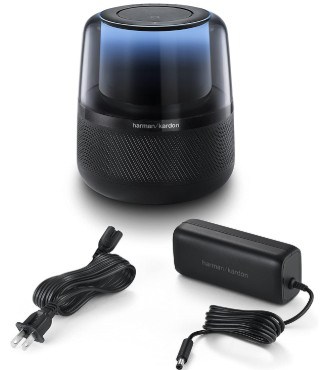 Additionally, you need a power outlet to use the Allure. It doesn't use batteries. This means no outdoor uses unless you have a power outlet with you.
Sound quality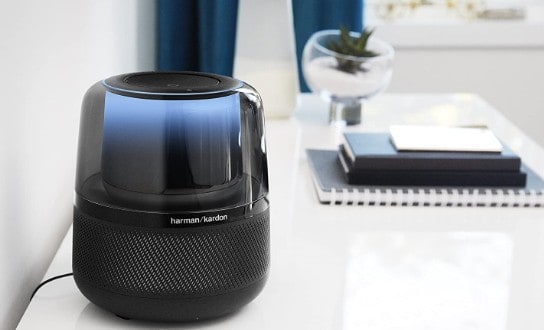 There are 4 drivers in all; one 3.5 inch subwoofer and three 1.5-inch tweeters. The subwoofer is downward-facing in order to improve the bass production.
This speaker is also one with a bass first approach. The bass is given more emphasis than other parts of the frequency spectrum. However, the bass impact does not increase with an increase in sound.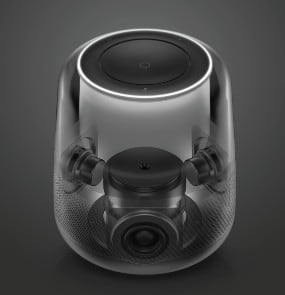 The DSP feature makes sure to keep the bass from increasing when you turn up the volume. This prevents distortion. This means that the deep, hard bass you feel is only very good at moderate volume.
Vocals also seem to sit back rather than stand out. This Is because the midrange is a bit recessed. The highs are clear and crisp as usual. Like Go+Play and Soundsticks III, Allure is good for hip hop and EDM fans.
Pros
The 360-degree design ensures that sound is played in all directions.
It has a unique design with an LED light.
Cons
Vocals are a bit recessed to the background, as well as other midrange elements.
The effect of hard bass is less at a higher volume.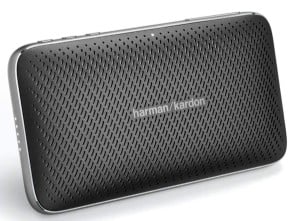 Specifications:
Built-In Mic: Yes
Active Noise Cancellation: Yes
Bluetooth: 4.2
NFC: No
Transmitter Power: 9 dBm
Bluetooth Transmitter Modulation: π/4 DQPSK, 8DPSK, GFSK
Inputs: 1 x USB Type-C (Power), 1 x 1/8" / 3.5 mm Stereo (Audio)
Outputs: 1 x USB Type-C (Power)
USB Power Output: 5 VDC at 1.0 A
Expected Battery Life: 10 Hours
Features
The Esquire Mini 2 is a compact Bluetooth speaker that you can carry with you everywhere. The body is covered with a faux leather material with patterned grooves on it that makes the speaker handier and prevent it from slipping.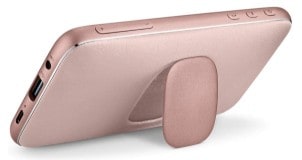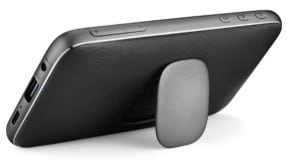 It is fitted with a built-in stand that inclines the speaker at a 45-degree angle so that you can direct the sound in the angle you want. The stand is quite solid, much more than Esquire Mini's stamina.
At the top of the speaker are the control buttons. Volume adjustment, play/pause, and navigation between tracks are the features that you can control.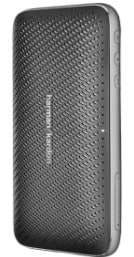 This speaker is too small for a party or even a movie night with friends. It's quite good for video conferencing and having meetings over the phone.
When it's fully charged the Esquire Mini 2 can play music for 10 hours. Again, this is good considering the speaker's size. There's a little different if you're playing at very high volumes though.
Sound quality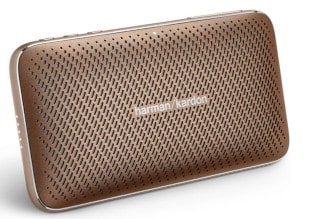 Esquire Mini 2 has one driver only. It's a full-range driver that does all the work of producing the bass, mid and high frequency.
Looking at the speaker's size, we'll be surprised to hear any form of deep or punchy bass. The bass is quite reduced, but the midrange and high frequencies are clear, crisp and have enough space to shine.
This makes the mic so good for taking phone calls and listening to podcasts and audiobooks.
Pros
The speaker has a compact, pocket-sized design that allows you to take it with you everywhere.
Excellent clarity of voice makes it a good choice for listening to podcasts and taking phone calls.
Cons
It doesn't have as much bass as Soundsticks or onyx 5.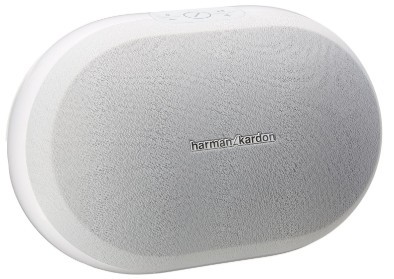 Specifications:
Powerbank: Yes
Speakerphone: Yes
Bluetooth: Yes
3.5 mm audio cable Input: Yes
Auto power off: Yes
Battery capacity (mAh): 2,200
Charging time (hrs): 3
Weight (kgs): 0.25
Bluetooth version: 4.2
Features
The Omni 20 is a wireless speaker with Bluetooth and wi-fi capabilities. It's shaped like a capsule and comes in white and black.
Calling this speaker a Bluetooth speaker will be telling half the story. This is because the Omni 20 has 5G Wi-Fi connectivity with which it connects to other speakers.
When the speaker is paired, it gives you an array of juicy options. There's a regular connection with your device that enables you to play audio from your phone or computer through the speaker.
Beyond that, you can connect the Omni 20 to other Omni+ speakers. When you do, you have the option of playing different music through each speaker. Amazing right?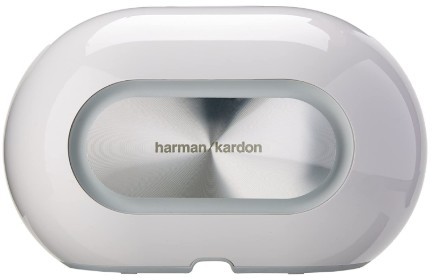 This means you can have one Omni+ speaker in each room of your house and choose the music each one will play. You can also make all speakers play the same music and have a full-blown listening party.
Additionally, this speaker does not use batteries. The power supply can only be through a direct connection to an outlet. This is a drawback if you intend to carry it around.
Sound quality
The Omni 20 has a good bass response, especially when we consider its size. If you're using it alone, without connection to any other speakers, you can still enjoy your hip-hop and EDM.
Also, it streams 24bit/192kHz audio quality which is higher than CD and even DVD audio quality.
The midrange sounds a bit reduced, with most elements of music in this range taking the back seat. The speaker surely sounds like a party speaker.
Pros
Connection options that allow you to use multiple speakers each playing different songs.
It has multiple connection options including Bluetooth, aux and Wi-fi.
Cons
The setup is not quite straightforward. It takes some time of learning and trying stuff.
The Wi-Fi connection does not always work with computers. It's much more reliable with phones.
Specifications:
Powered by Alexa Voice Service
Hands-free voice control
Wireless Bluetooth streaming
360-degree sound
Motion wake up button
Dimension (W x D x H): 160 x 160 x 166.5mm
Weight: 1.54kg
Power supply: 19V/3A
Wi-Fi: IEEE 802.11 a/b/g/n/ac
Features
Astra is one of the few Harman Kardon's on this list that looks like a speaker at first glance. It has a cylindrical shape and it's perforated along the sides. The multifunction button that controls playback, volume and other features are at the top.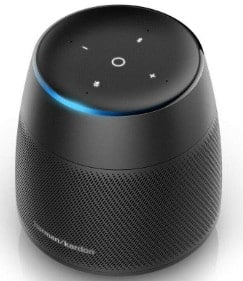 There's also an LED light at the rim on top of the speaker. It generally looks quite simple when compared to Soundsticks III and the likes.
The most interesting feature of this speaker is the built-in Amazon Alexa voice command. Alexa on Astra has the same features you'll get on Amazon Echo. Astra takes it a notch higher by improving on the sound quality.
This Bluetooth speaker has the far-field voice technology. This enables the speaker to recognize and carry out your voice commands even when you're some distance away. It also hears your voice prompts in noisy environments.
It's good for in house music listening and movies. It's not loud enough for a party though.
Sound quality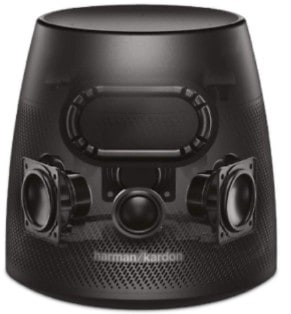 Astra has three full-range transducers, three tweeters, and two passive radiators. These result in a solid bass production for a speaker of this size. It's bitter than what you'll get with Amazon echo.
The speaker also gives 360-degree sound. So, you'll have the same listening experience regardless of what side of the speaker you're on.
Pros
Astra has built-in Amazon Alexa with the full features.
The speaker gives a 360-degree sound.
Far-field voice technology ensures that your voice command is heard even in noisy environments.
Cons
For playing music, it's not as solid as other Harman Kardon speakers.
It's not waterproof, so it can get damaged if you take it to the beach or pool.
Read our other popular posts:
FAQs on Harman Kardon speakers
How to pair two Harman Kardon speakers?
Pairing two speakers are best done via the app. Be aware that not all Harman Kardon speakers are compatible with each other.
How to connect Harman Kardon speakers to computers and laptops?
Use the pairing button on the speaker. The speaker's name should appear on your computer, then select it and pair it.
How to set up Harman Kardon speakers?
The major part of the setup is pairing the speaker to your device. You can either use the pairing button or the speaker's app.
How to connect Harman Kardon speakers to tv?
First, make sure that your TV is compatible with Bluetooth speakers. Use the pairing button on the speaker to make it visible, then select the speaker on your TV.
How do Harman Kardon speakers compare with Bose speakers?
It's tricky to compare speakers this way because there are numerous classes on both sides.
Conclusion
All 7 Harman Kardon speakers are unique in their own way, but my best 3 picks are the Soundsticks III, Omni 20 and Onyx Studio 5.
Soundsticks III not only has an impressive design, but it also has very good bass due to its dedicated subwoofer.
Your own choice may not be among my best 3 picks, depending on what you need. I'm sure you can make a good choice from all the speakers listed.
.