Do you record videos with your Nikon Z6? Do you need better audio?
Then, this article is for you.
The Nikon Z6 and many other similar cameras are great with videos, but the audio quality leaves much to be desired. Their built-in microphones are just not good enough. This is why you need external mics.
To improve the quality of your Z6 videos, there are quite a few options for you. In this article, I examine the 5 of the best choices.
Here are the 5 best mics for getting great audio from your Nikon Z6.
Top 5 Nikon Z6 mics reviewed
Build and design
The Rode Videomic Pro+ has an on-camera mic that's designed to capture better audio quality for your videos. It has an excellent plastic suspension in its shock mount.
It prevents the camera movements from causing disturbances in your recording. This makes the Rode mic effective in run-and-gun situations.
To connect this mic to your Nikon Z6, you simply need to use the supplied 3.5mm cable. This cable is detachable, so if it develops any problems, you can easily replace it. It's a great improvement over the Videomic Pro.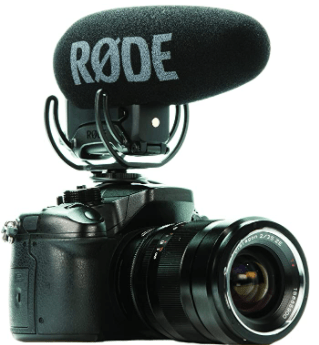 This on-camera mic has its control buttons at the rear, so you can easily access the functions while shooting.
Sound quality and performance
The Videomic Pro+ has a supercardioid polar pattern. It rejects most off-axis sound and captures what's right in front of it mostly. This will come in handy during your outdoor shoots.
Speaking of the outdoors, the mic comes with a windshield that reduces wind noise. However, if you want better noise reduction on very windy days, you should use a deadcat.
Another function that can help during your outdoor videos is the high pass filter. This button cuts off some low-frequency sounds from your recording. This will include some wind rumble and traffic noise. It's very useful when you're recording speech.
It also has a safe channel feature that records the same audio at a lower gain. This means you have a backup in case your main audio distorts or clips due to a sudden loud sound.
Pros
Excellent shock mount
Easily replaceable cable
Long battery life (100 hours)
Cons
Controls can be tricky to learn
Bottomline: If you want better audio for your outdoor recording for your vlog, this is a pro-level option.
Build and design
The Deity V-Mic D3 Pro is made of aluminum material. It's an on-camera mic that instantly improves the audio quality in your video recordings. It comes with a Rycote shock mount that is a bit different from others. This shock mount is adjustable.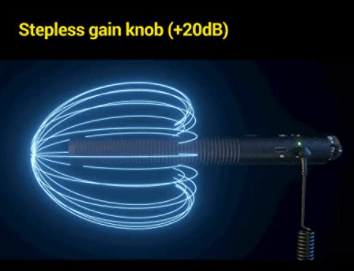 Depending on the camera you're using. You can adjust it such that the mic sticks out in front or it's shifted more towards the back.
It comes with internal batteries that you charge using a USB-C cable. When the mic is fully charged, you can get up to 51 hours of recording. It takes about 2 hours to charge the mic. Even if the battery goes down, just 15 minutes of charging will give you an extra 6 hours to record.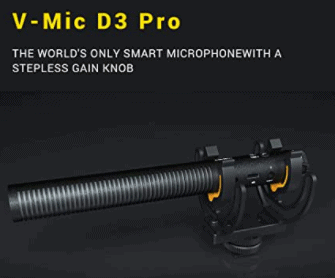 For YouTubers, vloggers, and other creators that move around a lot, the V-Mic D3 Pro has a protective carrying case. With the case, you can carry the mic around without scratching or damaging it.
To connect this mic to your Z6, simply plug in the 3.5mm cable to the correct slots and you're good to go.
Sound quality and performance
The V-Mic D3 does a good job of rejecting sounds that are not directed at it. Of course, the background noise shouldn't be too loud. If it's at normal outdoor noise levels, the mic can focus on what's right in front of it.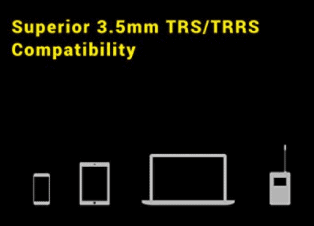 With a frequency response of 50Hz to 20000Hz, the mic does not record very low-frequency sounds that may introduce rumbles. To cut out even more of such noises, you can engage the high pass filter up to 150Hz.
Also, the gain knob allows you to increase the mic level up to +20db. Because it's a knob, you can select just that sweet spot that's best for your recording.
Pros
Standby mode to preserve battery life
Fast charging
Speech-focused sound – perfect for vloggers and YouTubers
Cons
The battery is not easily replaceable
Bottomline: If all you record is speech and dialogues, this mic is optimized to make your voice audible and crisp.
Build and design
The Comica CVM-V30 Pro Camera mic is an effective option if you need better audio from your Z6 but you're on a budget.
This mic comes with a deadcat windshield. This makes it much easier to record outdoors on windy days. The deadcat prevents the wind from ruining your recording.
The shock mount that comes with this mic is pretty good. If you don't have too many sudden movements while shooting, your recording will be undisturbed.
Also, the hot shoe connector comes with a tripod screw. This can be useful if you need your mic to be away from your camera for some reason. The controls on the mic include the on/off switch, gain, and high pass filter switch.
The 3.5mm cable is there to enable you to connect the mic to your Nikon Z6 or other DSLR. This cable is not detachable, so be careful to not damage it.
Sound quality and performance
This on-camera mic does a good job of rejecting off-axis sound. Also, its sound quality is tuned to enhance speech. Your voice will come out crisp and clear while placing less emphasis on other frequencies.
The camera uses 2 AAA batteries. But you wouldn't be replacing them too often. One set lasts up to 200 hours of recording.
However, you must be careful because the mic has no standby or auto-on mode. So, if you fail to switch off your mic after recording, you'll keep losing battery power.
Also, connecting it to the camera does not switch the mic on. You must flip the switch manually. The Videomic Pro+ is an example of an on-camera mic with auto-on.
Pros
Very long battery life
Firm switches – can't be accidentally flipped.
Budget-friendly
Cons
Deadcat may sometimes appear in a shot.
No auto on/off features to prevent an error of not recording.
No standby mode to save battery.
Bottomline: If you are on a budget and you need an on-camera mic to improve your Z6 audio, this is the mic for you.
Build and design
The NTG4+ is a shotgun mic that's primarily designed to be used with boom stands. However, with the right shock mount adapter, you can use it with your Nikon Z6. This mic has a solid build that feels durable with its all-metal frame.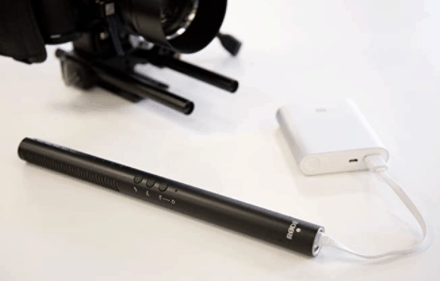 The mic's structure is a thin cylinder that ends in an XLR output port. Since your Z6 only has a 3.5mm jack input, you need an adapter to connect the NTG4+ to the camera.
Even though you may lose some audio detail, it still gives you the king of quality you get with some regular on-camera mics.
Sound quality and performance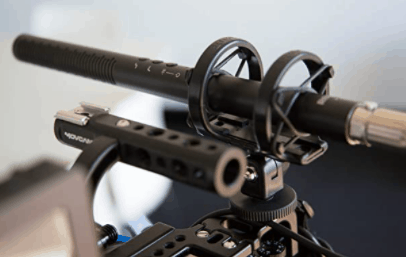 With a supercardioid polar pattern, this mic is excellent at rejecting off-axis sound. It records voice with accuracy and detail.
The batteries are rechargeable and they last 150 hours when on a full charge. To give you a clearer audio recording, you may enable the high pass filter or 10db pad.

These functions are controlled by pressing the corresponding buttons. The best part is that when next you switch the mic on, it remembers all the settings you had before switching it off. The mic has a 135db maximum SPL. This means that it can capture loud sounds like concert performances.
Pros
Detailed audio quality
Long battery life
Fast charging
Cons
Not designed for cameras like Z6 – needs adapters to work.
Adding an adapter may make the setup clumsy.
Bottomline: If you need a boom mic and an on-camera mic, the NTG4+ is versatile enough to do both jobs.
Build and design
The Takstar SGC-598 microphone is another budget option to improve the audio quality of your video content. It has a plastic build, but it's also durable. It comes with a foam windscreen to help when recording outdoors.
However, on windy days, the foam windscreen may not be enough. You'll need a deadcat. The SGC-598 does not come with one, so you'll have to purchase it separately.
To connect the mic to your Nikon Z6, simply insert the 3.5mm cable from the mic into the camera. For this Takstar mic, the cable is not detachable. So, replacing it will require some technical hands. It's best to be careful with the cable so that it doesn't need a replacement.
Sound quality and performance
This mic has a cardioid pickup pattern. It's not as narrow as super-cardioid, but it picks what's in front of the mic mostly. Also, the mic has a 60 Hz high pass filter that helps remove low rumbles from your audio.
While the mic captures speech clearly, it does not give the extra sparkle and "air" in the high frequencies. This is because its frequency response range is 50Hz to 16000Hz.
The 10db boost function enables you to record quieter sounds better.
Pros
Budget-friendly microphone
Lightweight and easy to move around
Cons
The cable is not detachable.
The high pass filter only stops at 60Hz.
Bottomline: This Takstar microphone helps you to improve your audio quality without breaking the bank.
Conclusion
All of these mics give you far better audio quality than your Z6 internal microphone.
If I had to choose a Top 3 from these mics, it would be the Rode Videomic Pro+, Comica CVM V30 Pro, and Deity V-Mic D3 Pro.
These three microphones are specifically designed for cameras like the Nikon Z6. You need no adapters or extra stuff to make them work together.
Also, these mics help your speech recordings by providing the high pass filter and gain functions. Lastly, they assure you of clarity with their narrow supercardioid pickup patterns.
Read Also: How to Earrape Mic? (Discord, Zoom) – Don't Miss this Guide