Affiliate disclosure: In full transparency – some of the links on this website are affiliate links, if you use them to make a purchase we will earn a commission at no additional cost for you (none whatsoever!). Will this be a problem? This is how we manage to create free content for you. Please know that your trust is so important for us. If we recommend anything, it is always because we believe it is worth exploring. And, buy me a coffee ☕️
Wondering which headphones to choose between the Astro 50 and Astra A40?
These two Astro headphones have the qualities that we love in Astro headphones – comfort and game-focused features. However, there are factors that make each of them useful for different people.
Of course, the major difference is that one is wired while the other is wireless. But there's much more to consider.
Which one of these headsets is better for gaming: the A50 or the A40?
Which is better for COD: Astro A50 or Astro A40?
This article will show you all you need to know so that you can make the best choice.
Astro A50 and Astro A40: Un-biased review
Build and design
The Astro A40 and A50 have similar build quality – mostly plastic with touches of metal in a few areas. The headbands and ear cups are well-padded and removable. Also, the earcups swivel to lay flat on your chest when wearing the headset around your neck.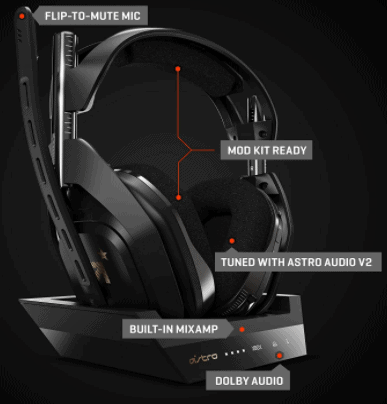 One obvious difference in design is that the Astro A40 is wired whereas Astro A50 is wireless. Hence, only the A50 comes with a charging base station. Instead of a base station like the A50, the Astro A40 comes with a mixamps that serve as DAC and remote to control the gaming headset's functions.
The A50's base station is a dock that allows you to place the headphones for charging and connection to your PC and video game consoles. It looks very much different from the A40's mixamps. We will explore some of these features better later in this article.
Fit and comfort
Both the A50 and A40 are gaming headsets, so you are likely to use them for several hours at a stretch. Both headsets excel in this aspect.
They are padded and covered with soft fabric. The surface is easy on the skin and the weight does not press too hard against your head.
Also, you can stretch the headbands to cover the width of your head. The Astro A50 gives some more allowance for this than the A40.
Also, both the A40 and A50 are comfortable with glasses. The earpads do not press too hard against the glasses. Summarily, we can say both are comfortable gaming headsets.
On paper, the A40 weighs 3grams more than the A50, but in practical use, you won't feel the difference.
Microphone
The Astra A40 has a detachable microphone. The headset is designed such that you can place the mic in the right or left earcup. Also, the mic swivels up or down. When you push it up away from your mouth, it automatically goes mute.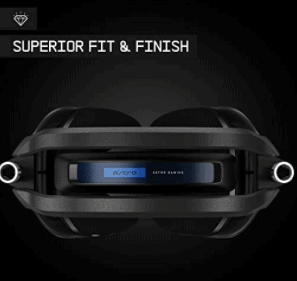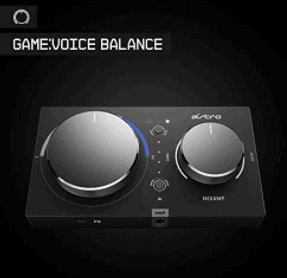 The A50 mic is quite similar. However, it is not detachable. Like the A40, it mutes automatically when pushed up and switches on when brought down to your mouth.
Let's talk about the microphone sound quality.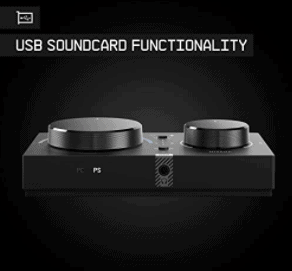 The A50 mic sound is clear, and your gamer buddies will hear your voice while playing. However, it may not sound entirely like your real voice, because it lacks bass. So, if you have a deep voice, you will hear a lighter, but clear version of it.
We can say the same about the A40 too. The mic sound is clear and optimized for speech. Also, if you select the right mode on the mixamps, you can prevent the mic from picking up keyboard and mouse sounds while gaming.
Sound quality and performance
The A50 and A40 are elite gaming headphones and you can hear this immediately you put them on. The A50's bass is a little recessed, and you may notice this in the gunshots and explosions in your games. However, while the bass is a little lacking, there's a whole lot of details in the midrange and treble.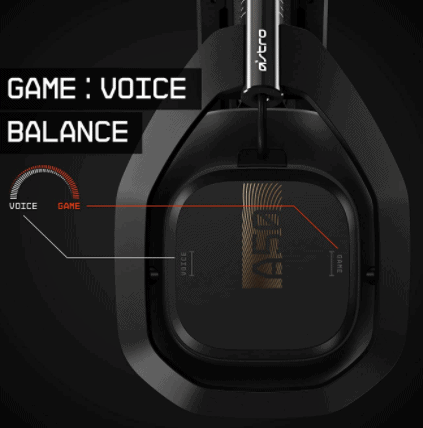 This sound profile can be perfect if your game has other aspects aside from shooting. For example, if you play GTA 5 on PC or consoles, there's a lot to enjoy other than shooting. With the A50 you will have a fuller audio performance.
The A40 has a more balanced bass with a nice punch to it. So, if you only play shooting games, you may prefer it. There's more power in explosions and other thunderous sounds. Also, it has a very detailed midrange like the A50.
This means dialogue and other game world sounds will come out clearly. Also, you will have no trouble communicating with your teammates.
Now let's look at the virtual surround sound of these headphones.
The A50 gives you a more immersive experience once you engage the surround sound. Although the ordinary sound has decent width, the surround adds depth. Sure, it's not exactly what you get with a real 7.1 surround setup, but it's better than stereo sound.
The A40 also has surround sound which you can engage by using the mixamps. Like the A50, this virtual surround gives you more depth in sound. However, it drops the headphone sound quality a bit. The overall sound becomes less solid. So, if you like your bass punchy and tight, the A40's surround may not be the best for you.
You'll get a solid performance regardless of which headset you use.
Other features
Both the A50 and A40 are compatible with PC, PS4, and Xbox. However, to achieve this, you must connect via the added hardware.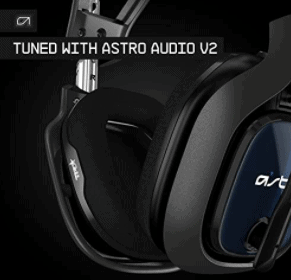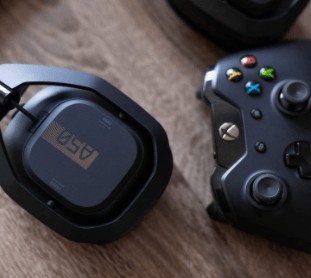 For A50, the base station allows you to connect the headphones to any PC or consoles. All you need to do is pair the base station to the headphones, then connect the base station to your PC, PS4, or Xbox. If your video game console has an optical port, use it for the connection.
However, if you have the PS4 Pro, PS5, or any console without an optical audio port, then there are two options. You can use an optical to HDMI adapter to convert the optical port on the base station to HDMI.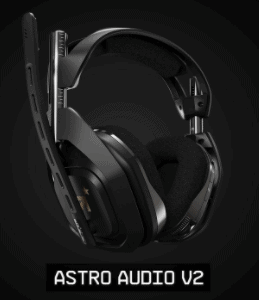 Another method is to connect the base station to your TV via the optical port, then connect your TV to your console via HDMI.
Using the mixamps and base station, you don't need the port on your gaming console controller for connection.The mixamp and base station enables you to use the headphone's wireless feature.
On the other hand, to make your Astro Gaming A40 TR Gaming headset compatible with PCs and consoles, you must connect via the mixamp. Since the A40 is a wired headset, there's no need for charging. The mixamp has control knobs that you can use to adjust your microphone and streaming volume. You can also adjust other features like EQ and surround sound.
The mix amp comes with an optical port. The connection is similar to the A50's base station. The only difference is that you'll connect the headphones to the mix amp with a 3.5mm cable.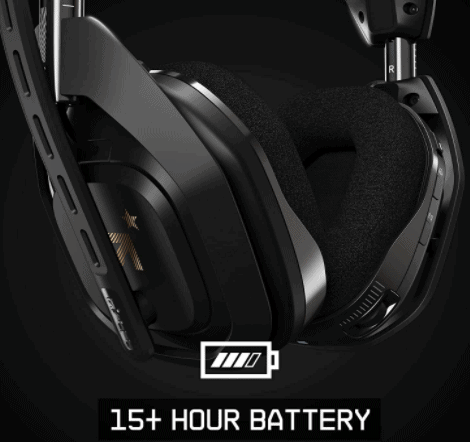 Like all wireless headphones, the Astro A50 is powered by a battery. When fully charged, it can keep working for up to 18 hours. It's unlikely that you'll have an 18-hour gaming marathon. At some point, you'll pause to eat or rest. So, you shouldn't have any inconvenience with charging the headphones.
Similarities and differences of Astro A50 vs Astro A40
Similarities
Both the A50 and A40 feel super comfy and convenient even after several hours.
Both gaming headphones have the virtual surround sound feature.
All-round compatibility is common to both headsets. They work well with your PC and video game consoles.
Both gaming headphones have a similar weight, with just 3 grams between them.
Differences
The A50 is a wireless gaming headset while A40 is wired.
While A50 connects to your PC and console using the base station, the A40 uses the mix amp.
The A50 has a better surround sound experience than the A40.
The A40's bass is punchier and packs more energy compared to A50.
Pros and cons
Pros
Long battery life. It can last the whole day.
Impressive surround sound production.
Zero delay in audio from the console or PC to the headphones – gives you a seamless gaming experience.
Cons
The base station can't be used with other headphones.
Slightly reduced bass may reduce the thrilling effect of explosions and gunshots in action games.
Pros
Super comfortable design – you can wear them for several hours without inconvenience.
Removable earpads enable you to use these headphones for many years.
It has more energetic bass production, giving more power to game explosions and gunshots.
Cons
You lose some bass when you enable surround sound.
It has multiple detachable parts – earpads, earcup cover, and mic. These parts could get missing.
Conclusion
Even though the A50 is wireless and the A40 is wired, these headphones have a lot of similarities. It's something that is consistent with the Astro brand. However, my preferred choice here would be the Astro A50.
The surround sound makes all the difference for me. That's because I love shooters like COD Warzone, so I need to know where the enemies are just by listening.
If you don't care so much about surround sound, the Astro A40 has better bass production, and it doesn't need charging, so it's also an excellent choice for gaming.
Hi, I'm Jennifer I'm a passionate singer and an audiophile from Detroit, MI. 
I'm on a mission to help music creators to create fine music that help them position uniquely in the saturated music space.
Follow my blog for regular content :-)