Making a good tone in an amp is what guitarists yearn for. Fiddling around with the control knobs, amp presets and onboard effects is always a fun musical experiment with your guitars and amps.
And for that very reason, we are going to talk about the best clean guitar amps for clear tones.
If you are into soulful music and jazz numbers, you are bound to fall in love with the clean tones of guitar amps.
But which amp should you go for in order to get the best tone?
Check it out right here:
Top 5 clean guitar amps reviewed
Specifications:
Effect Type 1 x Chorus, 1 x Vibrato, 1 x Reverb, 1 x Distortion
Dimensions – (WxDxH) 29.9 x 10.2 x 24.5" (760 x 260 x 622mm)
Weight 62 lb – (28 kg)
Power Output 120 Watts (60W + 60W Bi-amplified)
Speakers 2 x 12" Silver Cone
Features and performance
The vintage design and retro look of the Roland JC-120 Jazz Chorus will remind you of the late 80s and early 90s. And to maintain that theme, the controls give off a similar kind of vibe.
The extreme top portion of the speaker grille has been dedicated to a slim control strip.
Starting from the left and going rightwards, you will find:
Two input channels with a 3-band equalizer of its own
Additional reverb knob and distortion switch for the second channel
Effects control panel with Depth, Speed, and mode selection knob
The control cluster has a very intuitive look. All the buttons, switches, and knobs are labeled. You can easily read the words.
If you are keen on making your own tones, these tactile and responsive controls will come real handy.
Even though JC-120 is popular for its clean channel, it also features an effective distortion channel. Other effects available in the amp are reverb, chorus, and adjustable vibrato.
You will also find a stereo effects loop and a footswitch.
In spite of being a solid-state amplifier, JC-120 has used two power amps. And each of them powers dedicated speakers. This phenomenon helps in creating a genuine stereo image that sounds great with the chorus effect.
The two speakers of JC-120 are in the form of the classic silver-cone units. You can find such speakers in other Roland amps as well.
Each amp of JC-120 is rated as 60 watts. So the total power of this guitar amp sums up to 120 watts.
When you toggle the bright switch, the mid-high and high notes are raised. This will enhance the presence of your guitar's sound.
The two inputs – Low and High – further fine-tunes your sound. When you run your guitar through the Low input, it emphasizes the fat range. On the other hand, the High input will enhance the treble sounds.
Pros
Exceptional clean tone
Can sound very loud
Almost replicates clean tonal quality of tube amps
Amazing for live shows
Cons
Distortion channel not powerful enough
Cannot produce a good overdriven tone
Bottomline: JC-120 will satisfy those who are looking for a loud sound guitar amp with a good number of effects. If you want to take up music as a career or if you are into serious live gigs, this is the guitar amp to go for. Although you will need to buy extra pedals to churn the most out of this amp.
Specifications:
Rated Power: 60 Watts
3-Band EQ: Control Treble, Mid-range, and Bass
Volume Control
1/4" Headphone Jack for Silent Rehearsing
1/4" Output Jack for Hooking Up External Speakers
Frequency Response: 20 Hz to 15 kHz
Dimensions: 15.75" x 8.27" x 13.58"
Weight: 22 lbs.
Features and performance
The Pyle-Pro PVAMP60 is the ideal practice amp for guitar players. Even for its small size, it delivers the best quality in such a price range.
The amp houses an 8-inch speaker. It features low and high-level inputs. There are separate channels for a clean tone and overdrive tone.
You can control the bass, midrange, and treble with the 3-band EQ.
Speaking of effects, it has a digital delay built into the amp. You can adjust the overdrive gain to create a powerful and crunchy sound.
PVAMP60 is also equipped with a ¼-inch headphone jack that lets you rehearse silently without disturbing others. Plus, there is also an option for connecting external speakers through the ¼-inch output jack.
The amp has a rated power of 60 watts. The frequency responses from 20Hz to 15kHz.
Pros
Easy to set up and use
High on power output and portability
Good construction and quality finish
Great in terms of volume
Cons
Lacks in versatility
Average sound quality
Bottomline: Pyle-Pro PVAMP60 is a great guitar amp for beginners. If you mostly play in garages and studios, this amp should be the perfect practice amp for you. You can either crank the volume up or play quietly by using a headphone.
Specifications:
Number of Channels: 1
Total Power: 50W
Speaker Size: 1 x 12"
Reverb: Yes
Effects: 24 (5 simultaneously)
Amp Modeling: 14 x Preamps, 4 x Power Amps, 8 x Speaker Cabs
Features and performance
Unlike other Marshall amps, the Marshall Code 50 follows a different control panel layout. In most Marshall amps, you will find the control straight across the front side. But in Code 50, they are placed on top of the amp. They score points in terms of convenience and ease of access.
The control panel is divided into two sections basically. You can term them as the lower section and the upper section.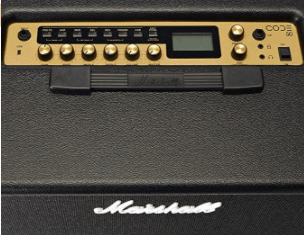 The standard controls like Master Volume, Gain, Bass, Mid, and Treble are present in the lower section. Other things that you'll find here are the power switch, a jack input, sockets for headphones, an AUX input, and a USB port.
In the upper section, you will get the button controls for presets, digital effects, cabinet and amp simulations. This section also features a digital screen for visual feedback on what you are doing.
It would not be wrong to refer to Code 50 as an ocean of effects. And it's a given that you will get confused about which one you like the most. There are that many effects!
So basically, you will get 14 preamps, 15 power amps, and 8 speaker cabinets. Some of the famous amps included are the JCM800 and Bluesbreaker. As for speaker options, it starts from the single 12-inch and up to the distinct 4×12-inch.
You can go crazy with any kind of combination you want. For instance, you can either play some melodies with a sparkling and sharp clean sound with sufficient presence or you can rock some riffs with the infamous 100-watt crunch sound. The Code 50 can produce some seriously good metal sounds as well.
Once you have decided on the cabinet and amp combination, you can start applying the effects. The list starts with the simple and plain distortions, Wahs, Flangers, Choruses, and Phasers.
You will also find a 60s style tremolo, a pitch shifter, a compressor, reverbs, and delays. It also features an inbuilt tap-tempo facility.
The Marshall design speaker is uniquely made for Code 50 and other Code series amps. It can easily handle power up to 50 watts without any difficulty. The speaker is larger and heavier than most practice amps. And thus, it gets loud enough for rehearsals and live stage shows at small venues.
The EQ of Code 50 characteristics the typical Marshall sounds with its bass thump, midrange growl, and sparkly treble.
But there's more. There are a few interesting extras in Code 50. You can connect a Bluetooth device to the USB port and control the amp remotely. The AUX input is good for playing along with songs or backing tracks. And if you want to practice or play in silence without bothering others, make full use of the headphone socket.
Furthermore, you can also link Code 50 with the Marshall Gateway software via the USB. This software allows you to make advanced adjustments to your sound.
Pros
Huge range of cabinets and amps and choice of tones
Great amp for practicing
Sturdy and dependable build quality
Numerous quality effects
Cons
Requires pedal for live performances
Set up can be time-consuming
Takes a while to get used to the functionalities
Chances of Bluetooth connectivity issues
Bottomline: Talk about practicing or playing in the studio, the Marshall Code 50 is right on the money. But if you are looking for the authentic Marshall tube sound, this won't be the right amp for you. It is very versatile and there is more than enough scope of sound modeling all built into it.
Specifications:
Voltage: 230V EUR.
Wattage: 40 Watts (2 x 20 in Stereo)
Channels: One.
Inputs: One – 1/4"
Effects: 21 Amp Models, 46 Effects.
Line Out: One – (1/8" Stereo)
Headphone Jack: 1/8" Stereo.
Features and performance
Although it may seem like a regular guitar amp, there's much more to the Fender Mustang GT 40. Apart from the normal controls – volume, gain, treble, and bass – there are few things that will surely catch your eye.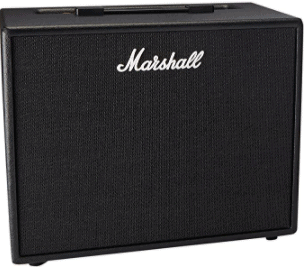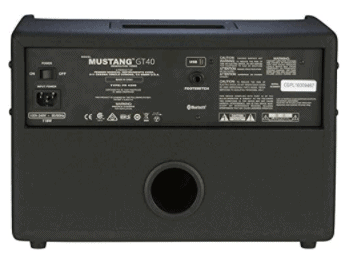 Just beside the master volume control, you will see a 5.5 cm LCD color screen. It is termed the encoder. Basically, it is used for navigating and switching between any of the 31 classic amplifier recreations.
Just a quick twist to the big knob, and you can shuffle through some incredible amplifier presets, such as the Vox AC30, the Fender Twin Reverb, the Orange OR120, the Marshall JCM800, and the list goes on.
On the right top side, you will find a number of sockets. The 6.35mm guitar input, 3.5mm headphone, and line-out socket. At the back, there is an optional connector for footswitch control and a micro-USB socket for connecting the amp to a computer.
Moving on, to cater to your creative sound needs, GT 40 features a range of guitar effects like the classic overdrive, flanger, chorus, reverb, and delay. You can tweak them, punch them in and reorder them as to your liking.
But say you are not too excited about using the encoder to create your tone. Is there another way? Of course, there is – the Fender Tone smartphone. You can download it for free on your Android and iOS devices.
The GT 40 links up with the app via Bluetooth. With just a tap, you can hop from one preset to the other. The app is also useful for adjusting the effect controls of the amp.
It also lets you save your own tones up to 200 slots. Plus, new tones and presets can be easily downloaded via the app as well!
If you get a footswitch, you can also benefit from the inbuilt looper of GT 40.
Coming to the speaker, this app houses two 6.5-inch speaker cones in a ported enclosure. They are loud enough to be played comfortably in the house, garage, or studio.
As the name suggests, GT 40 can produce a sound output power of 40 watts.
The tonal balance of the app is simply mind-blowing. The bass sounds are powerful but controlled. Meanwhile, the mids and highs do not have any sibilance.
Pros
Classic-looking and compact design with smart technology
Easily transportable and very versatile
Great range of digital amps and guitar effects
The preset library can be expanded through the Fender Tone app
Can also act as a WiFi speaker
Cons
Slight problem with the distortion sounds
User interface of the amp can be confusing
Not ideal for live performances
Bottomline: Given the fact that the Fender Mustang GT 40 has so much to offer, be advised that this amp is not meant for live performances. But for home recording and practice sessions, you will hardly find any amp like this one here. For such a price range, it is way more versatile and it sounds phenomenal.
Specifications:
Speaker Amplification Type Active
Output Wattage 20 Watts
Size 20 Watt
1/8" headphone out jack
Controls Include Gain, Bass, Treble, Volume & Grind
Number of Speakers 1
Power 20 W
Features and performance
The LyxPro AGL-20 may be small, but it has everything a standard guitar amp should have.
Starting with its integrated controls that let you adjust the volume, gain, treble, bass, and grind. These multiple adjustable dials give you the ultimate grip over the kind of sound you want.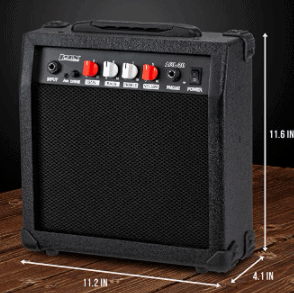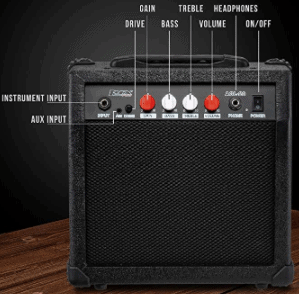 The AGL-20 is a great 20-watt amp for experimenting with your sound creativity skills. Exploit the onboard controls and effects to expand your tonal creation.
It features an inbuilt speaker, ¼-inch instrument input, ⅛-inch headphone out jack, and AUX input, in case you want to connect your phone and play along with your favorite soundtrack.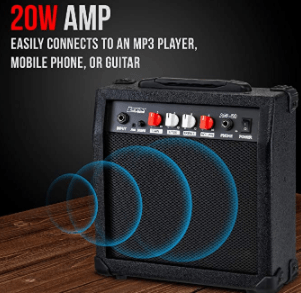 Last but not the least, the corner edges of AGL-20 have been secured with hard rubber. It helps the amplifier in standing firm on the ground and remains in a stable position. Furthermore, the rubber also protects the amp from dents and damages.
Pros
A perfect amp for beginner guitar players
Subtle looks and durable build quality
Cons
Requires adjustments and more setup
Weak sound and poor distortion
Bottomline: Looking for a basic guitar amp at a budget price? Go for the LyxPro AGL-20. The sound quality is humble and enough for beginners to practice. The effects are good for trying out tone creation at the initial level.
Conclusion
Quite a competition that was, right? And now the time has come for us to name the winner. So which one is it?
Well, to your delight, there are three actually. We liked them so much that it felt unfair to name only one the best.
First things first, we have become instant fans of the Roland JC-120. Since this article is about the best clean guitar amps for clear tones, this amp is bang on! And it's not just clean but can get incredibly loud as well.
All you need is a couple of pedals and you can rock the stage with this amp like a pro.
Then comes the Marshall Code 50. We were simply blown by the possibilities of tone creation with such an amazing range of cabinets and amps. Whether you are practicing at home or playing in the studio, this amp will serve you right.
And lastly, we were impressed by the Fender Mustang GT 40. It's not just guitars that are the forte of Fender, but they make great amps too.
This amp is an accurate manifestation of that claim with its retro looks, compact design, and technological add-ons. And if you are not in the mood of playing, this amp can become a wireless speaker too!
So, how did you like these best clean guitar amps for clean tones? We have given our say. Now it's time for you to make your pick!
Read Also: How to Fix Bluetooth Lag in Car? – 8 Super Quick Solutions