Having the best car speakers is not enough sometimes. Especially if you are someone who prefers powerful, soul-energizing music.
This is where an amplifier comes into play. An amp is a component in the sound system that generates that extra power. When your speakers cannot deliver what you expect, an amplifier acts as a catalyst.
Amplifiers come in many variants and types. Today, we will specifically be looking at some of the best monoblock amplifiers. Some of you may know what a monoblock amplifier is. For those who don't, let us give you a little brief before reviewing the products.
What is a Monoblock Amplifier?
When we are dealing with speaker systems with a single channel, we cannot overlook the importance of a monoblock amplifier.
It is a single-channel amp that powers the speaker systems. They are mostly used to power subwoofers that lack the thumping low end.
Monoblock amplifiers have a stabilizing capacity that comes in handy in increasing the power supply. It enables the subwoofer to achieve a deeper bass by enhancing the low-end frequencies.
Top 5 monoblock amplifiers reviewed
Specifications:
Class A/B, Monoblock, MOSFET power supply
1500 Watts @2-Ohms x 1 channel Max Power, 750 Watts @4-Ohms x 1 channel
Thermal overload speaker and short protection
Variable low pass crossover, Variable bass boost
Input sensitivity selector, Variable input gain control
Sound quality and performance
Planet Audio AC1500 caters to all your low bass performance issues. With its inbuilt low-pass filter, this amp prevents the high frequencies from coming out of the subwoofers.
Additional features like bass boost, low pass crossover, and remote subwoofer control further emphasize the sound performance. You can derive high-quality sound by exploiting these sound customization tools.
Design and power handling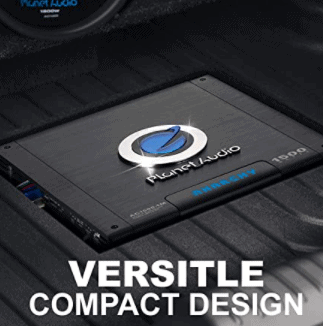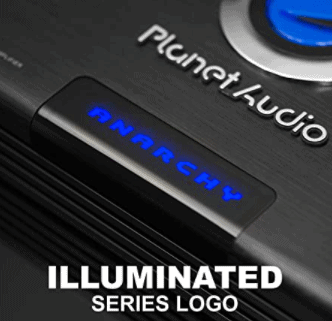 The dimensions have been kept in check to make it a slim sized amp. It does not weigh much that eases usability. Its sleek design lets you freely install the amp without any difficulty.
Furthermore, thanks to its class-AM design, the AC1500 is compatible with head units of all types.
In terms of power handling, the AC1500 can reach a maximum peak power of 1500 watts at 2 ohms. The amp uses a MOSFET (Metal Oxide Silicon Field Effect Transistor) power supply. This system is known for its highly-efficient usage of current.
What do we like?
Top score for versatility and user-friendliness
Tremendous power handling mechanism
Subwoofer control lets you modulate the bass according to your need
What we don't like?
Bass knobs are prone to faulty functioning
Consumes battery power very quickly
Made only for car usage
Bottomline: AC1500 is undoubtedly a powerhouse. Its bass production will impress you beyond limits. And its price range is nothing less than icing on the cake. This amp ticks all the right boxes and will hardly give you any scope of dissatisfaction.
Specifications:
370 Watts RMS x 1 @ 4 ohms
550 Watts RMS x 1 @ 2 ohms
Total Peak Power: 1300 Watts
Slim Chassis design to fit more vehicles
Variable Bass Boost
Sound quality and performance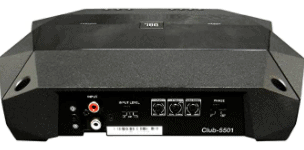 The JBL CLUB-5501 is a precise combination of performance and power. This amp is made to be coupled with any car stereo right away. Thanks to its low-level and speaker level inputs.
The CLUB-5501 won't fail to impress you with what it has to offer. Bass boost circuit and variable electronic crossovers will fine-tune the sound quality produced by the amp.
Moving ahead, the amp features the ADAS input. On connecting the amp with ADAS accessories, the audio signal is overridden by the input.
CLOB-5501 also works perfectly with HALOsonic systems in certain vehicles. This mixing input helps in reducing the external noise for an incredible sonic experience.
Design and power handling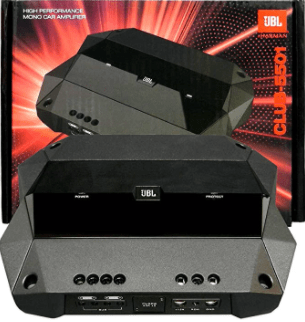 In terms of design and body style, CLUB-5501 demonstrates a compact size like the rest of JBL Club amps.
The chassis is slim and it is complemented by its small footprint. These traits together make this amp such an ideal fit for almost all vehicles.
CLUB-5501 is rated with a max peak power of 1300 watts and 370 watts RMS at 4 ohms and 550 watts RMS at 2 ohms.
What do we like?
Stays cool even under heavy performance load
Very powerful yet quite flexible and portable
Simple and straight forward usage
What we don't like?
Lack of power for powering dual voice coils
Bottomline: The trust of JBL, amazing performance, noise reduction abilities and loads of other features – that is more than enough you could ask from a monoblock amplifier. And you get all of that with the CLUB-5501. You will hardly get disappointed by choosing this amp.
Specifications:
Peak Power at 1 Ohm: 2,200 Watts
RMS Power at 1 Ohm: 1,500 Watts
Featuring 4-Way Protection Circuitry
User Adjustable Low Pass Filter (Variable): 35Hz – 250Hz,
On-board Bass Boost Control (0-9dB)
Sound quality and performance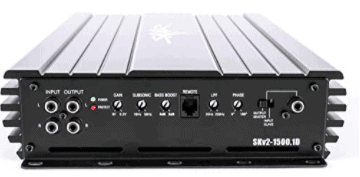 A professional-grade monoblock amplifier, Skar Audio SKv2-1500 is developed for uniform performance and steady power output to subwoofers. It features competition-grade advanced engineering enhancements to become one of the most reliable amps in the market.
SKv2-1500 is a feature-packed monoblock amp. One highly beneficial feature is its user control panel inbuilt in the amp. This panel consists of several settings, namely bass boost, variable gain level adjustment tuning, low-pass filter, subsonic filter, and phase control.
Apart from all this, this amp also houses RCA inputs and outputs that help in creating a chain of multiple amplifiers.
Additionally, SKv2-1500 operates on 1/0 gauge power through ground input terminals. This feature maximizes the flow of current that contributes towards its high power output.
Design and power handling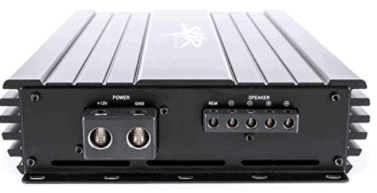 SKv2-1500 is all about its versatility. The 4.75-inch compact chassis design easily fits almost anywhere. The full-range class-D topology combined with the military-grade SMT circuitry is what makes it such a high-performance amp.
As far as sound pressure levels are concerned, the SKv2-1500 is undoubtedly one of the best you can get your hands on. This amp is rated with an outstanding maximum power output of 2200 watts and 1500 watts RMS power.
An interesting design feature of this amp is its advanced heatsink design. It enhances the cooling process and ensures the smooth function of the amp.
Plus, SKv2-1500 houses a 4-way protection circuitry. This is what allows the amp to perform for long hours even at the highest power outputs.
What do we like?
High power output ratings
Very affordable in comparison to others
Amazing build quality and design features
What we don't like?
The bass knob does not work properly
Internal wiring issues
Bottomline: The SKv2-1500 has rightly become one of the most chosen monoblock amps in the market. And why shouldn't it? With such amazing power ratings, professional-grade build materials, and design features, one can hardly bat an eye at this masterpiece.
Specifications:
Compact Series Monoblock Class D Car / Marine Amplifier
RMS Power Rating: 4 ohms: 200 watts x 1 chan. / 2 ohms: 300 watts x 1 channel
Max power output: 600 watts x 1 channel
LED power (green) and protect (red) indicators: Soft start turn-on
Sound quality and performance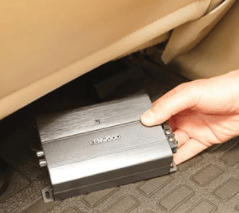 With the help of its speaker-level inputs, the Kenwood KAC-M3001 becomes an ideal amp for almost any audio system.
You will largely benefit from the signal sensing turn-on feature with speaker-level inputs. It enables the amp to operate smoothly across various applications.
The amp is capable of operating from any signal source – both RCA cables and speaker wires.
Design and power handling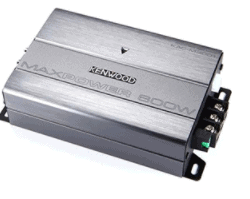 Going by the looks of it, KAC-M3001 is a compact amplifier that is designed to work flawlessly across cars, bikes, and ATVs as well. And since this is a marine-grade amplifier, it has great marine applications as well.
The circuit board of KAC-M3001 has a conformal coating. It prevents the board from getting affected by moisture.
KAC-M3001 operates on a switching MOSFET power supply. The amp is rated with a maximum peak power of 600 watts and up to 300 watts RMS.
What do we like?
Suitable across a wide range of vehicles and boats
Compact and versatile design design
What we don't like?
No subsonic or low pass filters available
Lack of bass boost.
Bottomline: KAC-M3001 is a highly versatile and powerful monoblock amplifier. It is built with extra layers of protection so it can withstand different climatic and moisture conditions. Want an amp with multiple applications? This is the right choice to choose!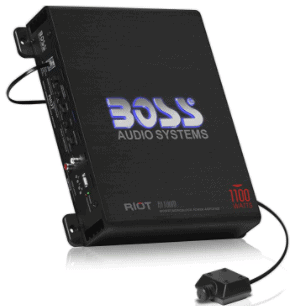 Specifications:
Class A/B Monoblock, MOSFET Power Supply
1100 Watts @2-Ohms Max Power
825 Watts RMS @2-Ohms
High and Low-Level Inputs
Variable Low Pass Crossover, Bass Boost
Remote Subwoofer Control
Sound quality and performance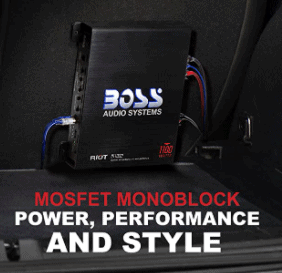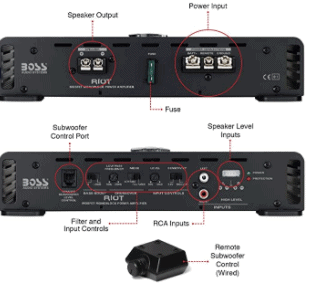 Ideal for first-timers and also trusted by professionals, the BOSS Audio Systems R1100M is known for adding that extra bass to your car audio.
You'll be very wrong if you judge its performance by its minimalistic design. This amp has been made by keeping user-convenience in mind.
The list starts with a remote subwoofer control. Get more grip on how much you want the bass amounts to be.
Moving ahead, R1100M also features several functionalities such as variable low pass crossover, high and low-level inputs, switchable bass boost, thermal overload speaker, variable input gain control, and protection LEDs.
Design and power handling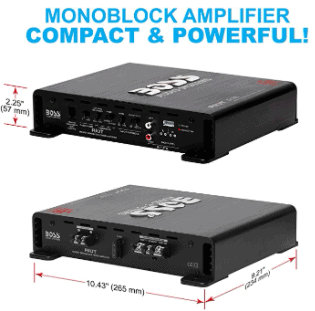 For a budget monoblock amplifier, the R1100M has a suitable design. The size is compact and it does not weigh much as well.
All the switches and connectors are present on the back of the amp. There is a provision to connect the remote subwoofer level control.

The MOSFET power supply is yet another highlight in the design features of this amp. It is nothing but a highly efficient power supply system. It is responsible for controlling the amount of current flowing into the amp. This system maintains a steady flow of current even when the amplification signals are changed rapidly.
As far as power handling is concerned, the R1100M has a max power of 1100 watts.
What do we like?
Feature-packed amp
Wall connecting facilities
Improved power protection
What we don't like?
Very basic sound quality
Lack of enough power
Mount required
Bottomline: R1100M is totally a budget monoblock amplifier. So if you are new with mono amps, and want to begin with a basic one, this is the right product to go with. Don't expect it to blow your car roof. You will have to upgrade in order to get more power.
Conclusion
Every year, we get to witness many new monoblock amplifiers.
After carefully going through the top 5 best monoblock amps above, one thing is clear – all of them are worth products.
But there has to be something that makes one better than the other, right? Well, according to us, we found three of them to be the best picks among the 5.
Right at the beginning, the Planet Audio AC1500 impressed us beyond our imagination. This one here is an absolute rockstar in the world of monoblock amps. Such mind-boggling bass at a price that will just make you happier, this amp is definitely a go-to choice for monoblock amps.
Up next, the Skar Audio SKv2-1500 wasn't far behind in living up to our expectations. The moment your eyes lay upon this amp, you will be engrossed in its beauty. Talk about any feature and this amp has got it.
And finally, we liked the BOSS Audio Systems R1100M. Firstly because it is a budget amp. We understand many of you are new with monoblock amps. And so, we are giving you a safe option, to begin with. BOSS is a highly reliable brand and you can invest without any worries.
Related articles: