Last update on 2023-12-08 / Affiliate links / Images from Amazon Product Advertising API
What are the best mics for recording an Upright piano?
The first part of the recording chain is the microphone. Every instrument has a set of microphones that work best with it. That's why we have a set of best violin mics and flute mics.
The Upright piano is no different. There are some mics that do the job better than others. This article brings you five of the best mics that fit the bill.
Factors to consider while choosing the best upright piano mic
Flat frequency response
You need a mic with a flat response for transparency and accuracy. If your Upright piano sounds right, you may not need any coloring of the sound.
Having said that, you may choose a mic with subtle cuts or boosts. This will work where the piano is one of many elements in the whole performance. This also works when selecting mics for pianos.
Low Self-noise
Self-noise is the sound that a mic makes when switched on. Every mic has it, although it's louder in some than others. Mics with low self-noise can record quieter notes accurately since the mic's self-noise won't be in the way.
Sensitivity
High sensitivity mics are better for Upright pianos. They capture the low volume notes better. Just make sure the mic also has a high SPL. This is important so that the louder notes won't sound distorted.
How to mic an upright piano
There are three major ways you can mic an Upright piano.
Open up the top panel and insert your mic through. This method is best when you only have cardioid mics. It gives you the freedom to direct your mics at the strings. For this method, you will need up to two mics.
Place the mic close to your ears and point it in the direction of the piano. The idea here is to make the mic record the piano sound just like you're hearing it. For this method, binaural mics are best because they capture sound just like human ears.
You can also use an omnidirectional mic as well.
Here are the top 5 mics to record an upright piano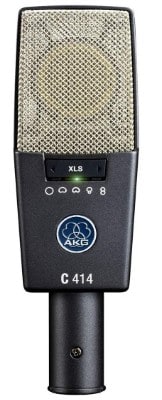 Specifications:
Engineered for highest linearity and neutral sound
Nine selectable polar patterns for the perfect setting
Three attenuation levels (-6/-12/-18dB) for close-up recording
Overload warning with audio peak hold LED to detect shortest audio peaks
Sound quality and performance
AKG C414 has a characteristic clarity that makes it cut through the mix. Of course, with the upright piano, this means that you will have brighter notes production. You'll feel this effect much more if you use the cardioid polar pattern.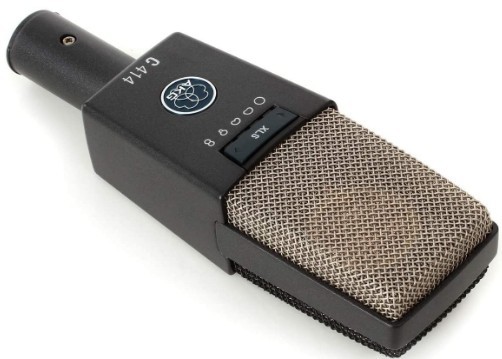 The emphasis on clarity does not make the piano sounds too harsh, but you'll notice that slight shimmer especially during a piano solo, where you play a lot of high-pitched notes.
You will feel this high-end presence more with the cardioid polar pattern than with an omnidirectional pattern.
Features

It has a solid build when we consider the frame. It's strong and can take a few drops. The mesh grille is another story, however. It's not as solid as the rest of the frame. A few drops may not affect the frame but will dent the mesh grille.
The C414 has some good qualities, but what makes it really good for Upright pianos is its sensitivity and self-noise.
A sensitivity rating of 23mV/Pa means that the softer piano notes will be picked alongside the louder ones. Also, quieter passages will be well captured and recorded.
Also, the C414 has a self-noise of 6db-A. That's quite impressive. It means while you're capturing the quieter piano notes, the mic itself will not introduce noise to disturb the recording.
Pros
Low self-noise
High sensitivity
Multiple polar patterns
Cons
Works best only in treated acoustic spaces.
Specifications:
Delivers a warmth, extended dynamic range, and high SPL capability
An Incredible self-noise level of only 5dBA
The low noise makes it an ideal vocal microphone as well as perfect for recording
A studio-grade pop Shield and shock mount is included
Sound quality and performance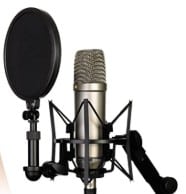 The overall sound of the NT1-A is balanced, but there are still some slight bumps here and there. The mic has a light lift around 120Hz and 12kHz. There's a slight emphasis on low octave notes and high octave harmonics.
This sound profile leaves the midrange without enhancements. This can prove useful if the upright piano is played as a supporting instrument to the vocals in the recording. The slight scoop in the midrange gives vocals some room.
The NT1-A is also really quiet in terms of self-noise, even quieter than AKG C414. You won't just get the quiet notes with this mic, the harmonics and transients will be well captured too.
Despite the low self-noise of Rode nt1-a, it still has high sensitivity and high SPL. This means that even when you slam the piano keys, those louder notes will be well captured without distortion.
Features

Rode NT1-A is a cardioid condenser microphone. So, to mic an upright piano with it, you may need to take off the top panel and place it close to the strings. For more effectiveness, you may need to use two at a time.
The frequency response is 20Hz to 20Hz, which is wide enough for both fundamentals and harmonics of the piano notes.
Rode NT1-A will mostly capture the piano sound directly and less of the room. To capture room sound you may look to the AKG C414 with an omnidirectional polar pattern setting.
Pros
Captures quieter notes effectively.
Records loud notes without distortion.
Cons
It will not capture room sound effectively.
It needs to be used in pairs for maximum effectiveness.
Specifications:
Tight cardioid pickup pattern makes it ideal for use as an indoor dialogue microphone
This compact externally polarized mic employs a 1/2" capsule
An active J-FET impedance converter with bipolar output buffer
Sound quality and performance
Rode NT5's sound characteristic will be perfect if you prefer a lighter feel or your upright piano recording.
It gives the low end a slight drop that reduces the heaviness of the notes quite a bit. This low-frequency roll-off can also be good prevention against bass buildup due to proximity effect.
In contrast, The fundamentals in the higher octaves have some extra push. This makes the overall sound brighter rather than dull or dark.
If the upright piano is part of a larger band of instruments, this brightness makes it sound unique, without competing with the bass or other instruments.
Features
For the best results, use Rode NT5 to mic your upright piano as a stereo pair. This is because it's a cardioid microphone, so it's just going to capture what's right in front of it. The upright piano is pretty wide, so a cardioid mic may have a hard time catching it all.
The NT5 has a combination of features that make it ideal for recording the upright piano. It's a condenser mic with a frequency range of 20Hz to 20kHz.
If you record the Upright piano with the NT5, it captures everything from the lowest notes to the highest pitches. It also records the harmonics accurately.
It's also high sensitivity and low noise mic. It's not as quiet as NT1-A, but it's enough to take a clean recording. The advantage that the NT5 has is its end-address design. It's easier to direct it towards the sweet spot of the Upright piano.
Pros
The end-address design makes positioning easier.
The slim design makes it possible to place the mic in tight spots.
Cons
To capture room sound, it must be used in pairs.
It can make the piano sound light, especially during a solo performance.
Specifications:
Ideal for project/home studio applications
The noise level is 20 db spl
High spl handling and wide dynamic range provide unmatched versatility
Custom engineered low mass diaphragm provides extended frequency response and superior transient response
Sound quality and performance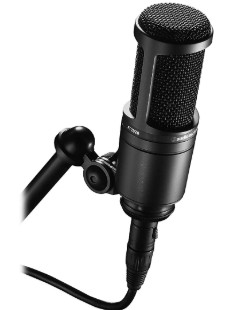 The AT2020 has that "warm" sound that every audio engineer loves. It's quite surprising considering the price. However, to get the best from this mic when recording an upright piano, you need to be extra cautious with placement.
This is because the mic the AT2020 is a cardioid condenser mic. It will only capture what's right in front of it. If your placement is off, you won't have the best sound.
Features
Additionally, AT2020 has a considerable amount of self-noise. To get an accurate recording during quieter passages, you must place the mic close to the strings. To achieve this, you may have to open up the top panel of the piano.
This placement also helps you to reduce the effect caused by low sensitivity. Overall, the AT2020 is really effective once you get the placement right. It's a small price to pay for getting an affordable mic of this quality.
Audio Technica AT 2020 is also durable. It has an all-metal housing with a metal grille. It's certainly built to last.
Pros
Solid build; built to last.
Good choice for producers and artists on a tight budget.
Cons
High self-noise and low sensitivity can make mic placement a bit difficult.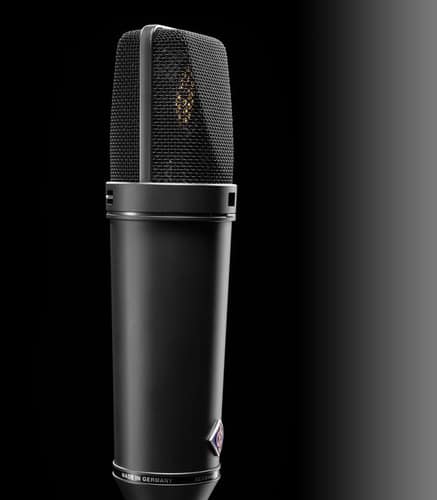 Specifications:
Balanced frequency response in three polar patterns
Very low self-noise
Classic sound
Switchable low cut and pad
Very low self-noise
Sound quality and performance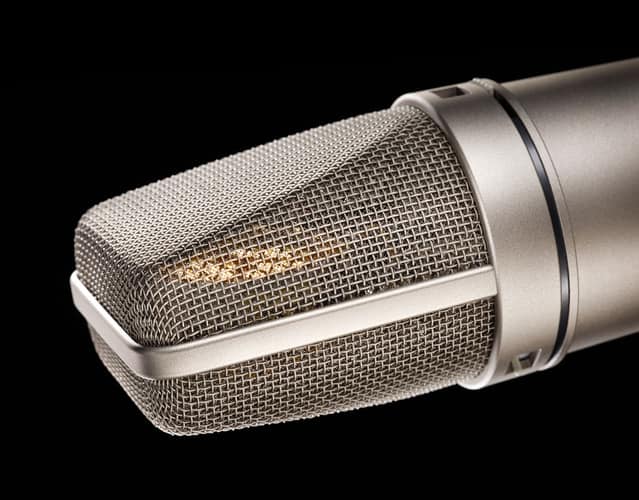 Everyone loves the U87. It's a legendary sweetheart of most audio engineers, producers, and performers.
The number one sound characteristic that makes it perfect for miking an upright piano is its flat response.
The U87 Ai does not color the sound in any way. Any quality you wish to hear from this mic must be produced by the piano or added during mixing. Because this Neumann mic has three different polar patterns, you can use it to mic the Upright piano in different ways.
If you have just oneU87 for your piano, you should set it to the omnidirectional pattern.
Features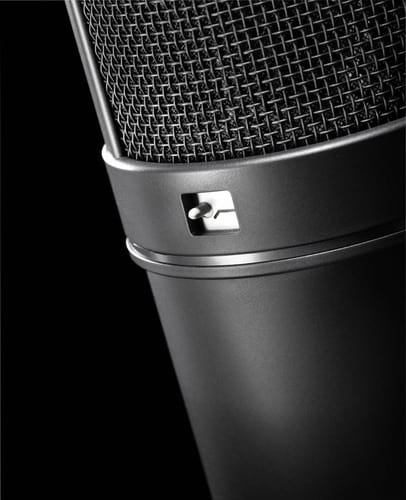 There's a precaution to this mic though: If you're going to use the U87 Ai, make sure your room is well treated.
If your room has bad reflections, the U87 will capture it all, and it will affect the recording. This mic is super sensitive and also very quiet. With high sensitivity and low self-noise, the mic picks just about anything it comes in contact with.
The two other available polar patterns are cardioid and figure-8. This mic may set you back a few bucks, but it's definitely worth the buy.
Pros
Accurate frequency response
Multiple polar patterns give more options for mic placement.
Cons
Will take a big chunk of your budget
Needs to be used in a well-treated room.
Read Also:
Conclusion
Because of the peculiarities of the Upright piano, there's really no perfect mic for the job.
However, of these five good options, my best three picks are AKG C414, Rode NT5, and Neumann U87 Ai.
AKG C414 works for me because it has different polar patterns. So, if I'm recording an upright piano for a song, I can have two takes; one with the omnidirectional pattern and another with cardioid, placed up close to the strings.
The same goes for the U87 Ai. It's an upgrade on the C414, but with better accuracy.