Today in this post we are going to review Scarlett Solo vs 2i2 and help you decide which one is best for your needs.
Last update on 2023-09-21 / Affiliate links / Images from Amazon Product Advertising API
Focusrite is famous for its chain of Scarlett audio interfaces.
Focusrite Scarlett Solo and Scarlett 2i2, in particular, are quite common among home studio owners. They represent an opportunity to have quality professional sound without having to spend so much.
| | | |
| --- | --- | --- |
| Features | Scarlett Solo | Scarlett 2i2 |
| A/D Resolution | 24-bit/192 kHz | 24-bit/192 kHz |
| Mic Preamps | 1 | 2 |
| Instrument Inputs | 1 | 2 |
| Analogue Inputs | 2 | 2 |
| Analogue Outputs | 2 | 2 |
| Headphone Outputs | 1 | 1 |
| Digital I/O | No | No |
| MIDI I/O | No | No |
| Bus Powered | Yes | Yes |
| Amazon Product Page | Check Price | Check Price |
However, when we consider these two external soundcards: Are there any differences?
Does Scarlett 2i2 have any advantage over Solo?
Do you have anything to lose by choosing Scarlett Solo over 2i2?
Let me answer all these questions in this article.
Let's get started.
Scarlett Solo vs 2i2: Let's find the winner
Build and design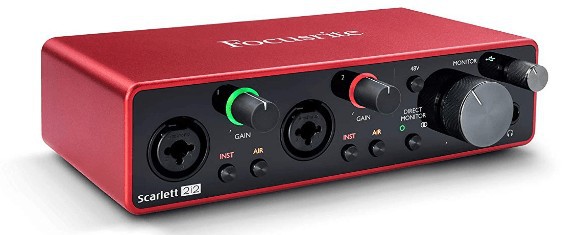 For any recording gear to last long, the first thing you should notice is its solid build.
Scarlett Solo and Scarlett 2i2 are certainly built to last.
Both audio interfaces have machined aluminum material covering the top and sides. The front and rear are made of composite material. This combination ensures that you never have problems with the casing.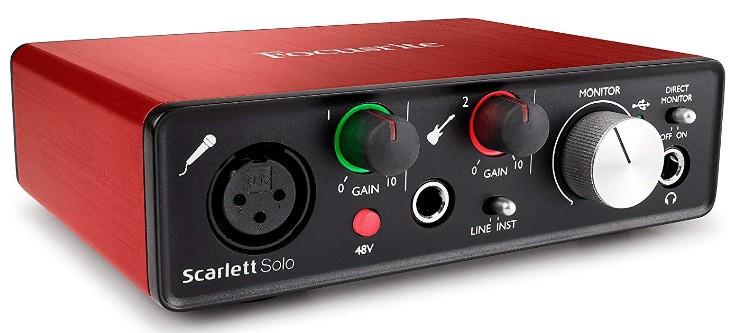 Colors:
Both interfaces are only available in one color.
The top and sides are red while the front and rear are black.
It's a signature color combination that you'll only find in the Scarlett series.
Controls and switches:


There are three lights in front of the device; a green light which indicates if the USB is connected, and rings of light around the gain knobs for each channel.
The green light for channel 1 and red for channel 2. These lights come on when the gain level is getting close to the maximum.
Input and outputs:
Scarlett Solo has two inputs; the one on the left is an XLR input. That's where most of your mics go into. The other input is a ¼ inch jack port.
It's primarily for recording instruments. You can easily recognize it by the guitar sign that's right above the port.

Solo also has two outputs: left and right. They are both RCA outputs. If you're getting this version, then be sure to have the correct cables.
If you prefer a ¼-inch output, you may go for the Scarlett Solo 3rd Gen version. The RCA output is peculiar to the 2nd Gen.
Scarlett 2i2 has two dynamic inputs in front. I call them dynamic because they can work with both ¼ inch jack cables and XLR connectors.

Also, you can use any of the two inputs for either voice or instrument. 2i2 also has two outputs located at the rear. They are ¼ inch jack ports.
Recording:
Even though it seems like both interfaces have two inputs each, there's still a major difference.
With Scarlett Solo, you can't record from both channels at the same time. You have to record one at a time. 2i2 on the other hand, allows you to record from both channels at once.
Power options:
One reason why a lot of musicians like the Focusrite Scarlett audio interface is the power feature.
They are designed to be powered through the USB port. This means you can't simply plug them into a power outlet. Since it can be easily powered by your computer, all you need to worry about is plugging your laptop in.
Performance
If you are a home studio owner on a budget, the Scarlett Solo or 2i2 can be a good starting point for you.
The number of preamps:
This is because they come with pretty good preamps. So, you don't need to spend more money buying a preamp separately. Scarlett Solo has just one preamp. This is expected since you can only record one thing at a time.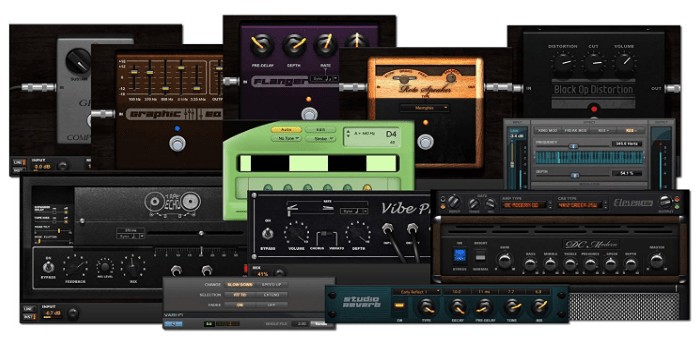 On the other hand, Scarlett 2i2 has two preamps. This tells you that both channels in 2i2 are of equal quality.
Latency:
While both interfaces are low latency devices, the 3rd Gen versions will do better, since they transfer data faster via their USB-C ports.
USB connectivity:
The USB type is a major difference between the 2nd Gen and 3rd Gen.
In both the Scarlet Solo and 2i2, the 2nd gen has the USB type B which you can connect to your computer.
On the other hand, the 3rd Gen has USB-C. USB-C is better than USB type B. It's a more recent USB technology that transfers data faster than the previous ones. It also works well with older computers.
With USB-C, you have lower latency because the information travels faster from your computer to the audio interface.
Air mode:
Another performance difference between 2nd Gen and 3rd Gen Scarlett Solo and 2i2 is the Air mode. Both 3rd Gen Solo and 2i2 have Air mode buttons that add some subtle brightness and crispiness to your recording.
Tools and addons:
With these audio interfaces, you get more than just an external soundcard and preamp. They come with important software that can be useful especially if you're just starting out.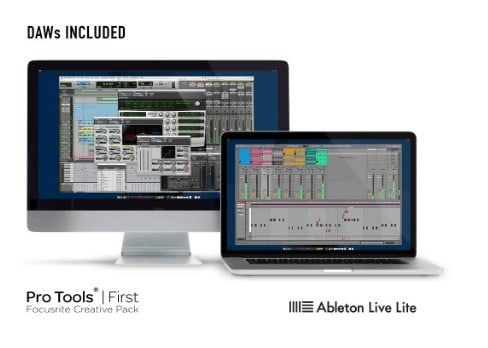 First Focusrite creative pack, Ableton Live Lite, Focusrite's red plug-in suite, pro tools, soft tube mixing plugins and XLN addictive keys are some of the add-ons you get when you buy any of them.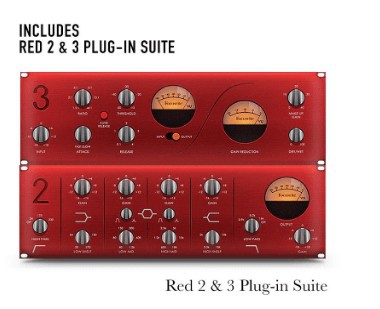 Sampling rate and frequency response:
Despite being two of the cheapest audio interfaces today, both Solo and 2i2 give you top tier audio quality. You get a maximum sample rate of 192kHz at 24-bit quality. That's a whole lot.
The frequency range also lies between 20Hz and 20kHz for both devices.
Monitoring:
Monitoring in 2i2 and Solo is also very smooth. Both interfaces are engineered such that if you're monitoring via headphones, you hear your inputs with zero latency. This is because the monitored sound does not go all the way into the DAW before you hear it.
To get started with these audio interfaces, first, you need to download the drivers from its official website, focusrite.com. Then plug these interfaces with USB to your pc or MAC.
Similarities and differences of Scarlett Solo vs 2i2
Similarities
Both Scarlett Solo and 2i2 can supply up to 48V phantom power.
The power source for both devices is your computer's USB port.
Scarlett 2i2 and Scarlett Solo both give you zero-latency monitoring.
The sampling rate for both interfaces is 24-bit/192kHz.
Differences
While both 2i2 and Solo have two inputs each, 2i2 can record from both at the same time while Solo can only record from one at a time.
You can use both XLR and ¼ inch jack for any of the inputs in 2i2, but Solo inputs have dedicated XLR and ¼ inch ports.
2nd Gen Solo interface has RCA outputs while 2i2 outputs are ¼ inch jack ports.
Conclusion
Let's announce the winner in this Scarlett Solo vs Scarlett 2i2 battle.
Asides the number of inputs, there's not much difference between these two audio interfaces.
At the end of the day, it comes down to what works for you. If you're an artist or songwriter who just wants a much better recording of your songs and ideas, Scarlett Solo will serve you well.
For producers, even if you're a beginner, it's better to go for Scarlett 2i2. It gives you a wider range of options. You never know when you might need it.