In this post, let me review DT770 vs M50x and help you decide which one is right for you.
Closed-back, low impedance, high gain, wired headphones: These are some phrases that describe Beyerdynamic DT770 and ATM50x.
Last update on 2023-12-10 / Affiliate links / Images from Amazon Product Advertising API
Even though there are a lot of similarities between these hard-hitting cans, there are also some differences.
Do these differences make one better than the other?
Which is better: DT770 or ATM50x?
Which one suits you best?
I'll address all these questions in this article.
Let's get started.
Beyerdynamic DT770 vs M50x: Let's find out the winner
Build and design
Design and comfort: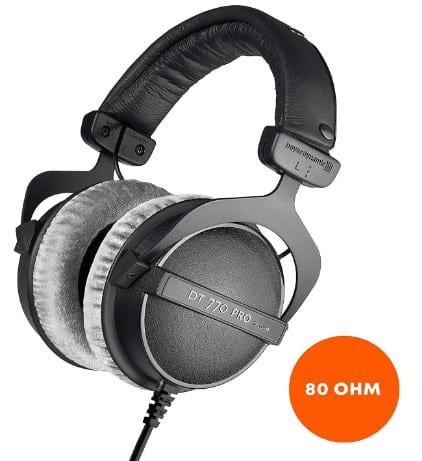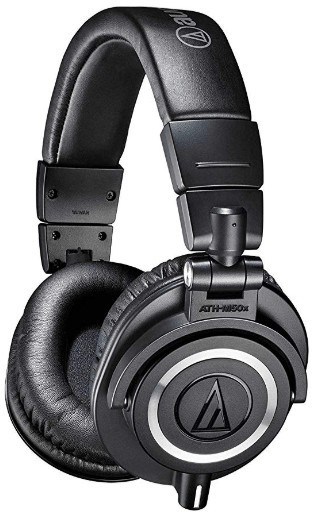 DT770 and ATM50x headphones have over the ear design with leather padding for the earcups.
However, when you wear on the ears, DT770 fits more tightly to your head than ATM50x.

This kind of fitting makes the Beyerdynamic more suited to users who move around a lot. Thus Beyerdynamic DT770 is the best choice of travelers and outdoor enthusiasts.
If your head is not typically stable while you're using the headphones, a tight-fitting one like DT770 would be a good choice for you.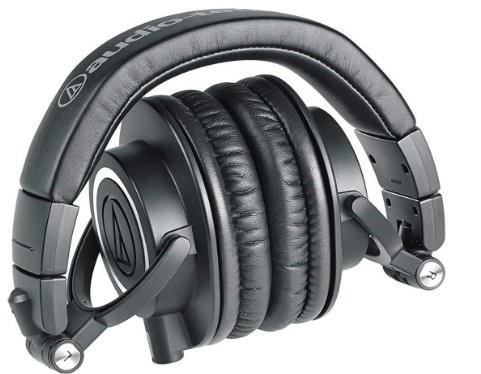 On the other hand, ATM50x feels softer and has a more loose-fitting. This doesn't mean it will fall off your head at the slightest impact. Rather, it doesn't have tight-fitting as the Beyerdynamic.
This makes the ATM50x a better choice if you wish to use your headphones for long hours. A tighter-fitting of DT770 may make you feel uncomfortable after a few hours.
Colors:
ATM50x is available in black, gunmetal and white colors while DT770 is available in black only.
Control buttons:
Both Beyerdynamic DT770 and M50x headsets have no control buttons on them, unlike Bluetooth headphones.
Weight:
You don't need to worry about weight since both these headphones are quite lightweight.
You would need to use the pair for a few hours to start feeling their weights. DT770 weighs 270grams while ATM50x weighs 283 grams without the cables.
Durability:
Another major difference in design here is in the cables. While DT770 has a non-detachable cable, ATM50x has a detachable one.
Headphones with detachable cables generally last longer. This is because they give you the option of easily replacing the cord, which is usually the most fragile part of the headphones.
For a non- detachable cord like the one on DT770, any damage to the cord usually means that you have to buy the new one.
Having said that, DT770 comes with a pretty strong cord, although it would make a lot of difference if it were detachable.
Verdict: My choice here would be more of a personal taste than an overall verdict. I would prefer my earcups not so tight since I don't use over-ear headphones while moving around.

Also, because I sometimes use my headphones in bed and fall asleep with them on, I would prefer one with a detachable cable.

This way, if I sleep on my cable and it stops working, I can easily change it. So, it's the ATM50x for me.
Sound quality and performance
Lows:
If you play a bass-heavy song on the ATM50x, you will notice the punch. The bass is well emphasized, also producing the sub-bass well.
You can be sure that you won't be missing out on any low-frequency elements in your music. It's also a good choice for bassheads and anyone who loves hip hop, trap and EDM music.
On the other hand, DT770 has a more balanced low-frequency sound. Its overall sound characteristic is more natural.
The bass is quite good, but it doesn't hit as hard as the ATM50x. It's more suited to songs that have natural bass elements like the bass guitar and kick drum. You will hear everything at the low frequencies, but there is no emphasis on it.
Mids
I think the best part of DT770 is the mid frequencies. It's where most headphones fail to impress.
The mid contains most of the elements in any music, but it's even more important in music that uses more live instruments.
DT770 gives you all the elements in your music's mid-range. It is good for lovers of rock, classical and other acoustic-based music.
ATHM50x, on the other hand, it sounds like the mids are reduced. This is expected considering the amount of boost in the low and high frequencies.
While you can also enjoy your classical and rock music on these, you may not get mid as full as the DT770
Highs
DT770 has a balanced tone, with no audible boost at any frequencies. This makes the high frequencies to also be well balanced.
You're not likely to have harsh sounds while playing your music. ATM50x has some boost in this range.
It certainly makes most sounds sound brighter, adding a little more excitement. However, it can also sound a bit harsh if your music already has a lot of high-frequency elements.
Verdict: DT770 is a better choice if you have a very wide range of genres you listen to. It will also be the better choice if you only listen to music with lots of natural instruments.

ATM50x is really good for bass-heavy music. I wouldn't call myself a basshead, and I prefer a more balanced music playback. Therefore, I'll pick the DT770 here.
Features
Speaking of features, these headphones are quite similar.
First, let's talk about the design type. Both the Beyerdynamic and Audio Technica headsets are closed-back headphones. This means that they're designed such that no sound leaks out through the earcups.
This generally means two things: More bass response and less width in sound.
Unlike open-back headphones, closed-back headphones have punchier bass.
They also have less stereo width the open back headsets. This means that the soundstage in closed-back headphones is not as large as what you would hear with open back headsets.
You can easily have loud volumes with both headphones regardless of the device you're using. Since both DT770 vs M50x are low impedance headsets, they require little power which can be provided by your phone.
Both headphone's sensitivity is quite close: ATM50x has a 99db sensitivity while DT770's sensitivity is 98db. Also, the drivers that produce the sound are 45mm dynamic drivers in both headphones.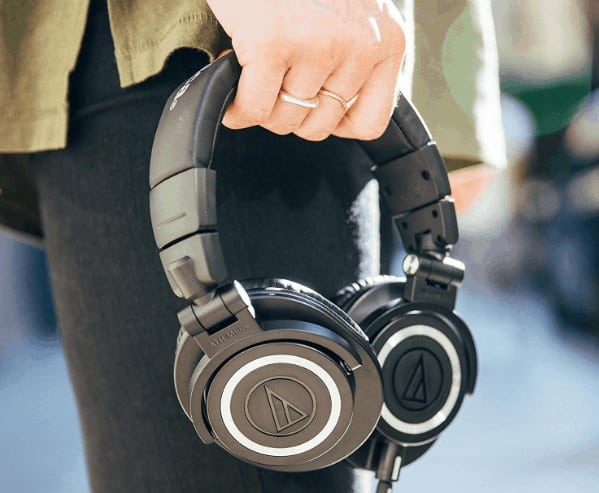 Like most wired headsets, there's no need for batteries or charging. Also, you can only control the sound production with your phone music player. There are no apps dedicated to these headphones.
Here is the interesting thing,
For DT770, there are different options with different impedance. You can have the 32 ohms, 80 ohms or 250 ohms version. ATM50x has an impedance of 38 ohms.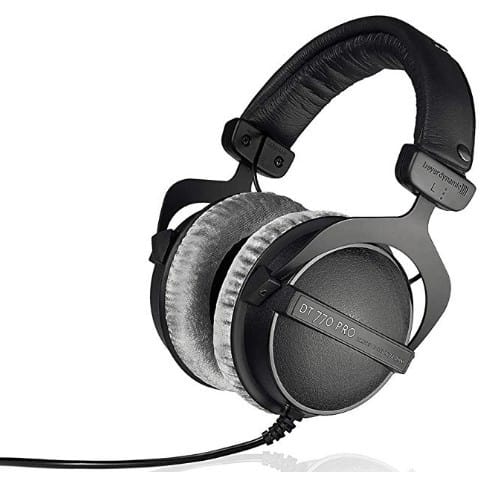 While the 32 ohms version will work well with your phone or tablet, you will need an amp to enjoy loud volumes on the 80 ohms and 250 ohms version.
Verdict: It's the ATM50x for me here, simply because I expect it to be more durable.
DT770 vs M50x: Similarities and differences
Similarities
Both headphones have a closed-back design.
ATM50x and DT770X both have the over the ear design with leather cups.
They both have a wide frequency range, conveniently extending beyond the normal human hearing range.
Both the Beyerdynamic and the Audio Technica are low impedance headphones.
Differences
ATM50x has a detachable cord while DT770's cord is non-detachable.
While ATM50x has a bassy and bright sound, DT770 has a more balanced tone.
DT770 has a tighter fit than ATM50x
ATM50x earcups can be made flat by turning them on their axes, but DT770 earcups are not foldable.
Pros and cons
DT770
Pros:
It is good for users who move around a lot because of its tighter fit.
It has clear and crisp mids, making it a good choice for rock, classical and other live music styles.
Cons:
Its cable is not detachable, so if it gets damaged, it's difficult to replace.
The earcups cannot fold, so it takes up space when it's not in use.
ATM50x
Pros:
Its cord is detachable, and therefore can be easily changed.
It fits on your head lightly, so it's easier to use it for long hours.
It has more punch in the bass.
Cons:
Mids are more reduced, so you may not enjoy some elements as much.
For music already rich in high-frequency sound, it may sound a bit harsh.
Conclusion
Let me announce the winner in DT770 vs M50x battle.
If you've followed my verdicts under each category, you must have observed that I picked the ATM50x more times.
However, for my overall choice, I'll choose Beyerdynamic DT770. This is simply because I rate sound quality above all other features in a headphone.
Lovers of bass-heavy music like hip hop, EDM, trap, and others will find the ATM50x better for them than DT770.
Also, if you prefer softer music styles like jazz and classical music, DT770 will produce all those sweet mid frequencies to your taste.
Read Also: How to Fix Bluetooth Lag in Car? – 8 Super Quick Solutions