Earphones that come with balanced armature drivers are the best when it comes to sound quality.
Our Best Pick
Shure SE535-CL Professional Sound Isolating Earphones, High Definition Sound + Natural Bass, Three Drivers, In-Ear Fit, Detachable Cable, Durable Quality - Clear
Best Value for Money
1MORE Triple-driver Headphones In-Ear Hi-Res Audio Earphones with Microphone and Remote Control Lightning Connector for iPhone7 iPhone 8 iPhone X, iPad & iPod - E1001L Gold
Best Balanced Armature Earphones
Shure SE846 PRO Gen 1 Wired Earbuds - Professional Sound Isolating Earphones, Four Hi-Def MicroDrivers and True Subwoofer, Secure In-Ear Fit, Detachable Cable, Durable Quality - Clear (SE846-CL)
Our Best Pick
Shure SE535-CL Professional Sound Isolating Earphones, High Definition Sound + Natural Bass, Three Drivers, In-Ear Fit, Detachable Cable, Durable Quality - Clear
Best Value for Money
1MORE Triple-driver Headphones In-Ear Hi-Res Audio Earphones with Microphone and Remote Control Lightning Connector for iPhone7 iPhone 8 iPhone X, iPad & iPod - E1001L Gold
Last update on 2023-09-29 / Affiliate links / Images from Amazon Product Advertising API
If you are serious about sound quality, then we recommend you to go with either Shure SE846-CL or Westone W40 as they give you an outstanding sound quality.
The majority of the high-end earphones available make use of the balanced armature technology to offer superior technology.
What are balanced armature drivers?
If you are into the audio technology, you may know that there are mainly two types of drivers as far as earphones are concerned. They are dynamic drivers and the balanced armature drivers.
The dynamic drivers are most used ones, due to their excellent performance in bass and low-frequency ranges. They are also much cheaper for designing than that of balanced armature drivers.
However, the balanced armature drivers are most used in hearing aids. The drivers contain an armature that moves thousands of times a second causing the diaphragm attached to it cause sound.
Balanced armature drivers used in high-end IEMs due to their great performance in the treble ranges.
However, the main downside is that the balanced armature drivers lack in bass performance. If you are a bass-head, this post may not be for you.
In this post, let me introduce you some of the best-balanced armature earphones that are great for the price.
Best balanced armature earphones
SE535 is an extended version of the previous SE530. The major difference between the two is that in that newer model, there's an extended treble response and more detailed sound.
The earphones come in a small package. Unlike the previous SE530, these earphones have a robust detachable cable that allows you to replace the cables with your customized ones if you would like in the future. The buds are of high-quality plastic, and it's durable.
That's not all, even though these earbuds have such big sound, they maintain the small form factor because they use neodymium speakers. Most headphones manufacturers use neodymium magnets because they weigh about 50% less than others, even though they are much smaller.
Sound quality
The Shure SE535 earphones come with triple drivers on each bud. The two drivers are responsible for bass and mids, and a tweeter driver for stellar treble performance.
It is one of the most neutral sounding earphones. The bass is flat and somewhat weaker.
The mids and highs have a significant linear response. The midrange sound quality is the best in the range. The details in the vocals come alive.
There is a great integration between the bass and midrange, and the treble is quite differentiated and reaches whole new level.
Comfort
The ear tips are excellent. You just need to squeeze it and just fit into your ear canal allowing it to expand and block a great amount of ambient noise almost compared to that of noise canceling ones. The tips are soft and very comfortable on your ears.
Pros
Highly durable
Comfortable design
Cons
#2. Westone W40 –
Best value for money
Westone is a pretty old company that's initially involved in creating great hearing aids. But they used the same balanced armature drivers technology to leap forward in the earphones manufacturing.
Build and design
Westone W40 come with two cords. One is a regular cable that comes with remote control (no mic) and another one is an "epic" braided solid cable that is premium.
The box also comes with heavy-duty hard case, which helps you while traveling with your earbuds in the backpack. The box comes with various sizes of both comply foam and silicone ear tips.
The bud of the earphones is little bigger than the ones you expect from balanced armature drivers.
The bigger buds that easily block your ear canal resulting in a much great noise attenuation. The build quality is great.
A single bud has four balanced armature drivers inside and that allows the sound reproduction to be highly accurate.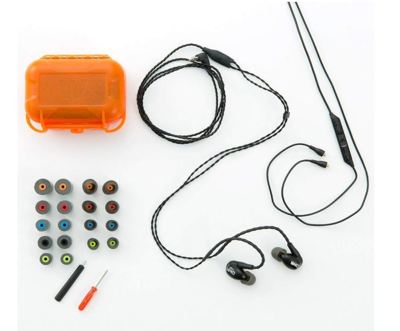 Sound quality
These Westone W40 are not for bass. In fact, if you are looking for balanced armature earphones and are in this post, you're obviously not a bass-head.
But the bass in these earbuds are present and not punching. They lack the rumble in the lower bass range.
As I've earlier, it uses quad driver set that's cross over to bass, midrange, and treble. This quad driver feature makes the earphones to offer great details in the vocals and also treble section.
Comfort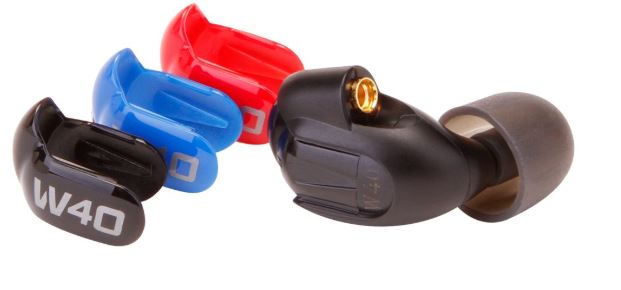 As I've said earlier, these earbuds are quite larger than the other balanced armature earphones I mention in this post. It fills the whole ear effortlessly and allows you to get rid of ambient noise effectively.
For wearing it, you need to flip the cable over your ear, and you are good to go.
The package also comes with various sizes of comply foam and silicone ear tips, which allow you to find a right fit for your ears.
Pros
Weighing at 11.4 ounces, these headphones are portable and lightweight
Provide breathtaking sound clarity and surreal realism
Has an extended frequency range and improved sonic detail
Cons
These earphones are rather expensive
The W40 is a mere improvement of the W30 headphones
Build and design
The cable that comes with SE846-CL is tough. It makes use of kevlar reinforced cables for great durability. The cables are also detachable as like that of any other Shure earphones.
The body is made of premium plastic. The earphones come with three different colors like transparent, bronze, blue, and also black.
The earphones have four balanced armature drivers to deliver a great sound.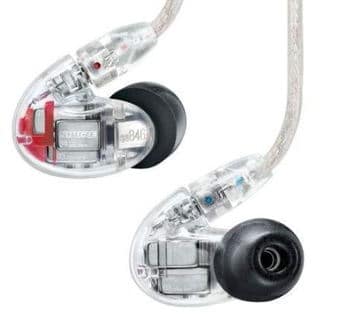 Sound quality
When it comes to bass, these earbuds perform decently without any boominess.
The bass is very controlled and tight. Unlike other mass-market headphones, which come with dynamic drivers, the bass in these balanced armature earphones won't distort the other frequency ranges.
The mids and highs are where the earbuds standout. Even the smallest details of the songs are easily heard.The highs are also crisp without any harshness.
The excellent soundstage these earphones have got to offer you is great. Each layer of the song stand out, and you can feel the acoustic space.
Comfort
The sleeve fits tend to hang on your ears than that of fitting over it. For some people, this may be a small downside. However, the comfort is excellent. The noise isolating sleeves does an excellent job of sealing out ample of ambient noise.
Pros
Provides excellent sound
Provides good noise isolation
Cons
#4. FiiO FH7 – Perfect for everyone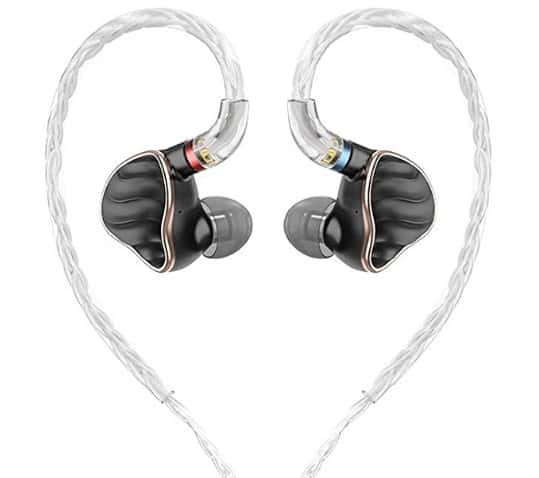 Build and design
The FIIO FH7s show class and elegance in both design aesthetics and build quality. The amount of detail in these in-ear monitors are impressive. The body is made of aerospace aluminium-magnesium alloy.
This combination is one of the strongest materials you can find today. It's not only super-strong but also lightweight. It's what you can call the ultimate combination. The cables are not left out.
The cables are braided to make them long lasting. You won't have any problems with tangled cables anytime.
The FH7 comes with different sizes of ear tips, so it's quite likely that you would find your size here. Also, you need the ear hooks to keep the earbuds in, so that they don't slip off due to weight balance.
Sound quality
One of the features that make these headphones sound so good is its passive noise cancellation. Because of its efficient sound isolation, it's easier to hear the sound clearly without external noise.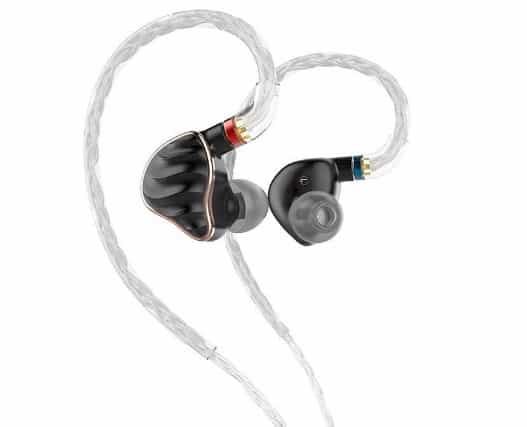 With the black filters, you have neutral sound. They're also called the reference filters. Using these, the FH7's sound is quite balanced. This is expected considering the fact that these earbuds are used for in-ear monitoring.
These multiple filters make the FIIO FH7 useful for almost anyone that needs earbuds. Any earbuds that will be useful in almost all scenarios will surely be one of the best balanced armature iems.
The bass is quite balanced and not enhanced in any way. However, it has a lot of depth. The headphones can give you frequencies as low as 5Hz, so the real question is how low your ears can go.
Bass heads may not like this very much, but audiophiles will appreciate the effort to make these cans as neutral as they are.
If you prefer more bass in your sound, there are filters that you can add to the earbuds to move it more punch. The same goes for having more treble.
The soundstage is wide and deep, you may be surprised to have this kind of soundscape with headphones this small.
Comfort
These earbuds come with silicone tips that enable you to use them for long hours without any problems. The ear tips slide into your ear canal easily giving you a snug fit and excellent isolation.
Pros
These earbuds have a balanced sound making them excellent for reference.
The headset has a wide frequency range that covers every possible sound.
The cable is braided and made of strong durable material.
The detachable cable as to the headset's longevity.
Cons
Choosing a suitable filter may pose a tedious task for some users.
Not suitable for use while walking on a busy street because of its sound isolation.
Best Balanced Armature Earbuds Under $200
1MORE brand is quite popular due to their Triple driver earphones. Now, they took it to the whole new level by introducing quad-driver earphones.
Build and design:
The package comes with a brushed aluminum adapter, clip, and also various sizes of silicone and foam ear tips.
The design is a lot similar to their previous Triple driver earphones. They've got the same barrel design with aluminum housings, and they make the earbuds to stand out as premium ones.
The cable is also upgrading, with an oxygen-free copper Kevlar cable.
Sound quality: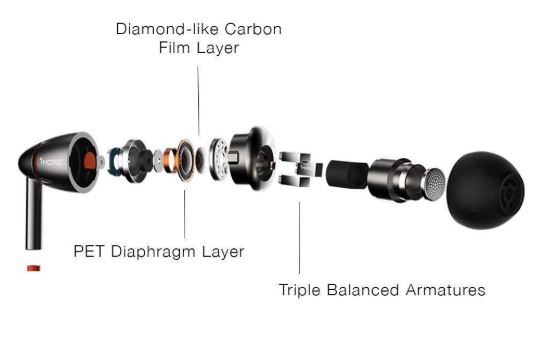 The 1MORE Quad Driver earbuds contain four drivers including a dynamic driver and three balanced armature drivers.
Dynamic driver covers the lows and sub-bass range. Whereas, the two of the balanced armature drivers cover mids and treble up to 20 kHz.
And the third balanced armature drivers go up to 40kHz and adds more sparkle and detail to the highs than their previous triple driver earphones.
Due to the inclusion of dynamic drivers in the housing, the earphones won't set you back in the bass performance. Bass is strong and punchy, and it certainly doesn't bleed into the mids and highs.
The soundstage is also excellent and better than the triple driver earphones.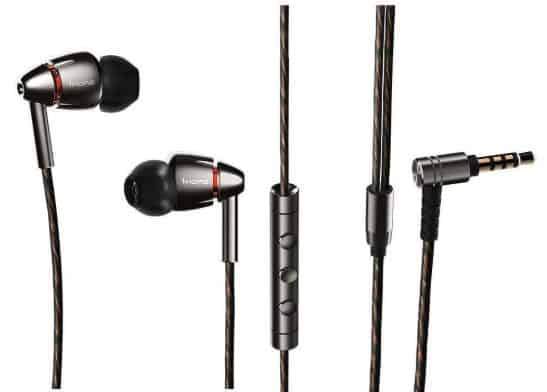 Comfort
You can find the right size of ear tips that fit in your ears well. They have a tight seal and block out a good amount of noise. They are comfortable in your ears once you find the right set of ear tips.
Pros
Provides unmatched value for money
It delivers detailed bass notes and exceptional sound quality
Delivers enhanced noise isolation and supports making calls.
Cons
The jack is quite delicate and requires careful handling
Material quality could be better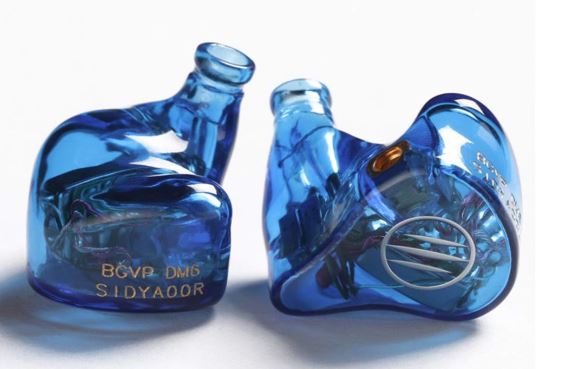 Build and design
These in-ear headphones come with five balanced armature drivers and deliver an exquisite, balanced sound.
They come with a top quality MMCX Connector that is steady and durable. You can plug and pull your earphone cables as desired without any inconsistencies.
The wearing design of these unique multi-driver headphones is customized to meet the specific requirements of users. A huge eardrum database was initially pulled from Siemens and utilized to produce a proper cavity that can conveniently fit inside your ear.
The cable is detachable, giving you the opportunity to change them if they become defective. You don't get this with most earbuds, but it increases the useful life by a long time.
It delivers low error (1dB) thanks to its precise headsets that are designed using unique 3D Printing Resin Cavity.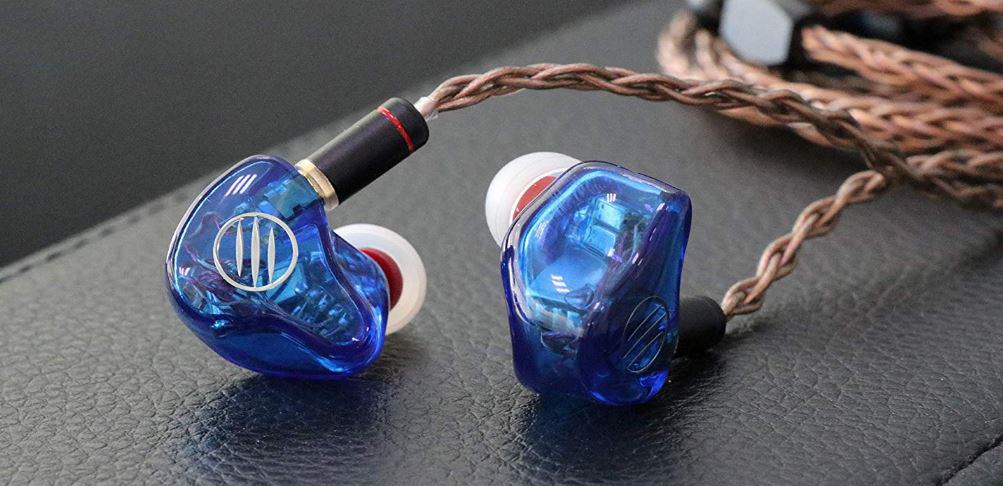 Sound quality
The BGVP in ear headphones are regarded as the best and cheap balanced armature headphones in the market. With a superb customer rating of 4.8 stars, these unique earphones have been described as "sweet sounding and extremely precise".
On one hand, this means that you get accurate sound production. However, it also means that you won't get a lot of bass enhancement like in some other earbuds. While bassheads may frown at this, audiophiles and lovers of multiple genres will love it.
Many users have praised these BGVP DM6 earphones for their audio excellence and superb isolation. Little wonder they are prime choice as iem balanced armature earphones.

Comfort
The BGVP DM6 earphones come with a detachable, high quality cable.
It weighs 5.29 ounces, making it quite lightweight and comfortable to use. Its wide frequency response ranges between 10 Hz and 400 KHz.
Apart from the DM6 in-ear headphones, you get 4 ear tips, a comprehensive user manual, and a cleaning brush.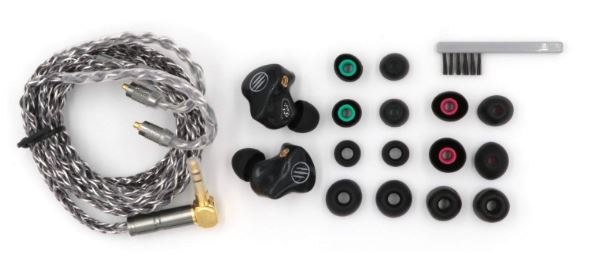 Pros
The DM6 earphones have a balanced armature driver that delivers an exquisite, balanced sound
These earphones provide the best noise isolation. They're also quite easy to clean
They fit comfortably into your ears, thanks to their four ear tip varieties
Cons
Shipping may take longer than anticipated. However, it's worth the wait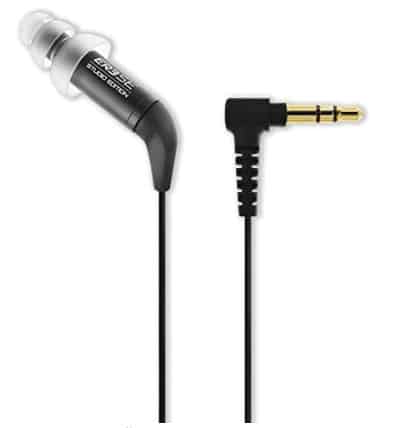 Build and design
Taking a good look at this pair of earbuds it's easy to see how they are so durable. They have an aluminum barrel and nozzle. In comparison, most earbuds are made of plastic which makes these pretty special.
The cable also contributes to the durability. It's strong and built to last a while and withstand some tension.
The cable is detachable. This means that the headset can last longer as you can simply change the cables if they start acting up. Also, you need to be careful with the earbuds because they can easily get missed when the cable is detached.
Sound quality
Like the FH7, these Etymotic research earbuds have excellent noise isolation. In fact, the passive noise cancellation here is a bit better than in the FH7.
This is probably due to the absence of a vent like we have in the FH7. This makes the headphones good for air and road travels. On the other hand, they're not so good for taking walks, cycling, or jogging through busy traffic.
The ER3SEs have deep and highly detailed bass. Although some hip hop lovers and bassheads may not agree because it lacks the extra punch they may be looking for. Interestingly, the kind of bass you'll hear with these earbuds is quite close to what the producers hear in the studio.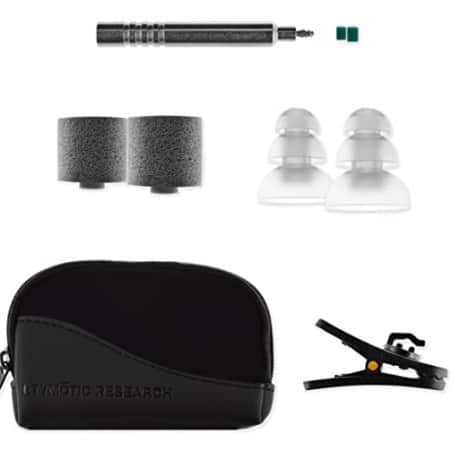 Anyways, the neutral bass makes the headset a perfect fit for listening to different genres. It works equally well for classical, rock, and EDM if you appreciate the transparent sound.
Unlike the FH7s, these do not come with filters that can enable you to tweak the sound. The transparency extends to the mids and highs – you get a highly detailed sound that is not enhanced in any parts.
Comfort
These cans have ear tips that make them fit snugly into your ears for hours. They are also comfortable for use. However, you may have to take them out occasionally because of some slight warmth in your ears.
Pros
Good for referencing because of its transparent response.
The cables are built to last long.
The excellent noise isolation makes it a good traveling companion.
Cons
The lack of enhanced bass option may be a turn off for bassheads.
Some warmth may build up after several hours of use.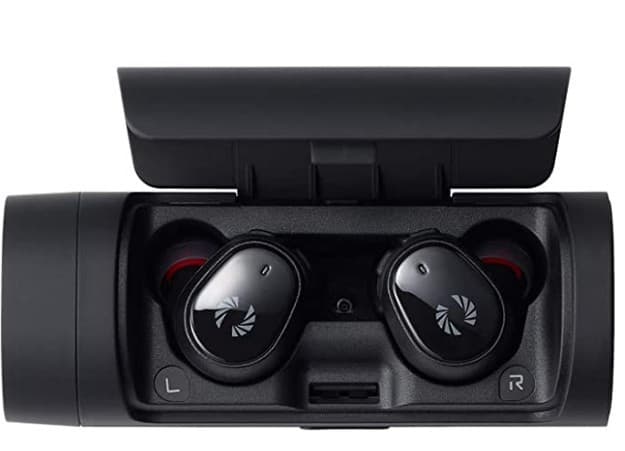 Build and design
The Phiaton Bolt BT700 pair are true wireless earbuds. This means that they don't use cables at all, and each earbud connects to your device by itself.
They are shaped like most true wireless earbuds – ear tips that go into your ear canal and a small part that protrudes out of your outer ear. However, the BT700s have small wings to improve the fit on your ears. It makes this pair less likely to slip off when you're jogging.
There's one major feature that sets these balanced armature wireless earbuds apart: you can use the case as a Bluetooth speaker. The Bluetooth connection is version 5.0, giving you a listening distance of up to 33 feet. With the charging case, you get up to 6 hours of playback time.
Sound quality
The BT 700s cater to bassheads a little with their sound profile. The bass is punchy and carries some heft. Also it's enhanced a bit, so it delivers your EDM and hip hop tunes with power. Thankfully, it still retains some mid range detail.
Vocals, guitars and other midrange elements have their space. However, the treble has a little less detail than other parts. The upside is that you won't have any treble harshness in your songs. Also, these earbuds have a wide soundstage, especially for true wireless headphones.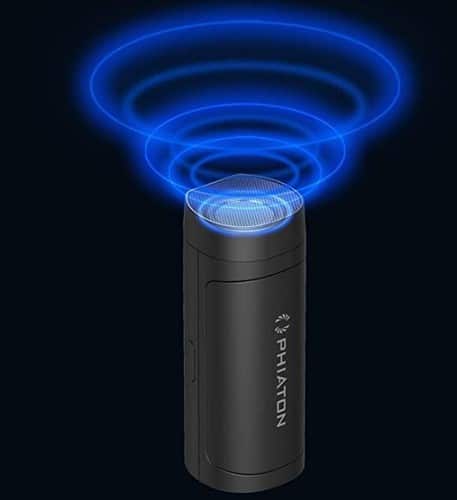 Comfort
Even though these buds have some heft to them, they stay on even during vigorous exercise – thanks to the wings.
It's easy to find a good fit, since there are four pairs of ear tips to choose from. Also, there's a little warmth buildup after several hours of use, so you may feel the need to take them off for some air.
Pros
Because they are wireless, they are more suitable for mobile use.
Multiple ear tips and snug fit makes the earbuds excellent workout buddies.
The rechargeable case can serve as a Bluetooth speaker on its own.
Cons
The earbuds have some heft and you may begin to feel them after some hours.
The enhanced bass makes the earbuds less suitable for monitoring.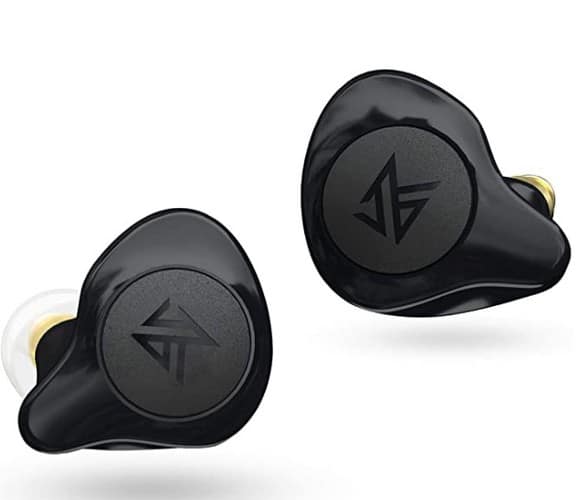 Build and design
The KZ ZSN Pro X earbuds have a solid build, and they're one of the few headsets that come in different colors – definitely one for the more flamboyant users. You can choose from the purple, grey and blue options.
Also, these headphones are wired, and the cables are made of long-lasting material. The cables are detachable, which makes the headphones more durable. If the cables get faulty, you can easily change them. On the other hand, it becomes easier to misplace the earbuds.
Sound quality
These headphones will surely delight bassheads hip-hop lovers. The bass is punchy and hits hard. Aside from packing a lot of punch, the bass is deep and produces sub-bass notes efficiently. Trap music and other sounds with very deep bass will flourish with this sort of playback.
The low mids carry over some of the heft from the bass, making some of the elements in that region a little recessed. The high mids are more pronounced. This is why female vocals may sound more in-your-face than male vocals.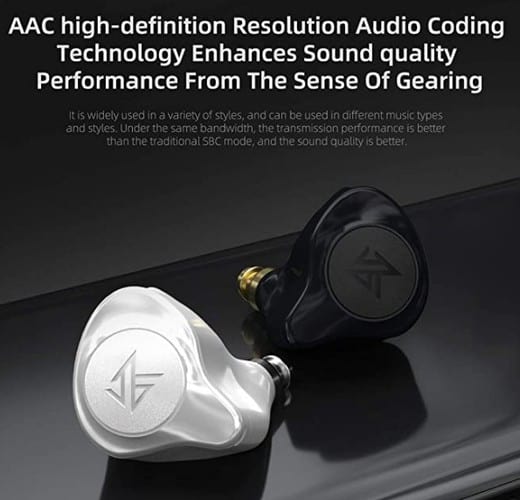 The treble is crisp and airy, without any form of harshness. It has just enough shine to make your music sparkle.
Comfort
For most users, the ZSN Pro will be a comfortable pair. The tips slide into your ears easily and it stays even when doing some light jogging. However, there are no extra ear tips, which can be a bummer if the built-in ones don't fit.
Pros
The bass is super punchy and gives energy to your music
The earbuds have good noise isolation – keeping out up to 26db of sound.
The wide frequency response captures everything in the music.
Cons
Enhanced bass and treble mean the sound is not neutral, which is a turn off for most audiophiles.
The earbuds lack extra eartips, leaving no room for multiple ear sizes.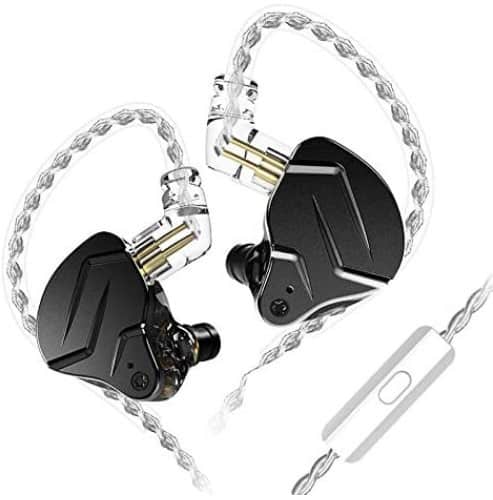 Build and design
The KZ S2 true wireless earbuds come with all the benefits of Bluetooth audio connection. The earbuds come in black and are made of plastic. Aside from the eartips on the earbuds themselves, an extra pair comes with it.
However, the extra pair is the same size as the built-in ones. Like most earbuds, you can charge the case for extra power. The case can give you up to 10 hours of playtime, while the earbuds themselves will keep playing for 4 hours. To charge the earbuds full takes about 2 hours.
The IPX5 waterproof rating means that workout sweat won't be a problem at all. So, you can take these balanced armature true wireless earbuds on a run without worrying about damage.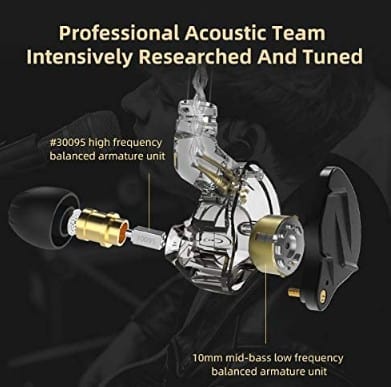 Sound quality
The bass in these earbuds are punchy and up front. It gives your music a decent amount of energy. The low mids also have enough warmth, giving male vocals some presence.
The high mids sound a little reduced. It's the only part of the sound that's a little lacking. The treble has the right amount of sparkle without being harsh.
Comfort
The KZ S2's will fit well in average-sized ears. Some users may have difficulty getting a comfortable fit because the ear tips added come in only one size.
Pros
Since the earbuds are wireless, they give you more ease.
They're quite light, so you won't feel the weight even after a whole day's use.
Cons
It takes a while to get them fully charged.
The recessed high mids make some vocals have reduced presence.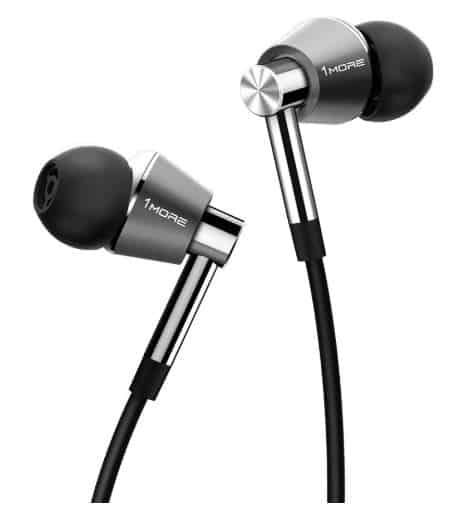 Build and design:
Equipped with 3 drivers, these exceptional multi-driver headphones provide a unique listening experience, thanks to its two balanced armatures that are coupled together with a distinct dynamic driver.
Just to clarify, these earbuds have 3 drivers in each earbud. There's another 1MORE headset with 4 drivers in each earbud. Such headsets ae called quad-driver earbuds.
Users can easily select music, adjust the volume, and pick calls using the in-line remote control. In addition, these headphones are equipped with a powerful MEMS microphone.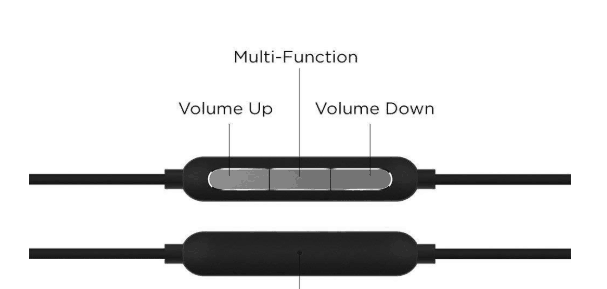 Fine-tuned by an expert engineer: these 1MORE in ear headphones are perfectly tuned by Luca Bignardi, a revered sound engineer. They also have a broad frequency range of 20 Hz to 40 KHz

Sound quality: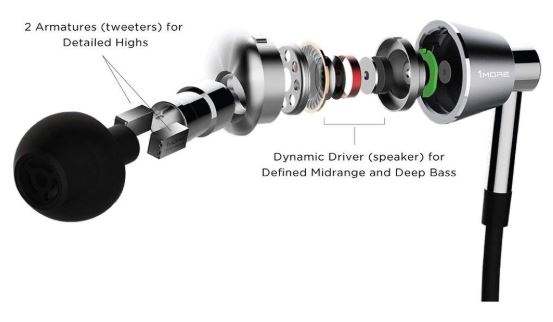 The 1MORE in ear headphones are equipped with three unique drivers to provide a full, balanced sound. Users can enjoy superb highs, warm mid-range tones and deep bass.
In addition, these multi-driver headphones are skillfully tuned by a renowned sound engineer and Grammy-winning producer known as Luca Bignardi.
Comfort:
The IMORE Triple Driver headphones have a comfortable ergonomic design that will certainly be pleasing for users. Its ear fittings are angled in a slightly oblique orientation to fit perfectly into your ear canals.
In addition, these unique in ear headphones come with 9 extra sets of ear tips to guarantee a convenient fit. These headphones are constructed using aluminum alloy which is both durable and lightweight.

Pros
Provide high-quality sound that's perfect for avid music lovers
Durable, lightweight, and sport an ergonomic design
These multi-driver earphones fit comfortably into your ear canal
Cons
Relatively expensive compared to other headphones in this category
Quite delicate – they require careful handling
These B200 are the best-balanced armature earphones from Brainwavz. The Brainwavz is typically known for producing great mass-market bass-heavy earphones.
But with their "B" series, they stepped up into the balanced armature technology.
Build and design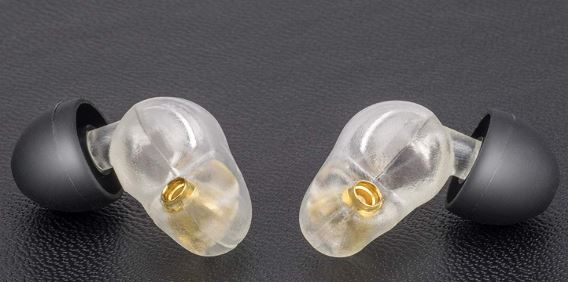 Once you get the package, you can notice that the earbuds come inside a solid hard case.
The case also comes with a clip, and also various sizes of ear tips including Comply foam ones that are super-comfortable and adjust to the shape of your ear canals very well.
The earbuds look premium. The cable is of oxygen-free copper cable that has a nice texture on it to prevent friction against the fabrics while wearing.
The top part of the cable (near the buds) has a bendable metal in it, which allows you to bend the cable so that it fits nicely over your ears when you wear it.
The earbuds come with 24 months warranty.
Sound quality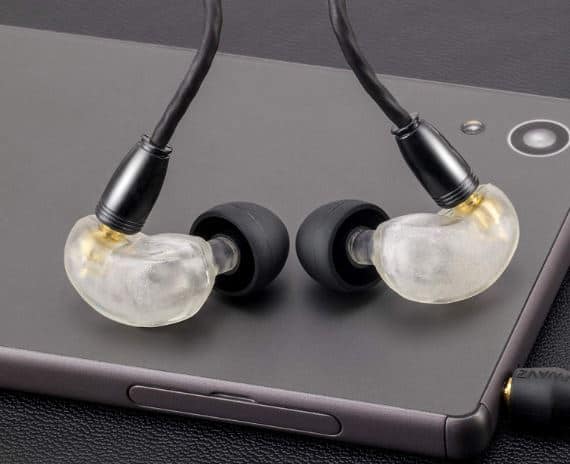 These Brainwavz B200 earphones got dual drivers in it. One is a tweeter, and another is a woofer. When you compare these earbuds with that of Sennheiser Momentum, these earbuds tend to be clearer and feel bigger on your ears.
The sound quality is clear and has a stellar performance in the mids and treble. The bass is present but not strong. The details in the mids and the treble is excellent.
The sound quality is comparable to any of the big brands out there, without breaking your bank.
Comfort
The comply foam ear tips that these come with are good for comfort and also blocking out ambient noise. These comply foam ear tips take the shape of your ears for a secure fit so that the earbuds won't come flying out. They are super comfortable.
Pros
Excellent noise isolation
Great sound signature
Cons
Also read:
6 Best Budget Subwoofer for Cars in 2023 (Bass-Heavy)
FAQs on balanced armature earphones
1. How to tell if earphones are balanced armature?
The easiest way to recognize balanced armature earphones is to look for the vent. Balanced armature earphones have no air vent since the drivers do not displace air to create sound. On the other hand, dynamic driver earphones have small vents to allow air in.
2. What does hybrid balanced armature drivers mean?
Hybrid armature drivers make use of both balanced and dynamic armature drivers. Since each type of drivers has its advantages, it is a way of getting the best of both worlds.
3. Why balanced armature is better for in-ear monitors?
Balanced armature is better for in-ear monitors because it does a better job of sound isolation. Since it doesn't use a rear vent, there is less external sound coming into the earphones, which is exactly what we want from in-ear monitors.
4. What is the technology behind Balanced Armature earbuds?
Balanced armature earbuds produce sound by the movement of the armature. The armature is wrapped in a coil, which is suspended between two magnets.

The attraction between these two magnets causes the coil to vibrate several times within a second. This vibration produces the sound.
5. How do balanced armature drivers affect my music?
Balanced armature drivers improve sound production by making low end better. It shares the work among the drivers in a way that leaves the bass drivers to do their job.
6. How do balanced armature earphone drivers work as transducers?
A headset is primarily a transducer because it converts electrical energy to sound energy. A transducer coverts energy from one from to another.
7. What advantages do balanced armatures have over small dynamic speakers?
Balanced armatures are generally smaller and lighter than dynamic drivers. Even with the size, you don't lose driver power.
Bottomline
These are some of the balanced armature driver earphones in the market right now. If you are willing to get the best of the best balanced armature earphones, you would not be disappointed with SE846-CL.
If you want something below $200, the 1More Quad Driver Earphones are bang for the buck.
Also, you do need to note that, these are not normal earphones. They tend to not perform well in the bass range and also come at a much higher price than the dynamic driver standard earphones.
Hope you guys loved my review on some of the best balanced armature earphones. Let me know what you think in the comments section.