Affiliate disclosure: In full transparency – some of the links on this website are affiliate links, if you use them to make a purchase we will earn a commission at no additional cost for you (none whatsoever!). Will this be a problem? This is how we manage to create free content for you. Please know that your trust is so important for us. If we recommend anything, it is always because we believe it is worth exploring. And, buy me a coffee ☕️
Are you looking for the best Bluetooth beanies?
Table could not be displayed.
Winter is coming!! It's the time of the year when you'll need to keep warm again. Unfortunately, using winter hats means that you can't use your headphones conveniently.
| | | | | |
| --- | --- | --- | --- | --- |
| | | | | |
| | | | | |
| | | | | |
| | | | | |
| | | | | |
| | | | | |
That's where Bluetooth Beanies come in. These music hats are fitted with headphones that allow you to keep warm and enjoy your music comfortably.
In this article, I show you the best Bluetooth Beanie hats.
Here they are.
Top 5 Best Bluetooth Beanies reviewed
Specifications:
Bluetooth Version: V4.1+EDR
Material: 100% soft acrylic
Weight: 4.50 oz
Frequency: 2.402GHz-2.480Ghz
Transmission Distance: 10m/33feet
Battery: 3.7V/120mA li-polymer
Playtime: 6 hours
Standby Time: up to 60 hours
Charging time: 2.5hours
Design and style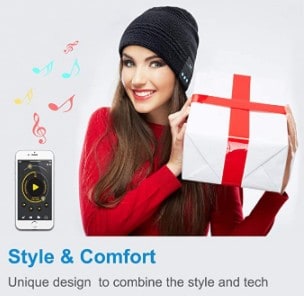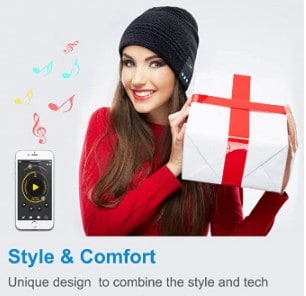 Rotibox Bluetooth beanie hat is made of acrylic. At least that's what the specs say. However, when you put it on, it feels so comfortable that you're almost convinced that it's made of cotton.
For greater comfort, the headphones are sewn into pouches that stay on your ears. It keeps the contact area soft and convenient for long hours of use.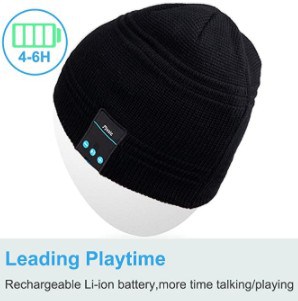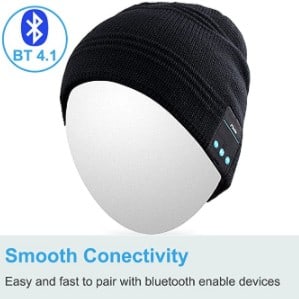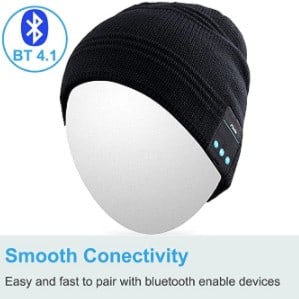 When the battery is full, the beanie can play music for up to 6 hours non-stop. This length of time falls into the range expected from most Beanies.
However, it takes about 2 hours, 30 minutes of charging to get the battery full. That may be quite long, and unsuitable if you don't have the luxury of time.
Sound quality and performance


As expected, the beanie headphones connect to your phone via Bluetooth. It's a regular 4.1 connection that allows you to have solid reception up to a distance of 33 feet.
You may experience slight changes depending on the obstructions between the beanie and your device.
Also, it's a standard Bluetooth connection – not AptX or AAC. This means that you will have clear sound, but may experience some very slight latency, especially when watching a video or gaming on your phone.
You can't expect a beanie at this price point o sound like true wireless earbuds. However, the Rotibox beanie sound manages to live up to standard.
The audio comes out loud and clear, with speech having enough clarity. The bass lacks the punch you would expect from regular Bluetooth headphones.
This beanie typically takes about 5 seconds to pair to your phone. The only time it exceeds 5 seconds is when you're connecting for the first time. It may take up to 30 seconds.
What do we like?
Comfortable, easy on the ears
Multiple color choices
What we don't like?
Spends a long time charging
Only connects to phones
Best for whom? The Rotibox is convenient and comfortable. It's an efficient choice if you only use it with your phone, and you won't be away for too long.
Specifications:
Bluetooth Version: 4.2
Transmission Distance: 33 ft (10 m)
Play Time: Up to 6 hours
Standby Time: Up to 60 hours
Material: 60% Acrylic & 40% Polyester
Product Weight: 5 oz
Crown Size: 9 in. ± 0.6 in.
Height: 9 in. ± 0.6 in.
Design and style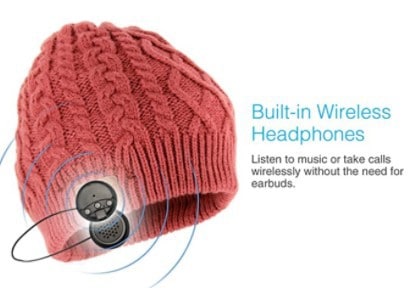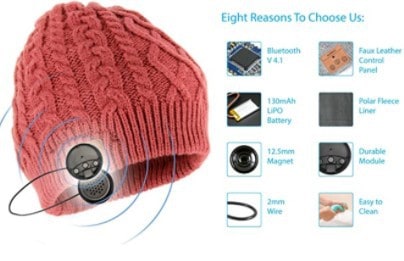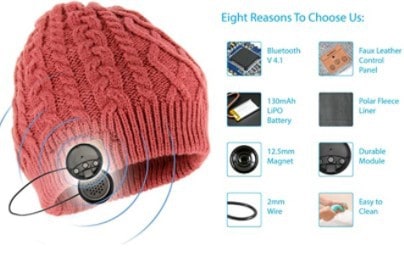 The Tenergy Bluetooth Beanie is one of the thinner options. Because of its shape and design, you don't have to roll it up to make it fit. It's made of a combination of acrylic and polyester, giving your head protection from cold while being comfortable at the same time.
The Tenergy beanie also has an impressive lineup of different colors – you can choose one of five that are available.
Like the Rotibox beanie, Tenergy can give you up to 6 hours of playback when it's fully charged. To get it full takes some time though – you have to spend two and a half hours.
Sound quality and performance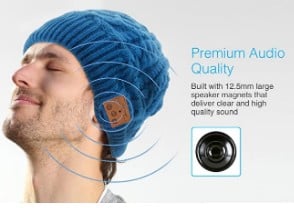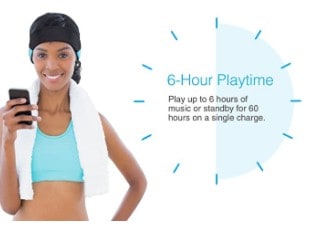 Once you pair the beanie with your phone, you can put the device away, since you won't need it even for receiving calls.
The Bluetooth beanie has a built-in mic for that. To answer your calls, you simply need to tap the correct button on the headphone and you're good.
It uses Bluetooth version 4.2 to connect to your phone. This gives you clear playback up to a distance of 33 feet. The sound is not bass-heavy, but it's loud and clear.
You won't struggle to enjoy your music or hear podcasts clearly. Bassheads may want some more low end though.
What do we like?
Fashionable design
Multiple aesthetic choices
What we don't like?
Takes a long time to get a full charge.
Best for whom? This beanie is a good choice if you care a lot about fashion. However, if you're listening to music throughout, a full battery won't last you a whole day, so it may not be the best if you'll spend long hours outdoors.
Specifications:
BT Version: V 4.2
Frequency: 2.4026 GHz – 2.480 GHz
Transmission distance: 10 M / 33 ft
Li-ion battery: 3.7 V / 200 mAh
Charging time: 2 hours
Standby time: > 30 hours
Continuous working time: about 4 hours
BT name: CALL ME
Design and style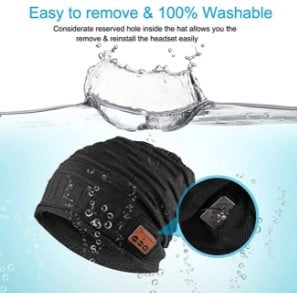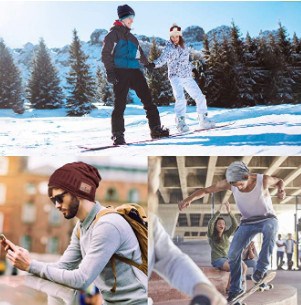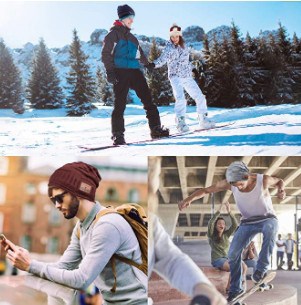 Pococina beanie's design favors aesthetic over performance. Incidentally, this is exactly what most young Beanie wearers like.
It's slim and comes in a number of interesting colors – like gold. These out-of-the-box aesthetics are why some users love it – they're also why some people won't like it.
Like most beanies on this list, the Pococina gives you 6 hours of playback when it's fully charged. On standby mode, the battery can last for about 60 hours. It sounds like a lot, but other beanies can give up to 100 hours of standby time.
Sound quality and performance


Pairing this beanie with your phone is easy – simply press and hold the power button for about 5 seconds.
It connects with Bluetooth version 4.2, which is not the latest today but does its job pretty well. It gives you at least 33 feet distance of clear signal between the beanie and your phone.
The knit material does not block the sound from reaching your ears – it's quite thin and transparent. The overall sound is loud enough to hear your music even outdoors. It has some bass response, but not as much as you would have wit bass headphones.
What do we like?
Flashy designs
Affordable for budget buyers
What we don't like?
Low standby time
Some users may consider the design "too loud"
Best for Whom? If you prefer unique hats that will turn heads, then, this beanie is for you. However, do not stray far from charging power sources – the battery won't last the whole day.
Specifications:
OS: IOS, Android
Additional Features: Microphone, Noise Cancellation
Phone Talk Time: 8 Hours
Hands free calling and easy volume/music control panel
Enjoy the true high definition stereo sound with rich bass
Easy to connect with all Bluetooth device in up to 33 ft range
Design and style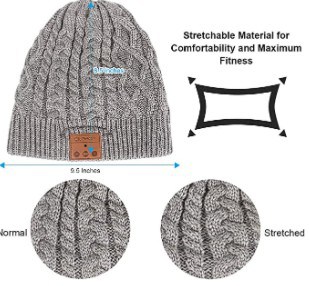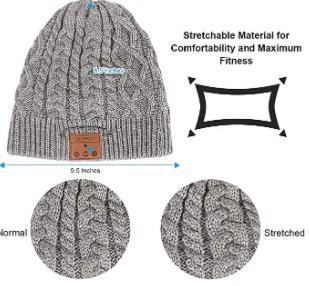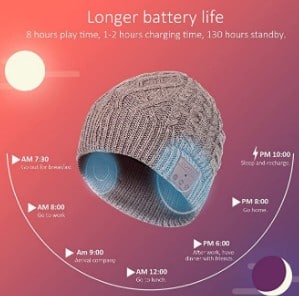 The Blueear Hat is one of the beanies with the best balance between style and functionality. It looks like your regular stylish headgear. It takes some creativity to combine aesthetics and functionality as we have here.
The hat has a heather tan hue that will match almost any winter outfit without attracting too much attention. The part of the hat that houses the control is well made. It's covered with leather material that adds to the beanie's aesthetics.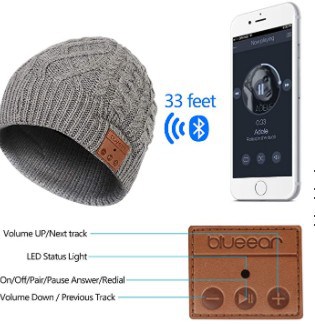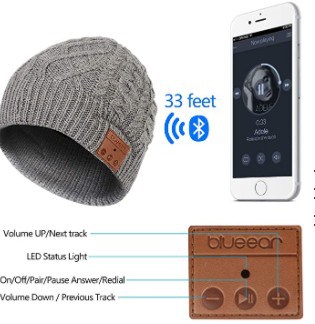 The Blueear's battery lasts very long – giving you playback time of 10 hours and standby time of up to 130 hours. This is the most impressive efficiency on this list.
So, if you'll be outdoors all day, without an opportunity to charge the beanie, the Blueear wireless winter knit is for you.
Sound quality and performance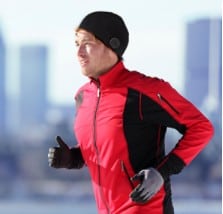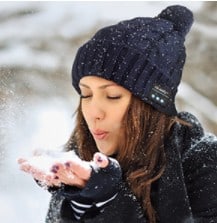 The Blueear Bluetooth music hat has a mic that allows you to receive your calls without reaching for your phone.
The Bluetooth connection is the latest on the market (version 5.0). The hat is washable. You only need to carefully remove the drivers before washing. This ensures that you can use the beanie for a long time.
The sound quality is solid and gives you bold, punchy bass. This bass is not as punchy as what you'll get with gaming headphones or rock headphones. However, it's more solid than the average Bluetooth beanie headphones.
What do we like?
A great style that fits in with most outfits.
Long battery life
Washable design
What we don't like?
Takes a long time to charge
No color options
Best for whom? The long battery life makes it perfect for all-day use. If you'll spend the day outdoors, the Blueear is for you.
Specifications:
Bluetooth Specification: v4.0
Supports Bluetooth Headset and Hands-free
Rechargeable 100 mAh Li-Polymer Battery
Micro USB Plug charging Port
Nominal charging time: About 1 hour
Talk time: Up to 8 hours
Music Playback Time: 5 hours
Standby time: Up to 60 hours
Weight: 3.8 ounces
Design and style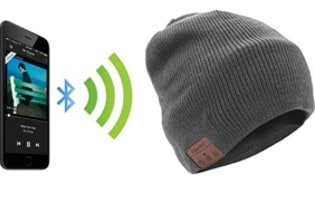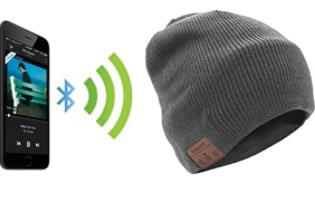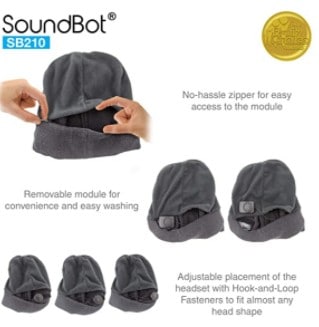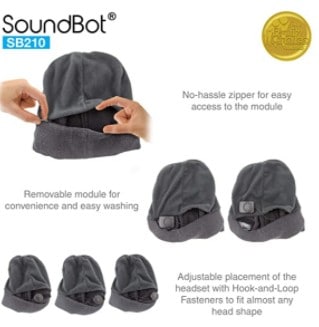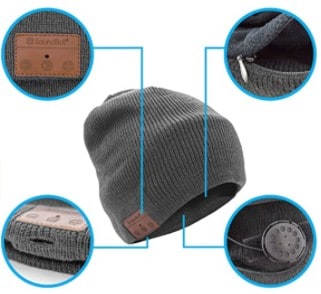 The SB210 Bluetooth beanie is made of a combination of acrylic and polyester in equal parts. The result of this blend is a slightly elastic hat that fits on different head sizes.
Aside from being stretchy, you can adjust the hook and loop to give the hat a better fit.
The battery life is slightly lesser than most beanies. When it's fully charged, it gives you up to 5 hours playback. The standby time is 60 hours.
Sound quality and performance


The Bluetooth connection is the 4.1 version. It allows you to connect over a distance of 33 feet.
The audio quality is lacking in bass but has sufficient mids and treble. The volume also won't be a problem – the headphones can get loud enough for you to hear everything. Also, even at the loudest volume, the audio does not clip.
What do we like?
Fits many different head sizes
Provides warmth for cold regions
What we don't like?
Conclusion
Without a doubt, the Blueear beanie is my top pick of the pack. Long battery life is very important to me. If you need a music hat that will work for the whole day, you would prefer it too.
The other two that come close are the Rotibox and Tenergy beanie hats. They have decent battery lives and loud sound.
Hi, I'm Jennifer I'm a passionate singer and an audiophile from Detroit, MI. 
I'm on a mission to help music creators to create fine music that help them position uniquely in the saturated music space.
Follow my blog for regular content :-)