In my early years of recording video and being a producer, I used to think that high prices meant better quality.
Not until I had to upgrade my gadget. I bought a Shure SM58 as part of my new gear.
Sincerely, I do not agree that Shure SM58 is one of the best vocal dynamic microphones – at least not for studio production.
It is overpriced; the vocal sound you get from recordings is muddled.
I wouldn't recommend it for a studio setup or YouTube video. The frequency response is not clear enough for me.
So I will be sharing with you Shure SM58 alternative mics.
Top 5 Shure SM58 Alternatives reviewed
Sennheiser e945 is an excellent choice when there is a need for a rugged, durable mic that can withstand harsh stage conditions.
The quality audio delivered by e945 earns it the ability to be used for professional vocal recording in a studio.
In comparison with the e835, the Sennheiser e945 is made for maximum durability.
Regardless of the weather and climate, e945 delivers consistent sound quality.
In performance, the super-cardioid e945 mic has a tighter pick-up area than the cardioid e835.
In effect, it doesn't tolerate singing off-axis. Consequently, it rejects feedback and noise better than the Sennheiser e835.
Also read: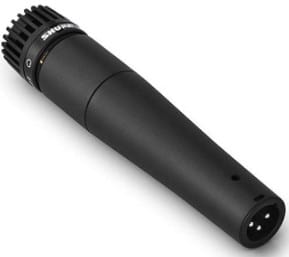 The SM57 tapered capsular microphone is a must-use for musicians of various music genres.
It is known for capturing midrange instruments clearly. If you are a guitarist looking for a professional mic for recording, the Shure SM57 is the right microphone for you.
If you are also just starting in the music industry and don't know what gears to use, this is a great mic to start. Although SM57 is designed to record instruments, it works fine with vocals.
It is tuned to capture vocals and instruments clearly.
The Shure SM57 is ideal for the kick drum and guitar while on stage. It doesn't allow the low frequency from the kick and bass guitar to overshadow the mid-range instruments.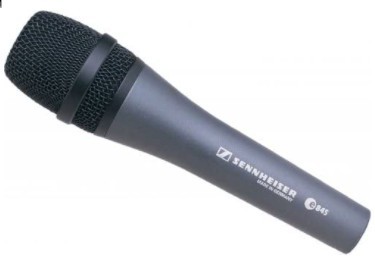 The Sennheiser e835 is a better live performance mic than the Shure SM58 for its well-pronounced mid and high frequency.
It is a vocal dynamic mic that cuts off noise well; it allows feedback rejection.
The e835 has an advanced internal shock mount that stabilizes and enhances the mic capsule to handle noise at a high volume.
It is a professional gear for recording vocals, cymbals, and so on stage. You do not need to EQ the recording to make the audio sound great, unlike the Shure SM58 which requires EQ to sound professional.
This mic has a quality build, similar to expensive Sennheiser microphones. It has a high-quality coil that reduces electromagnetic interference.

The AKG D5 is a good contender with the Shure SM58. The AKG D5 is a super-cardioid microphone that handles every live stage performance worry.
Screaming, sweating, background stage noise, and feedback are not to be worried about with the premium AKG D5 microphone.
It does more accurately in a live performance with a well-balanced articulation across the frequency range and a higher sensitivity to capture dynamic sound.
Mid-frequency muddiness – a common problem with Shure SM58, doesn't trouble the AKG D5.
The AKG D5 is equipped with an integrated pop filter that reduces pops and wind noise. It has a die-cast metal body, and the mesh grilles are made of spring steel, protecting it against internal shock if it falls to the ground.
Also read: AKG D5 vs D7: Which one is a better microphone? Check it out!
The Shure Beta 58A delivers a clean and clear vocal without killing your budget.
One of the reasons why versatile singers choose Shure Beta is its flat frequency response through the entire vocal range.
In comparison with the Shure SM58, it is a super-cardioid microphone. It has a better pick-up pattern that makes it resist feedback than the Shure SM58.
And in overall sound, it beats the SM58 hands down. Although in design, it looks like the SM58 but not in sound quality.
The Shure Beta 58A sounds less harsh, and more open but maybe not as great as the Shure SM7B.
Shure Beta 58A has an improved voltage gain and requires less amplification than the Shure SM58.
Read more: Shure Beta 58A vs Sennheiser e945: Which is Best for Vocals?
Wrap up
The mics reviewed are all better in sound quality than the Shure SM58.
However, here are the top three microphones that have proven to be the best.
The third of the top three microphones is the Sennheiser e835. It is ideal for recording vocals and specific instruments.
The runner-up is the Shure SM57. The most versatile mic on the list captures vocals and instruments clearly.
The top of the list is the Sennheiser e945. It does all and much more than the e835. Sennheiser e945 is suitable for performance and studio recording. The super-cardioid polar pattern makes it ideal for professional studio recording.