Today in this post we are discussing the Shure SM57 vs SM58 and help you decide which one is the best for vocals.
Last update on 2023-09-21 / Affiliate links / Images from Amazon Product Advertising API
Let's get started.
Shure is a reputable manufacturer of microphones, headphones and a wide range of audio equipment. This also includes the Shure SM57 and SM58 dynamic vocal microphones which have a plethora of outstanding features.
Shure SM57 and SM58 are the best Shure mics in their class.
The SM57 is normally used for accurate reproduction of acoustics and musical instruments such as saxophones, guitars and trumpets.
| | | |
| --- | --- | --- |
| Features | | Shure SM58 |
| Switches/controls | No switches | No switches |
| Filters | No filters at all | Comes with inbuilt spherical wind and pop filter |
| Rated impedance | NA | 150 Ohms |
| Polar pattern | Cardioid | Cardioid |
| Frequency response | 40 Hz to 15 KHz | 50 Hz to 15 KHz |
| Sensitivity | 1.6 mV | 1.85 mV |
| Amazon product page | Check price | Check price |
The SM58, on the other hand, is popularly used for live performances either in studios or in concerts. It handles voice with immense care and clarity, accentuating your unique voice and boosting your performance.
The Shure SM58 is used by pop stars, rock stars, presidents, comedians and other professionals who perform frequently in front of large audiences.
Wouldn't you like to finally wow people with your incredible voice?
The Shure SM58 lets your voice pop out and provides iconic performances every time you're on stage. Both the Shure SM57 and SM58 work well together.
Shure SM57 vs SM58: A detailed comparison
Build and design
The materials used to make both these mics are sturdy. The body is constructed using hard, durable plastic.

The SM57 has even passed Shure's foolproof drop test. When dropped from an elevated height of ten feet ten times, this mic was unaffected. There were no cracks and no loss in input quality. This guarantees buyers of the product's durability.
The SM58 has a rugged construction that provides immense sturdiness and durability. It's equipped with a steel mesh grille to prevent damage to the diaphragm due to rough handling. The mic also has a shock-mount system for improved security.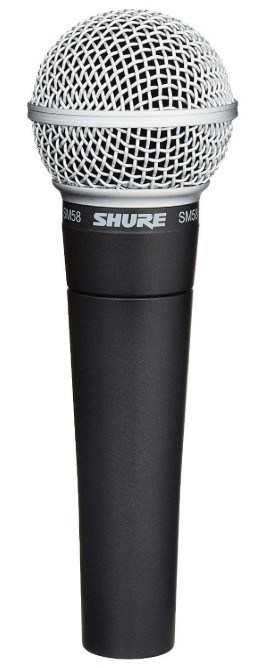 Both products have a limited warranty of two years maximum from the original purchase date. This warranty covers material defects and errors in workmanship.
When comparing the difference between SM57 and SM58 in terms of weight, the disparity is negligible.
The SM57 weighs 10.1 ounces (286 grams), same as the SM58. Both mics are compatible with CBI MLC LosZ XLR Female Microphone Cable, which is bought separately.
Both microphones have no toggles or switches, permitting easy handling.
However, there's the option of purchasing a Shure SM58 variety that includes an On/Off switch.
For the Shure SM57 LC, you can purchase the bundled option that comes with an integrated pre-amp that has unique gain controls to adjust the strength of the input signal. You can also consider looking into external mic preamps if you want one.
An XLR-to-USB adapter is also provided. For an extra cost, you'll also get a foam windscreen that eliminates nasty pop sounds.
Features
What's in the box?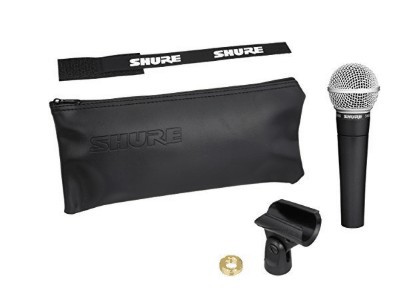 The Shure SM58 LC mic comes with a stand adapter and a zippered pouch. There's an option of purchasing an extra XLR-to-USB signal adapter, foam windscreen, and mic stand.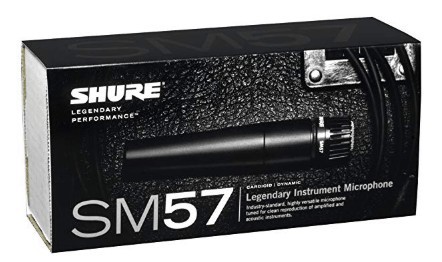 The SM57 Microphone bundle comes with a USB cable, an XLR-to-USB Signal Adapter, a USB cable, an adjustable desktop stand, a foam windscreen, an anti-roll mic device, and a clamp-on gooseneck pop filter.
The SM58 has an inbuilt spherical wind and pop filter that helps to reduce undesired pop noises that the mic picks up. These sounds can either originate from your breath or from wind gusts that occur during live performances.
The SM57 doesn't have a pop filter, so if you're planning to purchase it for onstage or studio performance, it's best to buy a separate pop filter from Shure.
The rated impedance for Shure SM58 LC is 150 Ohms (actual impedance is 300 Ohms). However, the impedance for SM57 is not indicated.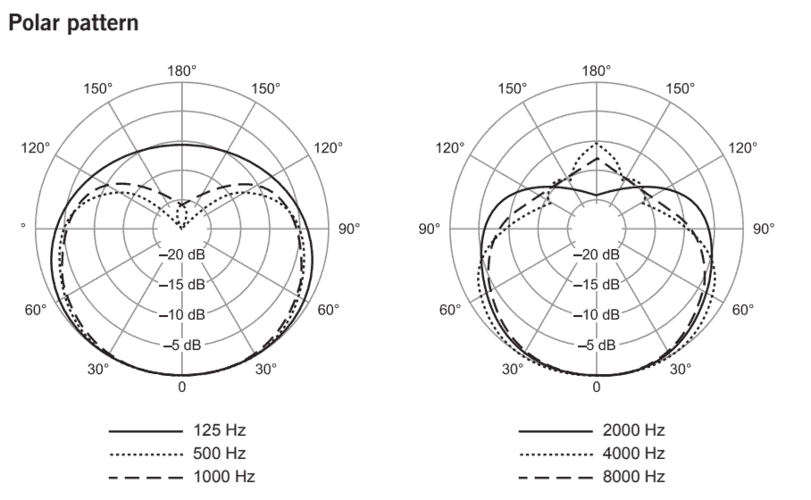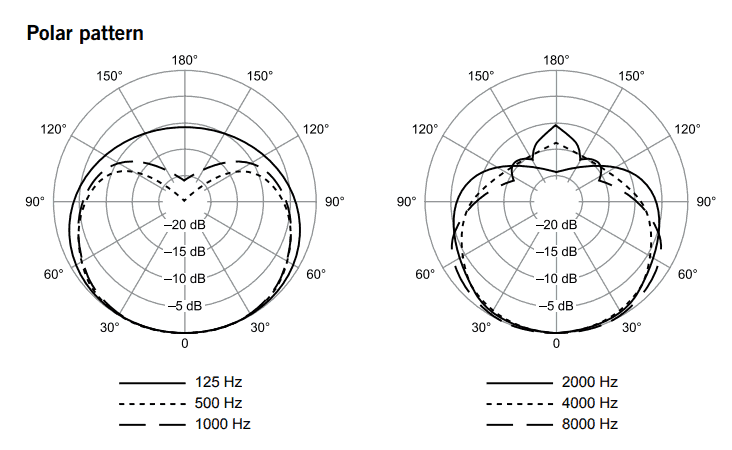 Both microphones feature a uniform cardioid (unidirectional) pick-up pattern. This unique polar pattern boosts the main sound source and attenuates noises coming from the background. This way, your voice is distinctly accentuated at all times.
The frequency response of Shure SM58 LC dynamic microphone is specifically tailored to improve vocals by brightening midrange and bass frequencies.

On the other hand, SM57 has a contoured frequency response with accurate reproduction of instrumentals and rich vocal pickup. Both mics have a guaranteed mark of quality and reliability.
Sound quality
Both the SM57 and SM58 share a similar cartridge design. However, the SM57 was primarily designed to serve as an instrument mic whereas the SM58 was specifically designed to accentuate vocals.
It's easier comparing the SM58 and its competitor SM7B in terms of vocal performance since both microphones have similar vocal reproduction properties.
The SM58 has brighter mids, crisper lows, and more elaborate bass roll-offs compared to the SM58. Initially, sound engineers intended the SM57 to be used as an instrument mic.
But throughout history, this microphone has also been used for vocals – and we have enhanced proximity effect to thank for that.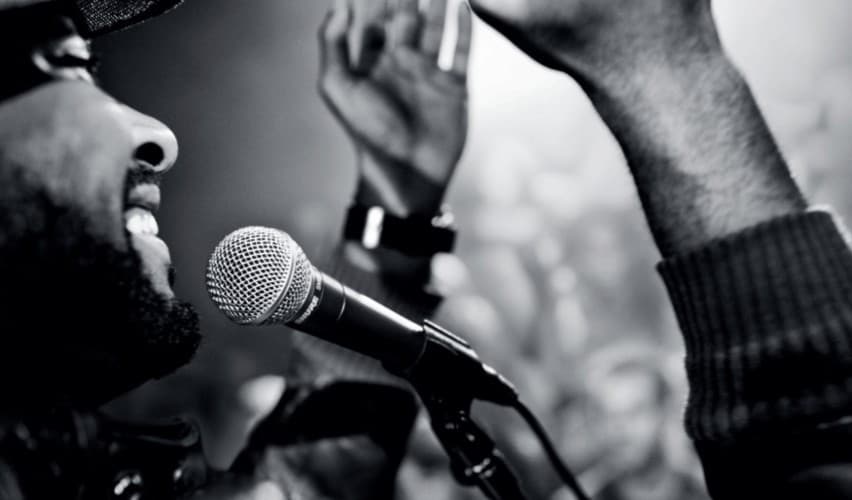 The SM57 properties that boost instruments can occasionally bolster some people's voices. By experimenting with your vocals, it's possible to establish whether this mic suits your vocal application.
The SM58 has a more elaborate proximity effect that's easy to achieve through close mic positioning. This feature makes it more ideal for vocal applications.
Frequency response comparison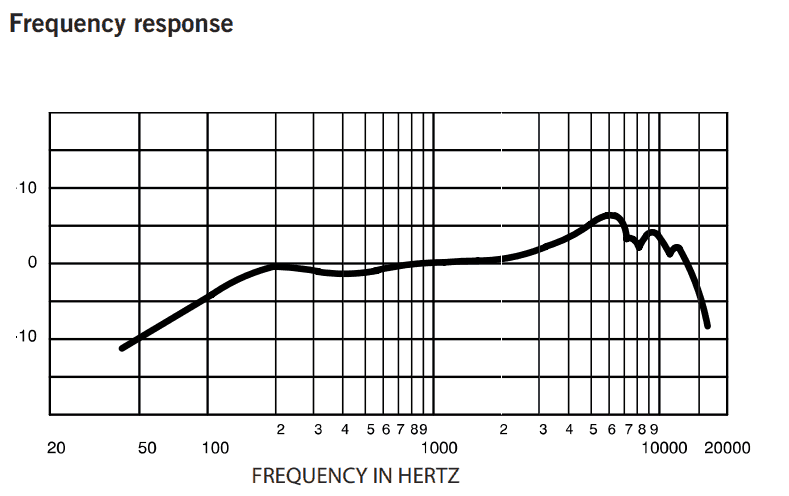 The SM57 frequency response ranges from 40 Hz to 15 KHz. The SM58 frequency response, on the other hand, lies between 50 Hz and 15 KHz.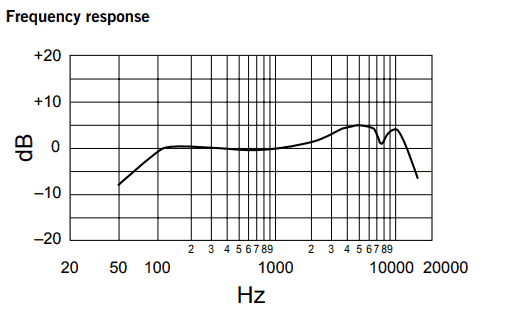 The former has a wider frequency response range, perfect for picking up all types of instrumentals. The SM57 can accentuate an acoustic guitar perfectly, although you might need to utilize a guitar amp.
The sound profile of SM57 is suitable for instruments, whereas that of SM58 leans towards vocal application. SM57 possesses a smaller grill size with an internal resonator. The SM58 has a ball grille with pop filtering.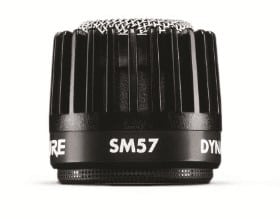 The sensitivity of the SM58 (at 1 KHz Open Circuit voltage) is -54.5 dBV/Pa (or 1.85 mV). The Shure SM58 vs Sennheiser E845 have strikingly similar sensitivity levels, with the latter having a sensitivity of 1.8 Mv/Pa. This high level of sensitivity is perfect for voice recordings.
The SM57 with 1.6 mV isn't as sensitive as the SM58, meaning that most people wouldn't prefer using the SM57 for recording vocals.
Similarities and differences
Similarities:
Both have a uniform cardioid (unidirectional) polar patterns
Same cartridge design
Relatively similar frequency response (40/50 Hz – 15 KHz)
Both are compatible with an XLR-to-USB adapter and XLR microphone cable
Differences:
They have dissimilar sound profiles
The SM57 is designed for instrument reproduction whereas the SM58 is ideal for voice applications
The SM58 has a wind and pop filter but the SM57 does not have a filter
SM58 has a net weight of 10.5 pounds (298 grams) whereas SM57 weighs 10.1 pounds (286 grams)
Pros and cons
Shure SM57
Pros
Superb pick-up and accurate instrument reproduction
Rugged, durable design
Wider frequency response
Portable and lightweight
Cons:
Doesn't feature a pop filter
This mic isn't the best for vocal reproduction
Some people might find it pricey
Shure SM58
Pros
It's designed for outstanding vocal reproduction
It has an integrated wind and pop filter
Durable and lightweight
Cons:
Not designed for instrument reproduction
Some customers have issues with the switched version
Relatively expensive, which explains its amazing quality
Read our popular Shure mic reviews:
Verdict
It's time to wind up the discussion with Shure SM57 vs SM58.
Despite the Shure SM58 coming out strong in the vocals section, the SM57 performs impressively in the instrument reproduction category.
They both have key differences that set them apart. Although the SM58 adorns a pop filter to attenuate those annoying pops, the SM57 doesn't have one. This makes sense, considering that the SM57 isn't designed for vocals.
If you're looking for a mic that will highlight your voice to deliver a professional rendition, the Shure SM58 is perfect for you. But if you desire a mic that has a rich vocal pickup for accurate instrument reproduction, the SM57 comes highly recommended.
Either microphone can be bought at an affordable price – it's certainly a worthwhile investment to make. If your budget restricts you to buying a single mic, get the one that suits your particular application.