In this post, we are going to cover Bose Revolve vs Revolve Plus and help you decide which is one right for your needs.
Last update on 2023-09-28 / Affiliate links / Images from Amazon Product Advertising API
Bose has carved a niche for themselves with the Soundlink speaker series. The Revolve and Revolve Plus are two of the most popular Bose Bluetooth speakers today.
From the names of both speakers, you can deduce that Plus should be an upgrade on Revolve. One clear fact is that Revolve Plus costs more.
Is Bose Revolve Plus really an upgrade on Revolve?
Are there any differences between Revolve and Revolve Plus?
Is the upgradation to Revolve Plus worth the price?
These are the questions that this article answers.
My Best Pick
Bose SoundLink Revolve+ Portable and Long-Lasting Bluetooth 360 Speaker - Triple Black
Best Value for Money
The Bose SoundLink Revolve, the Portable Bluetooth Speaker with 360 Wireless Surround Sound, Triple Black
Integration with apps
Bose App, Siri, and Google Assistant
Bose App, Siri, and Google Assistant
My Best Pick
Bose SoundLink Revolve+ Portable and Long-Lasting Bluetooth 360 Speaker - Triple Black
Integration with apps
Bose App, Siri, and Google Assistant
Best Value for Money
The Bose SoundLink Revolve, the Portable Bluetooth Speaker with 360 Wireless Surround Sound, Triple Black
Integration with apps
Bose App, Siri, and Google Assistant
Last update on 2023-09-28 / Affiliate links / Images from Amazon Product Advertising API
Bose Revolve vs Revolve Plus: A detailed review
Build and design
Bose Revolve and Revolve Plus look very similar. When placed side by side, you can easily tell that the only visible difference is the size, and perhaps the carrying handle included on Revolve plus.
The Bose Revolve is the smaller of the two Bluetooth speakers. It has a cylindrical shape and feels quite solid with its aluminum body.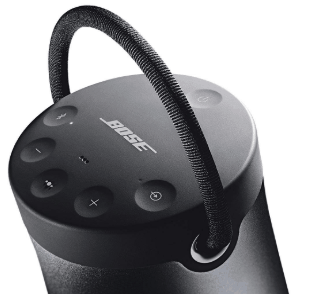 Both these speakers are unlikely to get damaged from an accidental drop. This is because they are shaped such that in case of any drop only the top and bottom edges would hit the ground first.
These edges are covered with shock-absorbing material that causes the speakers to bounce on impact. This protects all internal and external parts from any damage.
Both the Resolve and Resolve Plus are available in black and grey colors. Even though they feature a single color for each speaker, the used different shades of the same color to achieve a sleek finish on both.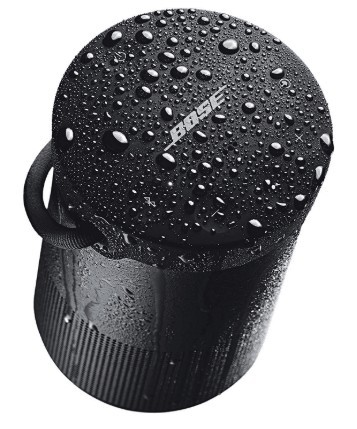 Both these Bose speakers are waterproof with IPX4 technology.
Both speakers are Bluetooth compatible, which means they are wireless speakers, but they also have 3.5mm audio output ports just in case you want a wired connection.

In addition to that, is the micro USB port for charging their batteries. At the base, there is a connector that provides an alternative charging port. To use it, you'll need to purchase the charging cradle.

You use it by fitting the speakers into the cradle, and you're ready to go.
As expected, Plus is a little heavier than Revolve. Plus weighs 2 pounds while revolve weighs 1.5. If 2 pounds feels heavy for you, no worries. Revolve Plus has a carrying handle that makes carry-about easier.
Features
Inside the speakers' respective boxes, all you'll find are some documentation a USB to micro USB cable and the speaker itself. The speakers inside the boxes are well protected against external impact.
Directionality: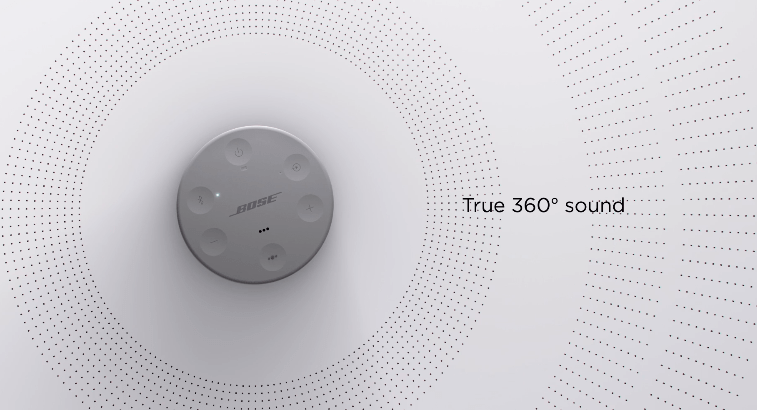 Both the Resolve and Resolve Plus have 360-degree sound technology. It's a really cool feature that enables the speakers to produce sound in all directions.

If you're having a house party and you place any of these two Bose speakers at the center of the room, everyone gets to enjoy the same quality of sound regardless of what side of the speaker they are.
These two speakers sure have a lot of cool features in common.
Pairing options:
You can pair two Bose Revolve or Revolve Plus speakers to each other. You can also pair a Revolve Bluetooth speaker to a Revolve Plus.
This pairing can be useful in two major ways. You can sync the paired speakers such that they both play music from one connected device, instantly turning them into party speakers.
This means you have the same music, but twice the volume. You can do this by selecting party mode on the Bose app, either on the iPhone or Android.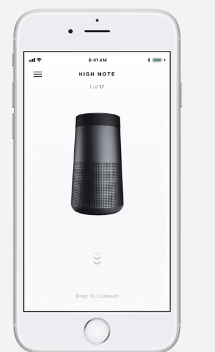 Also, pairing two Revolve Bluetooth speakers can be used to achieve the stereo sound. With the Bose app, you can decide to make both speakers act as left and right speakers each, just as though they're wireless bookshelf speakers.
This way, you have a wider soundstage and you get a more accurate music listening experience.
Battery:
According to the manufacturers, when Sounlink Revolve is fully charged, it can last as long as 12 hours, while Soundlink Plus reaches up to 16 hours. However, after testing at 50 percent volume, they both worked for roughly two hours less than the stated time frame.
For easier positioning, both speakers have threaded mounts at the base. There are occasions when you may need to mount them on a tripod. An example is if you're having a small party; an elevated platform for the speaker will enable the sound to travel better.
Neither the Resolve nor the Resolve Plus is a smart speaker, but they both come as close as they can.
Integrations with apps:
Both speakers can take voice commands and give responses with Siri and Google assistant. You can access this feature via the multifunction button on both speakers.
To experience the full capabilities of both Bluetooth speakers, use the Bose connect the app to manage the connection between your phone and the speakers. Additionally, you can pair your device to the speakers using NFC if your device is equipped.
Performance
As expected, the bigger speaker has a bigger sound. However, the overall difference you hear between the two speakers is mainly caused by the bass production.
Bose Revolve Plus has a deeper bass production than the Revolve. Even at that it still isn't one you would rely on if you're a bass head.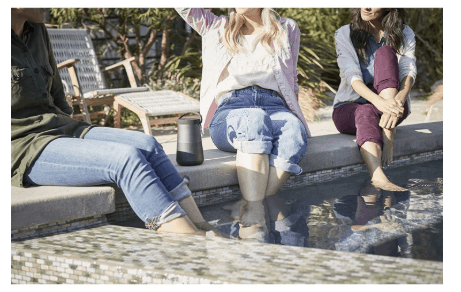 Don't expect so much from its sub-bass.
There's also an aspect of bass sound in these two speakers that fascinates me: For a lot of speakers of this size, there's usually a difference between the bass production when they're sitting on a level surface and when they're suspended.
For Bose Revolve and Revolve Plus, there's no audible difference between these two positions. To have some more bass, you can place the speaker close to a wall, or better still, at a corner of the room.
Even though Revolve plus has stronger bass, you may hear some distortion when you crank up the volume to a maximum. This usually happens when you're playing music that has a lot of basses.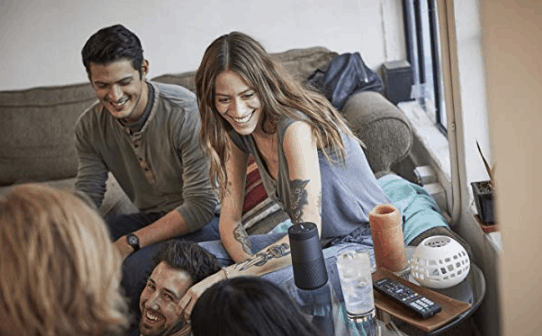 For the other aspects of the frequency range, both Bose Bluetooth speakers sound quite similar, excluding the difference in loudness. The high mids, in particular, are the "sweet spot" of these speakers.
Although there's not so much boost in that region, there's just enough to bring out the sweetness of guitars and vocals in your music.
Also, there's a mild roll-off at the highest frequencies that keeps your music from sounding overly bright. I believe it prevents ear fatigue, although that's what some users prefer.
Similarities and differences
Similarities:
Both speakers have similar build; aluminum body with rubberized top and bottom edges.
Google Assistant and Siri can receive voice commands via the Resolve and Resolve plus.
The arrangement and functions of all buttons are the same on both speakers.
Differences:
While resolve plus has a carrying handle, resolve does not, although it should fit into an average-sized palm.
Resolve Plus has a more rounded bass response than Resolve.
Pros and cons
Bose Resolve
Pros:
Compact design
Rubberized edges prevent damage from falls.
Can pair with multiple devices at once.
Cons:
The actual battery life is lower than stated.
Takes up to 4 hours to get fully charged.
Bose Resolve Plus
Pros:
Good bass response
Can be used with tripod stand
Includes NFC connection
Cons:
It does not produce sub-bass so well.
Heavy bass music may have distortion at maximum volume.
See our other popular posts:
Verdict
Obviously, Bose Resolve and Resolve Plus have more similarities than differences, but we still need to make our pick. Also, since Resolve Plus costs more, we're naturally going to consider if the "upgrades" in the Plus version are worth the extra dollars.
First, let's consider the carrying handle on the Resolve Plus. You may think it's insignificant, but if you're taking a long walk on the beach while holding the speaker without a handle, you could get sweaty palms.
Also, you can't hold it casually because it will drop and sand can get in through the perforated area. If you intend to take the speaker around with you while playing sound from it, that little handle can prove quite useful.
The other part is the better bass response. While Soundlink Revolve Plus is better than Revolve, it still doesn't reach sub-bass levels. However, there's still an audible difference. Place Revolve at a corner of your room and the difference becomes less audible.
Hence, if you're not much of an outdoor user, you could simply go for the Soundlink Revolve and keep the change.