Affiliate disclosure: In full transparency – some of the links on this website are affiliate links, if you use them to make a purchase we will earn a commission at no additional cost for you (none whatsoever!). Will this be a problem? This is how we manage to create free content for you. Please know that your trust is so important for us. If we recommend anything, it is always because we believe it is worth exploring. And, buy me a coffee ☕️
In this review, we turn our attention to the 87 series; which is really good meat for artists seeking pristine clarity in their vocals. So, let's clear the fog, Shure Beta 87A or Shure 87C?
$70.00 REDUCED
$70.00 REDUCED
Last update on 2022-08-12 / Affiliate links / Updated prices and images from Amazon Product Advertising API
Shure microphones have been the industry standard for a long time. The supremacy of the SM58 in the dynamic live vocal section stands evident in the dominating legacy of Shure.
Apart from the legendary 58 series Shure has offered excellent microphones that could be a good alternative for many professional vocalists.
Let's look at the specifications in the below table.
Shure BETA 87A Supercardioid Single-Element Vocal Condenser Microphone for Studio Recording and Live Performances with A25D Mic Clip and Storage Bag
Shure BETA87C Cardioid Condenser Microphone for Handheld Vocal Applications
Shure BETA 87A Supercardioid Single-Element Vocal Condenser Microphone for Studio Recording and Live Performances with A25D Mic Clip and Storage Bag
Shure BETA87C Cardioid Condenser Microphone for Handheld Vocal Applications
Last update on 2022-08-12 / Affiliate links / Updated prices and images from Amazon Product Advertising API
Shure Beta 87A vs 87C: Which one stands out?
Design
Shure is best known for, it's legendary ruggedness and superb built quality. Well, their 87-series is no different. Both Shure 87A and Shure 87C are microphones that are durable and built to last, they can easily withstand any accidental drop.
However, the 87A sports a thicker handle that adds to the comfortability factor in hand-held operation. It also has a break-resistant swivel adapter.
Both of them weigh a decent 0.475 lbs.
The Shure Beta 87A comes with a low-noise preamplifier and a nice internal shock protection, which cuts down the handling noise. The meshes act as both pop-up filter and windscreen, that never affects the details.
Both the 87A and 87C require phantom power input (12-52V).
As both of the mics are forming the same series there's almost no perceptible difference in the build quality and design. Shure claims both of them to have no difference except for the pick-up pattern.
What's the fuss about?
The Shure Beta 87C is a condenser microphone with a cardioid pick up whereas the Shure Beta 87a is an electret condenser microphone which sports a super-cardioid pick-up.
Exactly what the hell is super-cardioid pickup? Don't worry, let's break it down for you right away.
The cardioid pick-up style picks up sound within a 130-degree angle in front of the microphone. It has reduced sensitivity for out-of-the range sounds and almost zero sensitivity to sounds directly behind the mic.
Whereas the super-cardioid style picks up the sound within 115-degree angle in front of the mic and has no sensitivity beyond 120-degrees from the axis.
However, it may pick up a narrow range of audio hitting from directly behind the back of the mic.
The difference between the output of the two is very subtle, but the Shure 87A has a somewhat more consistent polar pattern, which gives it a slight edge in the gain-before-feedback.
Sound quality
Now, let's get to the most important part; the sound quality. No need to worry as we clear the cloud for you.
Both the 87A and 87C sound absolutely amazing; and that's exactly the reason why it's really hard to pick a clear winner.
Shure claims the 87A is built for floor monitors as it provides a bit more gain before feedback than the 87C. The Shure Beta 87C is a cardioid mic, is built for in-ear monitors as it sounds more natural with the in-ear mix.
So, if your monitor needs frequent changes, then you might wanna put both of them in your bag.
Speaking of sound clarity; the 87 series microphones provide pristine clear audio output and a sparkling high-end. It's as if you are using a studio condenser mic which is fully usable as a live vocal mic; something that's not very frequent in the microphone arena.
Being a super-cardioid electret condenser mic 87A has a narrow pick-up range than the 87C and contains less ambiance and increased clarity.
If you compare the sound output from Shure 87C the sound is lower and you have to increase the gain in your sound mix board to get the same level of sound.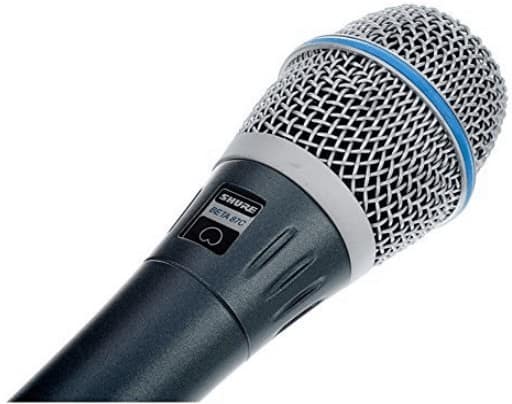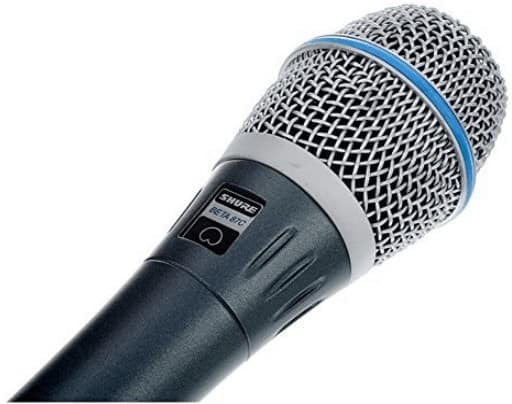 The 87C is a cardioid mic, meaning it can pick up sound from a wider range (130 degrees in front of the mic) than the Shure beta 87A. So, the output contains more ambiance than the 87A.
The best part is,
The Shure 87A has a massive SPL handling of 140 dB, meaning it can handle high sound pressure environments and will not overload or produce gain before feedback. The sound output is not muddy, instead, it provides an open voice output.
The Beta 87A sports a controlled low-frequency roll-off that compensates for proximity effect and prevents the boomy sound which comes from a close pick-up.
The characteristic Shure presence brightens the upper mids. It has a wide dynamic range(117db) and low distortion characteristics.
You'll get a sound output that is bright, open, and crystal clear when used as a live mic with floor monitors from the 87A.
You will get nearly the same output if IEM (in-ear monitor) is used with the Shure 87C.
Similarities and differences
Similarities
Condenser mics with XLRM connectivity and require phantom power.
They have the same frequency response of 50Hz-20kHz
Both give a nice, warm output with optimum clarity
They are versatile; they can be used as studio condenser mics as well as live vocal mics
Both sport a dynamic range of 117dB
Almost no EQ required
Both have very good SPL handling
Differences
he 87A is built for floor monitors and the 87C for IEMs
The major difference is the pick-up pattern. The 87A has a super-cardioid pick-up; the 87C has a cardioid pick-up
Having a wider pick-up the 87C handles the head-swings of the artist quite effectively
Wireless Options
The Shure Beta 87A and 87C come in wired and wireless options. The Shure 87A wireless comes in handheld mode with GLXD24 transmitter setup, which operates in the 2.4 GHz spectrum. It has a good 20-30 meters range. The battery is Li-ion rechargeable.
However, the SLX wireless system is the most trusted in the wireless arena. These are powerful wireless tools that can be set up quickly and used by installers and bands.
The Beta 87A has G4, G5, H5, H19, J3 variants which operate in the respective frequency bands. These come with an SLX4 receiver, rackmount clip, 2AA batteries, and two ¼ antennas.
The Shure Beta 87C wireless has the same features as the 87A. The transmitters use GLXD24 and SLX wireless technologies. However, I would always go with the SLX variant because of the powerful transmission-reception characteristics.
Pros and Cons
Shure Beta 87A
Pros
Very high Audio clarity
Highly versatile
Tight super cardioid pick-up
Rugged and durable
Cons
May pick up audio directly before the mic
Average looks
Shure Beta 87C
Pros
High Audio clarity
Versatility
Rugged and superb build quality
Cons
Ambiance present in the output
Cardioid pick up can pick instrument noise
Final Verdict
To sum it up,
Let's finalize the winner in Shure beta 87a vs 87c. For us, it is Shure Beta 87A.
Both are equally great at their output characteristics and it depends on your usage to make the choice. The ambiance in the output of Shure 87C affects its audio quality.
If you want a better performance in the conventional stages with floor monitors then the 87A is your go-to mic.
Hi, I'm Jennifer I'm a passionate singer and an audiophile from Detroit, MI. 
I'm on a mission to help music creators to create fine music that help them position uniquely in the saturated music space.
Follow my blog for regular content :-)