People tell that soundbars that cost less than $200, are not worth at all. But that's not true. The masses tend to only go behind the big brands while purchasing soundbars, and they get the soundbars that have limited features and that teases them to upgrade their soundbar.
I've witnessed this before while buying electronic products. When you are within a budget you need to look for some of the good soundbar companies that are producing seriously good soundbars at an affordable price.
I've researched some of the best soundbars that cost you under 200 dollars and are absolutely worth the price.
As the TV in your room is becoming thinner, the sound quality that these TVs are becoming poor. The small speakers mounted inside your sleek TV, just can't manage to produce crisp clear sound with that bass effect.
On the other hand, you may find that the space in your room, your budget, or your budget isn't just scalable to adopt a full home theater.
That's where soundbars come into play. They are just kept in front of your TV and enhances the sound. You must connect the TV audio output to the audio input of the soundbar and you are good to go.
Some of the soundbars also come with subwoofers that are wireless and just need to be connected to an external power source for producing bass.
The volume of the soundbar can be easily controlled by your TV remote or by the remote that comes with your soundbar.
Let's look at some of the good sound bars.
Best Soundbars below 200 dollars
I've put forward some of the really good Soundbars that you can buy right now.
This is one of the most feature-rich soundbars that I've come across. The soundbar is designed so that it provides you the best immersive sound experience. This soundbar is especially made by taking gaming in mind.
This comes with four Immersion Modes (Forza Motorsport Racer, Halo FPS, Music, and Cinema). It comes built-in with a powerful bass driver, that produces deep rumbling bass.
The optional bass port is also included if you would like to use an optional external subwoofer with it.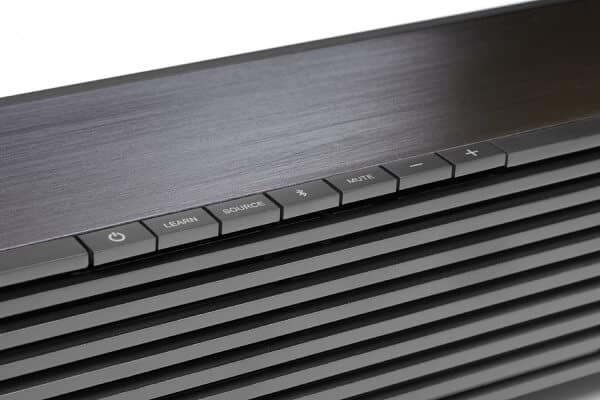 The soundbar also comes with Bluetooth AptX encoding technology. This enables you to stream lossless audio directly to your soundbar.
The sound quality produced by these are excellent. The volume can go to great levels without any sort of crackling sound. The sound is great and balanced.
The sound comes with many of the presets, that lets the soundbar to distinguish the sound between the movies and gaming. This is the greatest option I've liked.
The bass is great. If you are like a bass-head I would recommend you to fit additional subwoofer to this soundbar.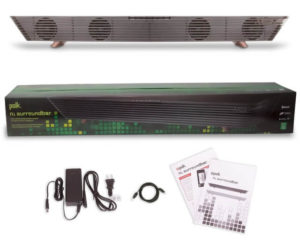 The build quality is great. The soundbar is light and has a solid feel. Personally, I feel the design to be more attractive than the Sony soundbars in this range.

This is a good 2.1 soundbar that's a perfect alternative for the speaker built-in with your TV. This soundbar also comes paired with a wireless subwoofer, that coupled with this soundbar gives a great bass and booming experience.
The subwoofer needs to be only connected to the power outlet, and wirelessly receive audio signals from the TV.
This soundbar easily fills in the full room, with its 100dB distortion-free sound reproduction technology.
The sound quality is great in normal and small sized rooms. As like that of other soundbars, these are not quite suitable for large rooms if you are looking for immersive listening experience.
You can't expect an audiophile-grade listening experience. These are great listening to movies, and also some genre songs. But certainly the sound quality is great for casual users and you can easily see the betterment when compared to older versions of Vizio Soundbars.
It comes with its own remote. If you would like to control your soundbar using your TV remote, you may want to disable the  'VIZIO TV Remote Control' feature.
This is one of the slimmest soundbars, I've ever come across. It compliments the looks of your TV perfectly, that too with built-in subwoofers. These soundbars are meant to produce deep bass and come with two built-in subwoofers.
In the case of soundbars, the built-in subwoofers, especially the dual built-in subwoofers are uncommon. This feature alone keeps Yamaha YAS-106 apart in the game.
This feature enables you to get rid of the external subwoofer and saves you a lot of space especially if your room is small. It is also wall-mountable!
It also comes with Bluetooth technology for you to wirelessly stream from your smartphones or other devices. But unfortunately, it has got no AptX encoding, the audio is quite lossy when streaming via Bluetooth.
You can connect to your TV with HDMI, analog or optical connection.
Sound quality is excellent. Although you won't get true surround sound with any soundbars, these soundbars with two subwoofers do a good job of giving you a decent surround sound experience.
As these soundbars are made for movies and music listening, the vocals turn out to be crisp-clear.
This soundbar is absolutely worth the price. It easily exceeds your expectations.

This is one of the best Sony's ultra-slim Soundbar under $200. You can easily stream music from your smartphone device with the help of the SongPal device via Bluetooth and NFC.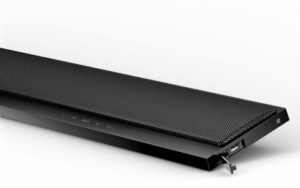 There's also a USB port to which you can connect your USB device to enjoy the playback.
It also comes with a dual-position wireless subwoofer and is designed to offer good bass.
The soundbar can also be mounted to the wall, and save a lot of space.
HDMI Audio Return Channel ensures that the audio is carried back to the soundbar, this means that every audio device that is connected to your TV can be heard in the soundbar and can be controlled with the TV remote only.
Once you connect the soundbars to the TV, you can easily distinguish the difference in the sound quality between that of your TV speakers and soundbar. The sound quality is of high quality. The sound quality is great for the price, and for below $200 the sound quality is pretty great.
The bass of the subwoofers is pretty strong, and you may need to turn it down if you aren't a bass lover. This ability to adjust the bass enables the soundbar to be ideal for listening to all genres of music without any hassles.

This is one of the most compact soundbars under 200 dollars. It comes with Bluetooth wireless technology as like most of the soundbars to stream the music directly from your smartphone.
The sound is great. There are two built-in subwoofers in the soundbar, that does the job of delivering great bass and sound exceptionally well. The volumes play at great levels without any distortion or loss in sound quality.
There is an option for you to enable or disable the surround sound mode. Although the surround sound it offers is not true surround sound, it does it's job very well of simulating surround sound with its dual speakers.
The sound will be directional.
The sound is balanced in the all the frequency ranges. The bass is punchy (have a good impact in movies), the midrange is clear and treble is great. You can hear crystal clear vocals and the details are great.
The downside is that there is no option for you to connect an external subwoofer like that of best soundbar under $200 that is Polk Audio N1.
The provision for using external subwoofer gives you freedom of bass and sound quality. This is the only downside I see here.
The build is sturdy, but a little bulky as there are two subwoofers built in it. There's nothing to complain about the build quality as it is compact.

This soundbar features surround sound expansion experience that enables you to enjoy the sound produced by your soundbar never like before. It adds depth to your listening experience.
For maintaining the clutter-free experience, Samsung has stepped up to a new level by adopting a new technology called TV SoundConnect that enables the TV sound is to transmitted to the soundbar through the Bluetooth special device getting rid of wires.
Nevertheless, along with package you also get an optical cable to connect your TV and soundbar directly.
You can also stream music directly from your smartphone to your soundbar.
Along with this, Samsung also has an Android app called "Samsung Audio Remote" that enables you to use your smartphone as a remote to control your soundbar.
Nevertheless, you can also configure your TV remote to control your soundbar. You can also stream music from your iPhone device as it also has Bluetooth. There are no issues.
The sound quality is great and the bass is good. It adds a whole new listening experience. At this price, you definitely can't expect the audiophile sound quality.
But this sounds great for watching movies and listening to music  in general. The surround sound is great and adds some dimensions in your listening.
The surround sound works great for small rooms. But for larger ones, the surround sound won't work so effectively.

Soundbar comes with support for Bluetooth 3.0. You can easily connect your Android, iOS or Blackberry devices to this soundbar and stream music wirelessly. It also comes with traditional cables to connect to your TV for an unmatched audio listening experience.
Sometimes making use of an optical cable to connect to your TV, can render the sound is too loud even at low volumes.
However, this can be fixed using AUX cable and connecting it to the headphone jack of your TV. This AUX cable connection also enables you to control the soundbar volume via TV remote.
The bass is good and not too strong. It is decent. The default bass is good for watching movies and TV shows. However, there's a music mode that boosts up the bass and the treble a little bit and is a perfect mode to listen the music streaming via your device or the TV.
The volume is great and the sound can go to louder volumes without any distortion. This loudness enables the soundbar to fill any large room completely. This is great considering the price.
It is a great budget-friendly soundbar if you are looking for a good alternative to the sound produced by your TV.

Wrapping up
These are some of the best soundbars under 200 dollars, that you can buy right now. Although soundbars are not meant to be substitutes for home theaters if you are looking for TV audio alternative and just want some enhanced sound quality and bass, soundbars are the way to go.
They also come with surround sound feature which is great to bring liveliness to the sound from your TV.
Hope you found the soundbars below $200 I've mentioned in this post helpful. If you have got any recommendations for the best affordable soundbars, do drop a comment.