If you're looking for the best dual-driver earbuds, it means that you are serious about hearing quality music.
Table could not be displayed.
Check out the specifications of our hand-picked earbuds in the below table.
Our music is being killed by most of the crappy earbuds that are available in the market today for as low as $5.
It's the bitter truth.
Admit it.
But the reality is that if you want quality sound you need to buy good earbuds, that too dual driver earbuds that perform really well in varying frequencies.
In this post, we have come up with the best dual driver earbuds that are available in the market and reviewed them to help our readers, to make their decision easier regarding which one to buy.
Let's dive in.
Why dual-driver earbuds?
You may ask me, why I'm suggesting you dual-driver earbuds for quality music?
Let me explain to you this.
The quality of music by any headphones depend upon the drivers used in the headphones. For most of the audiophile and bass headphones, dual driver headphones ensure the quality of the sound.
The reality is that a single driver finds it hard to cover the entire sound frequency range accurately. Nearly all single-driver earbuds lack in at least one specific frequency range.
For example, bass-heavy earbuds with single drivers lack in the treble.
In this case, dual driver earbuds come into play. Many companies like Shure and Westone have come a long way in this regard.
What to look while buying dual-driver earbuds?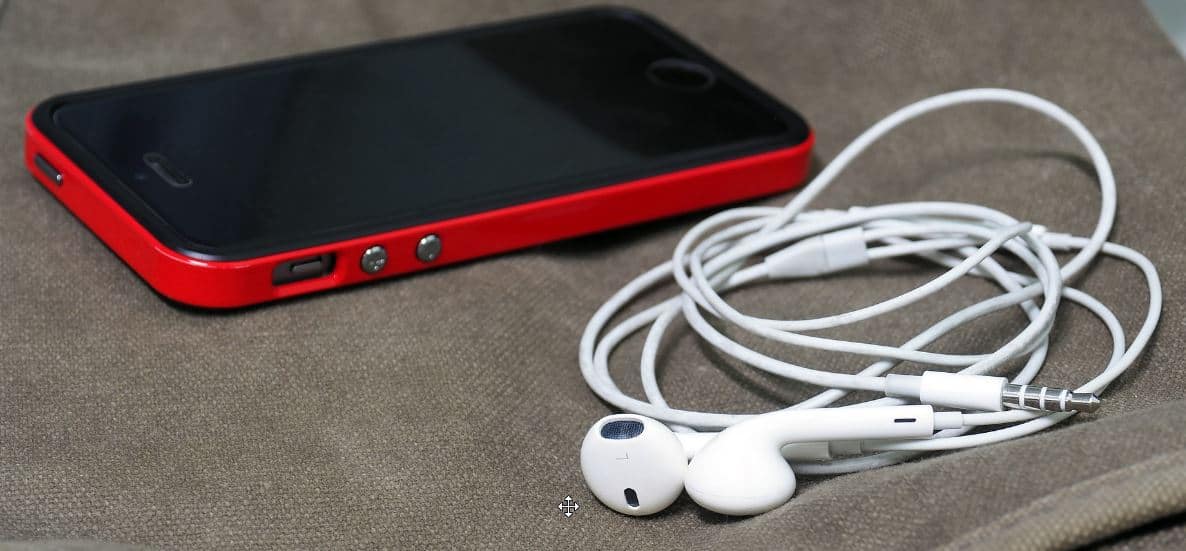 Type of drivers

Impedance and Amp
Most of the good earbuds come with either of these types of drivers. They are dynamic drivers and balanced armature drivers.
Dynamic drivers are the most commonly used driver type. Most of the bass-heavy earbuds come with dynamic drivers as they produce deep bass well.
They are cheap when compared to balanced armature drivers. They are somewhat large in size.
So, if you are looking for dynamic dual-driver earbuds it may be a little big.
Balanced armature drivers are more commonly used in hearing aids. But now they are used in high-end earbuds as well. These drivers can be specifically tuned to perform better in particular frequency ranges.
They do not offer an excellent bass response as that of dynamic drivers. But the clarity and detail of the sound are way more good than dynamic drivers for an audiophile.
If you are looking to use your earbuds to listen to classical songs and treble-heavy songs, earbuds with balanced armature drivers are what you want to look for. They are smaller than dynamic drivers due to the technology used.
You need to look at the impedance the earbuds offer. If the earbuds have more impedance (more than 32 ohms), then it means a good amp or a suitable DAC is required for the earbuds to perform to its fullest extent.
Nevertheless, earbuds with high impedance require an amp to drive them and get rid of probable static noise exceptionally.
If you are looking to use the earbuds for using with your smartphone or an iPod, earbuds below 32 ohms impedance are what you should look for.
Best dual driver earbuds today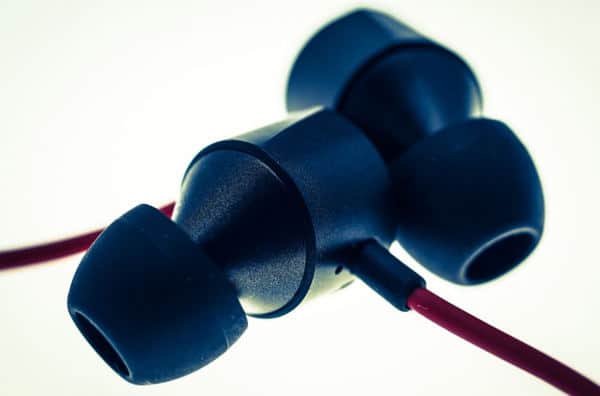 I've researched some of the really good dual driver earbuds.
I included all the aspects you need to look into while buying these earbuds. Make sure you choose the in-ear headphones that best suit your needs and music genre.
The dual-driver earbuds I mentioned below contains the mix of dual driver earbuds of all types.
Make sure you read the bottomline of each earbud reviewed to choose the best and buy it.
Top 7 reviewed…
#1. Westone UM Pro20 –
Audiophile's favorite pick
Sound
The sound quality of the earbuds is excellent.
The earbuds come with balanced armature drivers and enable the sound to be of great clarity.
These Westone UM Pro20 earbuds do offer good bass response better than other balanced armature drivers, but they are not heavy. They are meant not for bass.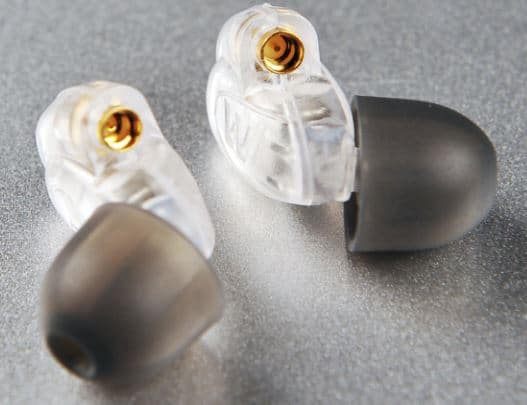 If the earbuds are properly inserted into the ear canal, the bass will be much stronger than while casually wearing it.
The treble is the part where these earbuds excel in. These earbuds are meant to play sounds from musical instruments.
The clarity and detail of the treble sounds are excellent. Mids offer exceptional clarity.
Comfort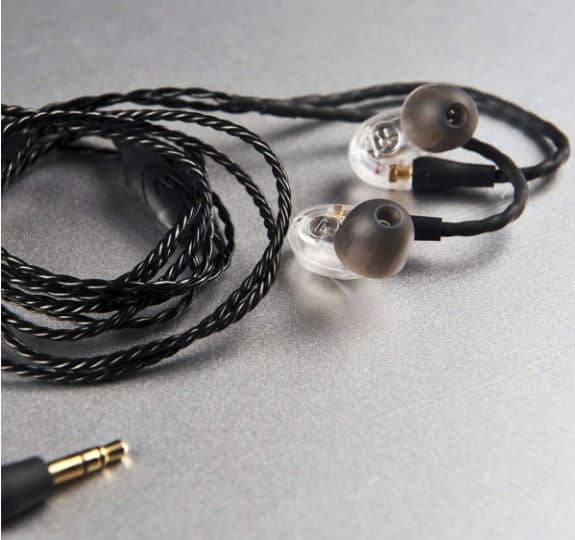 These Westone UM Pro20 earbuds also come with various ear fittings to ensure a good fit to your ears. They fit in great in your ears, blocking out the external ambient noise effectively. You can easily wear these on for hours.
Impedance
​They have a low impedance of 27 ohms. They need no external amp to drive them. They offer great volume even with iPods and smartphones.
Durability
The cord that comes with these earbuds are easily detachable. The stock cable that these earbuds come with are flimsy and tend to give up after some abuse.
Nevertheless, other replaceable cables are available for this model if anything goes wrong. The cable appears to tangle bit easily, as they are not braided. For this price, they may have emphasized more on the cable durability.
The driver housings are very rigid and of high-quality.
Pros
Great mids and highs
Great clarity and details
Low impedance with no amp required for driving them
The cables are detachable
Cons
The stock cables are bit flimsy
Not bass-centric (may not be a con)
Bottomline
Good audiophile earbuds for treble-heads with balanced bass.
#2. Shure SE425-V –
Excellent noise-isolation
Sound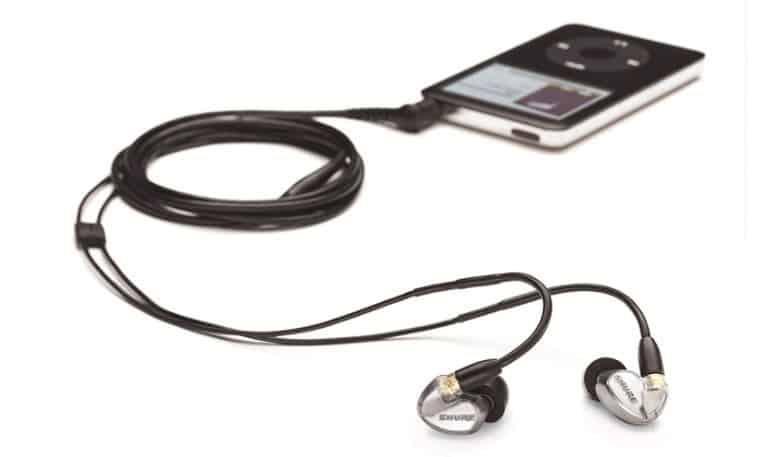 These earbuds come with dual high-definition dynamic micro drivers for accurate and balanced sounds.
The various types of eartips are included with the package.

You need to carefully choose the best eartips that fit you right in.
When you find the right eartips, the sound isolation is extremely good, the bass becomes tight and the sounds come alive.
These earbuds may not be for you if you are a bass-head.
The bass in these earbuds are understated. The highs are where these earbuds really shine.
The mids and trebles are excellent. The sound is crisp clear and you can hear every detail of the playback.
These Shure SE425-V are very good earbuds for hearing classical songs like most of the Shure earbuds in this range.
Comfort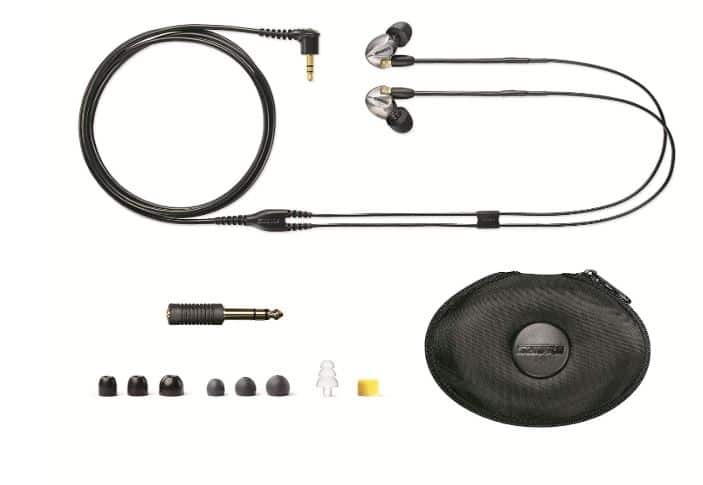 They offer great comfort. You can easily wear these on for 4-5 hours without causing any pain at all.
Comply foam eartips are also included with these earbuds that offer exceptional comfort and noise isolation. The amount of noise that it keeps out can be compared to that of noise-cancelling earbuds.
It's so good at isolation.
Impedance
These Shure SE425-V earbuds come with an impedance of as low as 22 ohms. This makes the earbuds easily driven by portable devices and smartphones.
There's absolutely no need for external amps to get the most out of these earbuds.
Durability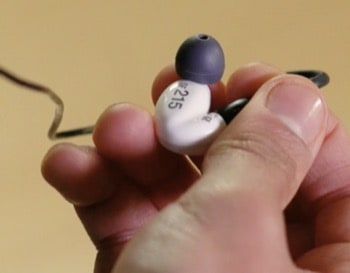 As an improvement from the older models, now Shure SE425-V earbuds cables are rigid and come with Kevlar reinforced cables.
The cables are now detachable, this ensures longevity and as there are replacement cables available for the earbuds.
The driver housing is every sturdy and made of high-quality plastic that offers good durability.
Pros
Excellent mids and highs
Good comfort
Excellent sound isolation
No need of amp to drive them
Detachable rugged cables
Cons
The lows and bass are bit lacking
Bottomline
Ultimate earbuds to listen to the treble-centric genres like classical ones. Not for bass-heads.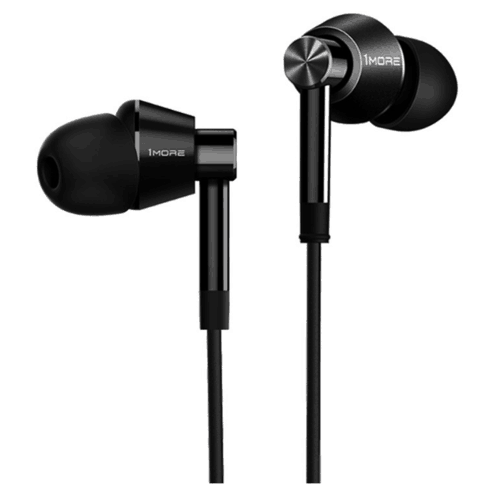 1More is basically a less-known company that's manufacturing some of the really great earbuds in the market.
It got great attention when it launched the top-performing 1MORE Triple Driver earbuds that too below $100.
It has two balanced armature drivers and one dynamic driver and performs exceptionally well in all frequencies.
As this is the blog post on best dual-driver earbuds,
Let's look at 1More Dual Driver earbuds in specific.
Sound
The specialty of this 1MORE dual driver earbuds is that it comes with both balanced armature and dynamic drivers.
In simple words, these earbuds have efficiently made use of the benefits of both the types of drivers and produced seriously good earbuds.
The sound quality of these earbuds is amazing. The mids and highs are detailed and offer high clarity without sacrificing the lows and the bass.
The dynamic driver on each side of the earbuds takes care of lower frequency details and bass. The bass is certainly punchy and does not overpower the music.
The mids and trebles are great, but sometimes the female vocals are recessed a bit. After a decent burn-in time, everything turns out to be fine.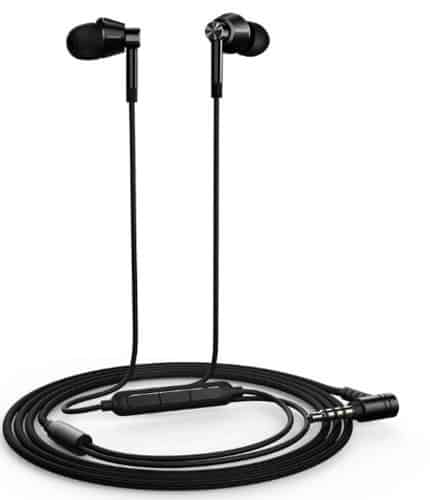 Comfort
The earbuds offer superior comfort with the stock eartips. You can easily go on for hours altogether. If you like to get much more sound isolation, you can get a pair of Comply Foam Eartips.
Impedance
The impedance is 32 ohms. This decent impedance helps earbuds to totally get rid of cord noise. The earbuds are designed especially to be used with smartphones and iPods.
You don't need a headphone amp, and you can drive a good sound out of these with your smartphone itself.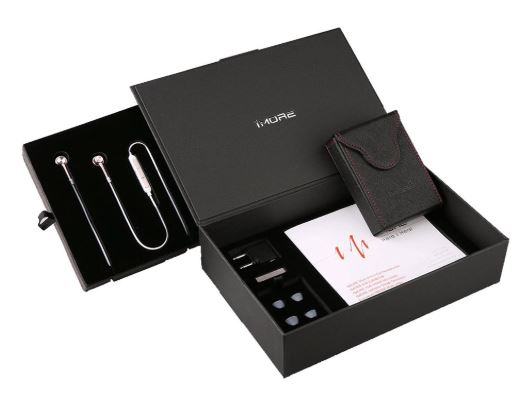 Durability
These are built greatly. The earbuds are lightweight and don't feel on your ears. They are less likely to fall out of your ears due to the ergonomic design.
It comes with an inline remote control technology for controlling volume, selecting songs and picking up calls.
The driver housing and body are made of aluminum alloy giving it a premium look. The cord of these 1MORE earbuds has a Kevlar core, making it withstand good abuse.
Pros
Includes both dynamic and balanced armature drivers
Performs great in all frequency ranges
Great comfort
Greatly durable
Cons
Bottomline
If you are looking to get more value for the money, stop and buy these earbuds. They are a perfect all-rounder with the combination of dynamic and balanced armature drivers. These are one of the best dual-driver earbuds under $100.
Sound
Before reading about this section, you need to note that these earbuds are not audiophile-level products. They are meant for mass-market.
These Xiaomi Mi are basically hybrid earbuds meaning that it is built both with dynamic and balanced armature drivers like that of 1More earbuds I've mentioned above.
Thus, it carries the advantages of both types of drivers.
These are not bass-centric earbuds. But that bass is still there with these earbuds that are balanced and not too much emphasized.
The clarity that these Xiaomi Mi earbuds offer in the mids and trebles are great. These are absolutely great earbuds for listening to vocals, acoustics, and classicals.
Comfort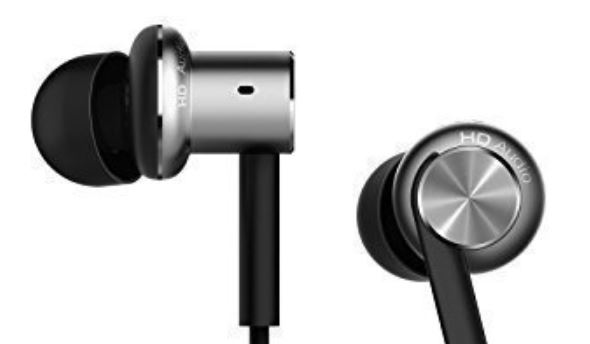 The included eartips are very soft and plugs in nicely into your ear canal but not going too deep like other bi and tri-flange earbuds.
It offers decent sound isolation in areas like offices.
If you are planning to use it on airplanes, you can swap up the stock eartips with Comply ones as they offer superior comfort and block out ample of background noise.
For some people, the stock eartips are less comfortable.
Impedance
As expected from a mobile manufacturing company, the earbuds are designed to be used with smartphones and hand-held devices.
You can get a decent volume out of Xiaomi Mi earbuds due to high sensitivity and low impedance.
They do come with inline controls for volume and answering calls.
Durability
The build quality is great and feels solid. The actual earbuds are made of metal and is ergonomic.
The cables are of Kevlar core, seldom tangles, and withstand good stress. The metal design which gives the premium look for the earbud, is what I liked the most.
Pros
Hybrid drivers
Low cost
Punchy bass
Clear mids and highs
Good comfort
Metal body
Cons
Stock eartips are slightly uncomfortable for extreme comfy lovers.
Bottomline
Best dual driver hybrid earbuds if you are on a limited budget. Good performer.
Sound
These GranVela A8 earbuds come with dual dynamic drivers . One driver is dedicated for bass and lows. Another one is for mids and highs.
The sound quality is great and balanced. The lows are where these earbuds really shine.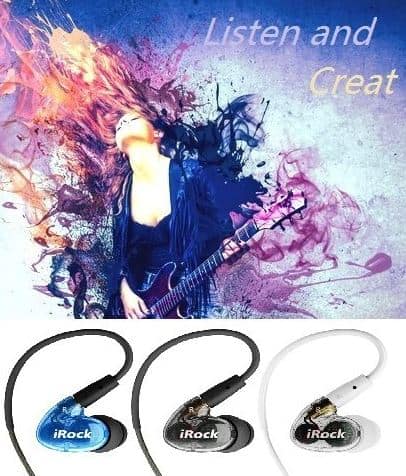 The bass is punchy and emphasized. This is a good news for bass-heads. This is great when listening to bass-heavy genres like Rap and Rock.
The mids and treble are as magnificent as bass and lows.
The details are excellent.
Some of the times, you hear the details of the song you've never heard before.
Although these are not audiophile-grade earbuds, I overall liked the balanced sound that these earbuds offer in various frequencies.
Comfort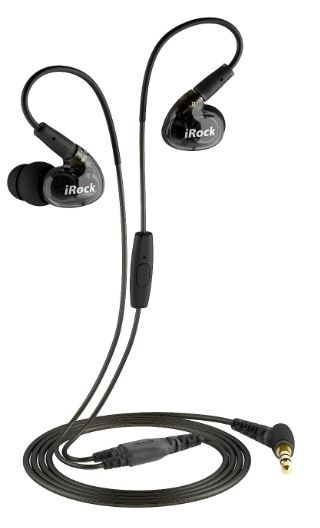 The comfort of these GranVela A8 earbuds are great. You can't literally feel that you are wearing these on.
You can easily wear these on for hours without even thinking about it. If you've ever used Shure SE215, you can easily notice that these earbuds offer far better comfort.
They plug greatly into your ears, offering you extreme sound isolation. The sound isolation can be easily compared to that of noise-cancellation ones.
Impedance
The sound quality is great right out of the box. Due to the low impedance of the earbuds, you really don't need a headphones amplifier to drive these earbuds to the fullest.
You can easily use these with your smartphones and iPods. The quality of the sound with or without an amp is not different at all.
Durability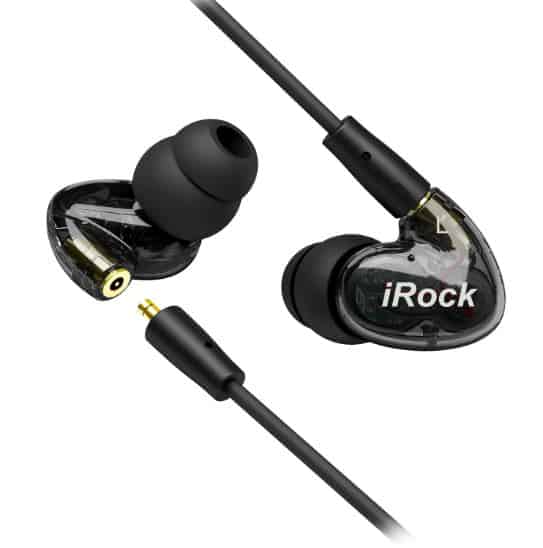 These GranVela A8 earbuds come with detachable cables that will be handy if you have the habit of abusing the earbuds badly. Upon unboxing these earbuds they seem very sturdy and solid.
They are certainly designed to last.
Pros
Good bass
Good mids and treble
Low cost
Detachable cables
Exceptional comfort
Cons
Sometimes bass seems too much (good news for bass-heads)
Bottomline
If you have the best value money and are on a shoestring budget these earbuds should be definitely yours.
#6. ACIL H1 –
Best workout and sports earbuds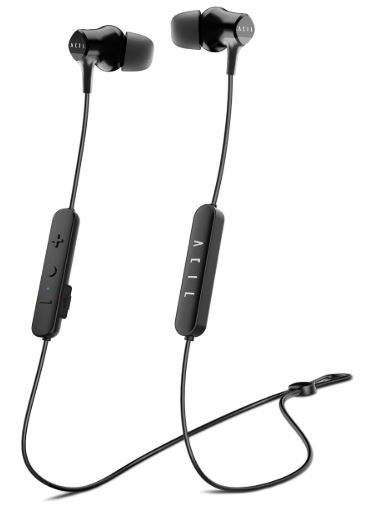 The ACIL H1 is a good choice either you're a music lover or audiophile who also loves to keep fit by exercising, or you're a fitness freak who loves music-on-the-go.
Why is this so?
It is waterproof and has some captivating sound properties.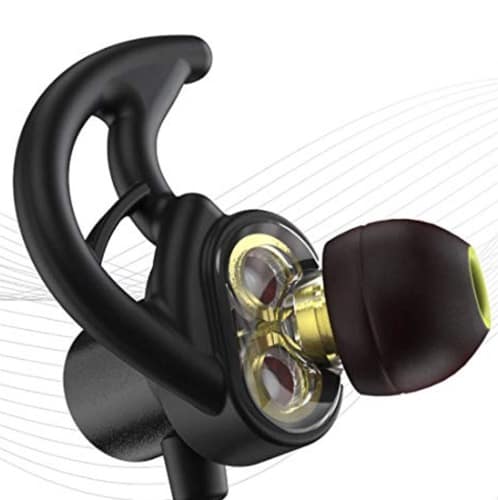 Sound quality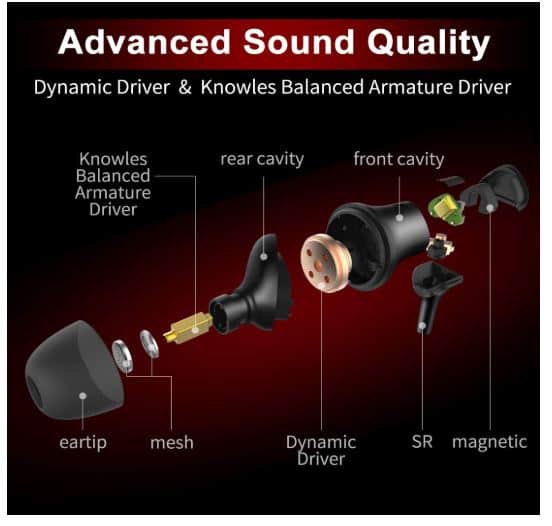 The ACIL H1 sounds crisp enough for average Bluetooth earbuds. The bass is quite good, though not spectacular. The 15Hz low-frequency range in the specifications may lead you into actually expecting more in terms of low-end production.

What does this mean for you?
If you listen to a lot of electronic music with a whole lot going on below 40Hz, you may find the bass a tiny bit underwhelming. This is even more likely if you're more acquainted with wired earbuds.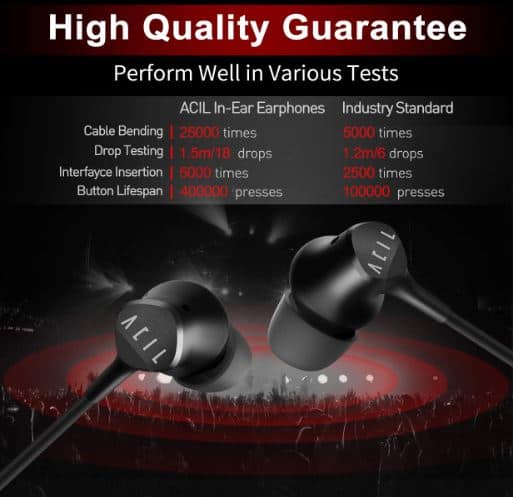 The mid range has some real quality in it. You can hear the elements in this range more distinctly. It seems as though the clarity increases with frequency when the low and high mid frequencies are considered.
Here's how this affects you:
When listening to music, you can expect to hear crisp, clean vocals and excellent production of piano, strings guitar and other elements whose timbre sit majorly in this region.

The high frequencies are also quite crisp, giving the overall listening material a bit of sheen, just enough to brighten up the music and not make it harsh. The clarity here is very good, but not as much as what is heard in the high mid range.
Comfort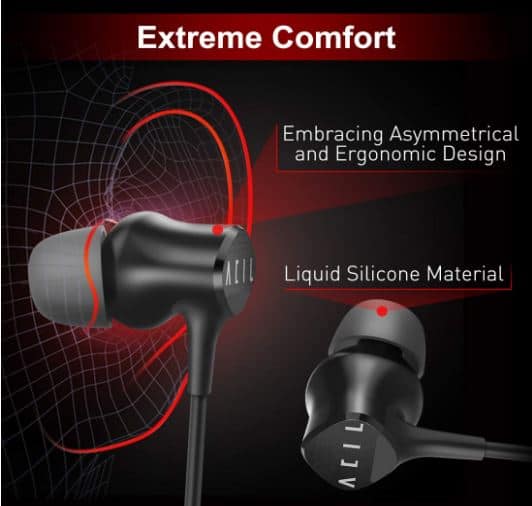 The in-ear design of the ACIL H1 might lead you to think that they may not be too comfortable. On the average, however, it is quite easy on the ears and would generally hold during most activities. You can safely use it for general running and normal exercise routines.

If you plan to use it during vigorous exercise however, the extra weight caused by the additional controls and batteries may make it fall out. The added clips can help with this though, but they need to be used with caution as they can pull the earbuds.
What's more?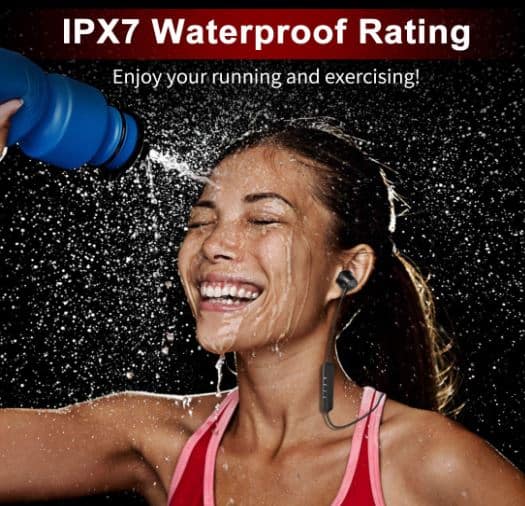 To help with exercise and other rigorous activity, the tips of the earbuds are protected with water-resistant material to prevent sweat from making the earbuds slide out of the ears too easily.

The ACIL H1 has a water resistance rating of IPX5; this means it can withstand more than 10 minutes of a continued shower without getting damaged.
Impedance
The ACIL H1 is a low impedance earbud. This means you can use them with your phones and other low power devices and still get high volume listening levels.

Also, the low impedance means you shouldn't turn the volume knobs too high if you 're listening through high powered equipment.
Durability
The H1 is built to last. The waterproof earbud tips, the cable and the rest of the hardware are made to withstand continuous movement by the wearer.
Pros
Water resistant
Crisp high mids and high frequency
Efficient design
Cons
Bottomline
The ACIL H1 is a very good choice if you listen to music on the go, and you engage in different physical activities, especially those that require a lot of head and body movement.

With 11 hours battery time and 2 hours charging time, you are good to go for a full day's activities with your earbuds.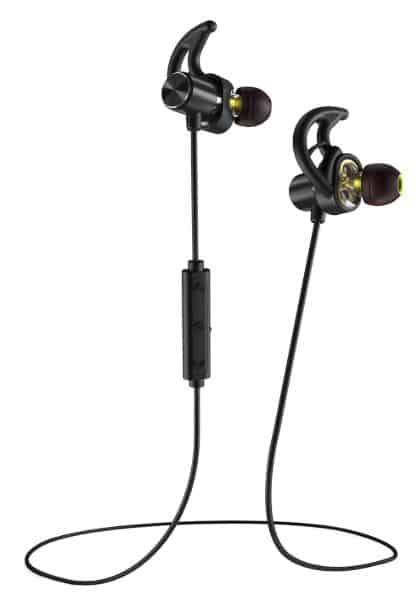 There are two kinds of people in this world: People who are energized by listening to music during their daily activities and other people. If you belong to the former category, this section is for you.
The Phaiser BHS-790 Bluetooth earbuds are always in any top 10 ranking of wireless earbuds you come across. It's not by mere chance; the engineers really put a lot of finesse on this one.
Although by mere looking at the specifications, you may be tempted to group the BHS-790 with other regular Bluetooth earbuds. That'll be to your disadvantage. This one really came correct!
Take note: Before delving into the details, it is possible that you have developed a dislike for in-ear earbuds, probably because they usually fail to fit in your ear canals., and they keep falling off every time you try to use them.

I have good news: The BHS-790 will work for you.
Sound
The number one striking quality of the BHS-790 is the CVC noise cancellation and isolation technology used in the manufacturing.
What do you stand to gain with this?
Simply put, it is a technology that reduces or eliminates external background sounds and prevent them from getting into the ears. This means you can be sure that what you are playing from the source is what you are hearing.
There are no latency issues to worry about despite it being a wireless system. It connects via a 5.0 Bluetooth connection.
In terms of frequency production across the range, the BHS-790 can be considered pretty representative, clean and crisp enough across your favorite music genres.
Being wireless, however, you may be right if you think a wired version of the earbuds would offer more depth in sound reproduction.
Comfort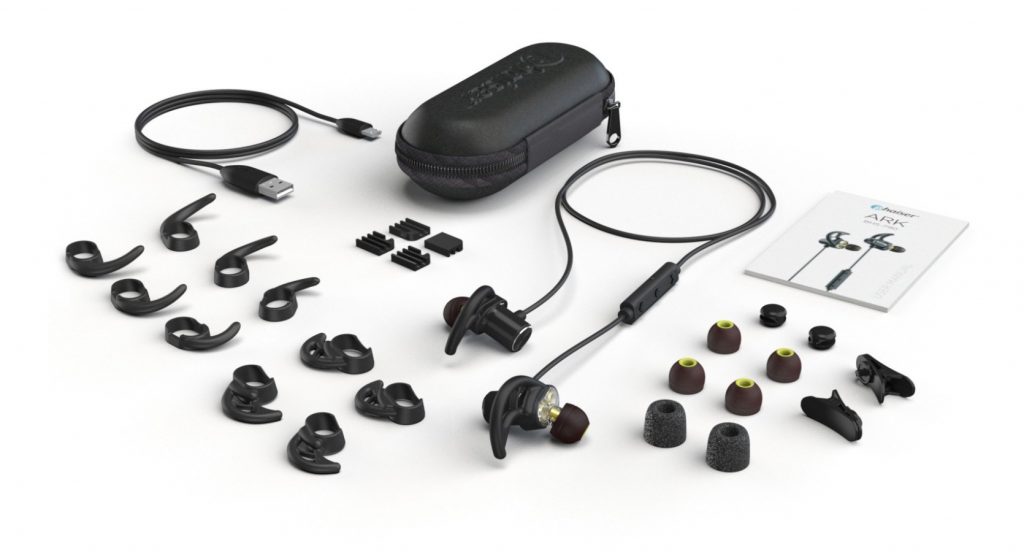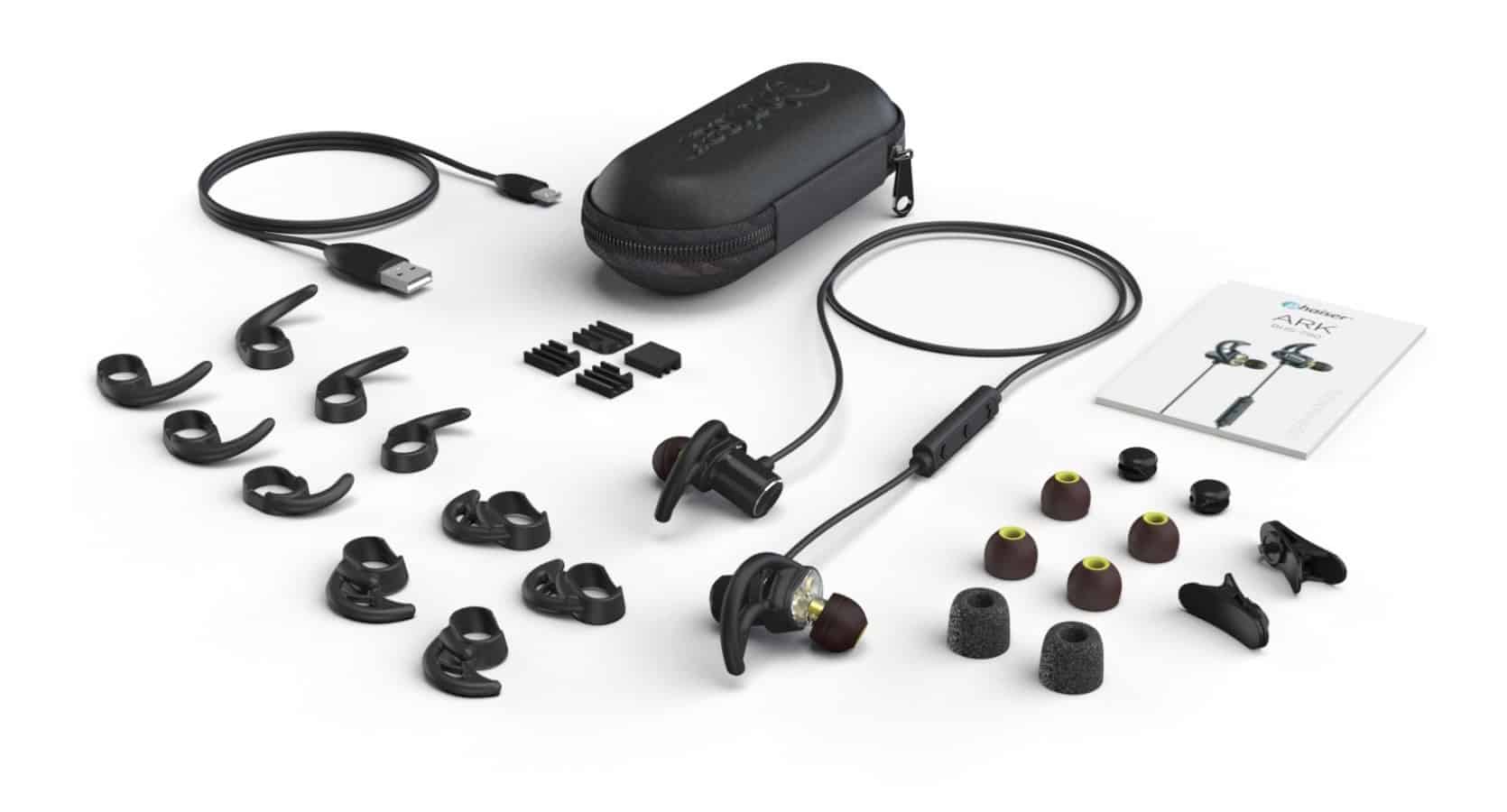 It comes in with various sizes of ear-hooks and eartips to make sure that the wearing experience is comfortable.
Unlike some other in-ear earbuds, BHS-790 has very comfortable ear tips that do not wear you out after prolonged use. The bud tips are also water resistant; which means your sweat won't be a problem in the long run.
When on maximum battery level, the earbuds can do 5 hours of active work. The suitability of these earbuds for use during active body movements is shown it its weight—0.6 ounces.
There is an audio driver on each side, with controls to quickly access the navigation and transport options without disrupting your activities.
It gets better:
You can expect the BHS-790 to cause your ears zero irritation even after several hours of use.
Impedance:
They are low impedance earbuds, therefore only very useful for low energy devices.
Durability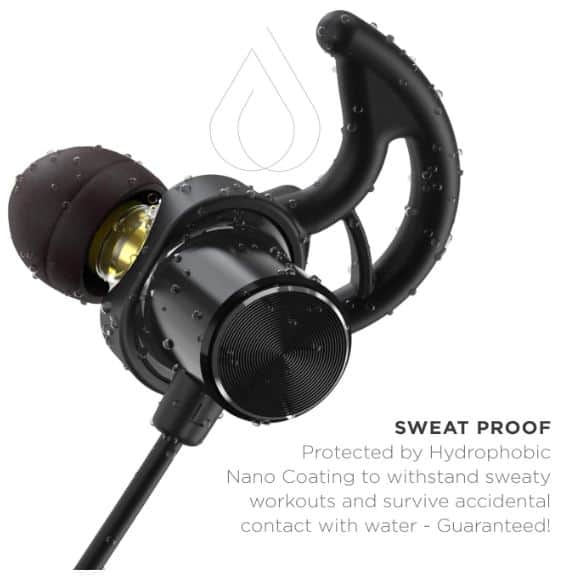 To some extent, the BHS-790 is water and sweat-resistant, so you can bank on it for a pretty long time without corrosion or skin irritation.

Pros:
Efficient noise cancellation
Crisp sound
Good battery life
Cons:
Noise cancellation can be dangerous at times.
Bottomline
The BHS-790 really does its job efficiently providing clear, crisp sound, while having enough grip to stay in the ear, through different activities.
FAQs on dual-driver earbuds
What makes dual-driver earbuds to sound better over single driver earbuds?
Dual driver earbuds are better than single driver earbuds simply because of the dual drivers.

The dual drivers handle different parts of the sound. One driver handles bass frequencies while the other produces the mid and high frequencies. You can compare it to how some speakers have woofers and tweeters.

Then, they have a crossover to separate which frequencies go to the woofer and to the tweeter. It's a very efficient way of getting a clean sound.

Single driver earbuds have the one driver that produces bass, mid and high frequencies. If the bass doesn't have a dedicated driver, you can expect that the sound you'll get will not be as clean as dual-driver earbud sounds.
How to fix a broken driver in dual-driver earbuds?
The preferred way to fix a broken driver would be to replace it with a working one. A common practice is to remove the good drivers from fragile earphones and put them in earphones with the stronger build. You can use this same replacement process to fix your earphones.
What are good the dual-driver earbuds under $20?
Some good fuel driver earbuds that cost below $20 include KZ ZST, MEE Audio M6, Betron YSM1000, Philip's SHE3590, Xiaomi Mi Hybrids, and 1MORE 1M301
What are the applications of these dual-driver earbuds? Where they are mainly used?

Dual driver earbuds are basically used the same way single driver earbuds are used. It's better to simply see them as another kind of earbuds. However, you would be better off using dual-driver earbuds than single driver ones if you're using them to monitor an audio recording or some other specialized purpose.
What is the difference between the dual and triple drivers in an in-ear monitor?
The dual driver in an earphone means that the earphone has two drivers. One driver produces the bass while the other pushes the mid and high frequencies. On the other hand, in a triple driver in-ear monitor, there are three drivers; one each for the bass, mid and high frequencies.
Wrap Up
Hope you loved some of the good dual-driver earbuds I presented in this post. If you think there are some good dual-driver earbuds that deserve their position in the list above, do let me know in comments.
If this blog post has helped, feel free to share it with your friends.​