Affiliate disclosure: In full transparency – some of the links on this website are affiliate links, if you use them to make a purchase we will earn a commission at no additional cost for you (none whatsoever!). Will this be a problem? This is how we manage to create free content for you. Please know that your trust is so important for us. If we recommend anything, it is always because we believe it is worth exploring. And, buy me a coffee ☕️
Bose Cinemate 15 is one of the most compact and high quality by Bose under the range of $500. In fact, it is the best you can get for the price from a reputed company.
The unique selling proposition of the Bose Cinemate 15 is it's ultra-compact design, without being bulky.
It's an upgraded version of Cinemate 10 and comes with a premium glossy look and universal remote system.
In this post, I'll review this soundbar in detail and also compare it to the previous version Cinemate 10.
Check the specifications of both in the table below.
| Features | | |
| --- | --- | --- |
| Nominal Voltage | AC 120/230 V | AC 120/230 V |
| Frequency Required | 50/60 Hz | 50/60 Hz |
| Power Consumption Operational | 300 Watt | 300 Watt |
| Product Dimensions | 21.2 x 12.6 x 22.5 inches | 21.2 x 12.6 x 22.5 inches |
| Configuration | Has gloss finish, a metal grille and a programmableuniversal remote control. | Has a matte finish, a cloth grille, and remote control. |
Bose Cinemate 15 review
Features
Bose Cinemate 15
Audio Inputs
1 x Optical digital (on soundbar)
1 x Coaxial digital (on soundbar)
1 x RCA L/R stereo analog (on soundbar)
2 x Speaker (on Acoustimass module)
Outputs
2 x Speaker (on soundbar)
Other Ports
1 x Power (on Acoustimass module)
Power Requirements
100 – 240 VAC, 50 / 60 Hz (300 W)
Dimensions (WxHxD)
Soundbar: 12.0 x 3.25 x 2.75″ (30.5 x 8.3 x 7 cm)
Acoustimass Module: 8.8 x 14.5 x 19.1″ (22.4 x 36.8 x 48.5 cm)
Remote Control: 2.1 x 8.8 x 1.2″ (5.3 x 22.4 x 3.0 cm)
Weight
Soundbar: 2.9 (1.3 kg)
Acoustimass Module: 23.3 lb (10.6 kg)
Setting up/Installation
Bose Cinemate 15 sound system was made to make what you watch even better and it won't take you long to start enjoying it.
First, you will need to add the rubber feet to the subwoofer, referred as Acoustimass module. That will help prevent scratches and keep the module from sliding on a smooth floor.
Peel the backing off each rubber foot and attach it in the indentations on the module legs. When you're done, turn the module upright and place it where you want it.
For the best performance put it near a wall or corner. That is the place where all the low/bass frequencies tend to build.
Next, connect the soundbar speaker. It comes with the cables already attached. You just need to attach the other end to the Acoustimass module.
Slide them on and tighten the hand screws on both sides. Next, you will need to connect the speaker system to your TV.
First, take a look at what outputs you have on your TV. You will get the best performance using the optical output.
A secondary choice is to use coax digital or analog connections. If your TV doesn't have any of these outputs you can use the outputs of another device such as a cable box.
But the cinema system will only play audio from that device. You only need one source of connection. Choose the one that works best for you.
Use the optical cable that came with your cinema system. Make sure to remove the protective covers. Plug it into the back of the soundbar speaker.
Use the notches on the side to align it up the right way. Insert it until you feel a click. Then plug it into the back of the TV.
If you're using other types of cables the steps are the same. First to the soundbar, then to the TV. The type of cables and the connectors are usually color matched with the source of your choice.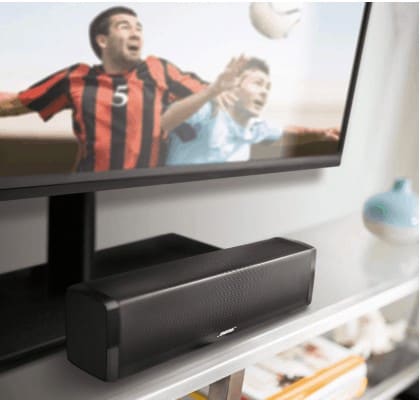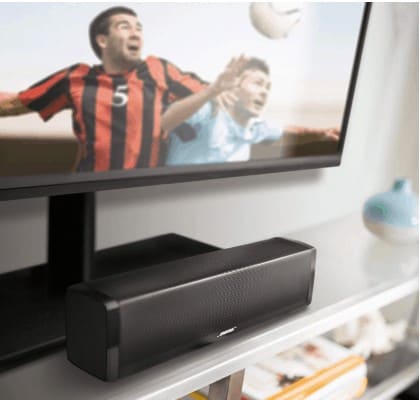 Next, plug the power cord into the back of the module and the other end into a power outlet. You should hear a tone letting you know there is power.
Make sure the batteries are in your Bose remote and turn on the Cinemate System. The LED should light up. Then use your TV as remote and turn on the TV.
You can control the volume with the remote and the knob on the back of the module will let you adjust the bass up or down.
You may need to turn down or turn off your TV speakers. Your TV owner's guide can help with this. And it's SHOWTIME.
Design and build
Usually, when you spend that amount of money on a soundbar system, you are expecting to get a longer one. Needless to say, Bose decided to act differently!
The Bose CineMate 15 is actually extremely compact, even more than most sound bars on the market, despite its price.
In the classic Bose manners, the entire package comes in a well made, elegant and glossy black design.
The soundbar has a black grille that hides the converters, while the rest of the unit is made of quality materials.
The same goes for the subwoofer. The only difference is that it has a large front bass port. Frankly, the subwoofer looks more like a small computer tower than a speaker.


The soundbar is not longer than a foot and contains four-element speaker array inside, that works with Bose TrueSpace signal processing for spreading sound.
In terms of features, there is good news and bad news. The first thing is that it's one of the few soundbars in its price range that comes with a wired subwoofer instead of wireless one.
Bose has focused all the performance of CineMate 15 on its TrueSpace technology. To be honest, it does a great job of compensating for the lack of power of the soundbar.
Its Acoustimass subwoofer module also plays a decent role. In terms of connectivity, you get all your analog and digital inputs that make the CineMate 15 more or less compatible with any existing TV.
In conclusion, this sound bar offers what many consider to be a rather limited set of functions.
However, in the standard Bose manner, you should put your hands on and listen to before making the final judgment.
Sound quality
One thing that really bothers me is that there is no exact frequency range mentioned anywhere about this sound system (I too was shocked!).
And I think when you are paying this amount of money it is fair to know that information.
Regardless of this, Bose CineMate 15 is producing a detailed and pleasantly textured sound and delivers sound effects with a wide and open audio presentation.
The mid and high-frequency sound effects are delivered with an audible presence and sufficient accuracy for a pleasant sound experience.
The dialogues are sounding clear and natural, and it is intelligible at low or high volume levels.
The subwoofer's output is quite impressive, providing deep, powerful bass with a great impact that you can feel and listen to. The sound effects like explosions have a satisfactory sound that greatly increases the overall audio experience.
If there is one thing that we have to give Bose honor for, it is how they have managed to bring the amount of sound in this unit.
We are talking about a very small system that is more than capable of filling a medium-sized room with a decent sound.
Bose's TrueSpace technology is responsible for this, as well as the other integrated tools. The bass is fairly well defined and full of range, while the mids and treble are as good as they can be delivered from such a limited system.
Honestly, the main advantage of the Cinemate 15 is its small footprint. Otherwise, it is significantly behind the competition in terms of power, definition and overall functionality.
Those who use smaller TV and live in rather limited space will definitely benefit from this Bose solution.
Pros and cons
Pros:
Sleek design
Quality build
Fair quality sound for its size
Versatile for positioning
Cons:
Wired, instead of wireless subwoofer
Unknown frequency range and drivers information
Poor value for money
Bose Cinemate 15 vs Bose Cinemate 10
This review can also be used for the CineMate 10 home theater system since its components and performance characteristics seem to be identical to those of CineMate 15. The main differences between the two systems are the following:
Model 15: metal grille, gloss finish, and universal programmable remote control.
Model 10: mesh grille, matte finish, and four buttons remote control.
So, if you do not need a universal remote control and save $ 100 or more then you should purchase the CineMate 10 sound system, which can also be programmed for use with a universal third-party remote control that many of you may already have.
Bottomline
In conclusion, Bose CineMate 15 appears to be an admirable player for such a compact speaker configuration.
However, in my opinion, I find it a bit expensive for a basic compact audio system, which does not contain a lot of features.
As previously said, the sound system continues to offer good sound quality and is able to produce wide spectrum sound in small and medium-sized rooms thanks to its four-speaker design and patented TruSpace technology.
It will also appeal to most people looking for a soundbar system with an easy setup and a small stealthy design that does not attract much attention to itself in a typical living space.
Do not forget to consider the CineMate 10 as an alternative, which in my opinion is a better bang for the buck.
Hi, I'm Jennifer I'm a passionate singer and an audiophile from Detroit, MI. 
I'm on a mission to help music creators to create fine music that help them position uniquely in the saturated music space.
Follow my blog for regular content :-)