Do you need better sound for gaming? If yes, then you should try soundbars. Soundbars give you a better sound than your built-in computer speakers.
Choosing the best soundbar options can be challenging because there are so many options. Therefore, in this article, I'm making it easier for you to make a choice.
Top 5 gaming soundbars reviewed
Specifications:
Ports: 1x HDMI input, 1x HDMI output, 1x optical input.
Dimensions: 52 x 431 x 132mm /
Weight: 1.8kg.
Special Feature Built-in Subwoofer, Bluetooth Connectivity
Connectivity Technology Bluetooth
Audio and performance
The Panasonic Soundslayer makes your game sound much more immersive. It has surround sound features that make it sound bigger than it is.
With Dolby Atmos and DTS x, you can be sure to enjoy your game's sound design a lot more.

Even though the soundbar gives you a more immersive sound, the positioning of objects is only accurate in a general sense.
So, if you're playing Warzone and you hear footsteps, be sure to double-check and not assume the direction.

For a much better explosive sound, Panasonic has added a subwoofer to this unit. Interestingly, the subwoofer does not come as a different piece.
It is built into the soundbar and placed at the rear. This explains why the soundbar is a bit bulky.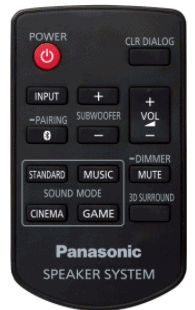 Even with the size, you can still easily place it on your computer desk. Alongside the up-firing subwoofer, there are two full range drivers and two tweeters in this unit.
Even though the sound is good and solid, the dialogues are also crisp and clear. In games like Hitman where the dialogues can give you clues, this soundbar does a clean job.
Additional features
With the HDMI, HDMI ARC, optical and Bluetooth options, the Panasonic Soundslayer is great with your TV, PS4, Xbox, PC and even the PS5. For more intense gaming sound, there are presets for different types of games.
RPG Mode, FPS Mode and Voice Mode are available to tweak the sound such that you get maximum performance for the game. There's also cinema and music modes for movie nights and music listening.
There are controls on the soundbar, but it also comes with a compact remote for easier access.
Pros
The soundbar is tailor-made for games, and it delivers in that aspect.
The gaming sound presets give you a more intense audio experience.
The added subwoofer and surround sound make the overall sound bigger and more immersive.
Cons
The soundbar is a little bulkier than the regular size, so placement may be an issue if you don't have much space on your desk.
The surround sound does not give pinpoint accuracy of the direction of sounds.
Bottomline: If the Panasonic Soundslayer is within your budget, and you play FPS, RPGs, and MMORPGs, you will enjoy your time gaming with it.
Specifications:
Speaker Type Wireless, Subwoofer, Surround, Soundbar
Connectivity Technology Wireless
Item Dimensions LxWxH 3.1 x 19.7 x 2.9 inches
Frequency response rate : 180Hz – 20KHz
Bluetooth v4.0
Audio and performance
The Razer Leviathan soundbar is another speaker with immersive surround sound production. It gives your game a wide soundstage and depth.
This is made possible because of the Dolby virtual feature as well as the added subwoofer.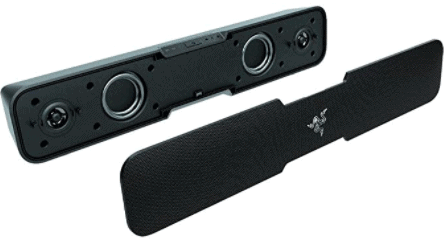 Speaking of the subwoofer, the Razer Leviathan comes with a separate subwoofer unit that is connected to the soundbar via a wired connection. With the subwoofer, you can expect big explosions and sound effects from your action games. Naturally, it will take more space.
If you're using a PC. the subwoofer can go under your desk. It has a 5.25-inch downward-firing driver, while the soundbar has two 2.5-inch midrange drivers and two 0.75-inch tweeters.
Additional features

The Leviathan has Bluetooth, aux and optical connections. The Bluetooth connection gives you similar audio quality as the wired connection, but it has a little delay.
So, you should stick to wired 3.5mm connection for your gaming.
It's more suited to a PC because it only has a 3.5mm connection. However, you can still use the Razer with your PS5 by connecting through the controller. It can be inconvenient though. You can either place this speaker on your desk or mount it on the wall.
The wall option seems a little far-fetched since the soundbar does not come with a remote. All the controls are on the speaker itself.
Pros
Great bass with added subwoofer.
Immersive virtual surround sound.
Cons
Takes more space because of its subwoofer.
No remote
Bottomline: If you need your game sound effects to have maximum impact, the Razer Leviathan is the soundbar for you.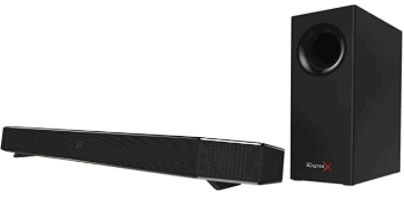 Specifications:
Brand Onkyo
Connectivity Technology Wi-Fi
Component Type Amplifier
Media Type SDXC, Micro SD
Memory Storage Capacity 64 GB
Screen Size 4.7 Inches
Audio and performance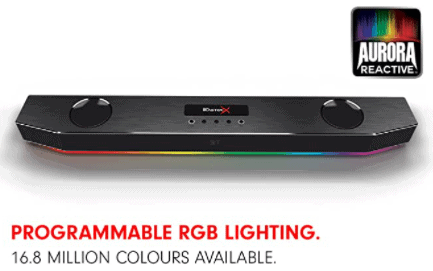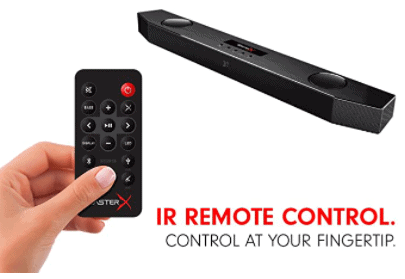 There's no doubt that the Katana soundbar was made for gaming. The surround sound puts you right in the middle of the action, taking your shooters and other heavy action games to the next level.
The soundbar also comes with a subwoofer. This gives you a more explosive sound experience.
The sub has a 5.25-inch driver while the soundbar has two 2.5-inch neodymium midrange drivers and two 1.3-inch tweeters.
Aside from an immersive bass, the speaker also has crisp dialogue. Also, the deep thundering sounds do not overshadow the quieter ones.
While the surround sound is immersive, it is virtual so object placement may not be very accurate at times.
Additional features

The SoundblasterX Katana soundbar has multiple connectivity options. You can connect your computer via the 3.5mm aux for gaming.
When playing music you can connect via Bluetooth with your computer or phone. You can also use the soundbar with your gaming console by connecting through the optical port.
That's not all.
You can select from the available presets to enhance your experience. You can choose the immersion, movies or COD optimized mode for maximum FPS gaming effect.
The soundbar allows you to adjust the volume, input source and bass level. For easier access, a remote is added in the package.
Pros
Great bass from the sub.
Immersive surround sound.
Great for PC gaming.
Cons
The headphone port is at the rear, making it not easily accessible.
The Bluetooth connection does not have low latency, so only a wired connection is suitable for gaming.
Bottomline: If you're a PC gamer, the SoundblasterX Katana setup will improve your gaming audio, especially if you have enough room for the sub.
Specifications:
Bluetooth 5.0
Wireless Communication Technology Bluetooth
Item Weight 2.04 Pounds
Built-in timer, Vibrant RGB lights
7W drivers to bring sound to life
Audio and performance
This Taotronics soundbar has a 360 surround feature. It's not one of the popular ones like Dolby Atmos, Windows Sonic or DTS, but it does make your gaming sound more immersive.
Way better than what you can have with your built-in computer or TV speaker.
It does not come with a subwoofer, but it still has decent bass response. in-game explosions, gunshot sounds and other effects sound solid. Also, the dialogues are crisp and clear.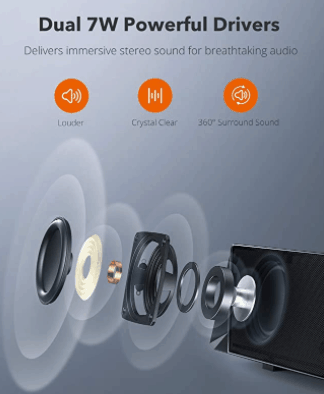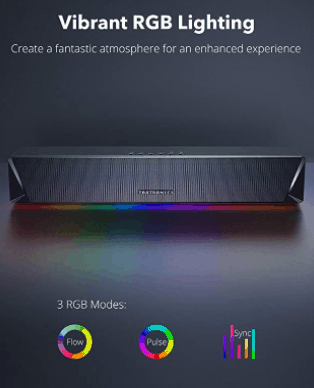 The soundbar makes a little pop sound when you switch it on. It's not a deal-breaker since it doesn't disturb your game audio, but I would prefer to not hear that pop sound.
Additional features
This soundbar only has 3.5mm aux and Bluetooth for connection. For gaming, you should stick to wired connection,unless you're playing strategy games like Football Manager or Civilization.
The Bluetooth can also work for racing games and other games that the sound delay won't make you lose.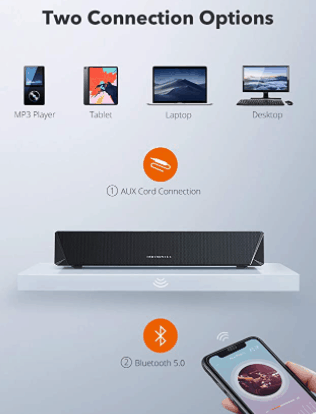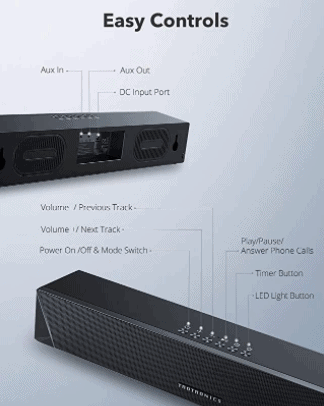 You can easily use this with your PC, Xbox or PS4. In some cases, you would have to plug the aux into the controller, which can be inconvenient. Obviously, the soundbar was made with PC gaming in mind.
You can prop the Taotronics soundbar up on your table or use the wall mounting holes at the rear. You can only use the controls on the speaker itself. It does not come with any remote.
Pros
Compact enough for your computer desk.
Gives better sound than your computer's built-in speakers.
Cons
No subwoofer for deeper bass sounds.
No remote
Only has a 3.5mm jack for wired connection, no HDMI or optical port.
Bottomline: If the explosive bass sound is not the most important thing to you, then the Taotronics soundbar is a good choice, plus the LED lights look real good at night.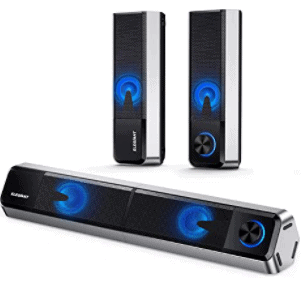 Specifications:
Connectivity Technology Bluetooth, USB, Auxillary
Audio Output Mode Stereo
Item Dimensions LxWxH 10.24 x 8.27 x 4.33 inches
Speaker Maximum Output Power 10 Watts
Audio and performance

This soundbar is different from the rest because of its form factor. You can use it as a soundbar or as two stereo PC speakers. It has no built-in subwoofer, and even if you buy one, you need to figure out your connection, because it has no port for subwoofer connection.
The speakers give you just enough sound to improve your PC's built-in speaker. The bass is present, but not big or punchy enough to make your game explosions realistic.
However, you can hear the dialogue clearly, together with other elements that are in the midrange to treble.
Additional features

This Elegiant soundbar was clearly made for PC use. There are no HDMI or optical ports on this unit; just the 3.5 mm port and headphone output for private listening. You can also connect to the speaker through its Bluetooth 5.0 connection.
There are no wall mount brackets or even any holes on the speaker. You just have to place it on your desk. Also, this soundbar doesn't come with a remote. All controls are on-board.
Pros
Versatile speaker: it can also work as two stereo speakers or a single soundbar.
Stereo speaker arrangement saves you some desk space.
Cons
It only works well with PCs, not consoles and TVs.
No surround sound.
Bottomline: If your PC desk does not have enough space, you should go for the Elegiant gaming speakers.

Specifications:
Connectivity Technology – Bluetooth

Dimensions LxWxH 3.4 x 21.5 x 2.8 inches
Universal remote controls TV, bass, Bluetooth connections and more
Optical audio input (digital); Coaxial audio input (digital); 3.5 mm aux input (analog)
Audio and performance
The Bose Solo 5 soundbar gives you a stereo gaming audio experience.
The drivers are placed in the centre and angled outwards to at least widen the soundstage.
If you place the speaker in front of your gaming monitor, you'll feel some width. But if you use a TV and console, the soundstage feels a little narrower, especially in a medium to large room.

If you want to tweak your sound, the soundbar gives you dialogue enhancement and bass boost functions. Even though the bass is not so deep, you can still increase it to get some more punch in your game explosions.
This soundbar does not come with virtual surround sound features like Dolby Atmos and DTS, but it still gives you better sound than your built-in TV and laptop speakers.
Though some PC speakers will give better audio.
Additional features

You can use the Bose Solo 5 soundbar with your PS4, Xbox or PC. All you need is to connect via the 3.5mm aux, optical or coaxial input.
The soundbar also has Bluetooth, but it's best not to use this for gaming, especially fast paced multiplayer games like Fortnite, COD Warzone and PUPG. The little delay in audio can be a disadvantage, even though it's just one-tenth of a second.

The soundbar has an auto wake function that enables it to come on automatically when you play sound. So, it saves power by going into standby mode and saves you stress by coming on by itself.
In terms of controls, you can only do this using the remote, the soundbar itself has no buttons or knobs on it. The Bose Solo 5 remote is quite bulky. That's because you can also use it for your TV.
Pros
Auto wake and standby functions help you save power.
Angled drivers give the soundstage more width.
Better than built-in PC and TV speakers.
Cons
No virtual surround sound feature to give immersive sound.
The low rumbling sounds and explosions may not have a maximum effect because the bass isn't so deep.
Bottomline: If you're on a budget, and your game doesn't have a lot of explosions (FIFA, PES, and others), then you will enjoy using the Solo 5 soundbar.
Read our other popular posts:
6 Best Budget Subwoofer for Cars in 2023 (Bass-Heavy)
Conclusion
My top 3 picks here are the Panasonic Soundslayer, Razer Leviathan and Soundblasterx Katana.
I like these three because they come with subs and have more immersive detail. I play action-packed games like COD, and the added bass and surround sound takes my gaming experience to the next level.
The other soundbars are also excellent, and they may fit your needs more.