Looking to transform your TV set into a home theater entertainment system? I know what you need. A music system that is specifically designed for that purpose.
In this review, we are going to present you with the best Soundbar speaker system that can fill your house with high-quality audio.
If for once you believed that SB3851-C0 was the best of Vizio's soundbar speaker system, then you probably have not tried the VIZIO SB3821-C6.
This is an exceptional soundbar speaker system, which has been voted the top selling sound system on Amazon.
It is one the best soundbars under $200, with only $150, you can enjoy yourself with an audio system that is designed with the best sound technology to deliver a high-quality audio entertainment.
VIZIO SB3821-C6 is a perfect choice for you as it will provide the best audio experience there is and also save you some bucks.
In a straightforward setup of VIZIO SB3821-C6 main soundbar and a potent wireless subwoofer, you will have transformed your TV audio quality delivery to a whole new system.
The 5 wireless subwoofer can fill your house with your quality audio from your TV set and also, you can play music from other devices like a smartphone or any other wireless audio source using its robust Bluetooth connectivity.
Other than the room-filling sound from the wireless subwoofer, this excellent soundbar also has new high-tech aesthetics designed to perfectly match with your VIZIO TV set built right into the speaker system; the Dolby Digital Sound, the DTS TruVolume and DTS TruSurround.
All these are made to elevate your TV audio entertainment to the next level.
The high-tech soundbar speaker system also comes with a composite cable, a power cable, a quick start guide manual and two alkaline batteries.
Apart from playing audio sounds from wirelessly connected sources, the VIZIO SB3821-C6 also allows for external connectivity of devices with its USB port and a 3.5mm audio jack, stereo RCA, coaxial inputs and digital optical.
WAV audio format's playback is possible with this high-level soundbar thanks to the USB port. It includes digital optical and digital coaxial cords for RCA to the 3.5mm connectivity.
The VIZIO SB3821-C6 also comes with a simple remote control for simplified operation. It is simple to install with tabletop placement capabilities and wall mountable features with the mounting hardware included.
VIZIO SB381-C6 features
Wireless Sub-Woofer
Being wireless, and free of cables, this 5" subwoofer provides you with the freedom to place the system in any corner of the house where it perfectly fills the room with high-quality sound.
It produces a rich and powerful sound that can transform your music, television and movies experience into a blast of an audio experience.
It is wireless so you can keep your house neat instead of clustering all the instruments on one corner of the room.
Dolby Digital
This is the inclusion that turns your TV into a home theater system. It is an Audio standard for Cinema, Blu-ray, Broadcast, DVD and content streaming.
Dolby digital surround sound offers you the best audio listening experience with its ability to give a dramatic dimension to soundtracks and enhanced audio definition.
DTS TruSurround
TruSurround is designed to provide immersive and realistic surround sound on sound bars virtually.
It is specifically designed to provide the highly detailed surround audio without the help of any additional satellite speakers.
DTS TruVolume
This feature allows you to set the system volume just once. It is designed with the ability to provide a consistent volume level for all your audio devices.
The comfort this feature offers will let you enjoy your listening experience to the fullest, you will not have to adjust the volume levels even during commercials.
Extra Features
The VIZIO SB382-C6 produces an expansive audio of up to 100db. With its room-filling abilities, this soundbar is best among its class of speaker systems.
It will provide you with crystal clear sound with a harmonic distortion of 1% and below.
Build and design
Talking of low price, or somewhat affordable soundbars and design, the latter is always not a concern, as it does not appeal for most affordable soundbar speaker systems.
Many brands have come up with complicated models of their soundbars; apparently, they only appeal to some users.
VIZIO understands that you like the simple, high-quality design like that of the VIZIO SB382-C6.
This soundbar still stands as the sleekest and neatest sound system available on the market. It is wrapped in black grilles and panels.
Its side panels have a smooth brushed aluminum texture for a finishing that differentiates bottom, top, and sides.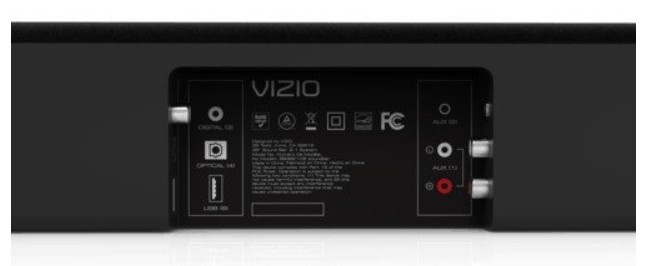 This effect applies to both the bar and the subwoofer.
Its shape is not the best available in the market, but it's the most uncomplicated design of a soundbar speaker system. It adopts the cuboid shape of the olden days that makes it clean and more practical.
It's easy to install on the wall and to place on the table thanks to its simple design. There is no issue of cable ties trying to make your room neat from wires; its wireless subwoofer saves you the trouble.
Sound quality
VIZIO SB382-C6 comes with a two 2.75" driver pack and a 5" wireless subwoofer. A combination of the drivers and the subwoofer delivers an incredible sound quality.
While the subwoofer is made to provide deep bass for movies and music, the two drivers are designed to handle the high and mid-range frequencies.
The small size of the woofer limits it from handling the low-range frequencies correctly. The best it can do is 50Hz. However, movies and TV dialogues are incredibly clear thanks to the Dolby Digital feature.
You can discern every single word whether the characters are whispering or shouting.
The Dolby Digital makes sudden shifts in dialogues, for example from whispers to loud shouts less disturbing as you can hear everything the character is saying quite well.
Bass is not as good as you would sometimes want it to be. However, this is the only noticeable downside of this sound system.
If you look at products that directly compete with VIZIO SB382-C6, you will notice that this sound bar still has the best performance ever. At its price range and the reputation it packs, you cannot expect anything better.
Pros and Cons
Every beautiful being has a dark side and so does all digital products. Here are the positive and the negative sides of the VIZIO SB382-C6 soundbar speaker system.
Pros
Its price is relatively low compared to what it can deliver
The system produces exceptionally excellent quality of sound
The Bluetooth connectivity allows you to stream from devices like smartphones and other wireless audio sources
It comes with a 5" wireless subwoofer that you won't find anywhere else except in the most expensive speaker systems
It's easy to install thanks to its incredibly sleek and simple design
It comes with both analog and digital connectivity ports
It's the best upgrade from your TV inner speakers to better audio listening experience
Cons
Its Bluetooth connectivity has some problems
It doesn't support HDMI connection
Its wireless subwoofer connection range is rather short
It doesn't produce as much bass as other sound systems
It'll at times disconnect when gaming
Alternative products
There is a range of VIZIO SB3821-C6 direct competitor soundbars including its sister sound bars; VIZIO SB3820-C6 and VIZIO SB2920-C6.
#1. VIZIO SB3820-C6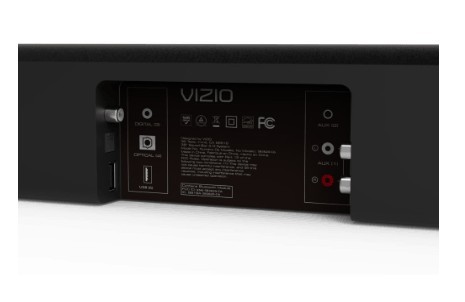 This VIZIO SB3820-C6 sound bar is among the new VIZIO products, and as you have already noticed, this tech company is best known for producing high-end quality products at relatively lower prices.
The $99 soundbar speaker system comes in a slightly different design from the other VIZIO products.
Instead of the metallic wrap around the competitor speakers, its surface is all round wrapped in acoustic speaker fabric.
The main features of this relatively cheap speaker include:
Remote control for easy operation
A built-in Bluetooth connectivity that connects in seconds
Comes with digital optical and coaxial inputs
It does not have built-in subwoofer. But, its built with a subwoofer output if you desire bass in your music
#2. VIZIO SB2920-C6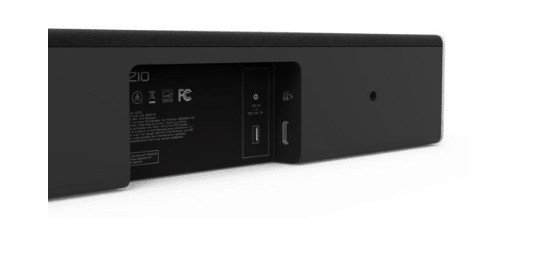 The outstanding features of this VIZIO SB2920-C6 sound bar include;
Dual powerful full-range speakers to boost your audio listening experience
It can fill your room with up 95bd crystal clear audio with a total harmonic distortion of less than 1%
It has a Bluetooth connectivity that lets you connect quickly to wireless devices like smartphones and other audio sources
The DTS audio tech utilized in this sound bar delivers an elevated multi-channel sound for the most immersive quality of music.
Verdict
If you are looking to fill your house with the best immersive, high-quality sound experience, the VIZIO SB3821-C6 soundbar speaker system is the best you can get.
You can enjoy the ultimate listening experience from your 38" TV set, whether its music or a film.
The crystal clear sound produced by this speaker system will make you love the movie all the way to the end.
At its price, the quality can never get any better than this. Go to Amazon.com, and you will realize most of those who have bought it have given it a five-star rating.
Read Also: