August EP650 is one of the mid-range wireless headphones in the market. Due to the advent of wireless headphones in the market, many people are going crazy over buying good wireless headphones.
These are convenient to be used in daily life without the hassles that come with wired headphones.
Have a look at the specifications:
Specifications
Type: Bluetooth hedphones
Frequency Response: 60Hz – 20KHz
Speaker Output: 30mW
SNR: ≥85dB
Distortion: ≤1.0%
Standby Time: 30 Days
Battery: 3.7V/220mAh Built-in Li-ion Battery
Weight: 8.2oz
Working Time: 10 Hours
Dimensions: 176.6 x 188.6 x 71mm
Battery life: 8 hours
August EP650 is fairly a popular wireless headphones, and in this post let me review the headphone in detail and help you make a decision whether to buy this headphone or not.
These headphones also come with a flat cable for using it as a wired headphones which I'll discuss later in the review.
August EP650: Let's all break it down!
Let us look at some of the aspects of the headphones like build quality, sound quality, and also the comfort the headphones has got to offer.

Build and design
When you unbox these headphones, the first thing you obviously notice is the sleek design of the headphones.
These headphones have a thick headband, the ear pads are rectangular with rounded corners that uniformly distribute the tension on your ears without causing any discomfort.
The headphone is available in various colors like black, gold, silver, red, blue, and white. I personally liked the silver one as it looks more premium.
The earpads have a matte finish which is more pleasing to touch.
The headphones are lightweight at 235 grams when compared to other wireless headphones in the market.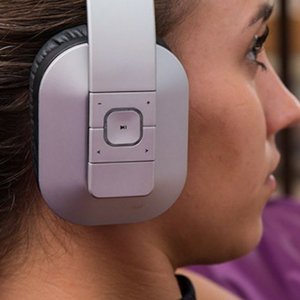 As these are wireless headphones, there are on-ear control and mic on these headphones. In order to answer the calls and play/pause the music (including the volume control), you need to make use of the control buttons located on the right earcup.
Overall, the build quality is good and the headphones feel premium. A folding over ear headphone case is also available for August EP650 that would be great for commuting with the headphones in your backpack.
Sound quality
These headphones come with aptX technology and let it transmit sound without any loss in sound quality over Bluetooth.
The headphones are known for the extra bass it offers. The 60 Hz to 20,000Hz is the frequency range at which these headphones operate. The headphones do not sound flat like other headphones.
The headphone tends to be more suitable for metal and rock or hip-hop genres where the bass is more prominent. If you listen to classical or treble-dominant songs more often, don't go for these headphones.
Instead, you can go for any of these planar magnetic headphones.
If you disliked the extra bass these headphones come with, you can make use of EQ to flatten the sound considerably.
The bass is extremely good and is a good bass headphone to have. As I'll explain shortly, due the fact that these headphones have good noise isolation capability, the bass turns out to be strong.
The bass strong, but it does not drown down the mids and the vocal details. But for bass heavy songs, the mids appear less prominent.
You may have decided that the treble is worse in these headphones. But the surprising fact is that the treble turns out to be clear and full.
But nothing exceptional. It's just decent and satisfies the treble needs of any listener. If you ask me, there may be a slight room for improvement as far as the high treble is concerned.
It won't bother you unless you are an audiophile like me. But if you love treble heavy songs, tweaking of EQ may be essential.
The headphone also comes with an inbuilt microphone that does its job very well. For normal calls the mic's sound quality is ok.
The mic is little less sensitive, so that you may have to raise your voice a little bit to be audible.
The volume is great and turns out to be loud even being a wireless headphone. It also comes with a cord to use it as a wired headphone. The volume turns out to be much louder when used wired.
Comfort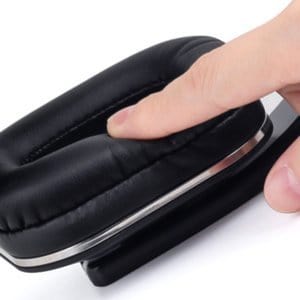 The comfort is excellent due to the rectangular design of the ear pads. They disperse the stress uniformly over your ears uniformly without causing any fatigue or irritation in the ears.
The fit is great and you can wear these on while working out or walking without the risk of dropping it down.
The padding of the headband is very thick, and these lightweight headphones rest comfortably on your head without causing any clamping at all.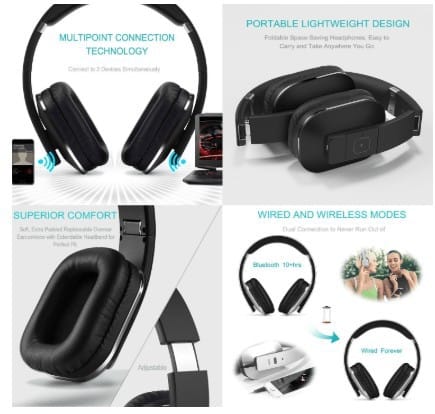 The ear padding is also super soft and durable so that you can wear these for 4 hours straight without any discomfort.
The noise isolation is excellent. This can be a downside if you want some idea of what's going on outside while wearing these on.
The headphones are also foldable and you can make it compact to fit nicely in your backpack.
August EP650 claims to provide 10 hours of battery life. But in reality, you can use these on for upto 8 hours on a single charge. This is quite great, considering these headphones are bass heavy!
The Bluetooth range is only 15-20 feet, after that the sound gets cut off. This is quite low.
Accessories
As I said earlier these headphones come with an AUX cord to make it wired headphones. The cord is long enough and is flat. This flat cable is tangle free. It also comes with a micro USB cable for charging these headphones.
Within 45 minutes to an hour, the battery gets fully charged and you can use the headphone for 8 hours straight (which they claim 10 hours).
You can also buy an August EP650 travel bag, which costs you around 10 bucks.
Also read:20 Best Bass Headphones in 2019 That Vibrate Your Ears
Bottomline
These headphones are great in every aspect and are geared towards bass enthusiasts who prefer wireless headphones.
The August EP650 is delighting its users delivering a great experience that is no less than any other premium headphones from well-known brands like Beats and Monster at a much lower price.
If you want a good Bluetooth headphone that is bass centric, the August EP650 won't fail to delight you. Hope you found this review on August EP650 helpful.
​

​