In this post, we are going to review the best Bose QuietComfort 35 alternatives.
Last update on 2023-09-21 / Affiliate links / Images from Amazon Product Advertising API
Do you need an alternative to the Bose QuietComfort 35 active noise-canceling headphones?
The Bose QC35 headphones are quite good, very good in fact; but no matter how good or expensive headphones are, they can't just be perfect for everybody. At times, it's not just a question of quality or price, sometimes it's just preference.
Looking at the QuietComfort35, you may need an alternative because of its design or build.
There are noise-canceling headphones that have longer battery life than the QC35. Also, if you want more bass in what you're hearing, you may need to look to one or two other options.
In this article, we have given you three solid alternatives to the Bose Quietcomfort 35. Whatever your reason for finding an alternative, you'll surely find a suitable one here.
My Best Pick
Poly (Plantronics + Polycom) Plantronics BackBeat PRO 2 Headphones - Wireless Noise Cancelling - Black Tan, Black and Tan
Noise cancellation
Active noise cancellation
Last update on 2023-09-21 / Affiliate links / Images from Amazon Product Advertising API
3 best alternatives for Bose QuietComfort 35
Build and design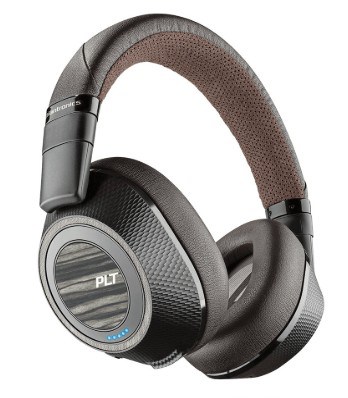 The Plantronics Pro 2 noise-canceling headphones look and feel solid. When I took my first look, they felt like something I could trust.
I proceeded to handle and put them on and they felt the same way. Most of the headphone parts are made of plastic, but where padding is needed, it's done with leather.
I found this really cool because leather has this classy feel to it. The outer parts of the earcups have what looks like a wood finish. I touched it and it turned out to be plastic; not bad for visual effects though.
The number of switches and knobs on the Pro 2 may seem a bit much at the beginning, but you get used to it as you go on.
I think I prefer all my controls on the headphones so I don't have to bring out my phone for anything while they're connected. All the controls are on the right and left earcups.
If you're not wearing these headphones on your head or neck, you'll need some room to pack it in. It doesn't have the foldable design seen in some other headphones. The earcups can only swing left and right horizontally.
Sound quality
The Plantronics Pro 2 does the noise-canceling business pretty well; especially high and mid-frequency noise. The low-frequency noise is not completely canceled.
At loud volumes, you can still hear hums from external sources, at very low levels, of course, but still audible nonetheless.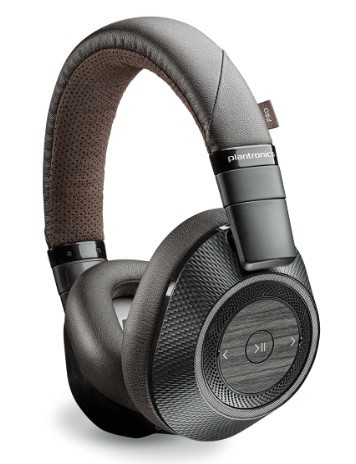 The low-frequency response of the Pro 2 is quite strong. You can tell that the manufacturers are trying to give the listeners an energy-filled experience.
The best part about this bass response is how it moves into the low mids, then into the high mids.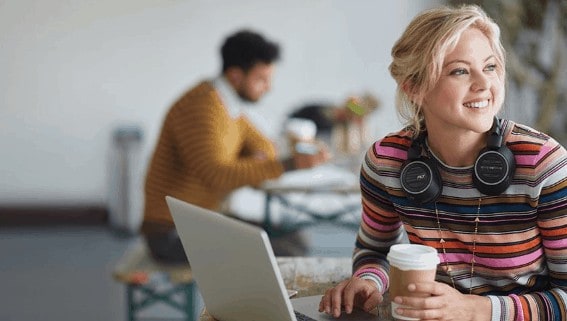 I half expected the boominess of the bass to spill over to higher frequencies, but this was not the case. The vocals sat comfortably on the mid frequencies with warmth and an audible amount of clarity.
Pros
Hands-on controls
Leather padding; more durable
Cons
Low-frequency noise leakage
The bass buildup may occur at very low frequencies
Bottomline
If you want earpads that would last longer than the ones on the Quietcomfort35, the Plantronics Pro 2 is your better bet.
Build and design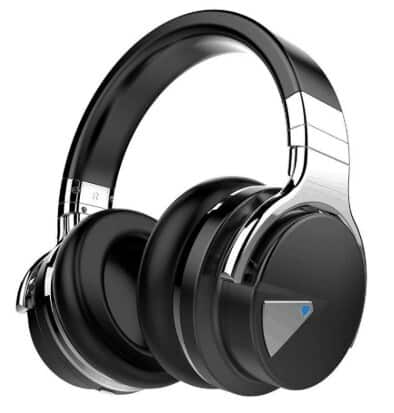 When I put the Cowin E7 headphones on, the first thing I noticed was how well they fit.
I could go for a jog with them on have no cause to adjust or catch them from falling. If you need noise-canceling headphones while doing stuff that requires some degree of movement, the Cowin E7 headphones would be a good fit for you.
On the other hand, this same quality may make some people feel that it is a little tight-fitting, and that's understandable. However you like it, be sure to use the clamp controls to your full advantage.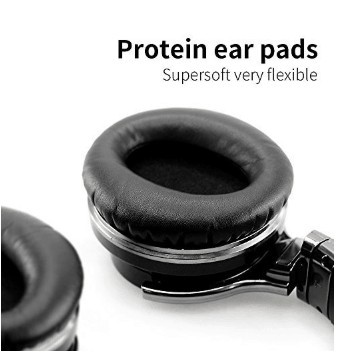 The Cowin E7 is quite attractive and tend to gain your attention at first glance, but that's about it. This is mostly due to the glossy finish used on its body.
The headband has as much padding as you would need; you would almost not feel the band sitting on top of your head.
Sound quality
Bassheads all over the world. Gather round!!
This is one headphone that was made for you. The bass is what I call powerful. These headphones can produce all the booms, thumps, thick thuds and low-frequency vibrations made in the source material.
So, for whatever music you're listening to, punch and energy won't be a problem; if anything, the E7 will only add to it.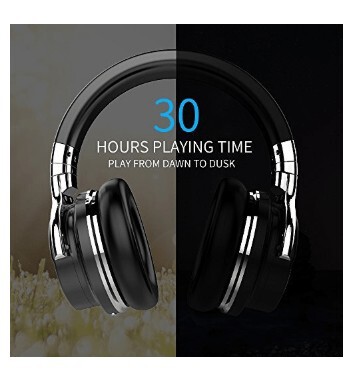 The prominent bass aside, some listeners may consider the high frequencies to be lacking in some brightness.
The reason for this can't be far from the extended bass. However, you really don't need to worry about this if you're not so much into vintage music and modern acoustic forms.
In terms of noise cancellation, the Cowin E7 does a pretty good job. At normal volumes, the noise cancellation really shows; you can barely hear any external sounds seeping into your ears.
However, the moment you crank up that volume, you begin to hear traces of the outside world.
Pros
Attractive design
Fits well on the head.
Extended bass
Cons
Not very bright in high frequencies
May be considered too flashy
Bottomline
The Cowin E7 is a good alternative to Bose Quietcomfort35 when you consider how well it fits; especially for long hours of use.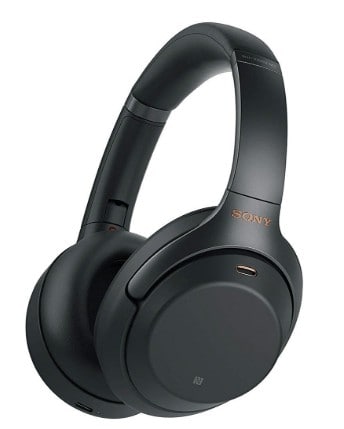 The Sony WH1000XM3 is an active noise canceling headphone and is the best alternative to Bose QuietComfort 35. The first noticeable design feature when you handle this headset is its weight; it's quite light considering all the impressive features built-in.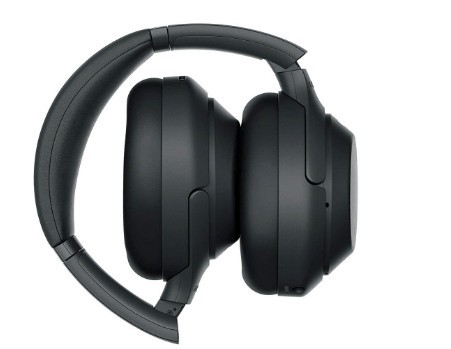 Also, it has a USB-C charging port, with all the padded areas made with ultra-soft material.
The WH-1000XM3's frame is plastic, but that's no indication of weakness. The plastic material is strong and tough, able to withstand sine measure of accidental drops. Just at the top of the earcups, are the microphones that do the active noise canceling work.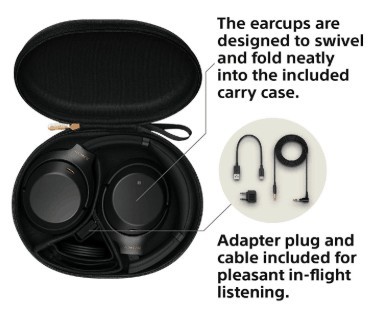 The earcups are covered in smooth touch material. Simply sliding your fingers along the headphones' body gives a nice sensation in the tip of your fingers. You should try it sometime.
Aging can have some effects on headphone aesthetics. Most in this regard could break and need some part replacements.
These Sony active noise-canceling headphones only reveal their aging process through the padding; both the earcup pads and the headband pads begin to think out after a long time or using the headphones.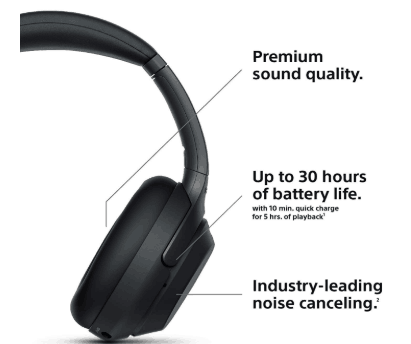 Let's talk about the battery life. Say you're playing music at about 75db, with active noise canceling running at full throttle, the Sony's battery would last for up to 24 hours.
Impressive right?
You can use it for the whole day and not worry about charging while you're out
Sound quality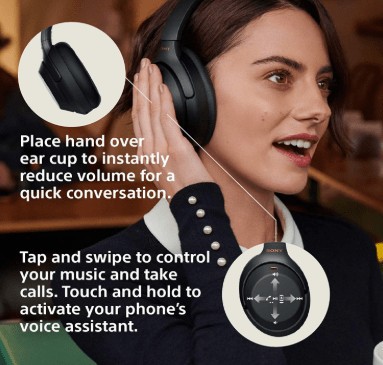 When reviewing active noise-canceling headphones, I think the first thing we should talk about is the noise-canceling capabilities. The WH-1000XM3 does the job well; it's fantastic. Even better than the Bose Quietcomfort 35.
Before now, I was never really a big fan of wireless headphones, especially when it comes to sound quality.
It seemed the absence of the cable affected the sound production in a way. However, as technology improved, wireless headphones have finally won me over.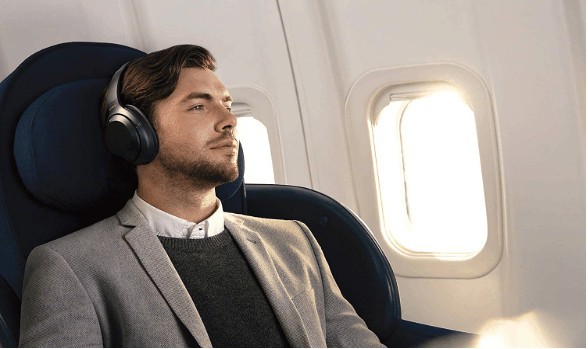 The high frequencies are quite smooth, with some presence and clarity added. The overall response isn't flat, but that's not really an issue since these are consumer headphones, made to enable you to enjoy your listening experience.
The bass is also an important plus for these Sony headphones. If you're a bass head, you would love how these headphones present the low frequencies.
The mid frequencies are quite flat. There's no special stuff here to speak of as such, but these Sony headphones manage to give enough warmth to the music. Have in mind that these sound quality comments are based on stock settings on the app.
Pros
Long battery life
The option of adjusting the sound via the app
The quick charge option works well for quick use.
Cons
Voice command feature not very useful
Bottomline
The Sony WH-1000XM3 is a bold statement of intent from Sony, and you can easily see why it can be a viable alternative to the QC35: It sounds better. Although, it'll go down to the wire on the design front.
Conclusion
The competition in the wireless active noise-canceling headphones industry just got juicier. After the Quietcomfort35, other quality options have shown up on the market.
If you check the QC35 out and you don't want it for some reason, you should check the ones we have listed here.
Whatever your reason is wanting an alternative, a better sound quality, better design or durability of some parts, you can easily choose from here.